What Is an Autobiography?
An autobiography came from the Greek word autos, which means self, bios, which means life, and graphein, which means to write. In a simple explanation, autobiography is when you learn how to write a life story about yourself. It is a narrative of your story, written in your voice, and seen in your perspective. If we're talking about a company you should know that stories about company success are becoming more and more important today. To learn more about it go to corporate story biography writing.
There are some who believe that autobiographies are waste of time since they are a biased narrative of events and are heavily influenced by someone's inaccurate memory. Autobiographies are usually incomplete since they only cover the important events of a person and those that the person remembers the most.
What You Should Know about Writing Your Own Bio
There is a good chance that if you haven't had to write a bio already, that you may have to in the future. A bio is required of many job applicants, it is used on many networking sites, freelancers have to have one for potential clients and if you have a website or blog connected to your business, you should probably have one. Bios provide a concise summary of who a person is and what they do, while at the same time, they allow a bit of personality to come through. There are basically two main functions your bio should perform: 1) establish your credentials and qualifications; 2) create enough interest so the reader will want to know more.
What to Consider When Writing a Bio about Yourself
When writing your bio, you need to make sure that you include the following in order:
Professional or business experience as well as current employment
Completed presentations or publications
Professional memberships that you have
Certifications, honors, and awards you have received
Contact information so your reader will know where to get more information about you
Tips for Writing Your Own Bio
The following are some tips that can be useful when writing your own bio:
Identify your audience. To create an effective bio you need to determine who will be reading your bio and what impression you want them to have. The purpose of your bio will help identify the audience. For a job application the audience will be employers, for a speaking engagement the audience will be comprised of people interested in the topic you are speaking on.
Use other peoples bios as a guide. You may be thinking "I can't write my bio by copying somebody else" and you would be correct. However, if you like how the bio structure, there is nothing wrong with presenting your own information using the same structure.
Only include relevant information. A typical bio is less than a page. You should only include information relevant to your purpose.
Write first and revise later. On your first draft don't worry too much about length and include anything that might be good. You can go back and revise. Many people tend to freeze up when the try and revise as they write and end up with nothing.
Have somebody else read your bio. Somebody who can be objective and give an honest opinion preferably. It is hard to be objective when writing about yourself.
Our company offers bio writing and editing services if you have problems writing the bio. Just ask us to "write my bio for me" and we will handle the task for you.
Need Biography Help?
Writing your own bio means having to spend hours or days even to really get down to the nitty-gritty of your life's history to get the information you need for your biography. If you want to spare yourself from spending endless hours working on your bio, you should consider hiring a professional writing company like us to handle this for you. Our bio writing service specializes in biographies and because of this, you can rest easy knowing that your own bio will be in good hands.
It doesn't matter how fast you need it, how long or short you want it, once you send us the details of your order and paid for our fees, we'll immediately assign a professional bio writer to you to work on your bio.
About Our Bio Writing Service
The bio writing service we provide offers bio writing and editing for any type of bio. We use professional writers who specialize in writing bios and all of our writers have extensive bio writing experience. Benefits of using our service include:
Any bio you receive will be completely original and tailored to meet your specific requirements.
Guarantees on every bio we provide
Direct contact with the writer working on your bio
Customer support 24/7
Are you wondering on "how to write an autobiography of myself"? Think no more and avail of our help today!

6. How to Write an Autobiographical Sketch
For an autobiography to be successful, it requires fact recollection and organization. The best authors have a plan in mind before starting any book, and the steps involved in writing your autobiography essay should be no different. Below is an autobiography essay outline that you can use when drafting your essay.
Autobiography Outline
Introduction
Topics you might want to cover in your introductory paragraph include:
Birth date
Parents
Siblings
Why your parents gave you your name
Ethnicity
Paragraph One – Beginning Years
Where you grew up
First memories
First friends
Vacations
Paragraph Two – Elementary School Years
Where you attended school
Friends
Interests
Activities
Freedoms
Paragraph Three – Middle to High School Years
Where you attended school
First day and new friends
Funny stories
First cell phone
License
Conclusion
Summarize your story and link it to the main objective of the essay. Optimistically conclude your essay with lessons learned through your experiences.
Use this autobiography outline as a map that will direct you in your writing process.
Character Biography Outline Template
Free Download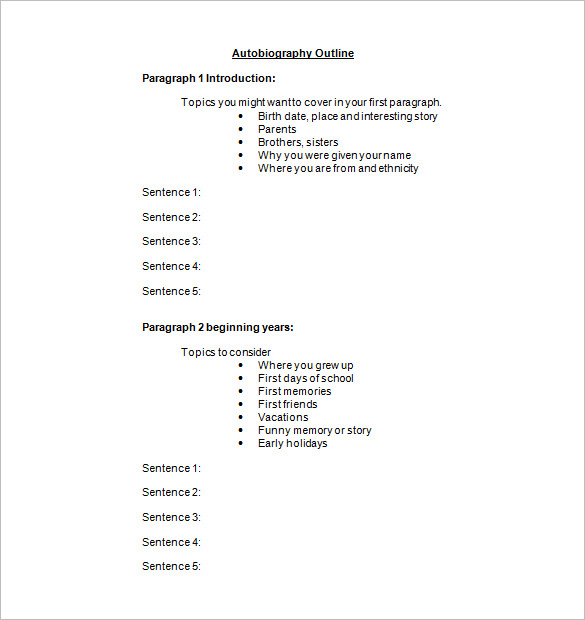 trentoncatholic.org
Planning a wedding autobiography is one of the most demanding jobs, and yet the most special way to tell your wedding story. You can tell that story using this template.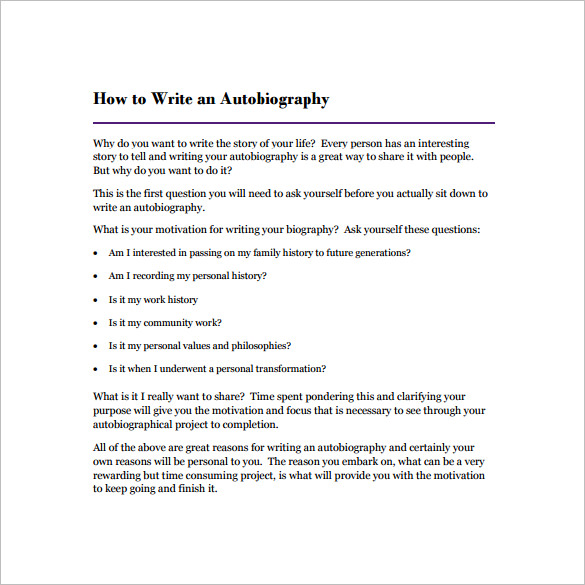 lifetimememoriesandstories.com
There is no better way to plan that story of yours than by using an outline template. Download and use this template for free. You can use the template as is or customize it to make it look personalized. lifetimememoriesandstories.com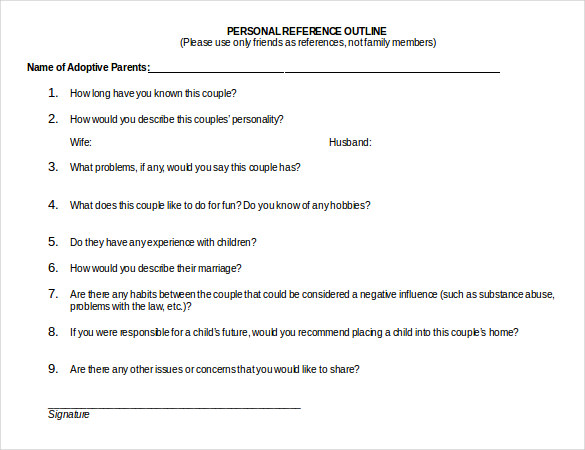 lifetreeadoption.com
autumnadoptions.org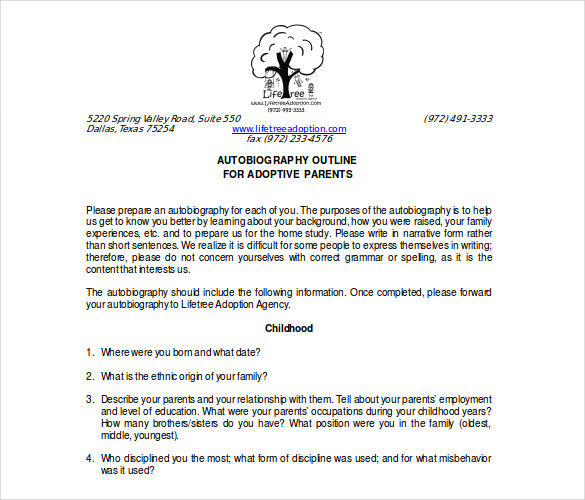 lifetreeadoption.com
pritzkerschool.org
admin.bhbl.neric.org
aclead.files.wordpress.com
s3.amazonaws.com
ndi.org
miracostahigh.org
northbergen.k12.nj.us
A Bare Bones Autobiography Outline Template
The best thing about this outline is that you can download it for free and use it as often as you would like. It is great for planning your whole or part of story.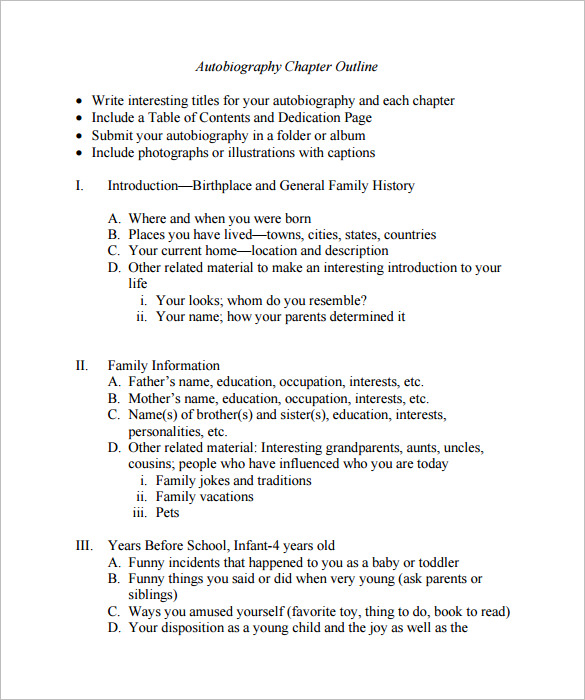 Tell people part of your story by using this put outline. Putting it all in an outline makes it easier for you to manage the story from the  start to the end of the same.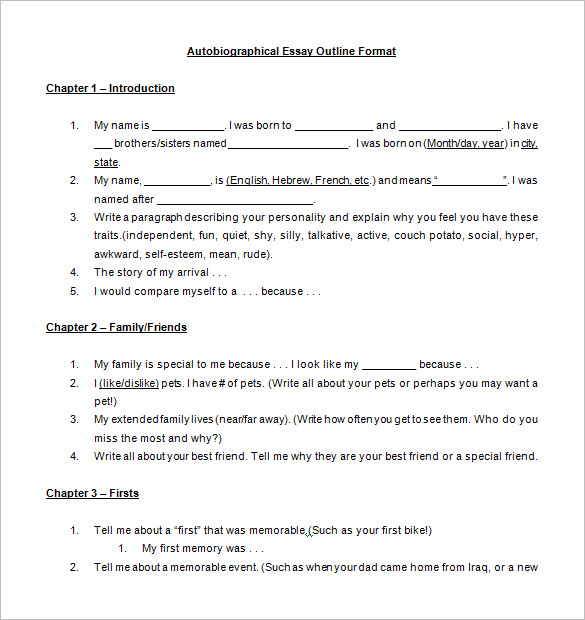 am.dodea.edu
Couple can tell their wedding stories in an autobiography to be able to help others know what makes the best wedding. While this sounds weird, it does help. Get this outline and prepare that story.
If you have any DMCA issues on this post, please contact us!