Last Updated: Sep 13, 2018
Many people underestimate the power of a simple handwritten thank you card. These days it seems easier to send a quick email, text message or make a phone call, but a handwritten thank you note says more. Sending a handwritten thank you note says that you went out of your way to sit down and write a special message to someone who deserves it. Sentiments that are personalized for the recipient truly have the power to make someone's day better while elevating your appreciation for someone's help, gift, or kind gesture. Sending custom thank you cards to your family and friends is the perfect way to express your gratitude on a deeper level for just about any occasion.
Sometimes it can be difficult to put our thoughts on paper. We've all struggled at times to find the right words to say when thanking family, friends, or associates. Although, one thing that we can remember is that everyone desires to make a lasting impression. No matter how hard it may seem to get started, if you use these easy step-by-step instructions you'll be a professional at crafting your thank you notes in no time. Since this article about what to write in thank you note has a lot of information, you can jump to specific information below:
What to Write in a Thank You Note
You can simplify your thank you card writing process by sticking to a few core rules and tips that add clarity. Since you'll want to craft the perfect note of gratitude, always assess your relationship with the recipient to guide your wording. Follow steps one through six below if you're having trouble deciding what to write in a thank you note:
Open your card with a greeting that addresses your card recipient. "Dear," is a safe standby greeting that is commonly used for notes and cards. If you have a closer relationship with your card recipient  you may decide to just use the recipient's name or even a nickname. One thing to make sure of here, is that you're using the correct form and spelling of the person's name and anyone else's names you might be using in your thank you message.
Write a thank you message to express your gratitude. Next, it's your chance to say what are arguably the two most important words in the card: thank you. You'll want to make sure your thanks makes an appearance at the beginning of any thank you message.  Although it seems like two short words, there are many different ways to say thanks. When trying to find the perfect words, just keep in mind whom it is you are speaking to and use your own personal style to guide your selection.
Add specific details to your thank you card. To make each thank you note a one-of-a-kind, it's important that you add specific detail to your thanks. What exactly is it that you are thanking this person for? Did they do something more, something that specifically made you feel special? If so, include that in the note. There are a lot of occasions that deserve a special thanks. Like we said before, people love to feel appreciated and remember that they might not even know that they made a special impact on you until you thank them for it. If they gave you a gift, now would be a good time to describe how you're going to use it. If they threw you a party, tell them what your favorite part was. If you are close with the card recipient, you can include inside jokes, or anything special that the two of you share. Crafting a sincere and heartfelt thank you card message is all about personalization.
Write a forward looking statement. Mention the next time that you may see them, inquire about something going on in their life or just let them know that they are in your thoughts.
Reiterate your thanks. As you begin to close your thank you card, restate your reason for writing the note. Add details to say thanks in a different way. This also serves as a great way to signal that your thank you note is coming to an end.
End with your regards. The sign off you select will depend on your relationship with the recipient. For more formal thank you letters like a post interview thank you note or a letter for your boss, select a professional closing. If you are crafting a more personal message for your

wedding thank you notes

or bridal shower thank you cards, you might select a warmer closing.
Thank you notes are appropriate after many different occasions. Anyone who throws a party, gives a gift or takes time to do something for you deserves to be appreciated. If someone went out of their way for you it's nice of you to acknowledge it. There is no event, action or occasion that doesn't deserve a thanks. Your thank you messages don't have to be two pages long, short and sweet will do the trick.
We all appreciate our actions getting noticed, especially when we did something nice for someone. These thank you card templates and examples for various occasions should leave you with zero questions on what to say in a thank you card and will give you some ideas for proper appreciation.
Find general thank you phrases and samples below to use in your greeting cards or thank you notes. These short thank you card phrases will help you get your thank you card messages underway:
Thank you!

Thank you so much!

Thanks for helping me.

Thanks a bunch!

Thanks a million!

Thanks a ton.

Thanks for everything!

Thanks for taking the time to think of me.

I can't thank you enough

I don't know what to say, except thank you!

I owe you one.

I will be forever grateful.

I thank you from the bottom of my heart

I am much obliged.

I am so thankful for you.

I was so pleased.

I am moved by your thoughts and actions!

I wanted to thank you as soon as I could!

I appreciate it!

I appreciate it so very much.

I greatly appreciate it.

Words are powerless to express my gratitude.

Words are not enough to express my thanks.

Please accept my best thanks!

Please accept my sincere thanks.

All my love and thanks to you.

You're too kind!

You shouldn't have.

It means so much to me, thank you!

I'm speechless, thank you!

A thousand and one thanks.
Thank You Messages For Gifts
It is common to send thank you messages for gifts that you receive no matter what the occasion or event may be. Whether a birthday party, a bridal shower or going away party, you can use one of the messages below to show your gratitude for the gift you received. Opt for picking out one sentiment on it's own or pair two or three together to complete your  message with the most appropriate thank you card wording.
I am continuously surprised by your ability to outdo yourself with gifts. You are amazing.

Thanks for being the type of person who picks out excellent gifts for me!

How in the world did you know exactly what I needed yet never asked you for?

I appreciate your gift-giving skills. I am sure that you get a lot of practice, being as generous as you are.

I wish to give you so much more than just a thank you note for the beautiful gift you gave me. I absolutely love it. But as for now, thank you.

Just wanted you to know that I really appreciate all the trouble you took to get me such a wonderful gift. Thanks a ton.

Many sincere thanks go to you for such a thoughtful gift. I can tell that you truly enjoy giving to others.

Thank you so much for sending me such a lovely and meaningful gift on this special day. Your gift made today even more special. Thanks a ton.

You made my birthday a special day. Thanks for your thoughtful gift.

Thank you for being a great friend and for being so thoughtful with the Christmas gift.

Thank you for supporting us in our celebration. We really appreciate your generous gift.

You made me feel so special when I opened your gift. I knew that you spent time, effort, and energy to make sure it was awesome, and it was just that. Thank you.

Perfect is the word that comes to mind when I try to describe your gift. I don't think I myself even could have gifted anything better. Thanks for knowing me so well.

Thanks for the wonderful gift. I really loved it. I appreciate your thoughtfulness.

In ordinary life we hardly realize that we receive a great deal more than we give, and that it is only with gratitude that life becomes rich. Thank you for everything.

Your creativity and attention to detail is truly outstanding. Thank you for the gift!

I would have never thought to pick something so perfect. Thank you for everything!

You seem to know what I would like more than me! Thanks for being so thoughtful!

Every time I look at your gift, I think of you. Thanks again for such an amazing present.
Thank You Messages For Services
Another common reason to thank someone is for something that they have done for you whether it's an experience or something intangible. There are many instances in life where people close to you or even complete strangers do something that made you feel good or helped you in some way. Sometimes we have a tendency to take these things for granted when really, it's these moments that deserve a whole lot of appreciation. Whether it was a ride to the train station, giving forgiveness, or simply making an ordinary moment extraordinary, the people in your life should be reminded of what they mean to you. Refer to these thank you note messages for inspiration:
Thank you for your help. Please accept this card as a symbol of my sincere gratitude for everything you've done.

The gift of your help/time/support means more than anything money can buy. I really appreciate all that you've done and hope this card provides a small token of my gratitude. Thanks!

You are a rare kind of generous. I'm having a hard time putting my gratitude into words but I hope you know how much I appreciate all of your help. Thank you so much.

You have given me the gift of encouragement and hope in a difficult time. I am so grateful for your support. Thanks for being there for me.

I was so touched by all the support you've given me. Lunch is on me next time. Thank you!

Thank you for always being my best supporter!

Thank you for celebrating all of the exciting moments of life with me. I can't imagine not having you in my wedding or by my side when I hold a little human in my arms.

Thank you for all that you've taught me.

Thank you for making so many ordinary moments, extraordinary.

Thank you for reminding me to stay true to myself.

Thank you for thinking of me as often as you do.

When it is just not possible to do it, you just do it and make it happen. Wow!

I wanted to thank you but then I realized I don't know where to begin. So, I just wanted to say that there are so many things I couldn't have done without you.

The more time I spent with you I realized what a wonderful person you are! I thank you for everything you have done for me.

A big hug and lots of thanks for my friend.

You have no idea how much you helped me, thanks so much!

You saved my life, big time. I owe you a whole lot more than just a thank you for helping me out!

You always go above and beyond. Thank you for always being there for me.

They say it takes a village, and you're part of that village. Thank you for helping me when I needed it.
Thank You Card Etiquette
There are no hard and fast rules concerning how to write the perfect thank you note. Although, there are a few tips you can keep in mind when preparing and drafting your messages that will help you along the way. Follow our thank you card etiquette guidelines to answer common questions you may run into during your writing process:
Timing is everything. Be prompt with sending your thanks, preferably within a week's time. The quicker that you send your thank you notes out the better. Although, if it has taken you awhile to get to writing your notes make sure that you still get them in the mail. A thank you sent anytime is always nicer than none at all.
Hand write your thank you notes using blue or black ink and write legibly. Make sure that your card recipient can read your gratitude-filled message.
Use appropriate thank you card wording. Depending on the occasion, event or gesture you'll want to make sure that you're selecting appropriate words and using the right language. We have something for every style and recipient whether you are trying to

find baby shower thank you card wording

, or find yourself stuck on

what to write in a bridal shower thank you card

or need inspiration for

graduation thank you card messages

.

Get creative with your messages and write from the heart. You can also add a few

thank you quotes

or select a photo thank you card to provide deeper meaning or a visual. Only you know how you feel and what the proper way to express that may be.
Now that you've got your message figured out, finish off your thanks with an envelope even the postman will find impressive. Select matching address labels and custom postage to assure your thank you's get signed, sealed, and delivered in style.
There's no need to have a hard time writing thank you cards anymore with our templates and wording ideas. If you need a little added motivation for putting the pen to paper, pick out custom stationery that you really love. No matter what the occasion, make sure to show your appreciation with a handwritten thank you note.
Higher customer engagement
When your customer is engaged with your brand, it means that they're following you and paying attention to what you do.
This is obviously a good thing, as it means that your customer genuinely likes you. A customer who liked your brand is a satisfied customer.
Customer engagement comes in many forms. Here, you can see Buffer to support and engage users on Twitter.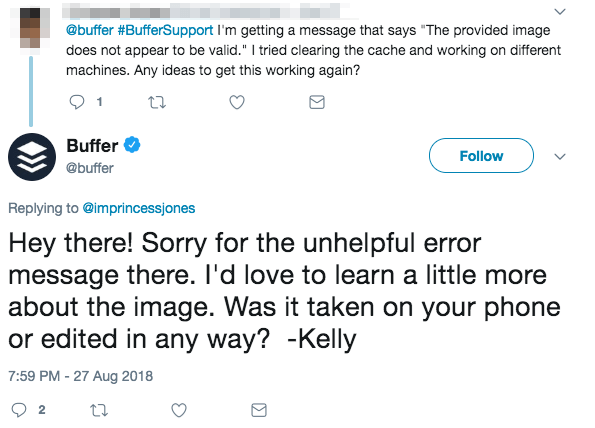 Because there is trust between Buffer and it's customers, they don't hesitate to reach out and talk to the company.
How to write a thank you note
For some people, writing is hard. Whether it's a lengthy letter or a simple 'don't forget to feed the cat' note, writing can be tricky.
Which is exactly why you're now going to see a step by step guide to using the perfect elements in your thank you letter.
By the time you're done here, you'll be able to create your own template and modify it for each and every customer.
1. Introduction
You only get one first impression, so start off on the right foot by you know, using your customers' name.
Hey Mike,

Dear Mike,

Dear Mike

Mike,
2. The 'Thank you' part
Get straight down to business. You're writing to say thanks, so say thanks straight away.
Thanks a lot for shopping with us. It really means a lot that you decided to support us, I'd love to hear your feedback.

You could have gone with one of our competitors, so I'm writing to say thanks for giving us a chance

I just wanted to send you a quick little something to say thanks. So, thanks for your order, and for picking us.
3. Personalise it a little
You can really push your sincerity home by offering a little personalisation, something specifically for that one buyer. Be honest, don't be weird.
is one of my personal favourites. I think you'll love it and I'd love to hear what you yourself think about it.

I was packing your order and noticed your postal address in Dublin. I studied there as a kid and have nothing but great memories of that part of the world.
The most important part here is that you're honest. If there's nothing you can personally relate to, don't make something up just for the sake of a few extra letters.
4. Wrap it up
Close off your thank you note in a casual manner.
Thanks once again

All the best

Thanks, heaps
Don't forget though that each part of your thank you note needs to be written for specifically who you're sending it to.
Not each one of your customers is named Mike.
Maybe.
Also, ensure that what you're sending is relevant to the reason you're sending it to.
The above examples aren't going to work if you're thanking someone for recommending you to their friend.
Still not confident to write a thank you note yourself?
Look at the following examples to see how a 'thank you for your business' note can be written.
Thank you notes and branding
Every brand knows the importance of good quality branding.
You spend a lot of time building your image, your tone of voice, visuals, everything like that.
But when writing your 'thank you for your purchase' note, it's important that you don't let your branding take over.
While it may be tempting to pull out a bit of paper with the fanciest letterhead and logo on the top, that might not be your best option.
Considering using just a stock standard piece of note paper. By going the 'branded' route, you increase your chances of coming off as a bit of a salesman.
If you really want to push your branding home, throw in a few branded stickers – everyone loves stickers and can find somewhere for them.
4 more tips for writing a thank you for your order note:
1 – Your handwriting is great
Yeah, sure, your handwriting is bad. Everyone's handwriting is bad.
But that's where the charm is. If you plan on printing your notes, well then don't both. The trust is built on your non-perfect handwriting. Go with it!
2 – Keep it short and to the point
You're writing a thank you note, not a novel. Keep it short and get straight to the point and you'll keep your reader engaged. Think between 30 and 60 words.
3 – Yes, this will take time
Thank you notes are an investment in your time. If you get hundreds of sales a day, writing for each one may be a bit much. But the point is, that you spend some time each day writing something personal for a select few customers.
This investment will come back with a return in many areas.
4 – You're not selling anymore
By this point, your customer has already bought from you. It's your job to now enhance their trust with you by being an open, relatable person.
Don't spend this time promoting new products or upselling products.  
Summing up
Making your customer happy is a relatively simple process once they've bought from you.
But delighting them takes a little more effort. That effort pays off in the form of a bigger lifetime spend and more advocates of your brand.
Therefore it's safe to say that investing in 'thank you for your purchase' notes, as well as customer satisfaction goes a long way in helping your brands' image.
Do you send out thank you notes to your customers? How do you show customer appreciation?
Let us know in the comments!
The header image is a resource from Etsy.
Phil Forbes An Aussie living in Warsaw. Specialising in the field of SEO, digging into analytics and getting graphs trending up and to the right. An Aussie living in Warsaw. Specialising in the field of SEO, digging into analytics and getting graphs trending up and to the right.
How to Write a Thank You Note or Email After an Interview
A good interview thank you email or note should contain three essential pieces:
Show appreciation for their time and thank them
Mention something specific you talked about in the interview, so they know it's not a cut & paste email
Express interest in the position and tell them you're excited to learn more
Optional steps:
These next two pieces aren't 100% necessary for a thank you note or thank you email after the interview, but are a nice touch you can add.
Invite them to contact you if they have any questions/concerns, or need clarification on anything discussed
Show that you're confident you can perform well in this role and explain why. Tell them why you feel you could excel in the position
You'll see these pieces in the thank you note/email examples below. You can use any of these templates after your interview. And below each sample email, I'll explain the strengths and weaknesses of each template.
Should You Send an Email or a Note/Letter?
I get asked this frequently: "What's your opinion on sending a thank you email, versus mailing a thank you letter after your interview?"
For most people, I recommend email. There are three reasons why:
You can make sure it gets delivered at the exact time you want
It's easier and takes less time
It's more modern and simpler for the company
However, in specific cases, you may want to send a thank you letter in the mail after an interview.
When?
Well, a paper thank you note/letter might be better if you're in a very traditional industry (like wedding planning). Or if you're interviewing for a very high-level position (like CFO, Head of Operations, etc.).
But for most job seekers, I recommend sending a thank you email.
Thank You Email Subject Lines
As a final tip – if you decide to send your thank you letter as an email, here are a couple simple subject lines you can choose from:
"Thank you for your time"
"Great speaking with you"
"Following up"
If you follow the advice above, you'll have a great thank you email or letter to send after the interview so you can land the job!
UPDATE: 
If you have more interviews coming up and don't want to leave anything to chance, I've created a new guide where you can copy my exact step-by-step method for getting job offers. You can get more details here.
Write Your Message in Word or Your Notes App First
Good stationery isn't cheap, so the last thing you want to do is go through three or four of your cards because you can't remember how to spell "generosity." We recommend using Word, Google Drive, or the Notes app on your phone to make sure you have the correct message down before you put pen to paper. 
Close With a Signature
If you want to tangle with the oh-so tricky valediction, have at it. Instead of "Sincerely," "Regards," or (ugh) "Yours Truly," we like to do this: just sign the damn thing. Trust us, regardless of situation, this works. You've already said your thanks; there's no reason to muck it up with some cliche send-off.