1. What Is A Resume?
Let's start out by telling you what a resume is not:
It is not a litany of your accomplishments

It is not a summary of your work experiences

It is not a formality prior to job appointment
If you believe a resume is any of these, then it is time to change your way of thinking.
A resume is a marketing tool that seeks to highlight the experiences, skills and accomplishments relevant to the job or designation. As a marketing tool, it has to deliver its message with pinpoint accuracy to its intended audience: the recruiter.
Think of the job market as a collection of different products. Each product is advertising its own unique value proposition to the recruiter. The product whose message resonates clearly and loudly with the recruited will be selected for the interview.
Immediate is the keyword. Recruiters do not spend a lot of time on a resume. They receive hundreds of resumes every day and they need to be efficient in their approach to their job.
According to a ground- breaking study by The Ladders, a recruiter spends only 6 seconds scanning a resume. In that limited amount of time, the recruiter is looking for very specific information. Many utilize keywords to fast- track the qualification process.
If the recruiter cannot find what he or she is looking for in the top third of your resume, it will be game over. You will have to go back to the drawing board and figure out how to make a resume that gets it done in 6 seconds.
In marketing the rule is essentially the same.
Studies show consumers have a shorter attention span than a gold fish. If your content cannot deliver the message in 8 seconds, it will be ignored by its intended audience.
Your resume must be able to capture your unique value proposition and represent it in such a manner that it immediately grabs the attention and interest of the recruiter.
This objective remains the same whether you are writing a resume for the first time or if you want to write a resume for a job in a new field.
Unless you are well- connected with the owner of the company and he or she has guaranteed you a position within the organization, then perhaps you don't need a resume.
But what happens if:
The contact period of your job ends?
The owner decides to sell the company?
You decide the job isn't for you and you want another career?
At some point in time, you will eventually need one. Thus you should know how to make a resume. And not just a run- of- the- mill, by- the- numbers resume. It should be one that will put one foot inside the interviewer's door.
Learning how to create a resume is important because times have changed. Businesses are no longer just looking for candidates with the most glowing achievements and decorated work history.
In fact, companies are looking outside the traditional technical and fundamental competencies required in a job and are focusing on the personality that fits the job.
"Company culture" has been a by- word the last few years. Employers are looking for people who can contribute to the success of the company by helping to propagate its culture.
Company culture in a nutshell is the company's personality; the collective of values, beliefs and practices that influence the decisions it makes every single day. They want to know if you'll fit into their culture and that usually takes place during the interview.
However, a well-written, purposeful resume can give the recruiter an early indication that you might just fit in. That's why your resume should not just be a piece of paper; it must be able to communicate with the recruiter.
How will you know how to communicate with the recruiter? The same way you would try to identify your target market: Learn more about the company.
What is their main enterprise?
Who are the people behind the company?
What are the latest developments?
What are their core values?
What is their company culture like?
Who is the Head Recruiter?
You have to do a fair amount of research to know more about your target employer. This help you frame you mind in developing your approach to writing the resume.
Technology also plays a significant role in the recruitment process. The use of Automatic Tracking Systems or ATS has allowed recruiters to scan and pre-qualify resumes faster.
ATS works by analyzing your resume for specific keywords. It will then base its score on how well your resume matches with a list of keywords provided by the company you hope to land the interview with.
In marketing, keywords play an important role in having your content found. It doesn't matter if you wrote a perfectly crafted blog or article. Without the right keywords and in the correct ratios, it may never see the light of a computer monitor.
We have clearly articulated why you should view the resume as a marketing tool. By using the correct resume writing format, the recruiter will be able to identify the right keywords and information right off the bat and get you on your way to the job interview.
4. Types Of Resume Formats
We've discussed in detail the different sections of a resume; what information to include and how to present them for maximum effectiveness.
But they do not have to be presented in the resume in the order we discussed them in the preceding section. With the exception of the Header, you could move around some of the sections to give certain strengths greater emphasis.
Without the risk of sounding like a broken record or looking like a buffering video, a recruiter only has 10 to 30 seconds to review your resume and make a decision. It's not enough that you craft your resume for maximum effectiveness. But you should also format it for maximum exposure.
When deciding on how to arrange your resume, there are 3 types of resume formats that you should consider:
Reverse- Chronological Format
This is often referred to as the traditional format for a resume. In the preceding section where we discussed the different parts of a resume, the arrangement followed the Reverse- Chronological format.
Header
Objective or Resume Statement
Work Experience
Educational Attainment
Skills
Interests
The Reverse – Chronological Format can be used under the following situations:
Highlight vertical progression in your career

Apply in a job in a similar field

Promote upward career mobility

Early stages in the career

Mid- level stages in the career

Highlight company loyalty; stayed in the same company or industry for years

Very few gaps; if any at all, in their employment history
But the Reverse-Chronological format is not advisable under the following situations:
Significant gaps in their employment history

In the middle of a career change

If you have had many jobs throughout your employment history
Recruiters tend to favor the Reverse Chronological Format because it's easy to pinpoint a candidate's career progression and experience within an industry.
Functional Resume Format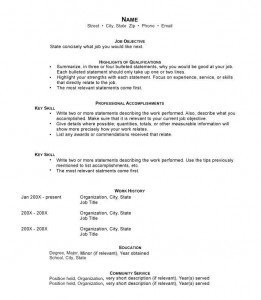 If the Reverse- Chronological format emphasizes your work history, the Functional format highlights your skills and abilities.
When using the Functional format, the sections of the resume should be arranged as follows:
Header
Objective or Resume Statement
Skills and Abilities
Work Experience
Educational Attainment
Interests
The Functional format can be used under the following situations:
Frequent gaps in the employment history

Changing careers

Highlight a specific skill set or proficiency

Fresh graduates or those just entering the job market
It should not be used under the following situations:
If you plan to highlight vertical career progression

If you don't have skills that are relevant to the job description
When recruiters see this format, they start assuming weaknesses in experience. Would that be a red flag and diminish your chances of landing an interview?
It would depend if your skills and abilities are in line with the requirements of the job and on how you presented your work experience.
Again, this is the advantage of starting out your resume with a narrative. A well- crafted story helps the recruiter anticipate the contents of your work experience.
For example, if you wrote in your objective statement that you want to resume a promising career prematurely cut short because you wanted to do volunteer work, it may turn negative connotation into positive feedback.
Combination
As you may have guessed, the Combination format borrows elements from both the Reverse Chronological and the Functional formats. The Combination format would look like this:
Header
Objective or Resume Statement
Skills and Abilities
Work Experience
Educational Attainment
Interests
You can use the Combination format under the following situations:
Highlight a proficiency within a specific career

Change in career path

Expert level in the technical skill required for the job
Do not use the Combination format under the following situations:
Plan to highlight education attainment

Lack experience

Entry Level candidate
The Combination resume format works best for candidates who are acknowledged as Masters in their field of expertise.
Take your time in deciding the resume format to use. It will make a big difference in how the recruiter will perceive your resume and capabilities.
8. What Not To Put In A Resume
An effective resume is an efficient resume as well. Given the fact that the next 10 to 30 seconds will determine the fate of your resume, you should only present information that is relevant and usable to the recruiter.
Leave out information that may only serve to distract, annoy or put off the recruiter.
When you only have a few seconds to make a solid first impression, you have to ensure every word in your resume counts. They must have purpose and function.
Here are examples of information and items that you should not put in your resume:
The word "Resume" – A professional recruiter has your document. He or she has been doing this type of work for years. Recruiters go through thousands or resumes every month; perhaps over a million in their own career. They certainly know what this piece of paper is just by looking at it.
Salary Information – Salaries should always be treated as a confidential matter. Putting this information in your resume will make you seem presumptuous. Salaries are best discussed during the interview.
Unnecessary Words – Fluff has no place in your resume. Always keep your information concise but complete. Once the point has been driven, move on to the next one.
Trash Talk – Regardless of how bad your previous employment turned out, the experience has no place in your resume. Never ever trash your former employer. Nothing good will come off it. It will leave the impression that you may be difficult to manage.
Unnecessary Personal Information – As much as possible, leave personal information limited to name, e-mail address, contact number and interests. The recruiter will not care about your religious denomination, political affiliation or sexual orientation.
Headshot – The headshot even when it is done by a professional photographer has grown outdated. Are you familiar with the saying, "The picture doesn't do you justice"? Recruiters are averse to headshots because it may trigger false impressions. Unless you're applying for a job as a fashion model or actor, leave the headshot out of your resume.
Irrelevant Work Experience – So you're applying for a job as a Financial Analyst? Leave out the experience when you worked as a mascot in a fast food restaurant. It has no relevance to the work you are applying for and will only serve to distract the recruiter.
Unrelated Achievements – Breaking Joey Chestnut's world record of eating 70 hotdogs at "Nathan's Famous" is indeed an amazing achievement but it has no place in your resume. Neither is being named "Sorority Queen" 2 years in a row.
Strange Hobbies – Perhaps how one defines "strange" is a matter of perspective. But if you're not sure "taking selfies with my cat" will be considered strange, stick to more acceptable hobbies such as music, running and cooking.
Attention- Grabbing Tactics – If you ask 10 recruiters, chances are at least half will tell you they've received perfume scented resumes. For whatever reason you may have thought about, your favorite scent will not get you the interview.
Last but certainly not the least, there is simply no excuse for having bad grammar and misspelled words in your resume. These oversights are crucial and in all likelihood, end your chances of being considered for the interview.
Start out your resume as a draft that goes through several stages of reviews and edits. As you approach the final version, ask someone you trust to review it. Having a new set of eyes will give you a different insight and perspective on your resume. He or she could even spot errors you missed out on.
Run your resume through a spell and grammar checking program such as Grammarly. You should never get complacent about your resume when it comes to grammar and spelling.
10.  Resume Hacks You Should Know About
When you're competing for a job, you need every advantage you can get to your side. Sometimes it may not be enough just to write an effective resume. Here are 4 resume hacks you should do because your competition probably wouldn't have thought of them!
Create a Personal Website – A personal website gives you the forum to present your overall value proposition.You can add a blog page where you can share your thoughts or a link to a portfolio of your previous projects. A personal website is a brilliant way to push your branding strategy and add more power to your resume.All you need to do is to include a link to your personal website. Recruiters are always intrigued by personal websites.
Clean Up Your Online Image – Although recruiters generally favor LinkedIn and Twitter, the truth is Facebook is a favorite fishing ground for information on your behavioral profile.People tend to let their guard down in Facebook. They become comfortable because they are interacting in a community where everyone knows who they really are. Posts and comments on Facebook are very organic. Although unlike Twitter, the user has time to edit or second guess posting an opinion.Don't take chances that a recruiter may view your Facebook profile. Give it a look- over and delete posts that may be construed as offensive or off- putting.
Include a Cover Letter – Another area of much debate is whether you should send a cover letter or not. Some people will say the cover letter is dead; it is a waste of time and recruiters will not take the time to read it.Here's a question for you: Why take the chance?What if the recruiter is the type who appreciates cover letters? The reason why some people say the cover letter has outlived its purpose is because candidates tend to submit formulaic cover letters.In the same way that you prepared your resume, you should also customize your cover letter. There is no debate on its length: a one- page cover letter will be effective.A well written cover letter is a great way to introduce your resume and start out the narrative.
Send a Personal Message – It may take awhile before you hear anything about your resume or if at all. There are some companies that send out letters while others merely stay silent.There is nothing wrong about following up. You can make a quick call or send a short but friendly worded e-mail such as:


Hi (Name of Recruiter),

Thank you for taking time to read this message.

I hope I am not being intrusive because I understand how busy a typical day must be like for you.

I would like to respectfully follow up on the status of my application which I submitted last (date of submission)

You can reply via this e-mail or if you wish, I can place a call to your office at your most convenient time and date.

Best regards,

And if the response is not favorable? Send another personal message:

Hi (Name of Recruiter),

Thank you for your prompt response.

It was unfortunate that my resume was not considered by the company. I understand and respect your company's decision.

However, I would like to solicit your feedback on my resume. Experiences as these, while unfortunate remain valuable opportunities for learning.

I highly value your opinion and I hope you can take some time from your busy schedule to offer productive advice.

Best regards,

The best and most experienced recruiters will take the time to provide feedback. It may not be sent right away but trust that you will receive it.

The great thing about sending a personal message is that it leaves a strong and lasting impression on the recruiter. You have nothing to lose and everything to lose by sending a personal message.
We certainly hope our article has given you all the information and tools you need to craft the resume that will land you the job.
The fact remains that there are no set rules in writing a resume. What we've presented to you are guidelines to help you make an effective resume. But you can and should take liberties in applying them to meet your own goals and objectives.
Good luck on your next application! You are on your way to a new career!
I hope that the tips you just read in this post will help you get a better job. If you have any questions, please post your comments in the section bellow. I recommend you to follow ResumeOK for similar articles on Twitter, Google Plus or Facebook