Whether you are just starting your company or you are growing it, one of the most important considerations is your mission statement. 
Your mission should drive everything else that your business does. I look at it as the core of everything else that you do in your business. It's that important.
Up until this moment, you may not have considered a mission statement to be very important…or relevant to you.
Perhaps you are under the impression that mission statements are just for non-profit organizations or Fortune 500 corporations.
And let's face it – you've probably read a lot of mission statements that are reeeeeally boring. They don't get you all fired up, and they certainly don't inspire you.
Unfortunately, in recent years many mission statements have become watered down in the corporate world to the point where they are essentially meaningless and have negative connotations.
In some business circles, mission statements are received only slightly better than tax increases.
In addition, most marketers don't talk about your mission because they don't think it has anything to do with your brand or your growth or your day-to-day operations.
But they're wrong.
How to write your mission statement
No matter what your organization's size or sector, you have a core purpose: the work each of your employees – whether you are a team or 1 or 1,000 – has an impact on the lives of both your internal and external customers.
This is your reason for being—your central mission. It can serve to provide meaning and inspiration to you, your team, and your customers.
So what do you need to know before you write your mission statement?
A powerful mission statement should:
Be easy to remember
Inspire and motivate your team
Guide your people's actions
Anchor your brand promise and values
Be meaningful to leadership, employees, potential hires, and customers
Align with your aspirations and passions
Define your reason for being
Avoid jargon
To write your mission statement, here are some questions to ask:
What do we do?
For whom do we do it?
Why do we serve our clients in the way that we do?
How do we serve our clients in the way that we do?
Why are we in this industry?
Why did we start this business?
What image of our business do we want to convey?
Why is what we make/do important to the people we serve?
What would be lost if this organization ceased to exist?
Why would anyone dedicate their precious time, energy, and passion to our company? (Note: the answer is not "money.")
Why does our organization's existence matter?
When writing your mission statement, use vibrant, exciting words.
Get really clear about your passion and why for behind your unique business.
Create dynamic, visual images and inspire action.
Describe your purpose using unusual, colorful verbs and adjectives to spice up your statements. Drop in words like "passion," "sizzle," "outrageous," "fun," and "marvel" to add zest.
Keep your mission statement fairly short and make sure that it feels really good when you read it and say it.
It captures, in a few succinct sentences, the essence of your business's goals and the philosophies underlying them. It signals what your business is all about to your customers, employees, suppliers and the community.
And when you get it right, it's power is transformational.
When you live your mission through your business brand, then amazing, phenomenal things start to happen.
Your perfect, dream clients are drawn to you.
People get really excited about what you are doing. They are willing to pay a premium price because you are clearly differentiated. They spread the word to their friends, they sign up for your services, they give you great testimonials.
You get more customers, make more revenue, and your business grows with ease.
And best of all – your team is more creative and having more fun than ever before because everyone is in absolute alignment with your Why.
21 inspiring mission statement examples
Let's look at some phenomenal examples of a variety of organizations and their mission…their "reason for being." Take a look at the list and notice that these mission statements are clear and concise.
This should help you get some ideas for developing your own.
Alibaba Group: To make it easy to do business anywhere.
Amazon: To be the most customer-centric company in the world, where people can find and discover anything they want to buy online.
American Express: We work hard every day to make American Express the world's most respected service brand.
Asana: To help humanity thrive by enabling all teams to work together effortlessly.
eBay: Provide a global trading platform where practically anyone can trade practically anything.
Honest Tea: … to create and promote great-tasting, healthy, organic beverages.
Hyatt: To provide authentic hospitality by making a difference in the lives of the people we touch every day
Intel: Delight our customers, employees, and shareholders by relentlessly delivering the platform and technology advancements that become essential to the way we work and live.
Kickstarter: To help bring creative projects to life.
Kiva: To connect people through lending to alleviate poverty. 
Life is Good: To spread the power of optimism.
LinkedIn: To connect the world's professionals to make them more productive and successful.
Mary Kay: To give unlimited opportunity to women.
Merck: To preserve and improve human life.
Monterey Bay Aquarium: To inspire conservation of the oceans.
Nike: Bring inspiration and innovation to every athlete in the world. 
Patagonia: Build the best product, cause no unnecessary harm, use business to inspire and implement solutions to the environmental crisis.
PayPal: To build the Web's most convenient, secure, cost-effective payment solution.
Sony: To be a company that inspires and fulfills your curiosity.
Wal-Mart: To give ordinary folk the chance to buy the same things as rich people.
Warby Parker: To offer designer eyewear at a revolutionary price, while leading the way for socially-conscious businesses.
The Checklist for Great Mission Statements
When we help our clients create their mission statements, we always use this short checklist to ensure every mission statement is putting its best foot forward. If each box isn't checked, we go back and rework the statement until we can check it off. Here's the list:
It's Original – It's unique to your organization. If you were to see the mission statements of all the organizations in your industry, yours would be different and unique against your competition.
It's Foundational – It clearly states why your organization exists.  
It's Memorable – Mission statements need to be remembered. Make yours clear, concise, and direct.
Can put it on a t-shirt – Mission statements shouldn't be filled with fluffy language. The best indication that you've got a solid mission statement is that it fits on a t-shirt and your staff would wear that t-shirt. If it passes the t-shirt test, you've got a winner.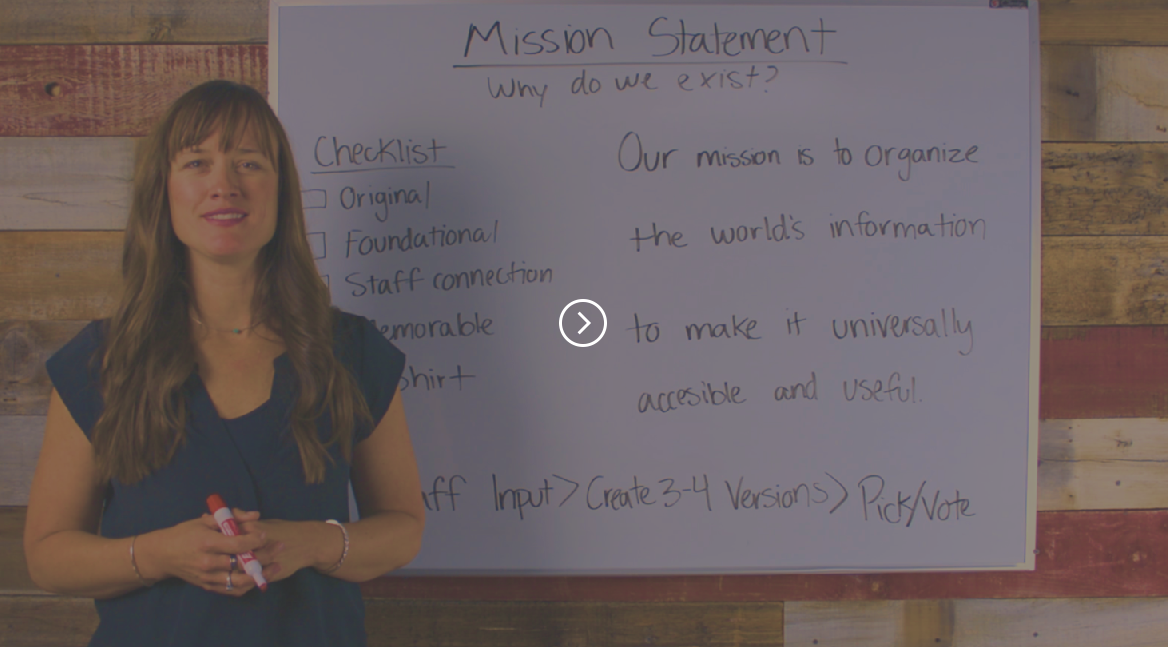 How to Facilitate Mission Statement Creation
If you're writing a new mission statement as part of your planning process, it's important to strike a balance between writing a mission statement that encompasses the feedback of your team and being pragmatic about creating your mission. You don't want the exercise to turn into a "writing by committee" session – those are neither productive nor strategic.
I have a strategic plan I need my team to start executing in 30 days.
Learn More
We help you build a plan with a fast, affordable process using software & a remote expert.
Learn More
We will lead a custom process to build your strategic plan onsite.
Learn More
To facilitate the creation of a mission statement, we recommend this process:
Gather staff input – Gather your staff's input on what your organization's core purpose is. You can do it in a survey, an interview, or on paper. Just ask the question, "What does our organization exist to do? What are we trying to solve?"
Draft 3-4 different statements – Using the input you've received from your planning team and organization, have someone with writing ability draft 3-4 different sample mission statements. Do not have more than one or two people draft the statements as it will just turn into a battle of wording and sentence structure.
Pick or Vote – Depending on your planning team and organization, have your executive team pick your mission statement from the samples or have your team vote on them.
How To Write A Mission Statement
Our organization helps _______ achieve their greatest need, which is _______.In doing so, our organization creates value for ourselves through _______.This aligns with our organization's values because _______.To accomplish this goal, our organization must have a team, including _______.We will attract this talent by _______.Externally, our organization can collaborate with ____ to scale impact by ____.This is mutually beneficial, as we will share the benefits, including ____.In order to succeed meeting its goal, our organization needs ____.Our organization may gain support from ____.Our organization may even be able to sustain its goal by ____.
Obviously, the statement itself should not be too long. Instead, the template above aims to serve as a starting point. After you've populated this, it is time to wordsmith. Simplify the mission from 13 sentences to a single statement or 2-3 sentences maximum that encompasses the whole exercise in the best way you can. Don't feel like you need to include everything. Really try to drill down on what's most important. Cut the fluff, and always consider inviting other peers and colleagues to check your work.
Now it's your turn! Remember to check out Give All for more help on Mission Statements, and other key considerations for your organization or initiative.
What Is a Mission Statement?
There are three types of statements that are recommended for most businesses: mission statements, vision statements, and a list of core values.
The mission statement in particular answers the question: "Why does our business exist?"
It's a one or two sentence message that concisely states what your business does, why it matters, and who it matters to.
What Is the Purpose of a Mission Statement?
The purpose of a mission statement is to define what makes your company special to you, your employees, and its customers.
Statements can vary widely, but they usually at least touch on what your business does, and who it benefits.
Why Is a Mission Statement Important?
A good mission statement makes it easy to remember why you're working on the business in the first place. It can also help customers identify with your company, and decide if they'd like to support it.
The importance of a mission statement varies based on the business.
Some businesses have obvious purposes and importance that make mission statements less critical. For example, SpaceX is currently a very innovative company trying to push the boundaries of space travel. All employees and fans of the brand easily remember what they do, and why they think it's so interesting.
They happen to have an excellent mission statement, but could probably get away without one:
SpaceX designs, manufactures and launches advanced rockets and spacecraft. The company was founded in 2002 to revolutionize space technology, with the ultimate goal of enabling people to live on other planets.
It shows that even huge, successful companies recognize the importance of crafting a strong mission statement.
Compare that to a call center, which isn't so glamorous. A good mission statement could be crucial in this situation if you want motivated employees that don't think they're stuck in an unimportant job.
Do I Need a Mission Statement?
The success or failure of your business likely won't come down to your mission statement.
However, a good mission statement can help you be clear on what success looks like.
The key is that it has to be a "good" mission statement. Picking a bad mission statement is mostly a waste of time.
So do you absolutely need a mission statement? No. Is it worth spending a bit of time and effort creating a good one? Yes.
What Is The Difference Between a Mission Statement and a Vision Statement?
Vision statements are closely related to mission statements, and both focus on what a company is going to try and do.
A vision statement focuses on the future.
It's a statement that describes what you're hoping your business will become in the years to come. In general, it's less important than a mission statement, but can be a useful tool to look at later.
Great Mission Statement Examples
It helps to look at some inspiring mission statements to get a sense of what a good one looks like before trying to write one.
1. Cradles to Crayons: Provides children from birth through age 12, living in homeless or low-income situations, with the essential items they need to thrive – at home, at school and at play.
Example of a non-profit mission statement designed to inspire and share who they help via cradlestocrayons.org. 
This statement is incredibly specific. Anyone who reads knows they provide children up to the age of 12 in poverty with basic goods. If your business specifically serves a demographic, make it clear.
2. The Humane Society: Celebrating Animals, Confronting Cruelty.
Example of a short but effective mission statement from a non-profit company. Screenshot via humanesociety.org
Short mission statements can still be effective, particularly if your business is appropriately named, and the cause is obvious.
In this case, the statement is more of a mantra that makes it clear that not only do they work to make the lives of animals better, but they also take action to prevent cruelty.
It's not necessary to state "why" they do this because most people who are against animal cruelty understands why it's a problem. This is a good example of why you shouldn't follow an explicit plan, but do what works for your company or non-profit.
3. Boy Scouts of America: To prepare young people to make ethical and moral choices over their lifetimes by instilling in them the values of the Scout Oath and Law.
Example of mission statement that addresses who, what, and why. Screenshot via scouting.org
This statement clearly states who the Boy Scouts of America serves, what they do (instilling values), and why it's important (being ethical and moral).
Read it again, and pay attention to your brain's reaction. It likely creates an image of good kids who will grow up to be good people. This is highly desirable and motivating for parents and employees of the organization.
4. charity: water: Bringing clean, safe drinking water to people in developing countries.
Example of a simple, clear mission statement. You don't need a ton of fluffy words to write an effective mission statement. Screenshot via charitywater.org
This statement makes it clear that the organization actually delivers the safe water themselves in developing countries where the need is obvious. If the benefit of your work is obvious, you can often omit specifically mentioning it.
5. Warby Parker: To offer designer eyewear at a revolutionary price, while leading the way for socially conscious businesses.
Example of a brand mission statement that touches on both their business model and how they do good. Screenshot via warbyparker.com
Many businesses could claim a mission statement of offering designer eyewear, but not many could do it at a revolutionary price. Warby Parker is the only (and will always be the first) to focus on being a socially conscious eyewear business.
Key Takeaway: Include what makes your business special from others.
6. American Red Cross: Prevents and alleviates human suffering in the face of emergencies by mobilizing the power of volunteers and the generosity of donors.
Example of a mission statement that is clear and direct. Screenshot via redcross.org
This statement uses very concrete words and imagery. In particular, all people can connect to human suffering in emergencies.
This purpose is so clear and motivating that they are able to get volunteers and donors to support their work.
7. American Diabetes Association: To prevent and cure diabetes and to improve the lives of all people affected by diabetes.
A good mission statement example from a company with multiple goals. Screenshot via diabetes.org
Anyone with diabetes or who works in healthcare can identify with this statement.
It's very clear that not only are they trying to cure it, but also do other work to prevent it and improve the lives of those that are not cured.
It can be good to mention multiple things your business does, if they are all important.
8. Patagonia: Build the best product, cause no unnecessary harm, use business to inspire and implement solutions to the environmental crisis.
Patagonia's mission statement is a good example of focusing on what sets your brand apart. Screenshot via patagonia.com
Patagonia is an American clothing company.
This statement could be more specific (i.e. "best product" and "solutions" are vague), but has a lot of good elements.
First, it includes important values that influence everything they do (cause no harm).
Second, the benefit of trying to improve the environment is very clear. This is a statement that environmentally-conscious customers can relate to. It appeals to something they strongly care about. If your business does the same, make it obvious.
Bad Mission Statement Examples
It's also helpful to look at bad mission statements so you know what to avoid.
Jon Haworth created a "bad" mission statement generator. It's intended as humor, but reveals some useful insights.
It spits out bad statements that are a combination of words frequently used by actual companies.
Let's look at a few here:
We coordinate catalysts for change.
Our company exists to seamlessly coordinate content to meet our clients' needs.
Our vision is to negotiate deliverables.
We reliably manage cost-effective information to reach new levels of customer service.
It is our mission to enthusiastically manufacture timely catalysts for change in order to interactively leverage cutting-edge content.
You can likely tell that these are bad just by reading them.
Why?
The main reason is most of the words are vague buzzwords (e.g. "coordinate", "new levels", "catalysts for change", "solutions").
It's impossible to connect to a statement that's vague.
Additionally, while they all explain what the business does, few actually mention who benefits from the work. Making soup isn't that exciting, but feeding the needy is a purpose that people can wake up everyday and be excited to go to work for.
How to Write a Mission Statement?
A simple way to start a mission statement is with the following structure:
Our mission is to ___
So what do you put in the blank?
The main questions you should attempt to answer in your statement are:
What does your business do?
What's the benefit?
Why would anyone care?
What's special about your business?
Answer the questions that you believe are most important for your specific business.
The most important thing is to use concrete language.
Your business can't do everything or be inclusive of all. For example, if you want to make the "best creative pizzas possible", don't try to expand that by replacing it with "best Italian food possible."
The vaguer your statement becomes, the less effective it is.
Steps to Creating a Business Mission Statment
Look at inspiration and examples.
Get staff input and suggestions.
Create a few versions (by yourself or hire a freelancer).
Tweak them if needed.
Pick the winner (or vote on it).
While it's not a necessity to get staff input, it makes sense to let them have input, as you want a mission statement that motivates them as well.
A Quick Mission Statement Checklist
In any case, you should come with at least a handful of mission statements to consider.
When evaluating them, here's a quick checklist that will ensure that you choose an effective one:
Is it original?
Is it memorable?
Is it short? (3 sentences max)
Are there any vague words in it?
Is it meaningful? (does your staff connect to it?)
Is it specific to your company only? (It's not good if others could use the same statement).
If you have a statement that checks all the boxes, you have your winner.
A Man with a Plan
At the time, I earned at least twice Paul's income, but he had money in the bank while I had none. I couldn't see the connection between Paul's choices and his financial success, and I couldn't see the connection between my spending and my mounting debt. I was blind.
One day, Paul and I went for a hike. As we walked, he told me what he'd been up to. He was living in a small town in northern Washington, working two full-time jobs and a part-time job. He got free rent in exchange for housesitting with an elderly homeowner. "I've only had five or six days off in the past eight months," Paul told me.
"That's insane!" I said. "Why would you do that to yourself?"
Paul smiled. "I have a plan," he said. "I want see the world. I'm going to buy a one-way ticket to Thailand. I'm just going to go. I'll travel for as long as my money holds out. The more I work, the longer I'll be able to stay on the road."
I heard what he was saying, but I didn't really understand.
"Do you want to come with me?" Paul asked. Of course I did, but I couldn't. I was in debt. I had no savings. I couldn't afford to leave work for a few days, let alone a few months. How would I pay for all of my Stuff?
Paul went on his trip. He backpacked across Europe and Asia, and he loved it. He sent me postcards from Thailand and India, from Nepal and Israel and Jordan. He was gone for five months. Then, because he'd built his life around this goal, he returned to a financial position similar to the one he'd left.
Back in Oregon, Paul settled down to a more "normal" way of life. He got a real job. He even bought a house. Still he pinched his pennies, spending only on the things that mattered most to him. In time, I began to see the connection between his lifestyle and his quiet wealth.
Here's what Paul taught me: Have a plan so amazing, so glowing, that you're willing to walk blurry-eyed to work every day to make the money necessary to achieve it.
What's Your Why?
What do you want out of life?
Too many people never take the time to answer this question. And of those who do answer it, a large number have only nebulous dreams and goals. I want you to do more. Today, I want you to create a personal mission statement.
To complete this exercise — which is based on the work of Alan Lakein — you'll need about an hour of uninterrupted time. You'll also need a pen, some paper, and some sort of stopwatch. When you're ready, I want you to do the following.
Note: To make things easier, I've created a free PDF version of this project for you to download and print: Your Personal Mission Statement. It's still branded for Money Boss, but we'll change that once we have an official logo for Get Rich Slowly.
At the top of a blank page, write this question: What are my lifetime goals? For five minutes, list whatever comes to mind. Imagine you don't have to worry about money, now or in the future. What would you do with the rest of your life? Don't filter yourself. Fill the entire page, if you can. When you're finished, spend an additional five minutes reviewing these goals. Make any changes or additions you see fit. Before moving on, note the three goals that seem most important to you.
On a new piece of paper, write: How would I like to spend the next five years? Spend five minutes answering this question. Be honest. Don't list what you will do or should do, but what you'd like to do. Suspend judgment. When your time is up, again spend five minutes reviewing and editing your answers. As before, highlight the three goals that most appeal to you.
Start a page with the question: How would I live if I knew I'd be dead in six months? Imagine that your doctor says you've contracted a new disease that won't compromise your health now, but which will suddenly strike you dead in exactly six months. There is no cure. How would you spend the time you have left? What would you regret not having done? You know the drill: Take five minutes to brainstorm as many answers as possible, then five minutes to go back through and consider your responses. When you're ready, indicate the three things that matter most to you.
At the top of a fourth piece of paper, write: My Most Important Goals. Below that, copy over the goals you marked as most important from answering each of the three questions. (If any answers are similar, combine them into one. For instance, if "write a novel" was one of your top answers to the first question and "writing fiction" was a top answer to the second, you'd merge these into a single goal.)
The final step requires a bit of creativity. Label a fifth piece of paper My Mission. Look through your list of most important goals. Does one stand out from the others? Can you see a common thread that connects some (or all) of the goals? Using your list as a starting point, draft a Mission Statement. Your Mission Statement should be short — but not too short. It might be anywhere from a few words to a few sentences. Take as much time as you need to make this the best, most compelling paragraph you can write.
When you've finished, I want you to set aside your Mission Statement and walk away. Go about the rest of your life for a few days. Don't forget about your mission, but keep it in the back of your mind.
Your Personal Mission Statement
After you've had time to stew on things, sit down and review what you've written. How does your Mission Statement make you feel? Can you improve upon it? You want a vision to give you a sense of purpose that drives you day-in and day-out, through good times and bad. Ideally, your mission will do for you what my friend Paul's did for him. It'll be so amazing, so glowing that you're willing to walk blurry-eyed to work each morning to make the money necessary to reach your goal.
Note: Your Mission Statement isn't permanent. As your priorities and tastes change, and as new opportunities present themselves, your mission will adapt and grow.
What does an actual Mission Statement look like? Good question! Here are personal mission statements from five famous CEOs. And here's mine:
I want to be the best person I can be, both mentally and physically. I want to sample all that the world has to offer by fostering new relationships, exploring new ideas, and daring to try new things. I want to use my skills and experience to improve the lives of others while also improving my own.
Sound boring? Not to me! I wrote this mission statement more than five years ago, and it still guides me today. When I set personal goals, I base them on this mission statement. When I make decisions about where to live and what to do with my life, I use this mission statement to guide me. Bottom line: This mission statement shapes the way I manage my money and my life.
After you've created a Mission Statement, the next step — if you're ready to take it — is to brainstorm a list of Next Actions to support your Mission Statement. What kinds of things can you do to help you achieve this goal or pursue this mission? Write down anything that comes to mind.
When you have your list of Next Actions, pick the three you can do most quickly (these should become your short-term goals) and the three that would have the biggest impact on your life (these should become your long-term goals). Focus on these six goals!
What if you're still having trouble coming up with a mission? Don't give up. Try a different approach. Head to your public library and borrow one of the following books, each of which has great info about figuring out what to do with your life:
If, after all this, you still need more help creating your Mission Statement, take a few minutes to walk through the Mission Statement Builder from FranklinCovey. It's a free online tool that translates your goals and values into a statement of purpose.
Note: During the month of March, I'm migrating old Money Boss material to Get Rich Slowly — including the articles that describe the "Money Boss method". This is the third of those articles.

Look for further installments in the "Money Boss method" series twice a week until they've all been transferred from the old site.
In 2006, J.D. founded Get Rich Slowly to document his quest to get out of debt. Over time, he learned how to save and how to invest. Today, he's managed to reach early retirement! He wants to help you master your money — and your life. No scams. No gimmicks. Just smart money advice to help you reach your goals.