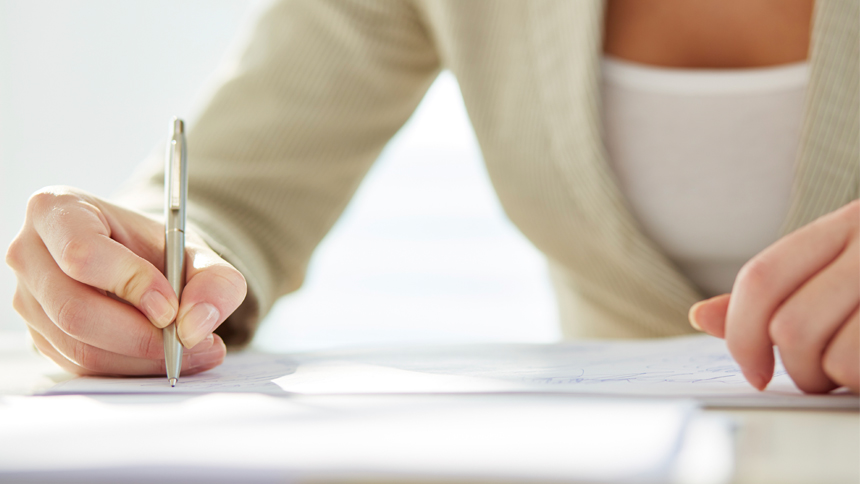 You found a job for which you absolutely must apply. Whether it's the job you've always wanted or the job you need to keep the lights on, you want this one like you've never wanted anything else. Your first step is to write a killer cover letter.
But you have to play it cool. Coming across too desperate could sound a death knell. After all, the applicant screening process is a lot like dating. Confidence is far more appealing than someone screaming, "Pick me, pick me, please!" So when writing your cover letter, keep these five tips in mind:
1. Start with an engaging story about yourself.
And make it a happy one. Don't launch into how much you need this job because your student debt is mounting or you can't get a job in advertising despite your dual degrees. Keep it light. If you're applying for a copywriter position, you could begin with a story about your favorite print ad and how it inspired you.
2. Tailor your letter to the job you're applying for.
A generic letter may indicate you're applying to anything with a paycheck. Explain what drew you to this particular job and why you're interested in the company. Perhaps you're trying to lend your digital marketing experience to a tech startup. Show you're buoyant and engaged.
3. Showcase relevant extracurricular activities.
Even if you're unemployed, show the hiring manager you have a full life. You don't want him thinking you're just sitting around idly. Prove you're productive, a self-starter who makes the most of her time. Mention that social media class you're taking or your volunteer work teaching kids to design Web pages.
4. Don't appear overeager.
When you shop for a car, you don't let the salesman know how badly you want the one you just test-drove. The same rule applies here. Write the letter as if you're thinking about a new job, not as if you're frantically searching for one. If you seem too excited, when the job offer comes your way, the hiring manager may offer you a low salary. Or worse, he may not call you back at all.
5. Don't write a piece of creative nonfiction.
Most recruiters can see right through a candidate's tactic of exaggerating his experience. Instead, use your portfolio to highlight your creativity.
For more help with cover letters, consider the help of a professional. Mediabistro's Career Services offer everything from resume and cover letter edits to several sessions of career counseling to work on your elevator pitch, networking skills, career transition and more.
Writing a convincing cover letter is a key part of landing more interviews. Even with weak experience, a well-written letter can help you get your foot in the door. Follow our guide to get yours right.
Build a Resume in Minutes
Table of Contents
How to Write a Cover Letter: 5 Rules & 7 Sections
If you follow the 5 rules and include the 7 sections outlined below, you'll write a masterful letter that will land you more interviews.
If you need inspiration, browse our huge database of cover letter examples by industry.
General guidelines
Tailor your letter to the requirements of the job. Read the job posting carefully.
Research the organization. This will show prospective employers that you really are interested.
Keep it brief. Your goal is a clear and concise explanation of your suitability for the job. Your résumé is the place for more details.
Use keywords. Make sure the same keywords you used to describe your skills and experience on your résumé are also present in your cover letter.
If you know who you're writing to, use that name, exactly as it appears in the job posting. If no name is provided, write Dear Hiring Manager.
Read more top tips for cover letter writing.
Structure
Use formal letter format for a letter you're mailing or handing to someone in person. If you're emailing your cover letter, omit both your own return address and the address of the company. Application instructions may tell you what to put in your subject line. If not, make sure to include the job title and one or more keywords, if you have room.
Your first paragraph should open with a clear statement of the job you're applying for, by title and reference code if one is provided.
State where you saw the job posting or how you heard about it.
If you heard about it through someone who already works for the company or someone known to the company, mention that person by name and position.
Your second paragraph should briefly outline your current situation.
Mention your current job, if you have one, and any previous jobs that are relevant to the position you're applying for.
Pick up on the job requirements stated in the posting and focus on any of your current skills or responsibilities that correspond to those requested. For example, if the job description says that management skills are essential, briefly state any management experience you have.
If you're still studying, focus on the relevant aspects or modules of your courses.
Your third paragraph explains why you want the job and why you're the right person for it.
Be clear and positive. You might state that you are ready for greater challenges, more responsibility, or a change of direction, for example.
Outline the qualities and skills that you believe you can bring to the job or organization, making sure they match the job posting.
If you are still in school or have very little experience, paragraphs 2 and 3 can be combined.
Your final paragraph should let your readers know:
When you're available for an interview
How to reach you (include email address and phone number, even though it's also on your résumé)
Whether you'll follow up and when, or that you look forward to hearing from them. Some postings will specify "no phone calls"; be sure to respect these instructions.
Always thank the recruiter or employer for their time or for consideration.
Speculative job applications
If you know that you want to work for a particular company or organization but they don't have any openings, consider submitting a speculative application. This should consist of your résumé, tailored to the type of job you're interested in, together with a cover letter of application.
Keep your letter short and positive; say why you are particularly interested in working for the organization in question and outline what skills, qualifications, and personal qualities you have to offer.
If possible, address your cover letter to the person in the organization who is charge of recruiting new staff. You can find this out by consulting the organization's website, by phoning, conducting online research elsewhere, if the website doesn't provide the information you're looking for.
Here's an example of a speculative job application letter (pdf).
Letters requesting an informative interview
Another valuable job-hunting technique is to request an informational interview. Here, you're asking to speak with someone in an organization you're interested in, so your letter will be similar to the one you'd write for a speculative application. The main differences would be:
In your first paragraph you'll request an informational interview to learn more about this company in particular and the field in general. You might write something like I'd welcome the opportunity for an informational interview at your convenience.
You'll only have one body paragraph, outlining your qualifications for and interest in working in this field.
In your final paragraph, you'll offer to follow up to try to arrange a convenient time to meet or speak.
Back to Applying for a job.
You may also be interested in:
Writing a résumé
Writing an impressive job application
See more from Job applications