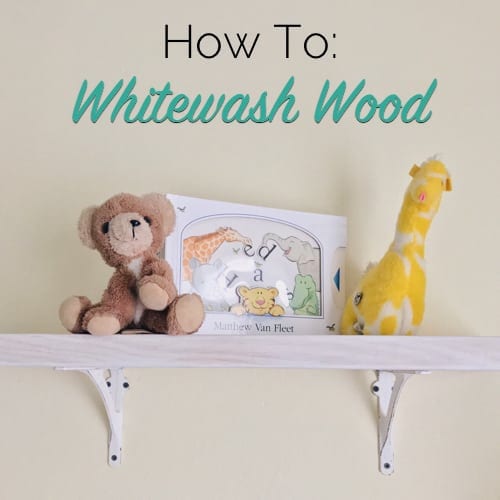 Whitewash has a long history that goes back well before America does. It was one of the earliest forms of painting and sealing in historic construction and the look is still popular today. It's a great way to get that shabby chic appearance on furniture and other decor.
The traditional recipe for whitewash was a combination of unslaked lime, whiting, and salt mixed into boiling water which would create a mixture much like milk in consistency and appearance. The salt helps with adhesion.
You can still make traditional whitewash and I, in fact, like it for sealing and protecting historic masonry. Traditional whitewash essentially forms a micro-thin layer of limestone when it dries which is a great sealer and protector for old masonry and plaster walls with the added benefit that it is breathable and doesn't cause the issues that other masonry sealers do.
While this technique is helpful for old masonry or plaster walls, my focus today is more on getting that whitewash look with simple to find ingredients that don't cost a ton. Slaked lime is not at the corner hardware store so we won't going that way today.
How to Whitewash Wood
The easiest way to get a great a whitewashed look is by using water and latex paint. You don't need to pay $50 for a specialty Annie Sloan paint either. The cheapest latex white paint you can find is more than sufficient.
I'll layout the process below and of course there is a quick video so you can see exactly how I get that old whitewashed look. This is honestly so simple you barely need a tutorial, but I want folks to know this is an easy option for spicing up your decor and craft projects for your old home.
What You'll Need
Flat/matte white paint
Water
Paint brush
Cotton rags
Nitrile gloves
Step #1 Sand and Prep
Sand your piece smooth and clean all the dust off. Somewhere between 80 and 120-grit is just fine for a final sanding grit.
Step #2 Mix Up
Mix 1 part water and 1 part paint. You can mix a little more or less of each to get slightly different looks. Thinning the paint by at least half with water causes it to penetrate the wood better than just straight paint.
Step #3 Brush It In
Brush your whitewash mix onto the surface and work it in pretty well. You are trying to get the mixture into the pores of the wood. Brushing with the grain is best, but honestly it's not a big deal here since the paint is so thin.
Step #4 Wait & Wipe
Give it just a minute and then with a clean cotton rag gently wipe off the surface. You don't want to wait any more than a minute. If you wait longer then the paint will start to dry and be gummy when you wipe off. The heavier you wipe off the more whitewash you'll remove so test it to see how much force you need. You can always apply multiple coats to get a heavier appearance.
Step #5 Distress (optional)
After the wash has dried you can choose to distress your piece to get that shabby chic look by scraping or sanding corners or other high traffic areas to make the wear look realistic. Play with it and make something creative!
Check out my Minute Method video below to see exactly how to whitewash wood in The Craftsman way. Whitewashing wood is a ton of fun and I particularly enjoy making shelves for my kid's rooms in this style. You can't beat the look of whitewashed bookshelves in a nursery for my money!
Don't forget to subscribe to my YouTube channel to get all the videos I post. Some of them don't make it onto the blog and I don't want you missing out.
Here are some inspiration photos of the awesome ways you can use whitewashing for your projects. Hopefully, these will get your creative juices flowing!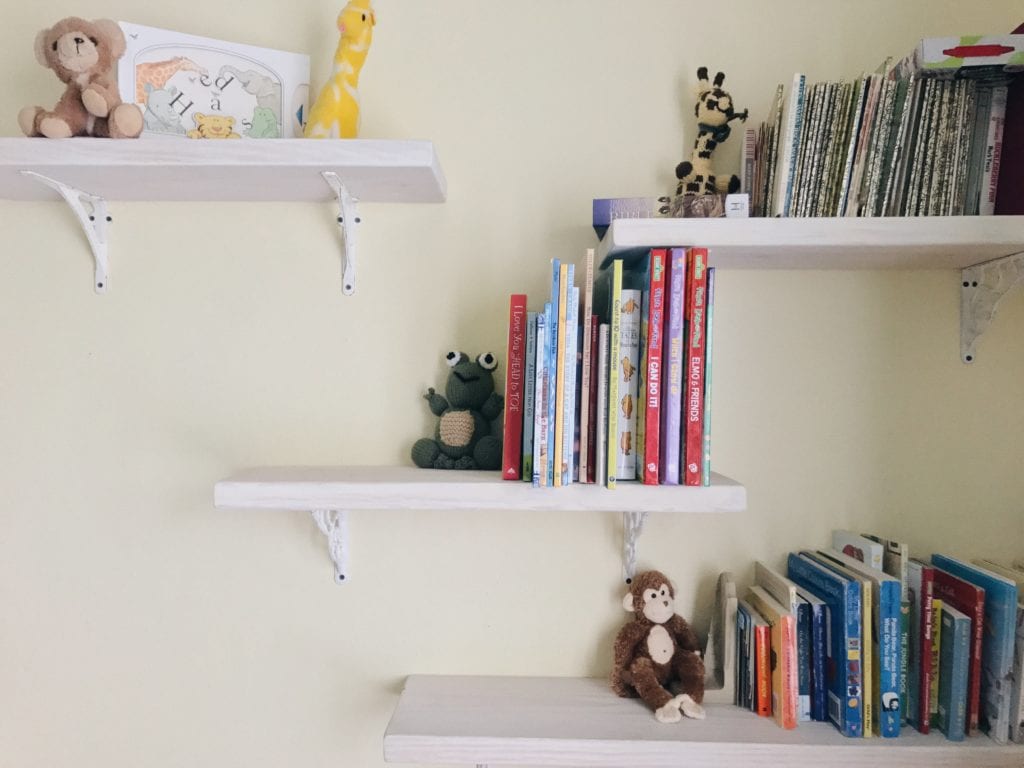 How to White Wash Paint or Stain
There are several techniques for white washing, including a cerused finish like this which is really beautiful.Whether you white wash paint or stain, the instructions are essentially the same.
Paint or stain the base color of your choice. Allow to dry completely unless you want some of it mixing into your wash and dulling the results. Stain may still mix a bit into chalk paint, but you will get an antiqued look.
Start by mixing 1 part water to 6 parts of white paint.
Tip: For more contrast such as pictured above, use less water. For a more even and ghostly look, use more water. I don't recommend more than a 1:2 ratio because it can get really messy and hard to control drips.
3. Using a t-shirt or small cloth, dip into the paint mixture and gently wipe onto wood working in small sections. Use a second dry cloth to wipe off and push the paint into the creases or texture of the wood. Work in one direction and try to keep moving before the previous paint dries. A paint with a longer working time is good.
For added depth or if your working with a piece that does not have a lot of texture, I recommend using either exclusively using the dry brush technique or hitting it with a dry brush after white washing with a rag. By dry brushing, I mean you dip your brush in the paint and then wipe 90% of it off on a paper towel. You still want to use the watered-down paint for this. Undiluted paint and dry brushing aren't friends. It often leave odd marks and doesn't look smooth.
Best Paints for White Washing
White Washing techniques seem to work best with matte paint. Personally, my favorite matte furniture paint is Fusion Mineral and they have several whites to choose from. You can see a comparison of their white colors here, but Casement is generally their purest white color. I have also used Annie Sloan, and DIY chalk paint (1 cup latex paint plus 2.5 tbsp plaster of paris + 1.5 tbsp cool water) that works pretty good if you water it down more.
All in all, I am pretty happy with how the oars turned out. Maybe when I am ready to take on a larger project, I will finally get around to that dresser. Oh well, more goals for this year.
Do you like the whitewashed look? It has so many applications from accents to whole walls.
Looking for More Furniture and Painting Projects? We have lots of inspiration!
How-To Tips
• Although the stain is not recommended for outdoor use, it is actually quite durable in a mild climate like Southern California. Instead of brushing on the stain and then immediately wiping it off with a cloth (as per the can's directions),  brush on a thin layer, don't wipe and let dry. The unfinished wood will absorb the stain unevenly and that adds to the charm of a white-washed fence.
• Use a brush not a roller. You want to see some of those brush strokes.  Occasionally paint against the grain of the wood here and there to enhance the shabby yet chic look of a white-washed cottage fence.
• You can stain a fence in half the time it takes to paint it.  The stain also helps to protect the wood over time.
Here's a bonus tip on how to hang a unique planter on a garden fence.