Cannabis vaporization is growing in popularity among people interested in consuming cannabis in an easy, discreet manner that's healthier than traditional smoking methods. Both flower and concentrates can be vaporized using a wide range of devices.
The leading benefit for cannabis vaporization is that it's a healthier alternative to smoking flower, as vapor doesn't release the tar and carcinogens created during combustion (the process of burning flower).
Additionally, portable vaporizers allow for easy and discreet use as the cannabis vapor creates a less potent aroma. Portable vaporizers are easy to use and fit in your pocket. Like flower and concentrates, the onset time is rapid.
The process of vaporization involves heating cannabis flower or concentrates to a temperature that turns the active compounds (cannabinoids and terpenes) into vapor. Vaporization is a healthier alternative to smoking as it occurs at temperatures that do not allow the flower to combust, which releases harmful tar and carcinogens.
There are many methods by which people vaporize cannabis. The three main types are tabletop vaporizers, portable vaporizers and vape pens.
Tabletop vaporizers are stationary temperature control units that require a solid surface upon which to sit. Tabletop vaporizers come in many varieties, but all include four main features:
A temperature dial to regulate the temperature
A healing element that heats the flower or concentrates
A heating chamber where you put the flower or concentrates
A mouthpiece attachment
Some tabletop vaporizers use a bag to collect the vapor, which is detached prior to inhalation, while others use a long tube that is attached to the heating chamber and allows the vapor to move directly from the heating chamber to the person using the vaporizer. Most tabletop vaporizers of this style are used to vaporize cannabis flower.
Based on function, e-nail (electric nail) dab rigs could also be considered tabletop vaporizers. This method allows people to vaporize concentrates using an electric nail. However, a reference to the term "vaporizer" generally applies to a device that vaporizes cannabis flowers.
Portable vaporizers are small, discreet vaporizers that operate in much the same way as tabletop vaporizers. Portable vaporizers include a chamber to hold the cannabis flower or concentrate, a heating element and a battery. Most portable vaporizers contain variable temperature control devices that are operated with the click of a button or turn of a small dial. This activates the battery, which heats the element and vaporizes the flower or concentrate contained within the chamber, sending it into the mouthpiece for inhalation.
Portable vaporizers can be used to consume many forms of concentrate including badder, budder, and shatter as well as flower in some cases. Before purchasing a portable vaporizer, consider the types of cannabis you intend to consume and look for one designed to accommodate that product.
Vape pens are a type of vaporizer designed specifically to vaporize cannabis distillates and oils. They are called pens because the design of the vape device closely resembles that of a traditional pen. A vape pen consists of two pieces: a battery and cartridge.
Vape batteries come in a variety of styles – button or buttonless, cylindrical or rectangular, large or small – there is a shape and style to fit many personal preferences.
Vape cartridges contain a mouthpiece, chamber and heating element, which is activated upon initiated contact with a vape battery. The chamber of a vape cartridge is filled with oil or distillate, which contains concentrated amounts of cannabis cannabinoids and terpenes.
When choosing a vape cartridge, it's important to know the type of oil contained within, whether and how it's flavored and what cutting agents, if any, have been used to dilute the solution. This helps you anticipate the type of vaping experience to expect.
Vape cartridges are all filled with cannabis distillate that's designed for optimal vaporization using a portable battery. During the distillation process, the cannabis oil is stripped of all flavor and aromatic compounds. At this point, it can be left in its raw form (flavorless/tasteless), it can be mixed with terpenes for extra flavor, or with some form of glycol (PG, VG, PEG) to give the vapor extra mouthfeel (thin versus thick, smooth versus chalky, dry versus buttery).
Understand How the Vaporizer Pen Works
Most vape pens have the same parts, though some will differ slightly.
Battery: This is what powers the device and usually the longest part of the pen.
Heating chamber / atomizer: This is where your concentrate oil, wax, or dry herbs are placed to be heated until they produce a vapor. Attaches to the battery.
Mouthpiece: This is the part that you draw the vapor from and attaches to the heating chamber.
Charger: Separate from the pen itself, this is usually a micro USB and is used to charge your vape battery.
Basically, a vape pen works by providing power to the heating chamber, which then heats the cannabis herbs, oil, or wax, until a vapor is produced. That vapor is then inhaled through the mouthpiece.
Yes, it's really that simple.
Accessorize!
Like with any tool, there are certain accessories that are a must. While your vape pen is easily portable, it is also very fragile, particularly if you are using pre-filled oil cartridges. If you are using wax or smoking dabs, you'll need a small airtight container to store them in. You'll also need a dabber, which is a small metal tool used to scoop the wax up and place it into the heating chamber. Having some silicone wax mats so you don't end up with tiny balls of concentrated cannabis all over the place is a must as well.
Know Your Cartridges and Concentrates
Cannabis concentrates come in a few forms. One form is pre-filled, disposable oil cartridges. Other concentrates are referred to as budder, wax, and sugar, so named for their appearance and consistency also work best in vape pens. These are generally also easier to work with and load on the go. You can also get refillable oil cartridges. Be sure that your vape is meant to be used with the kind of concentrates you prefer.
Load Your Vape Pen Chamber Correctly
Loading your chamber by picking up your wax with your fingers is a big no-no. It can actually degrade the oil. Instead, collect a small amount from the container with the dab tool or dabber and place it into the chamber.
If you'd rather not be bothered to load and reload the chamber yourself, you can opt for pre-filled oil cartridges that are easy to replace. Simply unscrew the empty and screw on the new one.
Learn to Use the Button
Your loaded vape is now ready for use! Simply press the button and inhale while keeping the button depressed. Some vape pens, especially those for use with cannabis oils, may not have the button, so all you need to do is inhale (known as "auto draw"). Small sips are generally the way to go, so avoid inhaling as hard and as deep as you can.
Vape pen users have their preferences when it comes to models with activation buttons or "auto draw" (meaning they're activated simply by inhaling on the mouthpiece). The advantage of activation buttons is that they offer more control over temperature. Most vape pens with buttons require five clicks to turn them on, three clicks to change the heat setting, and five clicks to turn them back off. The button heats the chamber as you hold it down, so be sure to hold the button down as you're taking your hit.
The button settings on a vape pen can also be a disadvantage. It's less intuitive with more room for user error than vape pens that are "auto draw". Pro tip: when you first purchase your vape pen, be sure to read the instructions on button settings, heat settings, and what the indicator light means.
Keep It Charged and Stored Properly
If you plan on carrying your vape pen with you as you travel to or from a Denver vacation, it will be important to have a storage case that is airtight and smell-proof. Many cases, such as Stashlogix, have room for your pen as well as all of your accessories.
Other considerations for using a vape pen can include making sure that you always have a spare battery that is kept charged. This is so that you never run out of power for your vape. As stated earlier, when making your initial vaporizer pen purchase, consider what kind of concentrates you'll want to use. Most pens work only with either oil, wax, or dry herbs. However, there are some nifty all-in-one vaporizers that are slightly larger than a vape pen, but still pretty nice to use.
Try Disposable Vape Pens When Traveling
If you don't want to deal with the hassle of recharging a battery or the maintenance of keeping a vape pen filled, then a disposable vape pen is the way to go. These single-use pens are generally smaller and even more discreet than their reusable counterparts. Disposable vape pens generally one-piece units, with no removable battery, no refillable heating chamber, and no button (auto draw). Once the oil/concentrate supply is depleted, you can simply discard it. It's a great alternative when traveling in legalized states and leaving it behind when you head to the airport or the border.
The Perks of Learning How to Use a Vape Pen
Smoke-free. There is no combustion, flame, or ash involved in vaporizing. This is both cleaner and better for health.
Less odor. Because smoke is removed from the process, less odor is produced, and it dissipates more quickly than smoke.
More discreet. Vape pens are portable and the vapor they emit is less conspicuous than cannabis smoke.
More efficient. Because concentrates are typically 80% – 90% THC, vaporizing is more efficient than smoking plant matter.

Airo Pro Cartridges
Revolutionary ceramic technology
Magnetic, leak-resistant ceramic cartridges, pop on & off for ease of use
Clean vapor with no burnt taste
Choose from a variety of flavored artisanal oils
Affordably priced!
*Search our Online Shop to check current availability. Not all Airo Pro vape pen cartridge varieties may be in stock.\
Raw CO2–Extracted Craft Cannabis Oils Airo Pro Vape Pen Cartridges
These are the original unflavored, raw, pure cannabis nectar vape cartridges, created using the finest, high-potency cannabis. These raw CO2 oils are extracted by The Farm in Boulder, Colorado and available in:
Raw Sativa oil
Raw Indica oil
Raw Hybrid oil
Raw High-CBD to THC 2:1 Harmonia single-strain oil from The Farm's Harmonia craft cannabis flower
Artisan-Flavored Pure Distillate Cannabis Oil Airo Pro Vape Pen Cartridges
AiroPro naturally-flavored oils are high-potency, pure distillate oils. Adopted from time-tested botanical oil extraction methods used by other industries, such as cooking oils, distillate oils are the closest thing to an essential oil of cannabis, which provides optimum purity.
This purity allows for crafting a unique aroma, flavor and experience profile into each cartridge. The process is enhanced by the use of naturally-derived non-cannabis terpenes, blended to mimic the molecular structure of specific strains combined with discreet natural flavors. These distillate oils are available in the following profiles:
SATIVAwith Jack Herer terpenes
HYBRIDwith GSC terpenes
INDICAwith BBK terpenes
Sumatran SunriseBlood Orange flavor
Mountain MistCool Mint flavor
Night RiderSugar Plum flavor
Oz's OrchardApple Berry flavor
Midnight MoonBlack and Blueberry flavor
Airo Pro CBD SERIES | Artisan-Flavored Pure Distillate Cannabis Oil
Wild Orange Blossom-flavored | 1:1 CBD to THC | Buddha's Smile
COMING SOON! Chamomile & Lemon-flavored | 10:1 CBD to THC | Tranquilitea
Airo Pro STRAIN SERIES Pure Distillate Cannabis Oils
Full Terpene | High Potency
SATIVA
HYBRID
INDICA
Jack Herer
Blue Dream
BBK
Sour Diesel
GSC
Northern Lights
Green Crush
Strawberry Banana
Berry Gelato
A Brief Overview of Vape Pen Functionality
Before we get into the juicy stuff, it is important to take a moment and briefly explain how most vape pens work. Unlike the traditional "roll up and light up" method which combusts your weed, vape pens operate with their own ovens that use air to heat up your concentrates – known as convection heating. The air inside the chamber is heated to temperatures ripe for extracting the THC from your wax or oils – avoiding combustion altogether.
However, many marijuana users struggle to find that sweet spot since it depends on hitting the right temperature in order to get the benefits of those cannabinoids and terpenes.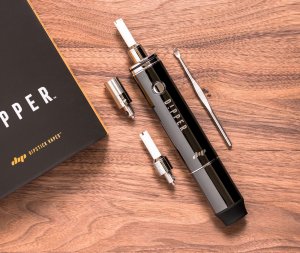 (One unit we tested here was the Dipper from Dipstick Vapes.  The removable ceramic heating element and portability made it an ideal choice for a handy multifunctional small unit – editor)
The Downside of Vaping at Low Temps
Vaping at temperatures below 356°F is perfect for getting the best of terpenes but not so many cannabinoids.
Many users stay behind the "tried and true" method of vaping at low temperatures and will do so to avoid combustion or their wax fading away. However, vaping at temperatures lower than 356°F only releases terpenes and not cannabinoids. Most people don't know this and think that vaping at this temperature is most efficient but instead, they end up getting weaker psychoactive effects. This is usually perfect for medicinal marijuana users but for recreational vapers, not so much. At that point, cranking up the heat is your best bet.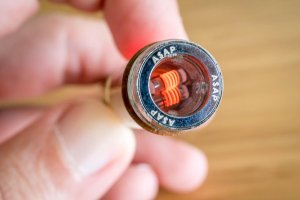 vape temperature