As Kodi becomes more and more popular because of its exceptionality, the XBMC foundation regularly releases updates to improve the software further. These updates are usually necessary as they fix issues or add features to make your Kodi experience better. Knowing how to update Kodi is therefore essential.
Fortunately, updating Kodi on Android box is quite easy, unlike on the Amazon Fire Stick. This is because Android TV boxes can access the Google Play Store, where Kodi is available and can be installed and updated from. The Amazon Store doesn't support Kodi.
Depending on your TV box, you may have Kodi pre-installed on your TV box. In such a case, the chances are that the Kodi version on your device is outdated. If so, you will need to do an update.
In this guide, we shall show you a simple way of how to update Kodi on your Android box. This method should work for all Android boxes, and all you need to do is ensure that your Box has the Google Play Store App pre-installed. Depending on the version of your device, the store can have a different name.
How to update Kodi from the Google Play Store
You can follow the following procedure:
On the main home screen your Android TV Box, open the Google Play Store.
If you haven't used Play Store yet, you will be required to log in to your email account. After that, Google Play Store will open.
Once there, navigate to the left-hand side where you will find four menu options; Home, Games, My Apps, and Settings. Click on My Apps menu to get a list of all the apps in your Android TV box. The system will sort those with available updates on the left side.Here, you can decide whether to update all apps or just install the Kodi update. To install all updates, select "Update All." The installation will start in sequence, and so you may need to be a little patient. Otherwise, you can just select Kodi and click "Update."After Kodi installs, you will be given a "launch" button. On clicking it, your updated Kodi version will launch.You can now enjoy the latest version of Kodi. Remember that you can enhance your Kodi experience by adding a number of add-ons depending on whether you are a movie or TV series person, sports enthusiast, or anything. You can check out our detailed add-ons guide to know all about Kodi add-ons and learn how to install some of the best add-ons.
Step-1: How to Install Kodi on Firestick TV Without Computer PC
For the second generation, Fire TV also used on all powered Firestick devices. The home page of Second generation Firestick TV has different look. Ultra TT Build on Kodi Addon install Tips and tricks.
On the Home screen of KodiTV, you can see the options for Home, Apps, and your Videos etc. Once click on Settings Option and open it.  Download Hyper TT Kodi Addon from the official site.
Once Opened SETTINGS Tab. In that, multiple entries are available on it. You can move towards the right side of the screen. Select the DEVICE hit to open.
In the DEVICE Option, you have to click on DEVELOPER OPTIONS.
Now, Go to the "APPS FROM UNKNOWN SOURCES" is in OFF state. Make it as ON State.
Again you visit the Home Screen and Open Kodi App.
PC launch the Home screen of Kodi app. In that, Tap on The SYSTEM Tab.
In the SYSTEM tab navigate to SYSTEM INFO Tab.
Next click on the SUMMERY Option to check details. You can get the current version of the Kodi Application.
Now you can update the Kodi Latest version. Now close  Down the Kodi App. In the search Filed Type Downloader. Select the Downloader app.
After that, you can click on the Download Button. it takes few seconds to Download & installing on it.
This time one pop-up box open and ask Ready To Launch. Click on Open Option.
Opening the Downloader application ask to enter the Address http://troypoint.com/kodistable as it is.
Now click on the Highlighted Download Button.
Start the New Kodi Version Downloading. Once over the process Tap On "New" option. It navigates to the "Install" Option. Just click on the Install Button to get the latest version of Kodi TV app.
After the installation process completed. Now open the latest Kodi on Fire TV device.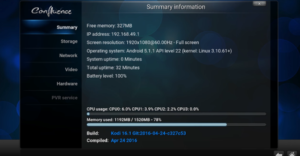 Go to the Systems Tab. Click on the Systems Info tab to check the new version of the Kodi app on Fire TV.
Must Read: TDB Wizard Kodi addon provides HD quality videos from Here.
Update Kodi On Windows Steps
Follow the below-given steps to update Kodi on Windows;
Close Kodi application on your Windows device.
Visit the www.kodi.tv/download and download the recent installer of windows for Kodi.
Launch the .exe file after the new version of Kodi gets downloaded.
Go through each of the Kodi installation screens.  After that, you will be notified that your current Kodi files are overwritten which is a good thing so you should proceed.
After Windows gets installed successfully, open Kodi and make sure that all of your add-ons, skins, and settings are intact.
If you have any queries please feel free to post a comment and we will help you as soon as possible.