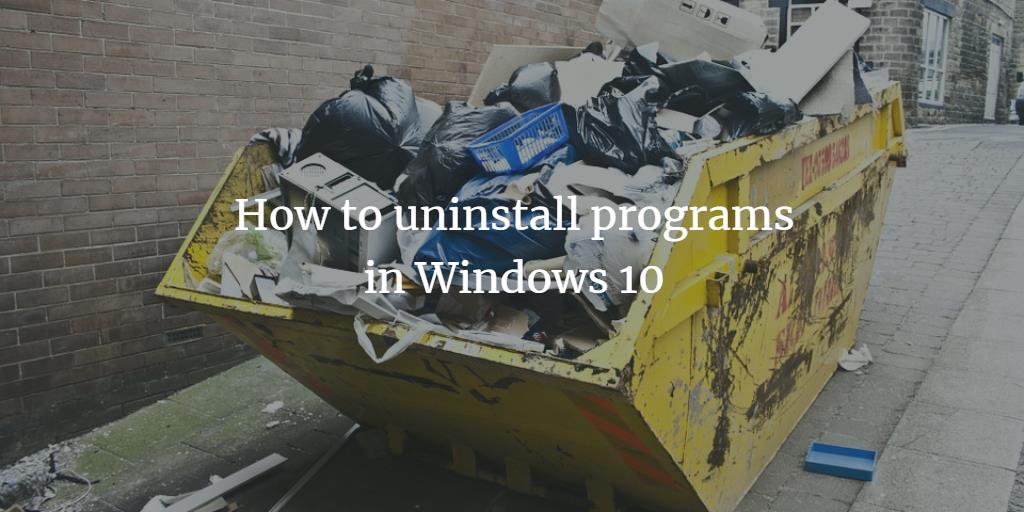 Is your PC acting slow and sluggish? Each one of us has come across a point in our lives where we have wanted to remove a specific program from our PC because they've affected our system's performance.  That software program may not have been working like we expected it to or may have malfunctioned. One might also want to reclaim some space by freeing up some programs. The speed and performance also goes up when extra programs are uninstalled. Whatever the reason may be, sometimes it becomes necessary we uninstall it from the computer. You can uninstall unwanted programs in a couple of ways in Windows 10. The process isn't hard at all.
Method 3 – Uninstall Desktop programs ad features using the Control Panel
You can also follow the old-fashioned way of uninstalling desktop programs using the Control Panel. This is probably the most traditional way of uninstalling programs. So just follow the steps below:
Step 1: Simply launch the Control Panel from the Start Menu
Step 2: Go to the options Programs and Features or Uninstall a program
Step 3: Select the program you want to remove and click on Uninstall
Step 4: From the confirmatory pop-up window click on Uninstall again and you'll be done
Uninstalling programs in Windows 10 – Wrapping it up with some final words
That's literally it! You've learned how to uninstall programs and apps and that makes you the champion of uninstalling useless programs. Uninstalling heavy and redundant programs can definitely help you unclutter your PC. This cleaning up process enhances your systems speed and performance. The three different ways shown above to uninstall a program a Windows 10 are all very simple and easy to follow. It's really up to you as to which method you find the easiest.
How to uninstall programs in Windows 10
Uninstall programs using CCleaner
At times, some programs refuse to get uninstalled when following above mentioned standard procedure. In that case, you need to use third-party programs such as CCleaner to get rid of the program.
As you likely know, the free version of CCleaner for Windows 10 supports uninstalling both apps installed from Store as well as traditional desktop programs. Complete the given below instructions to remove desktop applications using CCleaner.
Step 1: Download and install CCleaner, if not installed already.
Step 2: Launch CCleaner. Click Tools and then click Uninstall to view all installed programs and apps.
Step 3: Click on the program that you want to get rid of and then click Uninstall button. Click Yes if and when you see the confirmation dialog.
Installing a program in Windows 10
When you install a program in Windows, the installer has to do several things.
Files are copied into Program Files or somewhere else if you manually install them elsewhere. Even if installed elsewhere, a folder with a link will often be installed into Program Files
Copies of DLL and shared files are copied into System32 and Common Files on your C drive.
The Windows registry is updated to reflect the new program and to point Windows at its various dependencies and resources. Keys are added as required, including one to the uninstall tool that should be packaged with the program.
The Setup log will be updated to tell Windows where to find resources and the uninstall tool.
Rules are updated to allow the program to access system resources, the internet and anything else it might need to work. You may or may not be prompted during this process.
So that's what happens when a program is added to Windows. When you uninstall a program, Windows refers to that setup file and the registry to look for the uninstaller. If it cannot find it for some reason, uninstallation will not continue. If the setup log file or uninstall entry in the registry is corrupted, changed or otherwise interfered with, uninstalling using normal means will not work.
Some third-party programs will not have complete uninstallers or won't have them at all.
Did you know you can also remove Windows 10 apps?
Removing a program using the uninstaller
If the program won't uninstall using the Windows uninstaller, try the program-specific one. If that doesn't work you need to assess whether the uninstaller itself is incomplete or doesn't work or whether something has happened to the log file or registry entry for that uninstaller.
While it may seem counterintuitive, installing the program again helps here. If the installer is merely corrupted, reinstalling it can fix that corruption. The uninstaller may then work. If it doesn't have a proper uninstallation tool or it still doesn't work, move on to another method.
We do a lot of computer repair work within the registry here at Dave's Computers but I can appreciate that not everyone wants to mess around with it. If you're one of them, you may like to move on to our final method. Otherwise:
Press Windows key + R, type 'regedit' and hit Enter.
Select File and Export to make a backup copy of the registry in case something goes wrong.
Navigate to 'HKEY_LOCAL_MACHINE\SOFTWARE\Microsoft\Windows\CurrentVersion\Uninstall'
Find the program in the folder and delete the key. Some folders are named, others have a code. Look at the DisplayName in each to see what program it refers to.
Repeat in HKEY_CURRENT_USER\Software, HKEY_LOCAL_MACHINE\Software and HKEY_LOCAL_MACHINE\System\CurrentControlSet\Services.
You can also highlight Computer in the left pane and press Ctrl + F and search for the program name if you prefer.
Navigate to the installation location of the program and look for the installation or setup log. Find the installation locations of all files and folders from the install.
Delete each file.
As you can see, this method takes quite a bit of digging around to do properly but is an effective way of removing all traces of programs that won't uninstall on their own. Just remember to take a copy of the registry before making any changes otherwise a simple computer repair task gets a lot more complicated!
Removing a program using a third party tool
There are a good number of third party tools that help manage programs, system resources, registry and all that good stuff. My favorite is CCleaner. I don't work for them or get paid to recommend them, I just do it because the program is good.
CCleaner has its own uninstallation feature that actually works pretty well. It also has a registry tool that can tidy up any loose ends left in your registry which is also useful.
Download and install CCleaner. There is a free and a premium version available.
Select Tools in the left menu and Uninstall.
Find the program you want to uninstall and select Uninstall from the right menu.
Select Start-up from the left menu under Uninstall. Remove any program entry that allows it to start with Windows.
Select Registry from the left menu and Scan for Issues at the bottom.
Select Fix selected issues if the program finds anything.
Select save a copy of the registry if you didn't take a backup above and let the cleaner complete.
Quite often, if the program uninstaller won't work, CCleaner will. It isn't always the case though but in that instance manually removing registry entries, deleting the folder and then running the registry cleaner in CCleaner is enough to get things how you like them.
Before beginning
Let me remind you that Windows 10 has the new Settings app, and you can easily go to System > Apps & features to uninstall most of the apps, such as the annoying Get Office and Get Skype apps, Microsoft Solitaire Collection by selecting the app and clicking Uninstall. However, you'll notice that you won't be able to uninstall some of the apps and that when PowerShell comes in handy.
How to uninstall Windows 10 apps using PowerShell
Open Start.

Do a search for PowerShell, right-click the result, and click Run as administrator.

Use the following command to view all the apps installed in your account:

Get-AppxPackage

If you want to see all the Windows apps installed in the computer execute the following command:

Get-AppxPackage -AllUsers

You will see a long list of apps and their corresponding description, which can be overwhelming, but you need to do this to know the name of the apps you want to uninstall. For example, if you want to uninstall the Camera app, in the listing you'll notice that the system name is "Microsoft.WindowsCamera".

Knowing the app name, we can proceed to uninstall the app, simply type the following command and press Enter:

Get-AppxPackage Microsoft.WindowsCamera | Remove-AppxPackage

Note: Although, the camera app was easy to spot, you always want to know how to get the exact app name, because not every app has a very descriptive name. For example, Groove Music's system name is "Microsoft.ZuneMusic" and Movie & TV's system name is "Microsoft.ZuneVideo".

Restart your computer to complete the process.
How to uninstall Windows 10 built-in apps using PowerShell
The commands mentioned above will remove the Camera app from Windows 10, but you can use the same steps to uninstall any Windows Store app. However, because the list is extensive and confusing, I'm listing the PowerShell commands to remove apps you typically can't uninstall using using the Settings app.
Here is an example of the command, just replace SampleAppName with the universal Windows app name that you want to remove.
Get-AppxPackage SampleAppName | Remove-AppxPackage
Example: This command removes the Alarms & Clock app in Windows 10.
Get-AppxPackage Microsoft.WindowsAlarms | Remove-AppxPackage
List of built-in Windows app you can uninstall using PowerShell: 
Alarms & Clock: Microsoft.WindowsAlarms
Calculator: Microsoft.WindowsCalculator
Groove Music: Microsoft.ZuneMusic
Get Started: Microsoft.Getstarted
Mail and Calendar: Microsoft.windowscommunicationsapps
Maps: Microsoft.WindowsMaps
Movies & TV: Microsoft.ZuneVideo
OneNote: Microsoft.Office.OneNote
People: Microsoft.People
Phone: Microsoft.WindowsPhone
Photos: Microsoft.Windows.Photos
Paint 3D: Microsoft.MSPaint
Store: Microsoft.WindowsStore
Voice Recorder: Microsoft.SoundRecorder
Weather: Microsoft.BingWeather
Xbox: Microsoft.XboxApp
Keep in mind that apps, such as Cortana, Contact Support, Windows Feedback, Insider Hub, and Microsoft Edge cannot be removed. In fact, you will get a message that reads "This app is part of Windows and cannot be uninstalled on a per-user basis". Of course, you could find ways to remove them, but they will probably cause more harm than good.
If you don't feel comfortable using PowerShell and removing these apps, you can always create a full backup of your system before modifying the operating system. In addition, I have previously added a guide that you can use to uninstall the default apps in Windows 10 using a simple app.
In case you need to reinstall some of the specific apps, you can always install them back from the Windows Store.
The process we are seeing in this guide will help you to remove most of the new universal apps, Microsoft is bundling Windows 10, in the case you simply don't want them on your system. However, you can also use these instructions for those times where you have apps, such as the Store, Mail and Calendar, and other apps have syncing issues, they don't open, or simply misbehaving, and uninstalling and reinstalling may just fix the problem.
…I've got a small favor to ask. This is an independent site, and it takes a lot of time and hard work to produce content. Although more people are reading Pureinfotech, many are using adblocker. Advertising revenue that helps to pay bills is falling fast. And unlike many other sites, here there is not a paywall or anything blocking readers from accessing the site. So you can see why your help is needed.
If everyone who reads this site, who likes it, helps to support it, the future would be much more secure. Thank you.