Similar to Siri and Alexa, Microsoft's Cortana was designed to provide search, scheduling and other functions by allowing you to interact with the Windows system with your voice. While it's considered to be a helpful feature by most users, Cortana is also known to collect personal information, such as your preferences, schedule and location, and share it with Microsoft and other service providers.
If you're concerned about your privacy, or if you simply don't need the voice assistant features delivered by Cortana, you can shut it off by modifying the Windows registry. Note, however, that the following workaround does not guarantee that Cortana will remain switched off after another system update, so keep these instructions close at hand.
Here's how to disable Cortana in Windows 10:
Press Win+R to open REGEDIT. Type in regedit and click OK.
Navigate to HKEY_LOCAL_MACHINE\SOFTWARE\Policies\Microsoft\Windows\
Locate the Windows Search key. If it doesn't exist, create a new key named Windows Search by right-clicking on the Windows folder and choosing New > Key.
Right-click on the Windows Search folder and choose New > DWORD (32-bit) value.
Name this new DWORD AllowCortana, double click on it and set the value to 0.
Reboot your PC.
Did you find this article helpful? See other Windows tips & tricks on our blog and be sure to join us on Facebook, Twitter or LinkedIn to get all the latest news and updates as they happen.
Popular Windows 10 tips:How to fix double login issue on Windows 10 Fall Creators UpdateHow to change the language of Welcome Screen in Windows 104 ways to fix the unmountable boot volume error in Windows 10How to remove (and reinstall) default Window 10 apps3 ways to switch user in Windows 10 without logoff
Learn More About FixMe.IT
Knowledge Tips on Cortana
While different websites and forums provided different methods to turn off Cortana based on Windows 10 Versions 1703, 1607, 1511, 1507, some unknown information about it, is also to be noted.
One can only disable Cortana per device.
You disable the digital assistant in Windows 10 PC and cannot expect to be turned off on Windows 10 Mobile.
The name you set Cortana in notebook setting, to call you is also set per device, not globally.
You can clear data and personal information that Microsoft collects using Cortana. But there is no magic button to stop collecting information globally in your Microsoft account.
To stop Microsoft to store personal information in the cloud, turn off Cortana on all your devices. Then clear all your personal information from your Microsoft account.
If you disable Cortana in one device, then you clear your information stored online. But if you have another device using Cortana, then that personal data will once again be uploaded and stored in your account.
Turning off Cortana will make Windows 10 less efficient in trying to make better suggestions for you. The simple search bar on the taskbar will still continue to work.
Since you disable Cortana, the search icon and feature won't disappear. Simple searches (locally and from the web) will still work.
If you are using Windows 10 1507 or 1511 version, you can always turn on Cortana by opening search on the taskbar, going to the Settings section of the left panel, and sliding the pill switch to the On position. You can also do it via the Settings app > Privacy > Speech, inking, & typing and clicking the "Get to know me" button.
But in 1607 and 1703 version, you need to re-install and re-register some Cortana packages to make it work again. There is no simple solution.
Sources :
https://www.windowscentral.com/how-turn-cortana-and-stop-personal-data-gathering-windows-10 https://www.groovypost.com/howto/turn-off-cortana-in-windows-10-anniversary-edition/
I love being a Microsoft enthusiast and Tech lover. I Completed my M.Tech in Civil Engineering from IIT Kanpur, INDIA. My interests include Blogging, Surfing, Cricket, Books and Social Networking. I find solutions to problems on Windows, Outlook and Office.
How to disable Cortana permanently
Luckily there is a supported method for completely disabling Cortana in Windows 10 and it can be done as follows.
Step 1: Disable Cortana from the search menu
Cortana can be partially disabled by clicking on the search icon at the bottom left of Windows 10, clicking on the gear icon in the left-hand bar and then clicking "Off" under the Cortana web searches section.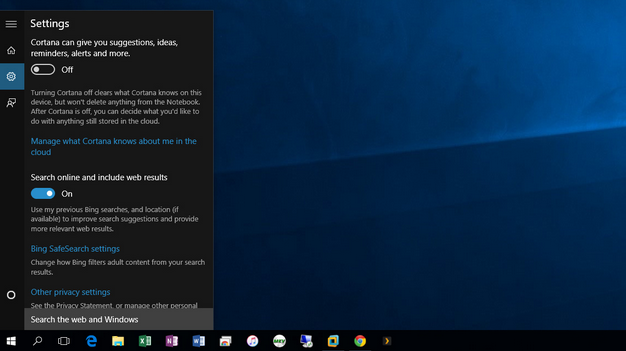 Step 2: Uninstall Cortana
After you have disabled Cortana you can completely uninstall it in order to prevent it from running in the background.
Click on the start menu and then type in PowerShell, right click on PowerShell and select "run as administrator".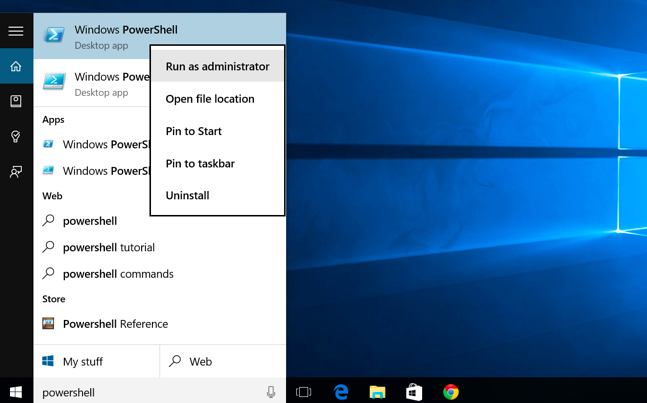 In the PowerShell window type the following and press enter:
Get-AppxPackage | Select Name, PackageFullNameRemove-AppxPackage Microsoft.Windows.Cortana_1.4.8.176_neutral_neutral_cw5n1h2txyewy
This command will completely remove Cortana, it will not be accessible from the start menu and the process will no longer run in the background.
There are also other methods of removing or completely disabling Windows Cortana but this method follows standard Microsoft practices and is therefore likely to have less impact on the operating system than other more controversial methods such as renaming the Cortana folder.
How to disable Cortana in Windows 10
Disable Cortana Via Local Group Policy In Windows 10
Step 1: Open the local group policy (GP) editor
Type "gpedit.msc" in the taskbar search bar and hit Enter to open the Local Group Policy Editor
Step 2: Head over to following
Computer Configuration > Administrative Templates > Windows Components > Search
Step 3: Open the settings box
Simply Double-click on Allow Cortana to open its configuration panel
Step 4: Get Rid of Cortana!
Set the settings to Disabled, click Apply and Exit
That's all! This is the best working method so far we have got to know.
How to disable Cortana web searches
Edit the Registry
Turn Off Bing Web Searches With WinAero Tweaker
1. Edit the Registry
You can edit the registry to block Cortana's Bing searches. To do that, make sure that your user account is an admin one. Then follow the guidelines below to edit the registry.
Open Run by pressing the Windows key + X hotkey and selecting Run.
Enter 'regedit' in Run to open the Registry Editor.
Then open this key path in the Registry Editor: HKEY_CURRENT_USERSoftwareMicrosoftWindowsCurrentVersionSearch.
Right-click an empty space on the right of the window and select New > DWORD (32-bit) Value. Then enter 'BingSearchEnabled' for the DWORD name.
Select DWORD (32-bit) Value on the context menu again to set up a new AllowSearchToUseLocation DWORD.
Select DWORD (32-bit) Value to set up a CortanaConsent DWORD if the registry does not already include that DWORD value. Then you should have two or three new DWORD values in the Search key as shown directly below.
The BingSearchEnabled and AllowSearchToUseLocation DWORDs turn off Cortana's web search when you configure their value data to 0 (which is the default value). You can turn the Cortana web search on or off by double-clicking those DWORDs to open their Edit DWORD windows. Enter 1 in both their Value data boxes to enable the Cortana web search, while a 0 data value for the BingSearchEnabled and the AllowSearchToUseLocation DWORDs turns off the Cortana web search.
2. Turn Off Bing Web Searches With WinAero Tweaker
WinAero Tweaker is a great freeware customization program for Windows 10, 8 and 7. That program includes a Disable web search in taskbar and Cortana option that you can select to turn off the Bing web search. So instead of editing the registry as outlined above, you can select that WinAero Tweaker option as follows.
Click WinAero Tweaker on this page to save the software's ZIP to Windows.
Open the WinAero Tweaker ZIP in File Explorer.
Press the Extract all button to open the window shown below.
Press the Browse button to choose a folder path to extract WinAero Tweaker to.
Then press the Extract button.
Open the WinAero Tweaker setup wizard from the extracted folder to install the software.
Open the WinAero Tweaker window.
Expand the Desktop and Taskbar category in the WinAero Tweaker window.
Click Disable Web Search on the left of the window to open the option below.
Then select the Disable web search in taskbar and Cortana option.
Microsoft might bring out an update sometime that fixes the Do not allow web search Group Policy option in Windows 10 Pro. However, for now you can block Cortana's web searches with WinAero Tweaker or by manually editing the registry.
RELATED STORIES TO CHECK OUT: