Selfies have taken social media by storm, and as of 2013 "selfie" has been added to the Oxford Dictionary. Selfies are a great way to memorialize a moment — there's no doubt you were there with a selfie! Selfies can liven up a series of ho hum vacation scenery shots, make a sporting event so much more fun, and capture that beautiful end of the day lighting. Update your Facebook or Tinder profile with an eye-catching selfie. There's no end to the number of different kinds of shots you can get.
If you've taken way more bad selfies than good ones, you're not alone. You may be wondering how people like Kim Kardashian, or even some of your besties on Facebook, always take perfect selfies. There's this non-posed, casual looking shot with perfect lighting that everyone else seems to pull off so seamlessly. How do they do it, and why do yours always look so blah?
Don't worry! Even if you've "never taken a good picture in your life" you can almost instantly take better selfies just by learning some simple tricks of the trade. I've rounded up seven tips from real photographers that will help you snap better selfies. After you read our selfie tips (and try them out!), I guarantee you're gonna get some good shots!
Put those selfies on display with these 15 fun photo display ideas! Don't forget to check out these makeup tips to make your selfies even more stylish.
1. Get the lighting right
Know how those selfies you snap in the car always tend to look amazing? That's because the inside cab of a car usually has great lighting. Shaded from harsh sunlight, but with plenty of daylight to illuminate your shot, you can get that gorgeous look every time by setting your selfies up in an area bathed with natural, diffused light.
Inside, you can face a large window or head outdoors and stand in a shaded area. Doing so will give you a natural glow, and make for beautiful photos every time.
2. Use the front lens
Though the main camera on the back of most phones takes bigger, sharper photos, the camera on the front of your phone makes it easy to see if you're happy with your shot before snapping. Because the front camera typically has a lower resolution than the back camera, make sure you've got great lighting and stand extra still while taking the photo for best results.
3. Pose like a pro
Ever wonder why some people look so great in every photo? The secret isn't in their genes — it's in their posture. Just about everyone can look more flattering with three simple tricks. Use these when you pose, and you'll be 10% happier with how you look in your photo.
Angle your body slightly. Turn your torso slightly to the right or left. A slight angle makes for a more interesting photo. Added bonus? It makes you look slimmer, too!
Shoulders down. This quick trick can take 10 years and 10 pounds off of any photo, no filter needed! Simply drop your shoulders down and back. Doing so thins your chinline and adds elongating dimension to the photo.
Lift your neck. Though it sometimes feels unnatural, lifting your neck and thrusting it forward ever so slightly does wonders for the final photo. You'll keep your chin free of any unwanted bulges, and the slightly extended angle lets your beautiful face stand out and be the star of the show.
4. Crop in close
Some of the best selfies show only you! Rather than stretching your arm awkwardly to show off any background, relax and keep your phone close. A tight crop makes for a stunning selfie.
5. Shoot from above
Just before pressing that little red button, lift your camera ever so slightly above eye level. This quick trick gives a playful, interesting angle to your shot, allowing the light to play off of your cheekbones and making your eyes look just a little bit larger. A great way to add a little more "sparkle" to your shot!
6. Look "inside" the camera
One of the best ways to take a gorgeous selfie is to "engage" the camera, as if it were a dear friend. Don't just look at the lens, look "into" it as you snap. In doing so, your eyelids will open just a millimeter more, and you'll get a bright and engaged look. If you feel like you often look tired or uninterested, this trick will totally change the way you look in photos.
7. Express yourself
Lift, smile, shoot from above. And, just before you snap, don't be afraid to throw out all the tricks and just be you. Laugh, smile, frown, stick out that tongue. Whatever you're feeling, let it be freely expressed. You may not look like a supermodel, but you'll look like your authentic self. And that, is exactly what a good selfie is all about.
Bonus Selfie Tips
I asked three favorite photographers to round up their top tips for selfie taking. Here's what they said:
"Face the light. (The car is actually a fantastic place for selfies….for reasons I won't delve into kind of creates that "open shade" affect. Shoot from above, Never straight on. Take a bunch of pics. The first one rarely turns out perfect."
—Kati Price, Priceless Impressions Photography
"There are several apps/cameras with selfie modes now that create fill light that flatters your skin (hint hint). If you're 'selfie-ing' to prove you're somewhere, don't forget to compose it so you include your background. And I definitely agree that it's important to take several and pick the best!"
—Schmoo Theune, Schmootography
"Here's my best set of tips:
Take a LOT! You're bound to get one good one if you take 30
Stand in front of a window when taking your selfie
Use a timer (I recommend Camera Plus app) or a selfie stick
Edit the pics using PicTapGo app"
—Kelli France, KelliFrance.com
Looks like all of these photographers agree! Taking the perfect selfie isn't hard, especially when you have so many great pro tips. Now it's your turn! Grab that camera and snap a selfie. We'd love to see how it turned out. Tag us on Facebook and say hi. Don't forget the hashtag #thegoodstuff!
Other Tips to Master the Selfie
Now that you have the basics of a good selfie down, here are some other things you can do to make your selfie really stand out.
Touch Up Your Makeup
Before to take a selfie, just peak in a mirror (or your phone's front-facing camera) to see if you need to touch up your makeup from the day's wear and tear. Our Limited Edition Snap Happy Makeup Kit is perfect for this because it includes Whisper PurePressed Blush, Brown Sugar PurePressed Eye Shadow Triple, and PureMatte Finish Powder to get rid of unwanted shine.
Pick a Cool Background
Selfies are as much about your lovely face as they are about telling the stories of the places you've visited. So, choose a memorable background so you'll have a great story to tell when you share the picture with your friends and family.
When In Doubt, Crop It out
After you take the selfie, give the image a once-over before you post it. If there's something you don't want to show, just zoom in and crop it out!
Feel the Love
Just like everything else in life being with someone you love or doing something you enjoy makes everything better. Why does this apply to selfies you ask? Because it makes you happy and when you're feeling happy you always capture your best selfie. Jane and Cookie love this tip!
Share Your #SnapHappySelfie & Win!
Now, you have our best selfie tips, we want to see them in action. Starting March 18, 2018, show us your beautiful selfies for a chance to win $250 worth of jane iredale makeup and an instant film camera. Here's how to enter:
Take a selfie that shows off your personality.
Head to Instagram or the #SnapHappySelfie contest page, and upload your image.
Tell us which jane iredale makeup you're wearing in the photo (if you aren't wearing our products, let us know which ones you want to try).
INSTAGRAM ONLY: Make sure to tag #SnapHappySelfie in your post.
The contest ends on April 9, 2018, and three winners will be randomly selected!
iPhone X selfie tip #1 – Portrait Mode
If you've seen Apple's iPhone X selfie advertising campaign, you'll know the phone is capable of some incredible portrait shots.
The first thing you need to know is that the iPhone X has a dedicated Portrait Mode.
This adds a depth-of-field effect that puts your face in sharp focus, and sets it against a blurred background to create a professionally snapped look.
First, go to your Camera app and then swipe along to Portrait mode. You can then swipe between modes with studio-lighting effects. Alternatively, you can 'Edit' your photo and add even more effects after you've snapped a selfie.
The iPhone X lets you create cool studio-style special effects
You can darken out the background and bring yourself into focus with the iPhone X Portrait mode
iPhone X selfie tip #3 – Lock focus and exposure
You can also lock the focus and exposure in, so that when you move the phone around, the camera won't constantly re-adjust for your shot.
This makes it much easier to snap pics in difficult lighting conditions.
All you need to do is press and hold on the screen until you see AE/AF Lock, allowing you to lock your settings in for snapping from any angle.
If you activate the right settings, you can create Instagram gold
iPhone X selfie tip #6 – Live Selfie
You can also take Live Selfies, which generate a short looping clip – a bit like the Boomerang app.
First, you'll need to enable Live Photos, so tap the small circle at the top of the screen in the Camera App. It's the second icon in from the left.
Parents warned their kids could be stripping for strangers on Fortnite
Fundraiser for first 'ORAL sex robot' attracts £200,000 from randy backers
How discovery of 2.4m-year-old tool may change history of life & 'cradle of mankind'
Eerie 'mountain ghost' caught on film lurking at top of Irish mountain
Nasa measured all light in the universe EVER – and the final number is insane
Apple engineer says pressure to design iPhone is reason I'm divorced
Once that's turned yellow – which means it's on – you can start taking Live Selfies.
Take your selfie, and then head into your Photos app and click on the image, and then swipe up to reveal various Live Photo effects like loop and bounce.
Have you got any great iPhone selfie tips? Let us know in the comments section.
We pay for your stories! Do you have a story for The Sun Online news team? Email us at [email protected] or call 0207 782 4368 . We pay for videos too. Click here to upload yours.
Further Reading
Well, that sums up my tips for getting better pictures of yourself when travelling (and when not!). Before you go, I just want to share with you a few more tips to help you get better photos, based on my years as a professional travel photographer.
This post forms a part of my series of photography tips, so definitely check that out if you're interested in getting better photos in general!
Whilst this post covers situations beyond just taking photos of yourself, including couple and family photos, we've also put together a post for taking better photos as a couple which you can check out.
If you're travelling soon, check out my series of photography location guides, which has handy tips for getting the best photos in locations in around the world
In the market for a new camera? Check out our guide to the best travel camera, which is always kept up to date with the latest recommendations. If you have a drone, we have a post on some of the top basic drone accessories you may want to check out.
Finally, if you're really serious about improving your photography, you'll want to check out my online photography course. I've taught hundreds of students to improve their photography, and would love to help you out too!
And that's it for my guide to taking better pictures of yourself when travelling! Do you struggle to get better selfies when you're on the go? Have any tips you'd like to share, or feedback on this post? Let me know in the comments below!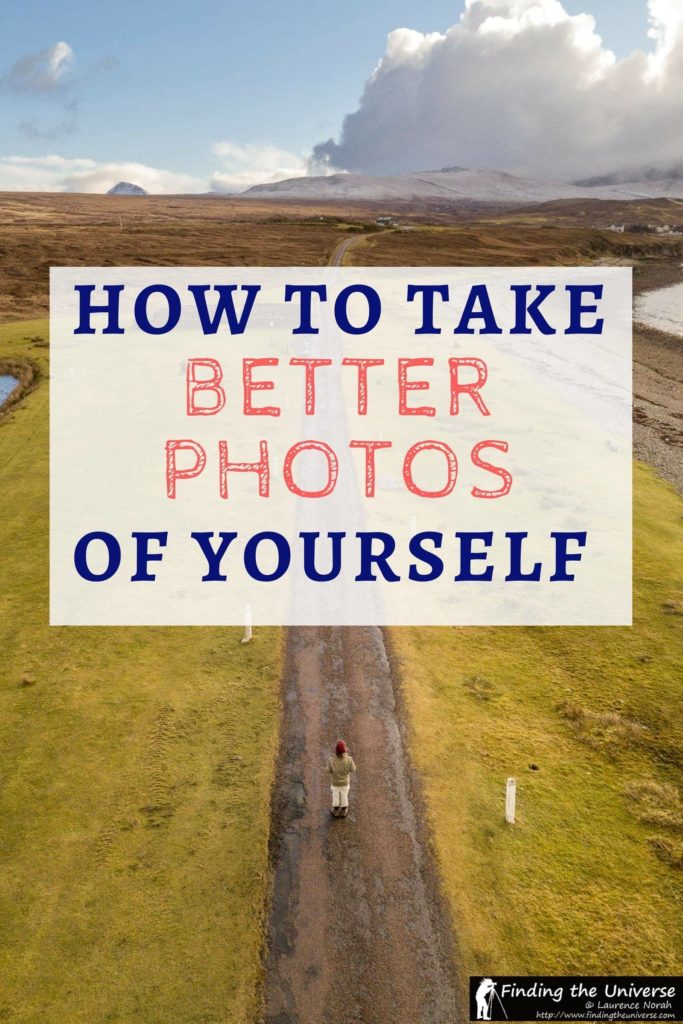 Home » Photography » Photography tips » How to Take Good Pictures of Yourself