If you're new here, you may want to get my discreet newsletter to learn how to make him sexually obsessed with you and only you. Click here to get it. It's free. It's discreet. It's 100% private.
Today you'll learn how to squirt when alone as well as how to make yourself squirt when you're with your man.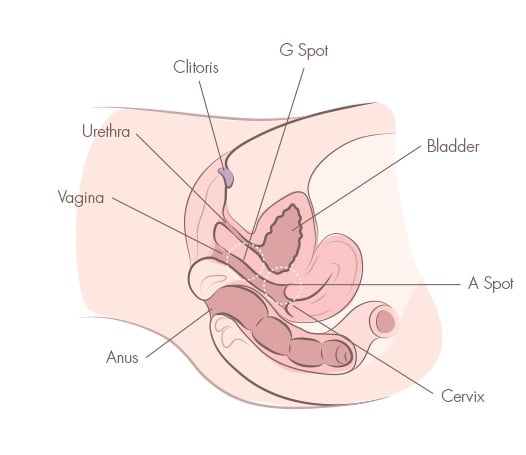 Additionally, your man may find this guide useful to read too, so that he understands how to help you achieve that beautiful feeling of female ejaculation.
Here's How The Tutorial Is Structured:
1. Your anatomy – The important parts of your body when making yourself squirt.
2. The process & techniques to squirt – With detailed instructional diagrams!
3. FAQ on common squirting questions that I'm often asked as well as debunking some annoying myths about squirting.
If you want to give your man back-arching, toe-curling, screaming orgasms that will keep him sexually obsessed with you, then you can learn these sex techniques in my private and discreet newsletter. You'll also learn the 5 dangerous mistakes that will ruin your sex life and relationship. Get it here.
Skene's Gland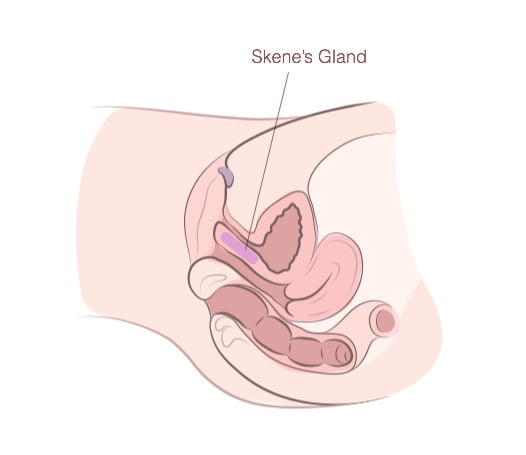 When you stimulate the G Spot, you are also going to be stimulating a gland just above it called the Skene's gland (sometimes called the Female prostate). The Skene's gland is located around the walls of the urethra and drains into the urethra. The Skene's gland is where you squirt or ejaculate from.
You can't stimulate the Skene's gland directly, as it's not actually on the inside wall of your vagina. Rather, it's just above your G Spot. So you can only stimulate it indirectly when you stimulate your G Spot. As a result, this entire tutorial will focus on stimulating your G Spot.
Just one last thing on the Skene's gland before we move on: When a scientific study was performed on multiple women by Emanuele Jannini of L'Aquila University in Italy in 2002, it found that the size and anatomy of the Skene's gland varies dramatically for each woman examined. He also discovered a few edge cases where they couldn't even find a Skene's gland in some women[3].
It's been postulated that the varying size and even lack of a Skene's gland altogether is the reason why some women can easily squirt while others have extreme difficulty with female ejaculation. I will also discuss other factors that can help or hinder your ability to ejaculate in the FAQ section at the end of this article.
Getting Aroused
Next, you need to start getting yourself aroused. Some suggestions for getting yourself aroused:
Reading erotica
Watching porn
Fantasising about something or someone
Massaging yourself
Using a vibrator or dildo
While getting yourself aroused, don't worry too much about your G Spot. Focus on the other areas of your body. Ideally, you should try to spend about 20-30 minutes getting yourself worked up to the point where you are eagerly awaiting an orgasm.
As you get yourself aroused, it will start to make your Skene's gland swell[5] and get bigger, which in turn will make your G Spot get bigger and more sensitive. Sometimes, this swelling of the Skene's gland can make it feel like you need to pee. This is simply because the Skene's gland is located right beside the bladder and will start to put extra pressure on the bladder as it's swells.
At this point, your G Spot should also be sufficiently enlarged and sensitive enough to find easily with your fingers. Remember, it's located on the upper wall of the vagina as indicated in the diagram below: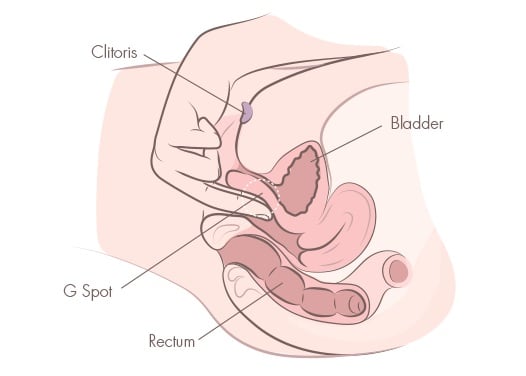 All of this 'foreplay' is important to build yourself up to squirting. Without it, your Skene's gland will not have swelled and your G Spot won't be as sensitive. In other words, if you don't get yourself worked up beforehand, it's going to a lot harder to actually squirt. Now, the good stuff…
Quick Note: Everybody responds differently to these techniques below. So make sure to do some experimentation to find what works best for you.
2. The CAT Technique
CAT stands for Coital Alignment Technique and it refers to a sex position coupled with sexual movement method that encourages clitoral orgasm and can be very effective insofar as how to make a girl squirt is concerned. Basically, CAT is an improved missionary position and has the man atop and facing the woman. The only difference is that you will be having sexual intercourse with your partner from an angle that is higher than usual. This exerts pressure on the clitoris of your woman as you enter and re-enter your woman in reaction to her pelvic thrusts.
Initially, you will enter from between her legs that are not only apart but also slightly bent. You then ride up on your girl's pelvis just enough to ensure that your penis' erect base pushes up against the clitoris. Your girl should then wrap her legs on yours. With this position, your woman can then start thrusting her own pelvis so that contact is made between the bottom part of your penis and her clitoris.
When performing this technique, the most important thing to remember is that you need to maintain contact with her clitoris. The movement is not exactly a thrusting one but more of a back and forth rocking while maintaining the focus on your penis's base and the clitoris.
You also need to remember that she is likely to feel her vagina very intense for 2-3 days, something that can make her both vulnerable and confused. Note that a lot of women don't have a clue regarding vaginal orgasm. What they are used to is external or clitoral orgasm. An internal orgasm is totally different.
Initially, it may take time to explore as well as accept the idea of female ejaculation. With time however, and after you have got used to it, you will realize that nothing is more intense. After mastering the right techniques to make women squirt themselves silly, you can be as dominant as you want as this is something they will even worship you for.
sexbomb-turnmeon.tumblr.com
3. Different Sex Positions
Another effective way of how to make a girl squirt is through finding the right sex positions. There are basically two areas in the vagina that act as orgasm triggers. The first one is the G-Spot and the other one is the cul-de-sac (this is an area that is highly sensitive and is found just behind the cervix). By modifying sex positions, you can stimulate these areas. For instance, if you tilt her pelvis and bring her legs up in the direction of her shoulders, your access to her clitoris, cul-de-sac and her G-spot will be increased.
Conclusion
With the above tips for your girl to squirt, I guarantee that she will have the most memorable orgasm she's ever had especially if this is her first time. And if you want your girl to squirt in large volumes, make her drink a lot of water just before you start. After she is finished squirting, she can very easily squirt again. If they have a couple of squirts, it is easy for them to pass out. But there is no doubt that learning how to make a girl squirt can make her fall in love with you even more.