October 11, 2018 • by Cha Miñoza
Kanye West's Adidas Yeezy shoes are the hottest sneakers on the market right now. Considering anything the Jenner/ Kardashian/ West clan touches practically sells out in minutes flat, it's no wonder that these sneakers are incredibly popular.
The Yeezy sneakers belong to a new line of modern shoes that combine both comfort and style so perfectly. They are capable of instantly upgrading casual outfits and have become the statement trainers for a generation.
To buy authentic Adidas Yeezys, stick to authorized online retailers such as Adidas, Amazon, and Mytheresa. These stores carry the latest Yeezy designs but act quickly because these popular shoes — especially new releases — fly off the shelves pretty fast.
Kanye West wearing Yeezy Boost sneakers at Heathrow Airport in London on April 10, 2016
Kanye West wearing Yeezy Boost 350s with a white stripe
Kris Jenner wearing Yeezy Boost 350 sneakers at Heathrow Airport in London on July 14, 2015
Kris Jenner shows off her coveted Yeezy Boost 350 sneakers
adidas Originals x Kanye West YEEZY SEASON 1 at the Mercedes Benz Fashion Week in New York on February 12, 2015
Adidas Yeezy sneakers are some of the most counterfeited shoe designs in the world because of their huge market. They are also notorious for being expensive sneakers, which is one of the reasons why many consumers choose to buy from auction sites like eBay and unauthorized stores that offer cheaper prices. We'll also discuss in detail why they are so expensive.
If you've been thinking of buying online to save yourself a couple of bucks, make sure to closely inspect the product for signs of counterfeiting. Here are seven easy things to check to ensure you are buying real Yeezys.
2. Check the wave pattern
The Yeezy Boost 350 has a signature wave-like pattern on its Primeknit uppers. On genuine Yeezy shoes, the wave should be sideways, with irregular or different sized wave prints.
Fake pairs have waves that look more like they were printed from top to bottom instead of left to right.
4. Check the heel details
The heel of a Yeezy shoe is filled with intricate details. Make sure to pay close attention to the heel tab, which has red stitch details marked with box stitches. The stitched square portion of the tab should contain five stitches, while the rectangular portion in the middle should have nine stitches.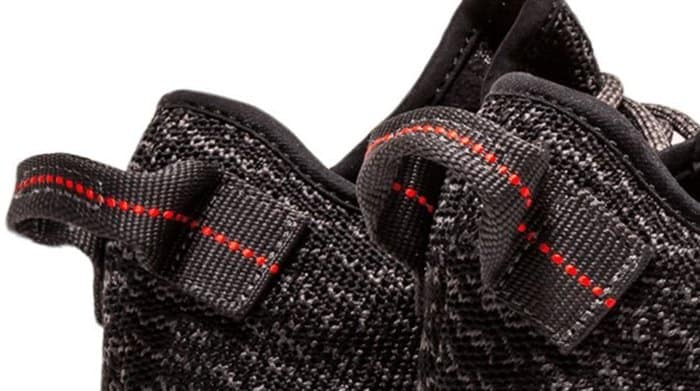 Another detail to watch out for is the placement of the heel tab, which should be just one centimeter away from the heel collar. In most counterfeits, the tab is stitched a lot further away, creating a wide gap between the tab and collar.
6. Check the outsole
One of the most important details, which the counterfeiters often get wrong, can be found on the outsoles. On the bottom of the Boost, there's a white exposed part that has flower-like embossing.
The pattern around them should be textured and irregular on both shoes. On genuine pairs, this part should feel a little mushy to the touch, fake ones will feel more rigid and tough.
7. Check the side logo
The Adidas logo and YZY stamp are placed on the inner sides of each Yeezy pair. These should be centered and placed on the suede-like panel. Counterfeits typically have off-centered logos, with fonts that are a tad bigger than the original.
Pay attention to the texture of the side panels, which should feel velvety to the touch.
Why Are Yeezys So Expensive?
While Kanye West helps create hype with his shoe designs, he is not the main reason why Yeezys are so expensive. In terms of the materials used and the workmanship, his shoes do not even begin to compare with designer shoes from similarly priced brands.
Instead, it's the simple law of supply and demand. Adidas makes an extremely small amount of Yeezys compared to the number of potential customers who'd like to buy a pair. If Adidas and Kanye West were to increase production, the price per pair would go down. And the hype would eventually die down as well.
Watch the video below for more tips on how to spot fake Yeezy Boosts.
Credit: WENN / Will Alexander / Ivan Nikolov