Though there are many low maintenance shoe options on the market today (such as rubber soles and faux leather), there's still nothing quite like a well-made pair of leather dress shoes. Quality leather not only looks better but will also last a lifetime when cared for properly. A key component of caring for leather dress shoes is a great shoe shine. When dressing for formal events, a pair of carefully shined shoes is a definite must. Just this small detail can give your outfit a more put together and proper feel.
Giving your shoes a good shine does more than just make them look great, it also greatly extends their lifespan. By learning how to shine your own shoes, you will no longer need to shy away from owning a pair of quality dress shoes. Educate yourself with this video or scroll down for step by step visual and written instructions.
The Essential Shoe Shine Supplies: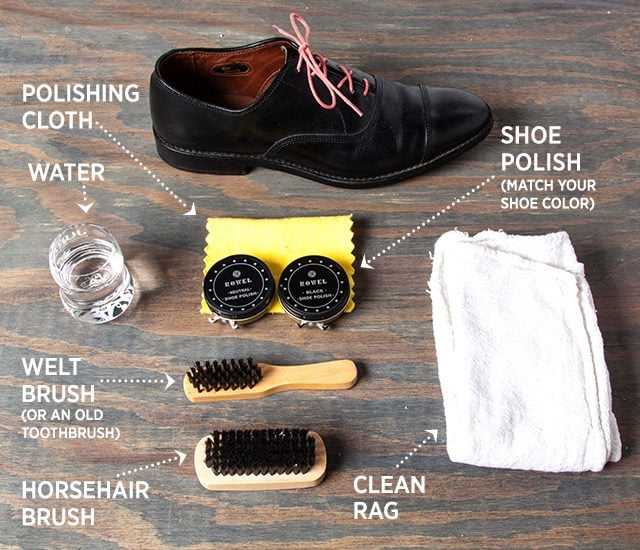 Shoe polish: There are two types of shoe polish to choose from: a cream or a wax. Whether you choose a cream polish or a wax polish depends on the type of finish you want. A cream polish will provide less shine but also moisturizes the leather as it is absorbed. Beware, cream polish can also affect the leather's color. A wax polish, on the other hand, will add a layer of shine, cover scuffs and protect the leather.  Be sure to match the polish to the color of your shoe's leather as closely as possible. (If you are really unsure, use a neutral or uncolored polish, although it will add only shine, not add color). We recommend using a wax polish (like we've done here) for that classic shoe shine look.
Polishing Cloth: A soft polishing cloth is essential for shining your shoes. While you can buy a cloth specific for shoes, an old t-shirt wrapped around two fingers also makes a terrific polishing cloth.
Clean Rag: You'll use this for cleaning your shoe and wiping off excess polish
Horsehair Buffing Brush: We recommend brushes that are specifically designed for shoe shining like Alden's Natural Brush

. Horsehair brushes are the best because they are sturdy but soft enough to not scratch the leather. They also help raise the fibers of the leather to create a great surface for shining.

Welt Brush: This smaller brush will help you scrub dirt out of the welt strip and allow you to apply polish to hard to reach areas. We recommend Saphir's Pommadier Brush. You can also use an old toothbrush.
A Cup of Water: For a "spit-shine" finish.
Your Shoe Shine Kit
SafeTouch Nitrile Gloves $9GUM Classic Toothbrush $2Shoe Shine Brush $9Saphir Universal Cream $12Saphir Superfine Cream $12Saphir Shoe Polish $20
The 27 Best Boots for Men
Nine types of boots, three choices each. Hop to it. Read the Story
Note: Purchasing products through our links may earn us a portion of the sale, which supports our editorial team's mission. Learn more here.
The Shoe Snob Journey
During our meeting, it became apparent that Justin's life thus far has been an extraordinary journey, a fact that doesn't quite come through on his blog. Try hard not to get wrapped up in the romanticism of it all…
Justin Fitzpatrick grew up in Seattle, Washington, but eventually traveled to Italy to study under a master shoemaker, learning like an
apprentice of old. In Italy, Justin met the love of his life (now wife, and mother to his young child). The couple moved to London for her work, a perfect destination for Justin as it gave him access to London. Each day, he would commute two hours to and from London, to shine shoes at Gieves & Hawkes on Savile Row. He did not let this time go to waste, but filled countless note books on the train with designs of men's shoes. An active participant on StyleForum.net shoe pages, Justin was quickly recognized as an authority on all things men's shoes. Which led to the development and prominence of  The Shoe Snob blog.
Review Of Brooklyn Flea Market For Men Into Fashion
Now, after seven years of effort, Justin has launched his own line of men's footwear, combining the finest traditional construction methods with a modern sensibility.
How To Shine Shoes
Justin was kind enough to give us a quick overview of his shoe shining technique. The following video details his process, which is designed to achieve a "military" shine.
Custom Made Tuxedo Slippers [The Alternative To Patent Leather Oxfords]
The Shoe Snob's Future
The ultimate goal for Justin is to "see men wearing better shoes".
He's leaving Gieves & Hawkes soon and relocating to Timothy Everest at 32 Elder Street (near Spitalfields Market). Not only that but his website is going to encompass more ecommerce functionality, beyond the current 'blog specials" and shoe accessories. As far as his shoe brand is concerned, Justin aspires to a global reach, with footwear in both physical locations and online.
Meeting Justin was a true pleasure. His passion for shoes is evident, and embodied by his incredible journey. Justin's story expresses one of my fundamental beliefs about menswear, that one's own style is an ever-evolving journey. It was cool to see that mirrored in a fledgling business.
Contact & Social Info:
Address: Timothy Everest, 32 Elder St, London
Email: [email protected]
Website: http://www.theshoesnob.com
Blog: http://www.theshoesnobblog.com/
Instagram: @theshoesnob84/
Facebook: theshoesnob1
Twitter: @theshoesnob84
YouTube: Justin Fitzpatrick YouTube