These instructions should be completed on the machine that will become the VPN server.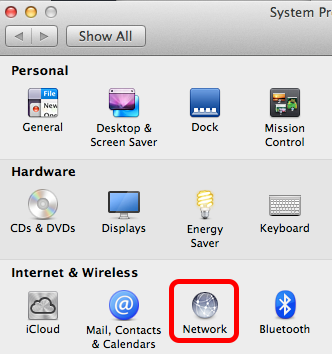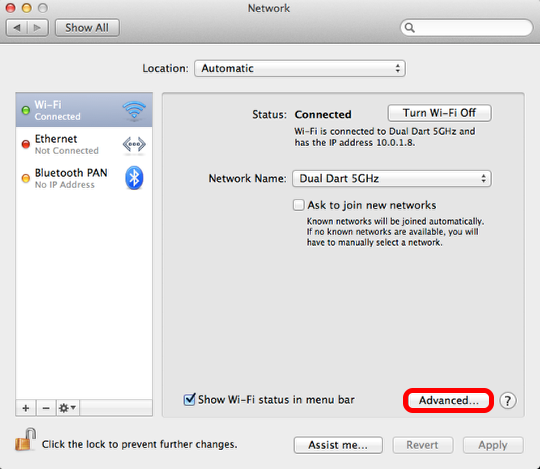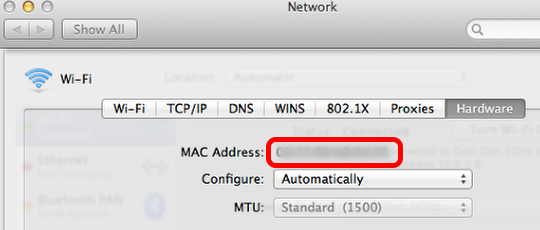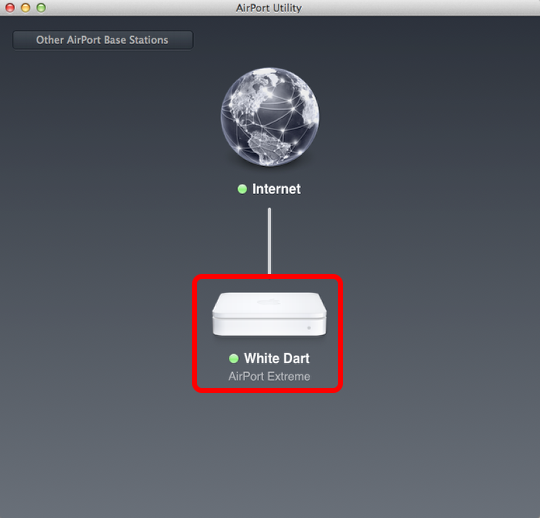 Click on your router, in my case it's called White Dart.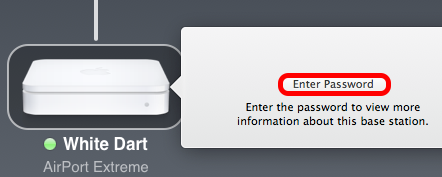 Enter your password when prompted and click OK.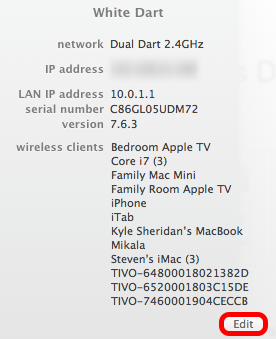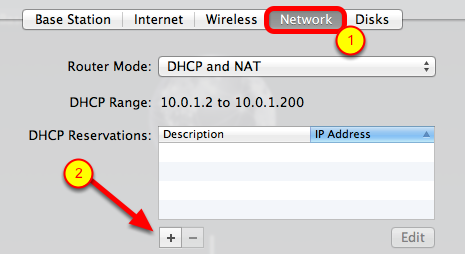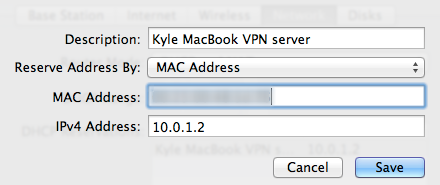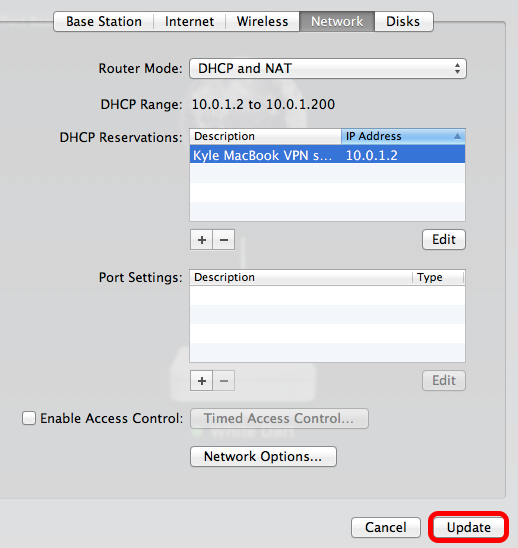 Quit Airport Utility when this operation completes.

Navigate to http://www.noip.com and select Sign Up.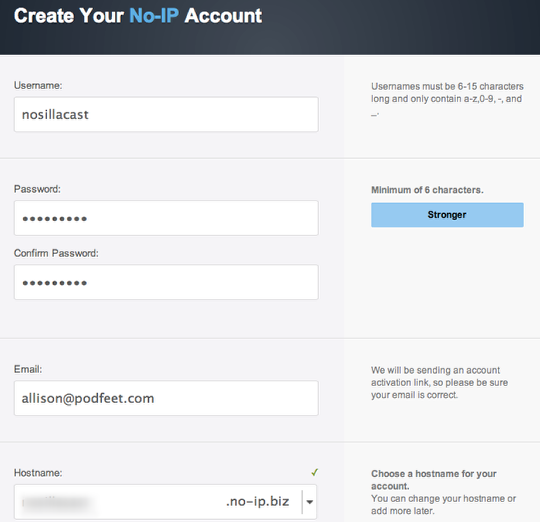 Enter your Email address. Note the host name shown which is free, but if you want to pay you can get more options. Scroll down to the bottom of the page.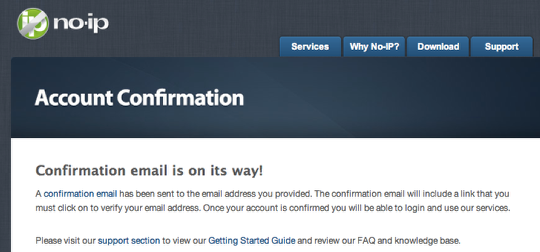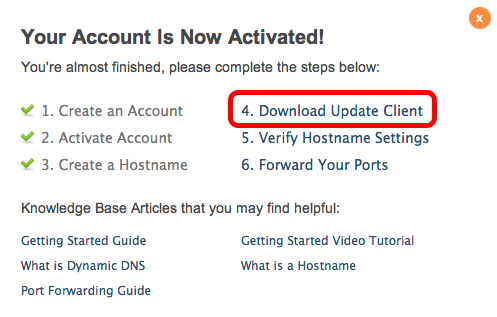 This client will run in the background and check to see if your IP address has changed, and if it has, will send it to no-ip.com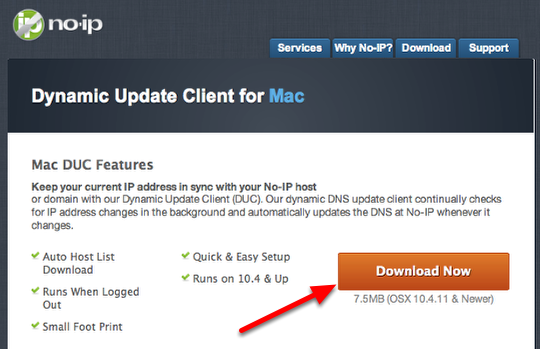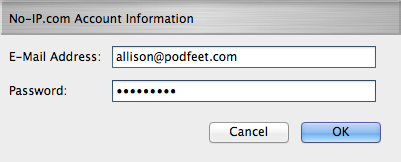 This menu should pop up automatically.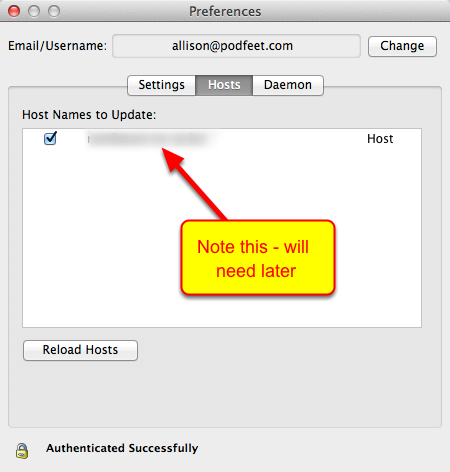 It may take a few moments for the host name you selected at no-ip.com to show up. Make sure you note this name, you'll need it later.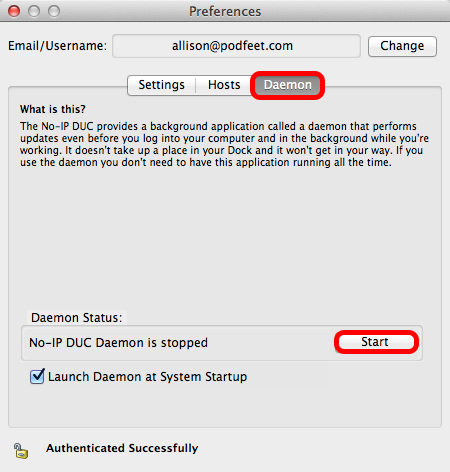 I chose this rather than running the application in the background all the time. Find Xcode in the Mac App Store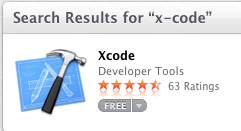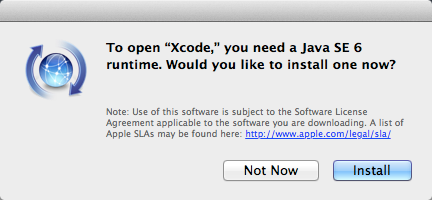 Xcode only installs the standalone Java, and it does NOT include the Java Web plugin that has been the subject of so many security vulnerabilities lately.

Wait till the installation finishes and quit X-Code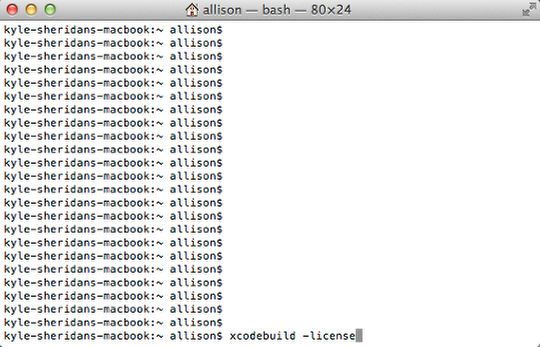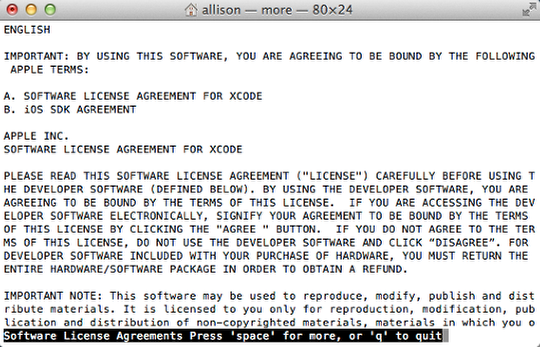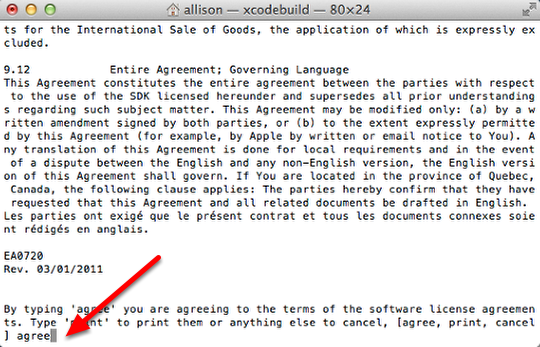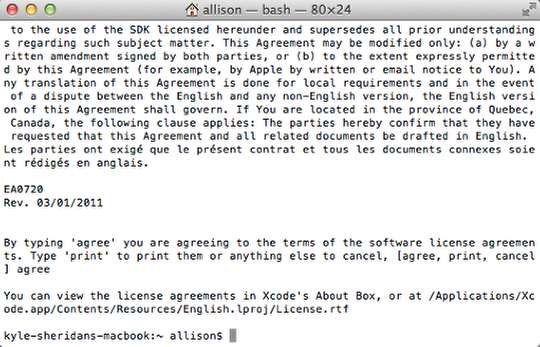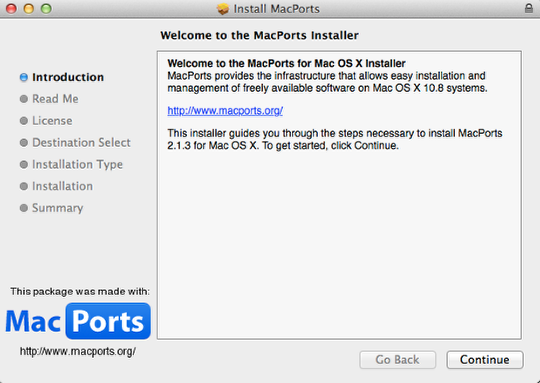 To run the self update to Macports enter: source ~/.profilethen sudo port -v selfupdate
and enter your administrator password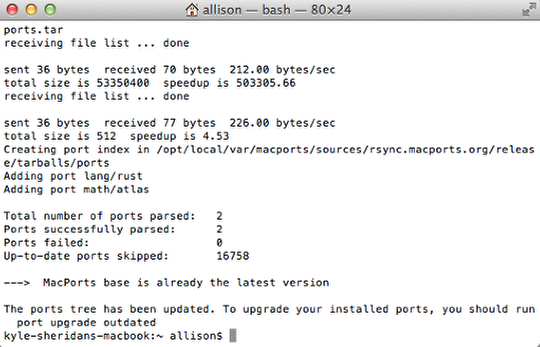 Enter sudo port -v install openvpn2
and watch a lot of glop go by…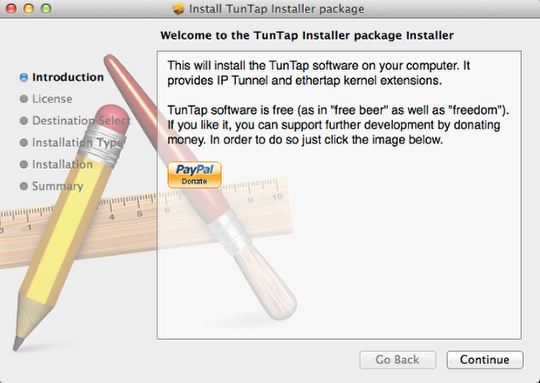 Gatekeeper won't let you just double click on the installer package (it will complain that it is from an unknown source), you have to right click on the installer package and choose "open".

cd ~/Downloadstar xvjf openvpn-mac.tar.bz2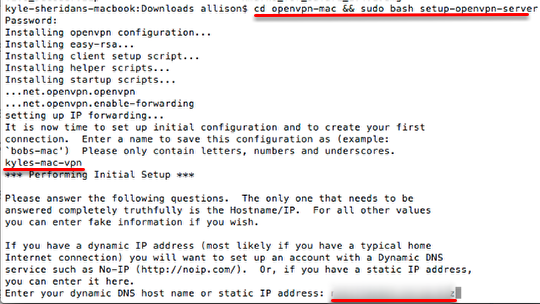 We're now going to run Donald's scripts. Enter this command: cd openvpn-mac && sudo bash setup-openvpn-server
Name your Server (I've entered kyles-mac-vpn)Enter the dynamic dns host name you noted back on no-ip.com (you DID note it, right?)

The first time through you need to answer these. These steps will be duplicated MANY times, but after this the answers will be there and you can simply hit Enter for each questions.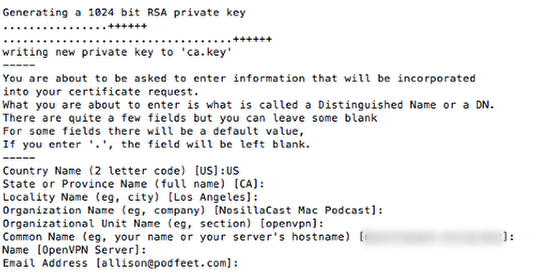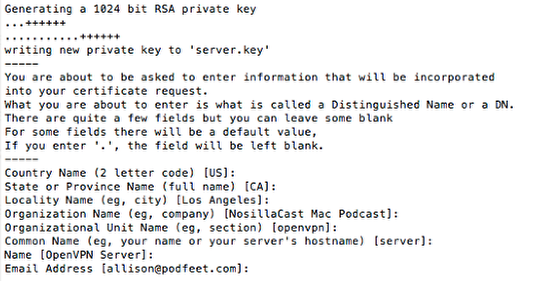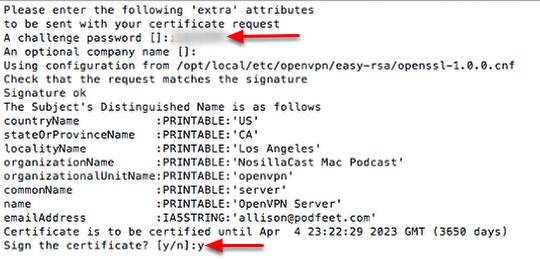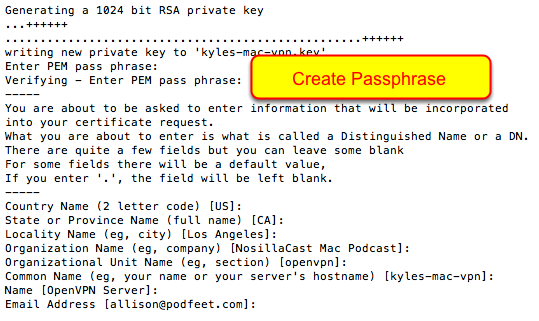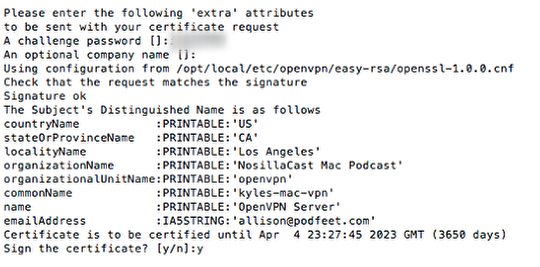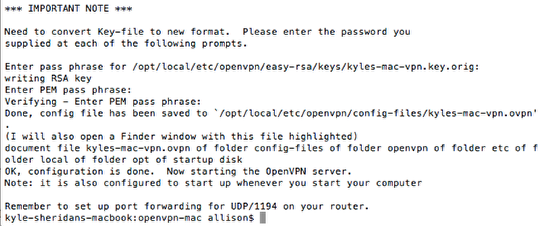 Enter passphrase and password as many times as they ask for it!

Copy this file to Dropbox. It will be the first connection file you test. It would be good to name it something associated with the device on which you'll use it (you'll be creating one of these for each of your devices). In Terminal, enter: sudo setup-openvpn-client connection-name
where connection-name means something to you for each different device you'll want to connect to the VPN server. Move each of these files to Dropbox to be picked up on your devices.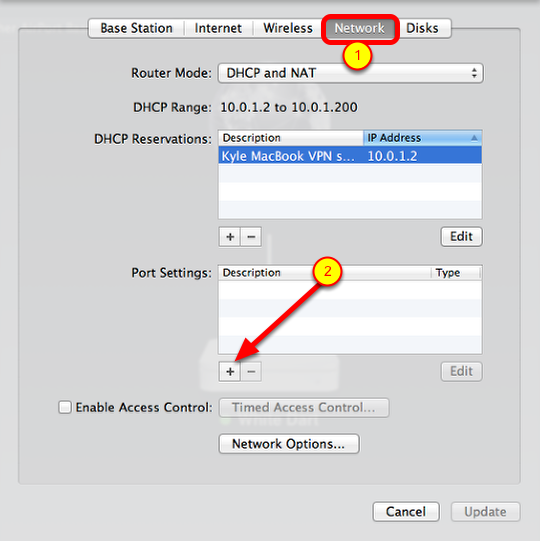 Open Airport Utility again, select your Airport again, Select Edit again. Select the Network tab, and select the + under Port Settings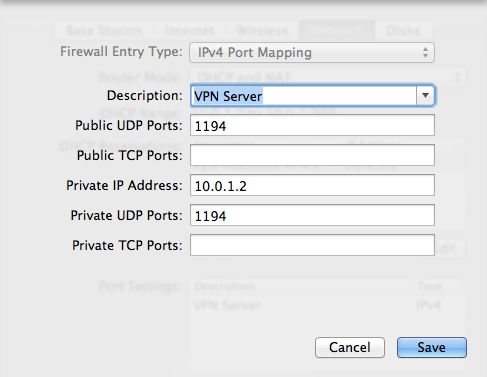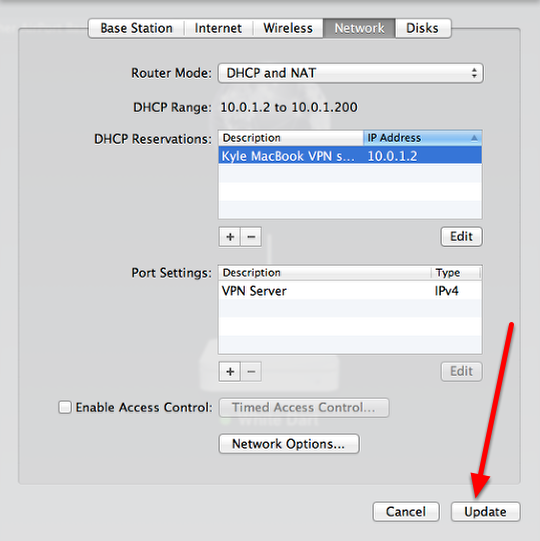 Wait until your Airport updates.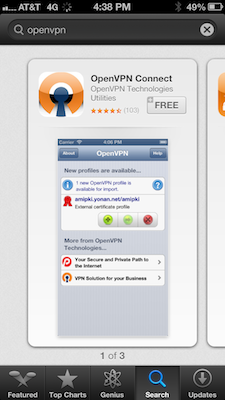 Download OpenVPN Connect from the iTunes App Store.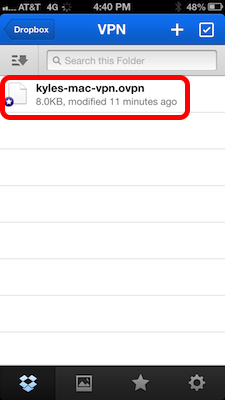 Find the file you created and moved into Dropbox and tap on it.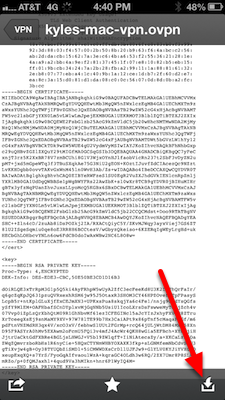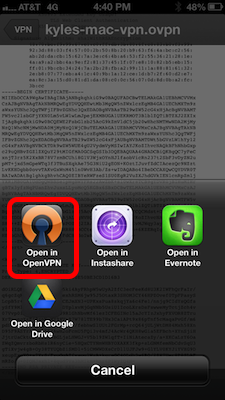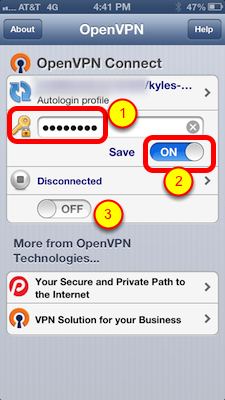 Enter the Password you created in the creation of the file, and tap the Save switch to turn it on. Finally tap the Off Switch to Connect to the VPN.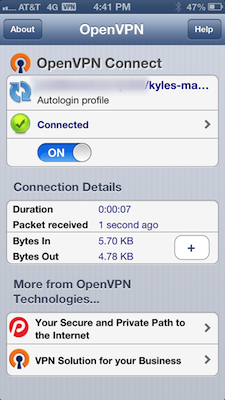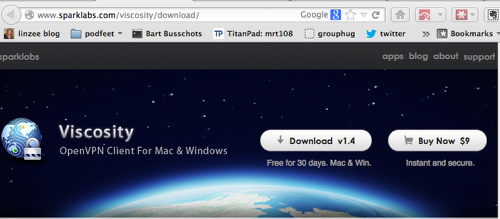 Two options for a VPN application on the Mac. Donald recommended Viscosity from http://www.sparklabs.com/viscosity/download/ which is $9 per Mac.
After the show Dr. Matt suggested the free TunnelBlick from http://code.google.com/p/tunnelblick. I installed both and they both work well. This tutorial will be for Viscosity, but if you try Tunnelblick you have to do one thing to make it work. In the Settings, Configuration tab, select Advanced and then uncheck the box to use TunnelBlick's tun/tap drivers.
Let's keep going with Viscosity as our example.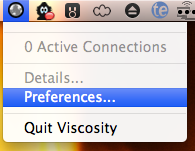 Click on the icon for Viscosity in the menubar and choose Preferences.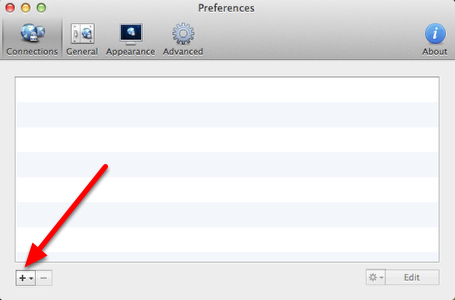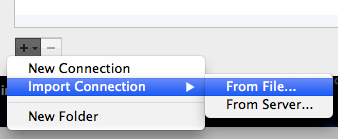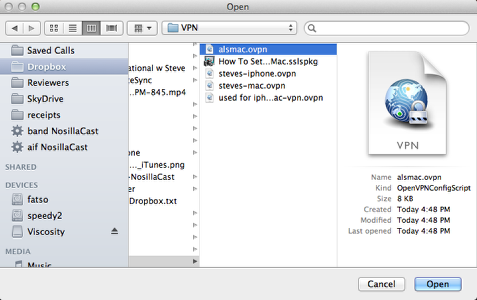 In my case I called it alsmac so I could tell which one to open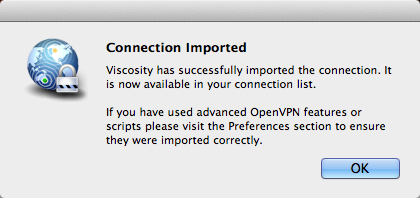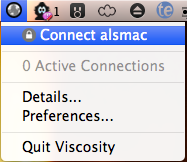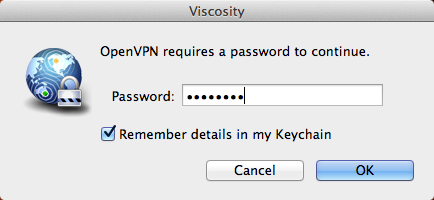 No clue which one of the 198 I entered, luckily I typed the same one over and over again.

To test mine at home I used a Mifi so I was on a different network.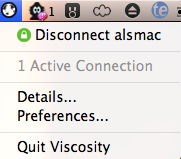 If you want to prove to yourself that you're on VPN – go to http://ipchicken.com before and after you VPN and you'll find that your IP changes to your home IP. Congratulations!
How to Set Up a VPN on Windows 10
Once you've chosen a VPN provider, you'll need to supply a few key details to them. These will include your email address and a payment method. Next up, it's time to install the client or app.
Step 1 – Install the Windows VPN Client
Install your VPN provider's client software. You should find this in the 'Download' section of your provider's website. During setup, you'll be asked to sign in with your account details.
Step 2 – Choose Your VPN Settings
Once setup is complete, you should just be able to switch the VPN on. However, you may also be required to configure other settings, such as whether or not you want your VPN to launch on startup, or connect automatically every time you go online. You can usually, at this point, select a preferred server location (for instance, a U.S. server, or a European one).
How to Set Up a VPN on iPhone, iPad or Android
Clients for mobile devices are supplied as apps. Check that the service you want to sign up to provides an app for the Android or iOS.
If the service you want to use doesn't offer its own app for your device, you may still be able to connect using the OpenVPN Connect app – available for both iOS and Android.
Step 1 – Install the VPN App
Apps can be downloaded from the relevant app store – Google Play for Android devices and the Apple App Store for iPhones and iPads. Open the app, then sign in with your user account.
Step 2 – Connect to Your VPN
Most VPN apps have a connect button or switch that lets you enable the VPN connection. The first time you connect, you may be asked to allow certain permissions. Agree to these and the connection will be made.
When you're using a VPN connection on an Android device, you'll see a small key icon in the status bar at the top of the screen. On an Apple device you'll see a small VPN icon.
Install VPN for Kodi Guide
Register for IPVanish Account by Clicking Here.
Write down your IPVanish username and password after you register for your account.
Determine which Kodi device(s) you want to install VPN on and proceed to the respective tutorial below.
Prior to creating tutorials for IPVanish, I thoroughly tested the top VPN providers.
Install VPN for Firestick & Fire TV
Xbox One VPN Tutorial
Android TV Box VPN Tutorial
NVIDIA SHIELD VPN Tutorial
Windows VPN Tutorial
iPhone & iPad iOS VPN Tutorial
Chromebook VPN Tutorial
Mi Box VPN Tutorial
Raspberry Pi 3 LibreELEC VPN Tutorial
Router VPN Tutorial (when you do this, all devices connected to your router will be protected)
If you are running Kodi on your computer such as Windows, Mac, or Linux, most VPN services provide an application that you can download and install onto your system.  After you install the application, you simply input your VPN username and password into the login area.
Keep in mind that you can also use your VPN service on your other Internet-connected devices that you frequently use.  Do you travel?  If yes, you should NEVER connect to a public wifi hotspot unless you are running a VPN service.
You can use one IPVanish VPN account on up to ten devices simultaneously!
My VPN service of choice is IPVanish as they provide the fastest download speeds among the various VPN providers that I have reviewed.  The service works very well on all Kodi boxes, which isn't the case for most VPN providers.  You also have the option to use the same account on up to ten devices at the same time.
Frequently Asked Questions
What is the best free VPN service for Kodi?
There are free services but keep in mind that they are making money in one way or another.  More than likely, they are either selling your data to a 3rd party or malware is being installed on your device when you install their application without you knowing it.
Also, free services usually result in very slow download speeds which would not be ideal for Kodi boxes.
You get what you pay for in this market and I strongly suggest not using free services as they can't be trusted.
Why isn't my IP address changing within Kodi?
When dealing with network-connected devices, you have an external IP address and an internal IP address.  The VPN software will change your external IP address which is the address that your Internet Service Provider assigns to your connection.
An internal IP address is an address that your router assigns to all devices within your network.
You only need to be concerned about your external IP address when using Kodi and this is what the VPN should be masking.
Please follow and like us:
1. Get a router appropriate for your needs
Check to ensure your hardware router meets the following requirements:
The router must have wired and wireless connectivity.
It must have virtual private network functionality built in.
It must support up to 10 workstations.
For organizations that do not have the correct router, one recommended cost effective router is the Cisco Small Business RV110W Wireless-N VPN Firewall – Wireless Router (802). A short introduction video on YouTube can be viewed here.
4. Enable users
Once the router is configured properly, there is a series of smaller but equally important steps required to enable VPN functionality:
Follow instructions in your router's user manual to enable VPN functionality. This is done through the software settings.
In the router's software settings, enable remote management.
Create user accounts for each user wanting VPN access.
Request each user obtain and install the VPN software on their client computer. The software should be freely available via the website from the router manufacturer.
5. Connect
The final step is to connect from your home computer to the office. Here's how to do that using both Macintosh and Windows computers.
For a Mac: Choose Apple menu > System Preferences, and then click Network Click Add (+) at the bottom of the network connection services list, and then choose VPN from the Interface pop-up menu.
For Windows: Go to Control Panels > Network and Sharing > Create a New Connection, then choose VPN and enter the IP address.
To connect you'll then need to enter your office IP address. An IP address is four numbers separated by periods, like this: 12.34.56.78. These numbers identify computers connected to the Internet.
IP numbers can be static or dynamic.
A static IP address never changes. So if your Internet Service Provider (ISP) has assigned you a static IP address, then your office always has the same address. This makes it easy for your website to refer to your office — the website can just use the IP address.
Solving the problem of a dynamic IP address
However, most offices have dynamic IP addresses. This means that every time your communications equipment is reset you are assigned a new IP address. This creates a problem for your website, since it will not know what the office IP address is, and so will not be able to connect to Sumac in the office.
Solution 1: Static IP Address
One possible solution is to get your ISP to assign a static IP address to your office. This eliminates the whole problem caused by dynamic IP addresses. The down side of this solution is that ISPs charge for static IP addresses. It may be that they charge such a small amount, that you will be happy to go with this solution.
Solution 2: Register Your Own Name + Dynamic DNS
If you cannot get a static IP address at an acceptable price, another approach would be to register a domain name and dynamically update the Domain Name Server (DNS) for that domain name to point to your office. A DNS is just a computer on the Internet which answers the question, "What is the IP address for this domain?" So, for example, if you ask a DNS for the address of google.com, you will probably get an answer like: 74.125.226.80.
If your site is MyCharity.org, you could register a domain name like MyCharityOffice.com, and tell a DNS the IP address for that domain name. Note that because your IP address is dynamic, you need a DNS that can handle regular updates: a Dynamic DNS. The updates are performed by a program that you run on a computer in your office; it regularly checks its IP address and, if there is a change, informs the Dynamic DNS.
Here are some examples of this type of DNS service: dlinkddns.com, dyndns.com, no-ip.com, zoneedit.com. Some of these are free.
By the way, often registrars — the organizations where you register your domain name — can also provide free Dynamic DNS services.
Solution 3: Use A Free Name
This solution is a lot like Solution 2, except that instead of registering your own name (which costs about $10 per year), you can use a free name provided by the Dynamic DNS provider. For example, no-ip.com will provide you with names you can use and provide the Dynamic DNS service, all for free.
The Problem With Solutions 2 and 3
The only problem with Dynamic DNS services is time delays. There is a delay between the time you update your IP address with the Dynamic DNS and the time when the rest of the Internet becomes aware of the change. This delay may be a few seconds to many minutes. During this delay, the DNS is incorrect, and anyone going a domain name will be told the wrong IP address.
If a delay of 10 minutes, during which your website won't work correctly, is acceptable, then there is no problem at all. If, however, it is imperative that your website be up as much as possible, this consideration may force you to get a static IP address assigned to your office.
The other factor to consider is just how often does your IP address actually change. Even though, in theory, your dynamic IP address may change, in practice often an ISP assigns you a number and that number stays unchanged until your reset your modem. If this happens rarely, then a 10 minute delay from the DNS will not matter since it happens so rarely.
Written by: Carmine Tiano. May, 2012. Carmine Tiano is the Co-Founder and Chief Operating Officer at Manawa Networks. He can be reached at [email protected] or http://www.manawa.net/blog
1,3,2,4,5