Your iPad is designed to be customized. However, sometimes you may want to undo all your customization to get it back to the same setting when you first bought it. In addition, you may also want to erase all your contact info, browsing history, emails, favorites, etc. This is especially true if you plan on selling or giving your iPad to someone. And that is exactly what your iPad's "Reset" app is designed to do. It can reset your iPad back to factory settings!
Related Articles
Reset Your iPad Back to Factory Settings without iTunes
Did you know that your iPad's Settings app includes a one-stop shop where you can reset each (or every) feature on your iPad?
Say for example, that for whatever reason your iDevice's AirDrop decides to act up, and you need to reset your internet connection. Well, that is easily done through the Setting called Reset Network Settings.
In this post, we break down each option and then you choose which one best suits your situation.
But first, let's find the location of your Reset feature
On the Home screen, tap "Settings" to bring up the Settings screen
Tap "General"
And then tap "Reset"
This brings up the Reset screen with the following options
1) Reset All Settings – this resets all your settings back to factory default but does not erase your content data.
2) Erase All Content and Settings – this resets all your settings and erase all your content data. You might want to do a sync with iTunes before performing this erase if you want to keep any music or apps that you have downloaded.
3) Reset Network Settings – this deletes your Wi-Fi network settings.
4) Reset Keyboard Dictionary – this clears any history in the dictionary such as the history of the keyboard suggestions that you've rejected or accepted previously.
5) Reset Home Screen Layout – this simply resets your Home screen icons back to the original default layout.
6) Reset Location Warnings – this erases any location preferences that was set for your apps. For example, GPS-aware apps often pop up a location warning asking if you want the app to be aware of your current location. Your answers to these questions are stored by your iPad for each app. This reset erases these answers so that the app may pop up the prompt asking for your location permission again the next time you use it.
Reset iPad Back to Factory Settings: Selecting a Reset Option
After selecting one of the above options, your iPad or other iDevice asks for confirmation that you really want to perform the reset.
If yes, confirm by tapping "Reset." You may need to enter your Apple ID to confirm.
That's pretty much it. Be sure to backup your iDevice frequently so that in an event where you accidentally choose one of these Reset options or something else happens with your data that results in a loss, have peace of mind that there is always a backup.
Factory Restore your iPhone, iPad, or iPod Using iTunes
A factory restore erases all your personal information and device & app settings and then installs the latest iOS available for your particular iDevice. Before you start, make sure you have the latest version of iTunes on your Mac or Windows PC.
And make a backup of your iDevice, just in case, there is some information you want to be saved. Finally, turn off Find My iPhone via Settings > Apple ID Profile > iCloud. Enter your Apple ID when requested.
Using iTunes to Reset Your iPad Back to Factory Settings
Open iTunes and connect your iPad or another iDevice
Select your device icon when it shows up in iTunes
Tap or click on Summary in the Settings panel,
In the Right Panel, click or tap on Restore iPad (or your particular iDevice)
Click Restore to confirm
iTunes erases your iDevice and then installs the latest iOS for your device. After your iDevice restores to factory settings, it restarts.
Set it up as new and then reconnect your iCloud account if desired. Remember to turn Find My iPhone back on for this device, using your current or a new Apple ID.
Forgot Your Apple ID?
If you haven't used your Apple ID for a while, you may not remember your Apple ID and/or password. These credentials are critical to your iDevice experience.
When you don't know your Apple ID and password, you cannot download any Apps, Music, iBooks, Games, etc from the App and iTunes Stores.
If you forget your Apple ID and password, you cannot back up your iDevice data on iCloud.
If you are caught in the situation where you cannot do anything with your iDevice due to a misplaced Apple ID or password, take a look at our articles dealing with Apple ID issues. The first step is always trying to fix your Apple ID problems.
Apple ID Troubleshooting
If you weren't able to fix the problems with your Apple ID, some users report success with restoring their iPads or other iDevices using iTunes Recovery Mode or with a DFU Mode Restore. These usually work if Find My iPad is already turned off.
How-To Reset an iPad without an Apple ID using recovery mode via iTunes
Connect your iPad to a computer that has the latest version of iTunes installed (Windows or Mac.) It doesn't have to be your computer–any computer with iTunes installed is fine
Open iTunes and then turn off your iPad
Hold the Home button and the side/sleep/power button at the same time. Maintain holding these buttons until you see the iTunes logo and a USB cable icon on your iPad's screen 
iTunes should then show a message that it detects a device in Recovery Mode. Press OK and then select Restore (not Update) 
Wait for iTunes to reset the iPad–all data should erase permanently
New-To-You iDevice?
If you received an older model or used iPad or another iDevice, the previous owner should have erased its content and unlinked from iCloud and their Apple ID before handing it off to you or any third-party reseller. Although that's what's supposed to happen, it often does not. So what to do?
If you can get ahold of the previous owner
Ask that person (or company designee) to sign in to iCloud.com or Use the Find My iPhone App with THEIR (or company's) Apple ID

Go to Find My iPhone> Select All Devices
Choose your specific iDevice
Click Erase iPhone or Tap Actions > Erase iPad (or other iDevice) > Erase iPad (or other iDevice)
Enter their Apple ID password > Erase
Tap Remove from Account
Once the previous owner erases and removes your iDevice from their account, make sure you fully shut down the device and restart to initiate set-up.
How to Hard Reset or Force Restart iPad, iPad Pro, iPad Air or iPad mini
In this tutorial, we will show how easy it is to force restart or hard reset your iPad or iPad Pro.
STEP 1: Press Sleep/Wake or On/Off button
Press and hold the Sleep/Wake or On/Off button at the top of the iPad.
STEP 2: Press Home button
At the same time, press and hold the Home button while keeping the Sleep/Wake button pressed.
STEP 3: Keep holding Sleep/Wake and Home buttons
Pressing the Home button may end up invoking Siri, but keep holding both the buttons for at least 10 seconds until the screen turns black and then switches back on to display the Apple Logo.
Wait for a couple of seconds until your iPad boots up completely and displays the Lock screen.
That's it. Now you know how to force restart or hard reset your iPad, iPad Pro, iPad Air or iPad mini.
Let us know if you run into any issues with this method.
Like this post? Share it!
Sign up for our iPhoneHacks Daily newsletter to get the top Apple news stories delivered to your inbox.
How to Back Up Your iPhone or iPad
Before resetting your device to factory settings, you should back up your iOS data How to Back Up Your iPhone and iPad How to Back Up Your iPhone and iPad What would you do if you lost your iPhone tomorrow? You need to have a backup plan, and we'll show you how to back up to iCloud or iTunes. Read More . This is so you can easily restore it or move your contacts, apps, and settings to a new iPhone or iPad.
You can back up your data directly on your iPhone or iPad, or by connecting your device to a computer with iTunes installed. The process on your phone is far simpler, but requires a good amount of iCloud space Is It Finally Time to Buy More iCloud Storage? Is It Finally Time to Buy More iCloud Storage? Now that iCloud storage costs considerably less than it used to, it might be time to upgrade beyond 5GB. Read More .
iCloud Backup:
To back up your iPhone or iPad, you'll want to make sure that you're on a Wi-Fi connection. The method will differ slightly depending on which version of iOS you're using.
If you're using iOS 10.2 or earlier:
Go to Settings > iCloud > Backup.
If it's not already toggled on, turn on iCloud Backup.
Tap Back Up Now.
If you're using iOS 10.3 or newer:
Go to Settings and tap your name at the top of the list of options. Then select iCloud.
If you've backed up your device in the past, you should see a list of apps using iCloud storage. Scroll down to the bottom of the list and tap iCloud Backup. If you haven't backed up before, make sure that iCloud Backup is enabled on this page.
Tap Back Up Now.
Your device will estimate how long the back up will take. Feel free to use your phone as normal as it backs up.
iTunes Backup:
If you prefer to use a wired connection, you'll need to connect your iOS device to a computer that has iTunes installed on it.
Open iTunes on your computer, and plug your iPad or iPhone into the computer using a Lighting to USB cord.
If prompted, tap Trust This Computer on your phone and enter your passcode.
Click on the device icon to open up the device summary panel in iTunes.
Under Backups, you can select the backup method: iCloud or This computer.
After you make your selection, click Back Up Now.
Note: If you plan on backing up your Health and Homekit data, you'll also need to check Encrypt [Device] backup and enter a password.
How to Restore Your Backup
Now that your iPhone or iPad feels brand-new, you can restore your backup using iTunes or iCloud.
Once again, you can do this directly on your device or using iTunes.
Restore on Your Device
When your iPhone or iPad powers back on, you should see the Hello screen that prompts you to set up your device. After you select to set up your phone manually and connect to your Wi-Fi network, follow the onscreen steps until you reach the Apps & Data step. From here:
Select Restore from iCloud Backup.
Sign into your iCloud account using the Apple ID you used to create the backup.
Choose the most recent backup and follow the onscreen instructions for choices related to Location Services, Siri, App Analytics, and other settings. You may also be asked to enter your old passcode.
You can view a progress bar as the backup restores, which will also show you the time remaining for the restoration to complete.
Once complete, your phone will restart. If there's an iOS update available, your phone will automatically update.
After the update completes, and your phone restarts again, your data will begin to reappear and your apps will reinstall.
Restore Using iTunes
If you've created your backup using iTunes, you can also restore your backup by hooking up your iPhone or iPad to the computer you used.
Open iTunes on your computer, and plug your iPad or iPhone in. You should see a screen prompting you to restore your iOS device with a dropdown of backups to choose from.
Select the most recent backup and click Continue. The restore will begin, and you can view how long it will take in a progress bar in iTunes.
Once the restore is complete, your device will restart. You'll need to manually connect to your Wi-Fi network and log into with your Apple ID to start using your phone again.
Back Up Your iPad First!
Since everything is going to be erased from your iPad, we recommend saving a backup first. This way, you won't lose your photos, videos, and contacts.
To save a backup on your iPad, open the Settings app and tap your name at the top of the menu. Next, tap iCloud -> iCloud Backup -> Back Up Now. If you don't see this option, turn on the switch next to iCloud Backup. You'll know the switch is on when it is green.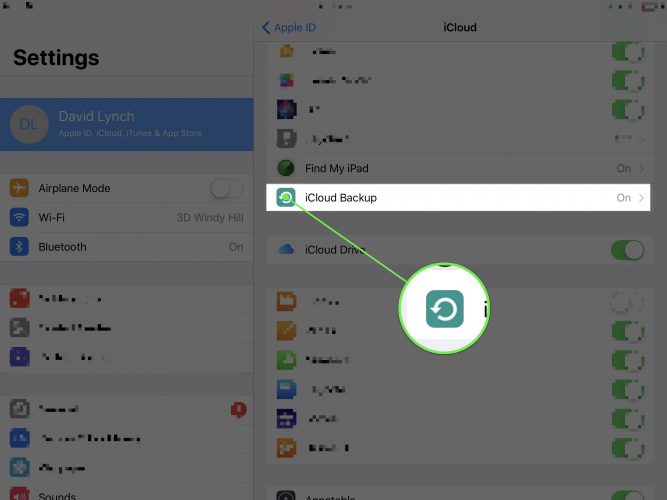 Resetting Network Settings in iOS
Open the 'Settings' app
Go to "General" section
Choose "Reset" and then select "Reset Network Settings"
Confirm to reset network settings, this will reboot the iPhone, iPad, or iPod touch and clear and reset all network service settings on the device
When the device reboots, you'll want to rejoin a wi-fi network as usual, or wait for the cellular data plan to reconnect.
That's it, the network device settings have been reset!
This is a very effective method of troubleshooting various problems with iPhone, iPad, and iPod touch that are network related, like an inability to connect to certain networks, or network failures, to specific services not working through the internet, and much more.