Am I a good candidate for cellulite reduction?
While it's actually more common than not for women to have cellulite, the dimpled, irregular appearance is bothersome to many women. If you are unhappy with cellulite on your body, then cellulite reduction can help you feel more confident in your appearance. In general, cellulite treatment will b most effective if:
You are bothered by the effect cellulite has on your appearance, and wish to reduce it
You are happy with your current body weight and not significantly overweight
You are in good overall health
You have realistic expectations—cellulite reduction treatments can reduce dimpling, but not totally eliminate it
Back to top
What are my treatment options?
Cosmetic surgeons use a variety of treatments to help patients reduce cellulite. While none are permanent, many can achieve results that last a year or longer. Below, we've outlined the most commonly used treatment types and brand name applications—availability of these or any other treatment will vary depending on what cosmetic surgeons in your area offer.
Laser treatments (Cellulaze®)
Laser cellulite reduction (the FDA cleared treatment is called Cellulaze) uses a tiny laser probe, which is inserted just beneath the skin through a small incision. This laser heats the tissues beneath the skin's surface, where it works to:
releases some of the fibrous septae
reduce thickness of the subcutaneous fat layer
stimulates collagen production
improve skin texture and elasticity
Although it involves tiny incisions, laser cellulite reduction is considered a minimally invasive and can be safely performed by a qualified provider in-office, using local anesthesia. Downtime is typically limited to 1 to 2 days. Cellulaze is indicated to last about one year, and patients typically achieve their desired result after one treatment.
Back to top
Non-laser energy treatments
Many treatments use energy from radiofrequency (RF), ultrasound, infrared light, or radial pulses to heat skin, stimulate collagen production and reduce cellulite. Depending on the specific treatment, energy-based cellulite reduction may also help achieve mild fat reduction and/or relax the fibrous septae to achieve a smoother, more even skin texture. Current FDA cleared treatments include:
VelaShape® (RF and infrared light)
Venus Freeze® (RF and pulsed electro-magnetic fields)
ThermiSmooth® Body (RF)
Zimmer Z Wave (radial pulse therapy)
Energy-based cellulite treatments are delivered through the skin, so they are considered non-invasive and usually require no downtime. However, a series of treatments may be recommended for optimal results. Additionally, results are temporary, so you will need to repeat treatment every few months to maintain results.
Back to top
Mechanical treatments (Cellfina®)
Cellfina is an FDA cleared automated mechanical cellulite reduction treatment. It works by releasing tightened septae using a very thin blade, which is inserted through a tiny incision. The skin is gently suctioned up into the Cellfina device, which allows the cosmetic surgeon to insert the blade only a few millimeters beneath the skin, minimizing impact on surrounding tissues. Local anesthesia is used.
To date, Cellfina is indicated as the longest-lasting cellulite treatment, with results lasting up to 3 years. Minimal downtime is needed, and results are noticeable within a few days after treatment. Side effects include temporary soreness and mild bruising, with serious side effects very rare when treatment is performed by a qualified physician.
Back to top
Massage and topical cellulite treatments
Specialized massage techniques have been used for years as a way to address cellulite. These typically use vacuum suction or a roller to "knead" the skin and subcutaneous fat. While some patients report positive effects, improvements are temporary and any smoothing effect likely results from mild inflammation in the treatment area.
Most patients who are bothered by cellulite have tried cream or lotion that promises to improve cellulite. While certain medical grade products can help gradually improve collagen production for firmer skin, even high-quality products are rarely effective on cellulite, which requires more extensive remodeling of fat, connective tissue and collagen than a cream can provide. Cellulite creams are rarely a worthwhile investment.
Back to top
Your Non-Surgical Body Contouring Options: an Infographic Guide
Non-surgical body contouring includes much more than cellulite reduction. Today, you have options to reduce fat, rejuvenate vaginal tissues, tighten skin, and remove unwanted hair. The guide below outlines your options.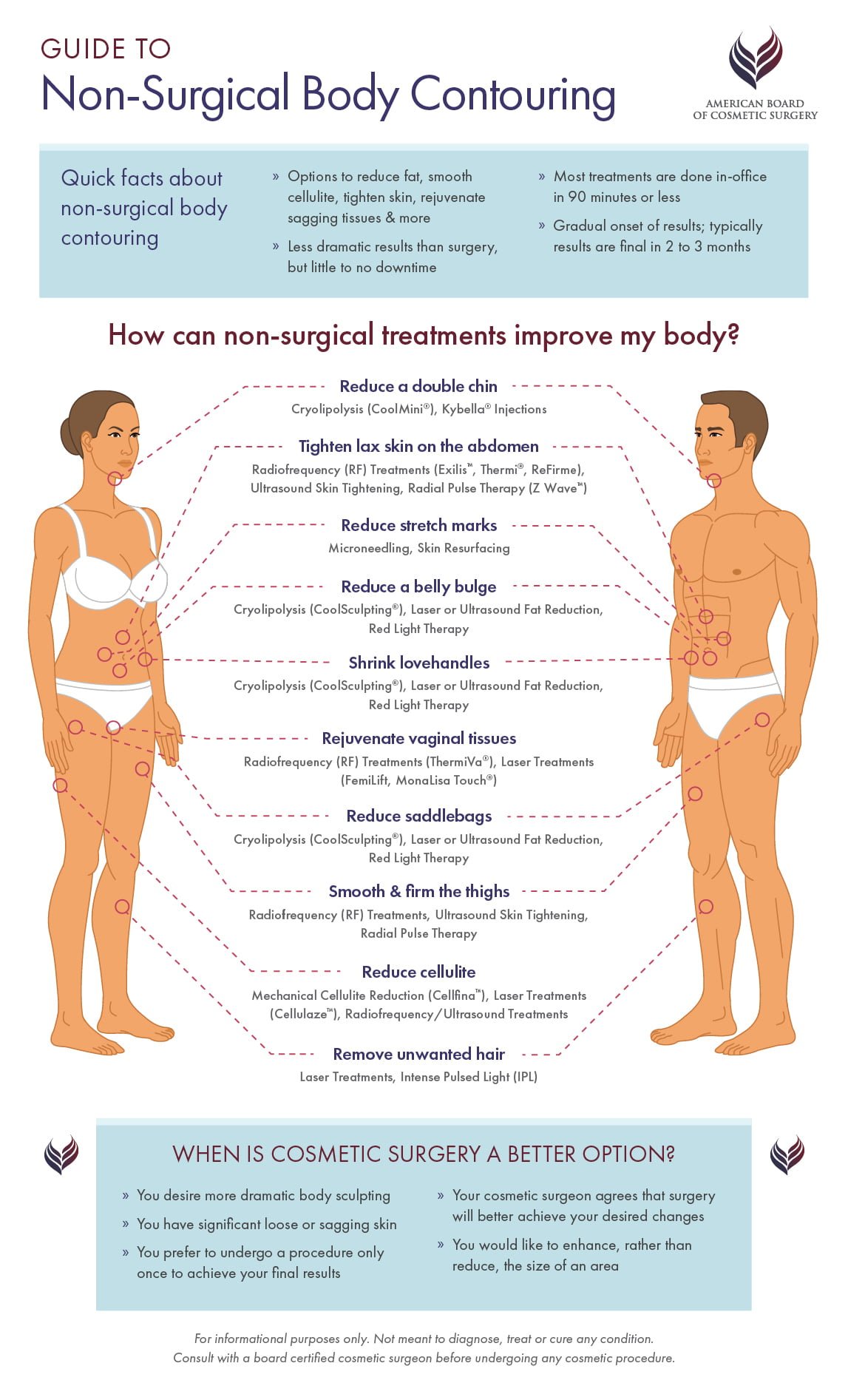 Back to top
Did you know that over 90 percent of women will develop cellulite on some part of their body? It is an unfortunate fact of life, but due to the arrangement of the collagen in a woman's body, women are much more likely to have cellulite than men. And, the older we get, the more noticeable the appearance of cellulite becomes, as our body's natural production of collagen decreases and our skin loses firmness and elasticity. But fear not! Using the latest in aesthetic technology, it is now possible to reduce the appearance of cellulite without having to undergo a liposuction surgery.
What is Cellulite?
Cellulite refers to the dimples and/or bumps that are seen when fat divides into small "pockets" in the skin. Cellulite is actually not due to excess fat, but rather how the fat is divided, forming uneven dimples. This explains why even skinny people can get cellulite. It's very important to address the issue at its root to effectively banish cellulite. The goal is to perfect skin texture, smooth out any bumps or unevenness and boost your body's own collagen production and encourage dermal remodeling. With an increased collagen supply in your body, your skin will become more organized, smoother and tighter, like the skin of your younger self.
Non-Invasive Treatments for Cellulite Reduction
When it comes to cellulite treatments, going under the knife should be your last resort. These days, the market demands less invasive ways to reduce cellulite and firm skin. The latest advancement in skin-perfecting technology is the introduction of thermal energy (also known as radio frequency) for skin tightening. Radio frequency has been used in the medical field for hundreds of years (one example of this is cauterization), and with bRenewed powered by Thermi technology it's now being applied in an exciting new way. bRenewed uses gentle thermal energy to heat the skin to a target temperature that's been proven effective at rejuvenating our body's own collagen. As a bonus, we've found that this treatment not only tightens, firms and smoothes the skin, but also improves, and in many cases, removes cellulite. At the biostation, we offer two types of thermal energy treatments to reduce cellulite all over the body: bRenewed body firming and bRenewed subdermal skin tightening.
Benefits of bRenewed thermal energy body treatments:
-Treatments are non-invasive to minimally invasive – the procedures are fast, safe and there is little to no recovery time
-It leverages innovative technology to deliver rapid, long-lasting results, often in one session.
-It is very safe and doesn't have the same risk of side effects as invasive surgical procedures.
-Little to no downtime – you can resume most activities the same day
Customizable thermal energy treatments at the biostation
the biostation was among the first medical practices specialized and trained to offer bRenewed powered by Thermi, and we have helped thousands of women look and feel their best with this groundbreaking treatment. The therapy is fully customizable to target each patient's problem areas. I am constantly amazed by my thermal energy therapy patients' before and after photos. Since this treatment is so gentle, I can confidently say that it is an ideal and effective solution for most patients. Most treatments are recommended in a series of three sessions but amazing results are generally seen after the first treatment.
Try bRenewed Body Firming for FREE
For a limited time, we are giving away one free bRenewed body firming treatment to all current and new patients of the biostation! We are so excited about this technology, and so confident in its results, that we want everyone to experience thermal energy for themselves. Schedule your confidential personal consultation with me today to give it a try and learn more about our revolutionary solutions for total body transformation.