Getting the Perfect Eye Makeup is a dream for many women. Whether you need dramatic eyes or a subtle, classy smoky eye, Applying Eyeshadow in the correct way is a must. There are women who wonder how to do Eye Makeup in absolutely professional way at home. Well, it takes learning and mastering little tips of Eye Makeup and loads of practice regarding blending the eye shadow properly to get the Perfect Eye Makeup. Here are some easy eye shadow tips that would help you to master how to apply eyeshadow.
Things you will need for applying eyeshadow
Eye primer
Eye shadows
Flat eye shadow brush
Fluffy eye shadow blending brush
How to proceed
Just like you need to apply a base on the face before starting the facial makeup, prepping the eyes with moisturizer and eye primer is very important before applying eye makeup. Clean the area around the eyes, moisturize them to even out fine lines and then put on some eye primer so that the makeup stays on for long and the colours come out really well while providing a flawless and seamless finish.
The next rule of applying eye makeup is to know what colours or shades are preserved for which areas of the eyes. The matte colours are generally kept for the crease while the eyelid and the brow bone get highlighted by the shimmery shades. Similarly, the lighter shades are meant for the center of the eyelids and the crease gets contoured by the dark shades to create the shadowy effect.
Take a lighter shade of eyeshadow like nude or matte gold and apply it in a patting technique with a flat eyeshadow brush on the center of the eyelid. Start from the center and move towards the corners of the eyes.
Next, take a darker shade like black, brown, dark grey, blue or purple and apply it on the creases to define the contour of the eyes. Move from the outer corner towards the center in a V motion.
The greatest of all eyeshadow tipsis the art of blending the colors perfectly. This is something you master with experience. You will need a fluffy eye shadow brush to blend in the colours seamlessly until they start looking soft. Work on in a gentle wiper motion to achieve a smooth blend of both the colors. The crease should remain dark and the center light while achieving a seamless blend at the edges.
Do you love eyeshadows? If yes then, I hope you loved these tips about how to apply eyeshadow. Get more ideas from Pinterest.
Apart from these, if you know any easy and quick way to apply eyeshadow ? Please share them in the comments below.
What I'm Wearing in the Loose Eyeshadow Video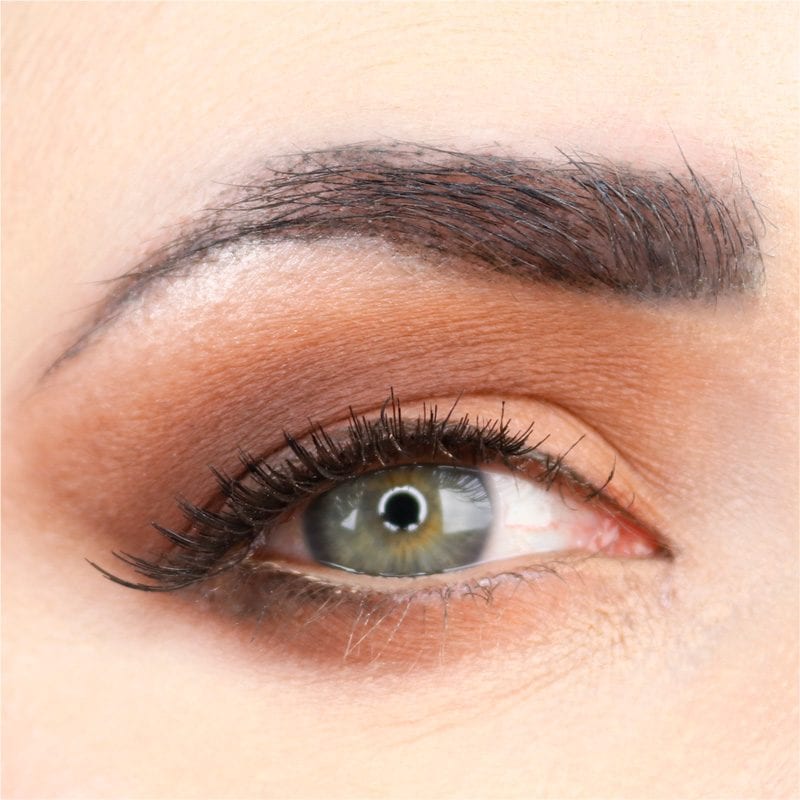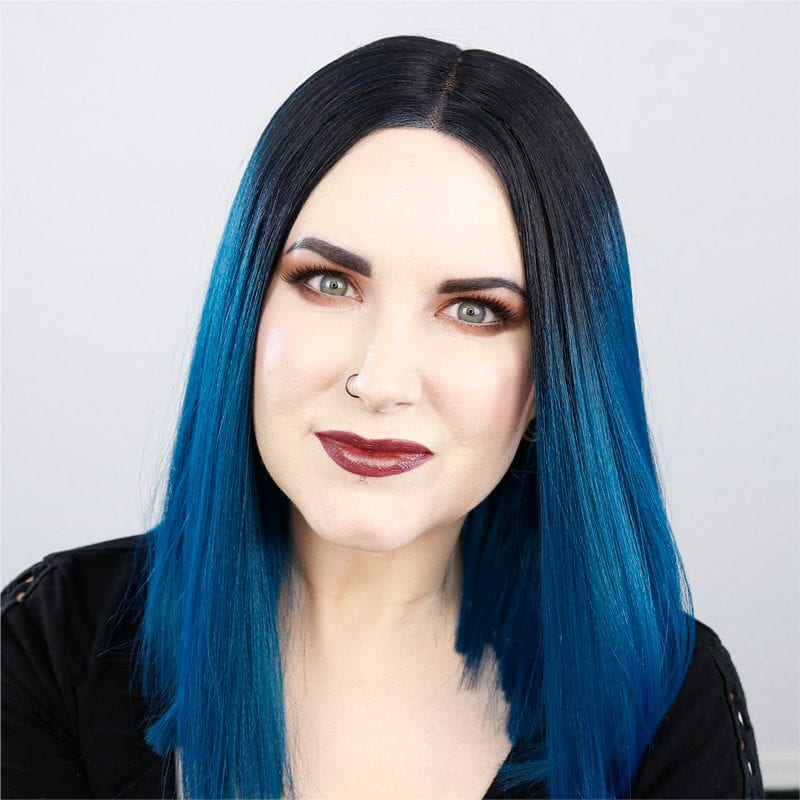 FashionPattyBoutik Lace Inset Sleeve BlouseBobbi Boss Yara Teal Wig Bellabeat Leaf Urban 
EyesToo Faced Shadow InsuranceToo Faced Just Peachy Mattes Palette (Peach Tea, Peach Butter, Just Ripe, Chocolate Dipped)Kat Von D Mad Max linerUrban Decay Perversion MascaraCover FX Celestial – highlightColour Pop Jet Set Black pencilEylure 005 Accent LashesDuo Lash GlueUrban Decay Walk of Shame pencil
LipsUrban Decay 24/7 pencil in HexUrban Decay Vice lipstick in Conspiracy
I love this lip combo of Urban Decay Hex pencil coupled with Conspiracy lipstick! It's such a gorgeous Fall shade.
These three brushes are the best brushes I've found for using with loose eyeshadows.
Urban Decay Moondust BrushThe Urban Decay Moondust Brush is perfect for applying loose eyeshadow or glitter shades.
Kat Von D Glimmer BrushThe Kat Von D Glimmer Brush is great with super sparkly shades.
Makeup Geek Foiled BrushThe Makeup Geek Foiled Brush works well with loose glitter or semi-loose eyeshadows.
L to R – Fyrinnae Pixie Epoxy, Darling Girl Glitter Glue, Violet Voss Secret Weapon, Too Faced Glitter Glue
Violet Voss Paulina glitterL to R – Darling Girl – Fyrinnae – Violet Voss – Too Faced
Sugarpill LumiL to R – Darling Girl – Fyrinnae – Violet Voss – Too Faced
You absolutely need a sticky base. Fyrinnae's Pixie Epoxy and Too Faced Glitter Glue are my two favorite sticky bases. Violet Voss Secret Weapon is good as well. Darling Girl Glitter Glue is now called Darling Girl Glitta Grip and it's also an excellent choice. Granted, Too Faced Glitter Glue is the easiest to get ahold of, so it's probably the best one to start with.
For Dry Application of Loose Eyeshadows
If you are working with loose eyeshadows and not using a mixing medium or foiling product, here are the steps you need to take.
Apply your eyeshadow primer.
Take a bit of your loose eyeshadow color and put it into the lid of the container, or a mixing tray, whatever you prefer to use.
Dip your brush into the loose eyeshadow and tap off any excess product. This is extremely important! You can even give your brush a shake to make sure it's got off all the excess.
Pat the color onto the lid, slowly. This will minimize fallout.
Although it may be true that you can apply your foundation first, I prefer to apply my eyeshadow before I do any other makeup so that I can clean up any fallout under my eyes. However, if you like to do the rest of your makeup first, put a lot of extra translucent powder under your eyes to catch the fallout. Then you can simply sweep it away.
For Foiling of Loose Eyeshadows
Apply your eyeshadow primer.
Take a bit of your loose eyeshadow color and put it into the lid of the container, or a mixing tray, whatever you prefer to use.
Dip your brush into the loose eyeshadow and tap off any excess product.
Apply your foiling or mixing medium. I prefer Urban Decay All Nighter Spray.
Brush or pat the loose eyeshadow on, depending on the foiling medium you choose.
I find it works best if I apply all of my other eyeshadows first, then apply the foiled shade last.
Whenever I foil my loose eyeshadow, I use short brush strokes, much like dashes. When I'm patting loose eyeshadow on, it's almost like tapping or dabbing it onto the lid. You can also apply a loose eyeshadow, then use a bit of a foiling product on top, then finish by applying more of that same eyeshadow to make sure that the eyeshadow shade is vivid.
Pixie Epoxy used as liner with Fyrinnae Because Cats eyeshadow
After dabbing a bit of Pixie Epoxy on the back of my hand, I took a stiff angled brush and dipped that into the product on the back of my hand, then I used that to line the outer 3/4 of my upper lash line.  After waiting for it to get tacky, with another stiff angled brush, I brushed Fyrinnae Because Cats on top of the Pixie Epoxy.
Urban Decay Zodiac – dry and foiled with e.l.f. Studio Makeup Mist & Set
Using Loose Eyeshadows with a Damp BrushIf you'd still prefer not to use a sticky base, I highly recommend using Urban Decay All Nighter Spray or e.l.f. Makeup Mist & Set, which is a great MAC Fix+ dupe. You can lightly mist your brush, dip it into the loose eyeshadow, and pat the color onto the lid. See my Best Ways to use e.l.f Makeup Mist & Set.
Blending Loose EyeshadowsIf you're having trouble blending the seams of colors where you've used a foiling product, take a clean brush and dip that into the loose eyeshadow, tap off any excess, and then blend the edges. I also find that it helps if you've put down a base eyeshadow color underneath a more vibrant shade. Sometimes, taking a brush like the Makeup Geek Smokey Eye Brush to use for blending really helps.
Even though these are the best ways to apply loose eyeshadow, all of these products and techniques work with pressed eyeshadows such as the Urban Decay Moondust eyeshadows or Heavy Metals palette, too.
Other Ways to Use Loose Eyeshadows
In addition to using loose eyeshadows as eyeliner and eyeshadow, here are some of the other ways to apply loose eyeshadow.
You can mix loose eyeshadow with clear lipgloss (or even a colored gloss if you like) to add or change a gloss color.
Press loose eyeshadows at the center of your lips on top of lipstick to add extra dimension and depth.
Layer loose eyeshadow on top of gel or pencil eyeliner.
Highlight the cheekbones with a loose eyeshadow like Sugarpill Ghosted.
Mix loose eyeshadow with clear nail polish (in aluminum foil) to make a nail polish color.
Try mixing loose eyeshadow with a moisturizer to create a luminizer for the cheeks.
Mix loose eyeshadow with Urban Decay All Nighter Spray to create a cream blush that melds seamlessly into your skin.