There are several different ways to press flowers, however, some of these techniques take a few weeks to do. For those that are not so patient, or get the urge to craft right that minute, I'm going to show you how to press flowers in just five minutes or less. Once you have your bouquet of pressed flowers you can craft the day away making cards, decoupage projects, and more.
You can also check out our other Flower Friday projects: Yarn Bombing Flowers | The Second Life of Fresh Flowers | DIY Dried Flower Bouquet | Dried Flower Soaps | Rose and Eucalyptus Body Scrub
Learn how to press flowers in just five minutes after the jump…
Start by picking out a handful of flowers. This technique works best with flowers that are pretty flat already, instead of bulky flowers like large roses.
You need the flowers to be as dry as possible before you get started. Pat them down on a paper towel if there is dew on the leaves. Then, place the flowers on a piece of parchment paper. Place another piece of parchment paper on top. Now, sandwich that between two paper towels or pieces of cloth.
Turn off the steam function on your iron and set it to medium-high heat. Iron the flowers by pressing the iron on them for about ten seconds. Continue to iron them at ten to fifteen second intervals for about three minutes. You don't want to iron these flowers like you would a t-shirt, instead you want to lift and press. The amount of time depends on each flower.
Iron the flowers until they are completely dry. Let cool and then you are ready to craft!
Filed under: By Craft, Garden & Flowers, Tips + Tricks, Under an Hour
Preparing to Press
You can buy a flower press if you like, but really all you need is a book! If you don't want to chance staining any pages of the book you are going to use to press, place pieces of loose paper between the books pages. They will absorb the moisture and any color that may press out with the moisture as the flower dries.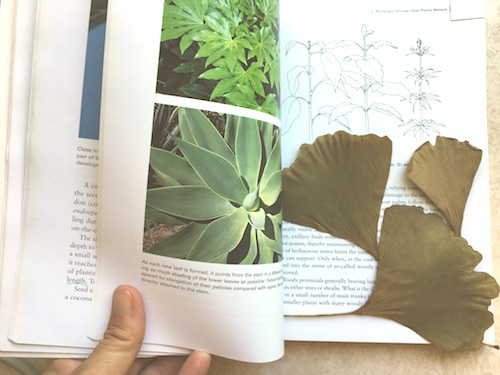 Flora is literally always falling out of my books.
When you go out on a flower collecting adventure, in your field bag bring: your nature journal, pencils & color pencils, your flower press or pressing book, and if you like a camera and small scissors for trimming leaves, stems, pistols, and stamen to your liking.
Get Creative with Botanical Art
I'm sure I don't have to persuade you that pressed flowers and leaves make wonderful art and crafts. The one thing to keep in mind is that dried botanicals are delicate. The process of pressing flowers or leaves means you are removing much of their moisture, drying them out as they are flattened in a press. Pressed flowers can be brittle and require a careful hand. If you are not used to working with fine materials, you may want to handle them with tweezers to avoid breakage. Once you start drying your own plants, you'll quickly see which ones retain their colours and work best.
If you do not want press your own, you can also purchase ready-to-craft pressed flowers and leaves online or check craft or scrapbook sections of shops.
It's easy!
Choose fresh flowers and leaves, and consider whether the plant structure will allow you to press them flat, or, if it is best to dissect them and press the parts.
For example, pansies have individual petals, making them easy to flatten. Any flower with overlapping petals or a bulky receptacle (the part that holds the flower leaves or petals in place) like a rose or poppy, may require dismantling into parts or slicing a cross-section (if you can) first. But no worries: either way, you will end up with some beautiful and interesting pieces.
Also, don't forget about indoor flowers. If any houseplants are producing a lot of flowers, snip off a few and press those too.
Methods
1  Traditional Flower Press and The Book MethodI group these two together because they're essentially the same. This is the slowest—but completely reliable—method, taking a few weeks for the plants to dry.
You can buy (see one here) or make a traditional flower press (see instructions here) or simply use some big, heavy books.
Place specimens between sheets of paper and place in press/between pages of book.
Do not overlap any of the flowers or leaves on each sheet.
Bulky items should be done on their own, to ensure even pressure.
Apply pressure by tightening bolts or place additional, even weight on top of book.
Depending on thickness and moisture levels, flowers and leaves can be ready in 2-3 weeks.
Some crafters like to check on the pressings every few days and change the sheets as needed. Others wait it out. I generally wait it out because I forget to check!
2  Microwave Oven Flower Press
This method is super fast but it does require some care to get your heat applications just right, without over-doing it.
Buy Microwave Press Here
Buy Book Here
You can buy or make a microwave flower press. See this one on Amazon or make one using two ceramic tiles, cardboard, and thick elastic bands.
Commercial microwave flower presses come with fabric inserts that will absorb the plant moisture.
Place specimens in press or between paper sheets in your homemade microwave press. Some crafters use paper towel instead of paper; others say the texture of the paper towel can leave unwanted imprints on the petals.
Do not overlap any of the flowers or leaves on each sheet.
Follow instructions provided with commercial press. It's going to vary for homemade ones so you are doing this entirely at your own risk, testing what works. For example, you might zap the flowers in the press for 20 seconds on medium, let them cool, check them, and if they need more, repeat it.
Thinner flowers and leaves may be ready after 1-2 zaps. Thicker botanicals may need more zaps or additional drying in a press.
3  Pressing Flowers with Iron
Easy does it! This method is also quick but requires careful attention so you do not over-dry or burn the plants.
If you have ever done iron-on transfers to t-shirts, this is a similar method. But instead of pressing an iron on paper to transfer an image, you are pressing the paper to dry out the flowers and leaves underneath.
I have not tried this but here's the basic method (at your own risk, as always):
Place specimens between sheets of paper.
Warm dry iron (no water) on low setting.
Gently press paper with iron. Move the iron slowly, careful not to displace the flowers.
Stop, allow paper to cool, and check flowers every 20 seconds. Repeat until done.