If you are one of the thousands of people that would LOVE to post from Desktop to Instagram, listen up. 
There are ways to do it easily (one of them might shock you!), while keeping Instagram happy. 
Nobody wants to get in Hot Water with Instagram!  Use these tools and you'll be sorted!  
Firstly, one of the tools I have to share with you below might just Blow Your Mind.  It's the secret way you can post from Desktop to Instagram…. without any 3rd party tool!
Not. Even. Joking.
Secondly, there are reasons why you need to be choosy about the tools you use to post to Instagram, and here's why:
Don't Do This on Instagram (Seriously, Don't!).
Instagram has strict terms of service about how you post to the app.
This means that Instagram's API is highly prohibitive to certain actions including auto-posting and posting directly from desktop computers or laptops.
Any tool that gets around the API puts you (and your employer or client or business) at risk of being shut down.
You can read more about why tools can't post directly to Instagram here.
If a tool claims that it can
post automatically by emulating a mobile phone without pressing any buttons OR
post directly to Instagram from a desktop (by emulating Instagram in some way)
then it's possible you are contravening Instagram's Terms and Conditions.
Don't do that. Your account may be shut down.
There are only two methods that I recommend if you want to post from Desktop to Instagram:
Posting legitimately from your computer – laptop or desktop.   Until now has not been possible. But now it is!  You just need to have the right device, which I will show you below.
Setting up your post using a 3rd party tool on your laptop or desktop and then receiving a reminder to post the final image and description from your phone.
Below are the tools I use to post to Instagram from a Desktop.  I'll also share how I follow up to engage with comments.
2   Schedule Your Posts with Later
I love to use the native Instagram app to post images spontaneously (and I'm excited now that I can use it on my Surface Pro laptop).
But when it comes to productivity, it's great to schedule ahead and batch my images.  That's where Later comes in.
Later is the tool I use for scheduling my images and videos ahead of time.
Once scheduled, Later sends me a reminder on my phone to post to Instagram. You can get started with a free account.
Here's an overview how it works from the Later team:
As you can see Later has some cool features, and more being added all the time.  Here's just a few of the things that I love about Later:
Plan, Schedule and Publish – You can schedule and post to multiple Instagram accounts (with a reminder to post the final image from your phone).  It's calendar-based with a grid preview tool to plan out your posts and you can schedule videos in the paid version. Later also posts directly to Facebook, Twitter and Pinterest.
Store and Organize your Media – You can organise your images in a media library with bulk image upload and the ability to organise your images with groups and labels.
"Link in Bio" –  I use this feature to send people to a special landing page where followers can click on any image and go to whatever link you allocate.  No more invalid links.  This makes Instagram clickable and shoppable.
Analytics and Team Members – You can add team members,  and Later's Analytics help you to understand the success of your images or campaigns.
Bulk post features –  this gives you drag and drop functionality so you can add images to pre-determined time-slots that you know will attract engagement.
Saved Hashtag Groups – save your best hashtags to use easily for any post – in a single click you have all the hashtags you need!  This is a time saver and one of my favourite parts of Later.
All in all, Later is one of the best tools for Instagram scheduling that allows you to (essentially) post from desktop to Instagram.
Even though you need to press a couple of buttons on your phone to post the final image, Later allows you to do most of your work on a desktop or laptop.
And in Part 3, I'll explain why I actually LIKE using my phone for the final posting process….
3  Don't Forget to Engage
There's a big reason why I like posting "live" or using Later to post my scheduled images (with a quick click of a button or two).
Most of your comments and likes will come up in the minutes immediately after you post. If you are using a tool that auto-schedules, you still have to remember to be there to respond.  When you use Later, you're ready and waiting for comments just after you post the image.
Again, I do NOT recommend that you use any tool that contravenes Instagram's terms.  Any tool that does the whole process including posting – puts your account at risk. 
To engage with my community on posts, I will either respond live or use the tool Agorapulse after the fact.  Agorapulse is my go-to tool for social media management and responding to comments.
Never miss an Instagram comment again with Agorapulse!
The advantage of Agorapulse is that it allows you to view more than the minimum 50 comments you see on Instagram.
So, if your comments move fast or you have a big account and usually get hundreds of comments, Agorapulse can be a lifesaver.
Be sure to check out Agorapulse as a way to manage your Instagram feed in your own time – and never miss a comment again!
Access Your Photos
Other than these tools, you really are left with the following labour-intensive options:
email photos to yourself on your phone then post to Instagram. This can become cumbersome if they are high res photos!
send photos to a Dropbox account – Dropbox is a great way to access your files from any device via the cloud.
 use your shared photos program in the cloud, to share between computers and your phone.
Or… if you are lucky to have a Surface Device, use Instagram just as you would on a phone, but on your laptop!
How to Find the Best Time to Post on Instagram for Your Brand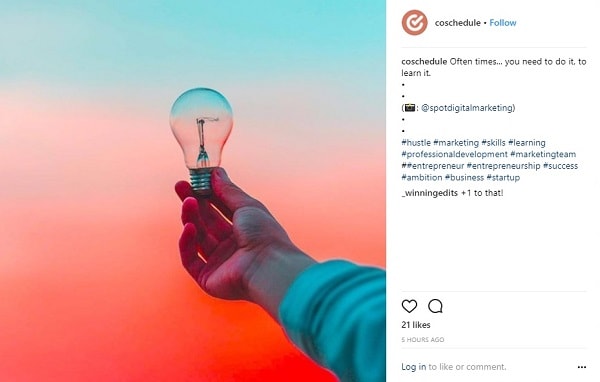 It's a good idea to start with the tried-and-true days and times we discussed above.  But if your followers aren't like most people, you could be missing out on reaching most of your audience. If you're looking for a more automated solution, try the free tool from Hopper HQ that lets you connect your Instagram account to help optimize your posting times.
Additionally, Later has some helpful suggestions to simplify your Insta game:
Know where your followers are: If you're on the East Coast but most of your followers are on the West Coast, you should schedule your posts with time zones in mind. The same is true for brands with followers spanning across multiple time zones – in these cases, it might actually benefit you to post at odd times for the best chance of reaching as many people as possible. Midnight Pacific time is 8:00 a.m. in London – meaning there's a good chance you'll reach some followers in both locations.
Focus on off-work hours: 9-to-5-ers don't tend to spend a lot of time on Instagram during the workday, but many do check in over lunchtime, between the hours of 11:00 a.m. and 1:00 p.m. After work, between 7:00 p.m. and 9:00 p.m., can also be a good time to reach your Instagram followers.
Schedule important stuff on weekdays: There's no rule that says that you can't post on IG on the weekends. But because your posts probably won't get as much engagement on Saturdays or Sundays, it makes sense to save your important posts for weekdays. The difference in engagement between days of the week isn't huge, so you can still get some leverage by posting fun, informational, or entertaining content on the weekends.
Schedule your posts: Sitting around and watching the clock to hit the post button at the most opportune minute isn't the best use of your time. Schedule your posts ahead of time so you don't have to be a slave to the clock.
Use Instagram Insights to measure your progress: You can find top time zones and other helpful data with Instagram Insights. You can even find out when your followers are most active on the platform with Instagram Insights, which makes it easy to choose the best time to run some engagement tests. Schedule some posts for different time periods based on these insights and keep track of likes and comments. After gathering data for a few weeks, you will have an easier time pinpointing the best days and times to reach your followers.
If you're trying to find the best time to post on Instagram, the bad news is that there's no clear-cut, one-size-fits-all answer. The good news, though, is that there's plenty of data you can use as a launchpad to get started!
Picking the best time to post on Instagram is a great first step in getting more engagement. In addition to timing your posting strategy, you'll want to consider all the ways you can leverage Instagram for your benefit – Foundr has a robust guide on this very topic.
In the short term, you can get more engagement from Instagrammers by installing our Instagram follow button. Beautiful, quick to install, and easy to configure — our Instagram follow button is designed to help you instantly grow your audience on Instagram.  Take 5 minutes now to install it, then sit back, and watch your Instagram follower number grow!
Get Instagram Follow Button