My daughter and I LOVE painting rocks together. Rock painting is a great way to spend time with the kids getting creative. Painting rocks is also an easy activity most children can do on their own.  Learn all of our rock painting ideas and tips below!
Related: Rock Balancing Stone Stacking Art for Kids
Related: Real Flower Nature Crafts
How to Paint Rocks
Collect rocks to paint.
Wash rocks and allow them to dry in the sun.
Set up an area to paint. Put down newspaper to protect the surface that you will be working on.
Optional–Paint a single color acrylic base layer on each rock you will be painting and allow to dry. Recommended for some rock painting designs.
Paint rocks in any way you like or use the ideas found in "Rock Painting Tips" and "Rock Painting Ideas"  below.
Allow rock paint to dry overnight.
Use a foam brush to paint a layer of acrylic sealant or use an varnish to help protect the paint. (optional)
Once finished they can be displayed on your nature table, in flower beds, in the garden, or wherever else suits your fancy. If you place them outside they will weather in the sun and may get damaged even with a sealant or varnish applied.
Related: DIY Rainbow Peg Dolls Homemade Toy for Kids
Rock Painting Tips
A fun way to paint rocks is to think of them like clouds in the sky. What do you see? Paint the rock to match.
Two color patterns using a complementary or contrasting color always look nice.
Hearts, rainbows, mandalas, and words of inspiration are always fun to paint on rocks.
If you place your painted rocks outside they will weather in the sun and may still get damaged even when you apply a sealer or varnish. If you want to keep it nice, keep it inside.
For further inspiration, we have added a few links to some beautiful, creative, and fun ways to paint rocks that we have discovered and tried since the first time my daughter and I painted rocks together.
Related: Hand Painted Candle Holders Kids Make
The Best Rock Painting Ideas for Kids
Paint one rock with each letter of the alphabet. Learn more about this rock painting idea over on Teach Beside Me.
Make some food for your mud kitchen with this super fun idea from Munchkins and Moms.
I love these colorfully painted rocks by Bellisimakids and the gorgeous technique they use to paint rocks.
Paint rocks to look like ladybugs in a rainbow of colors. Pop over to Crafts by Amanda for the directions.
Paint river rock garden markers like the beautiful collection found over on West Valley Moms Blog.
Paint dots on rocks to simple designs and pictures and even more elaborate designs. Learn how over on Twitchetts.
Try painting Kandinsky inspired rock art like the fun collection of rock art over on Arty Crafty Kids.
Paint garden rocks and make a little drawstring bag for them like the beautiful ones Kate made over on The Craft Train.
Try rock painting using puffy paint like Sam over at Color Made Happy.
These painted jack-o-lantern pumpkin rocks by Adventure in a box are a perfect rock painting project for the fall.
The Best Painted Rock Crafts for Kids
Make a rock snake like the one made by Rachel over on I Heart Crafty Things. A rock snake is a fun rock painting idea and a fun homemade toy for the kids to play with.
When I saw this rock garden caterpiller over on Nellie Bellie (one of my nicknames too!) I wanted to put our funny little yellow slug alongside it. So cute!
If you have ever made a pet rock you will love these pet cactus painted rocks over on The Best Ideas for Kids. Find the directions for this super cute rock craft here.
Make a rock fish pond like this painted rock craft by Make it Your Own. Or try this cute pebble rock fish craft by Hello, Wonderful.
Paint rocks to create mix and match flowers like this cute idea from Typically Simple.
Turn any garden or unused yard space into a fairy garden with the super cute painted rock fairy houses pictured below!
Finding this mermaid painted rock made my daughter so happy. Thank you, Chico Rocks! 
Related: Fingerprint Art Magnets
Leaving and Finding Painted Rocks In Nature
There are many people that collect and paint rocks and then leave them somewhere for others to find. Others frown on this practice, believing that nature should remain as undisturbed as possible.
While I understand and agree with the "take only pictures and leave only footprints" ideal, we just can't help ourselves!
My daughter and I have come to enjoy putting out a few rocks we paint every now and again. It all started the first day we actually found one.
Finding a hidden rock is a delight not to be missed. It filled my heart and made me want to run home and paint rocks to hide for others to find.
We have found several more since that first painted rock, and they have all been found in different locations sometimes hundreds of miles away! A few of our favorites are pictured below.
We think moderation is key. Don't take all the rocks and stones you find, and don't leave a mess of painted rocks everywhere–sound good?
Related: Get Outside and Connect
Rocks that my daughter and I have found.
Get Started
1.Double load your brush in white and light grey.  Only just a little bit gray, you should have mostly white on your brush. The gray just adds some depth and striations that give the petals some interest, you don't even had to add it if you do not wish to.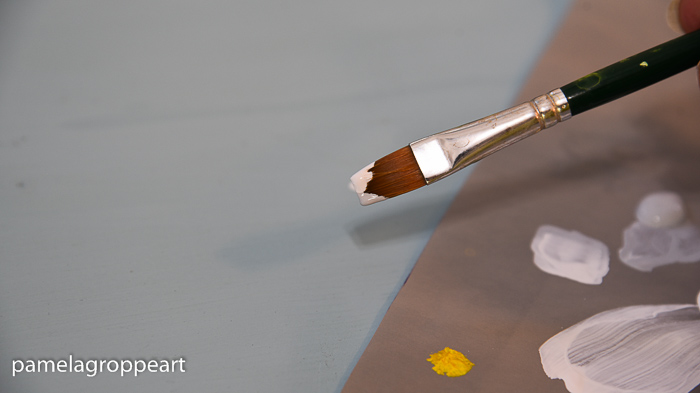 2. Make a dot on your surface to give you a center point. It makes it easier to have a center point to pull to.   Lead with the white.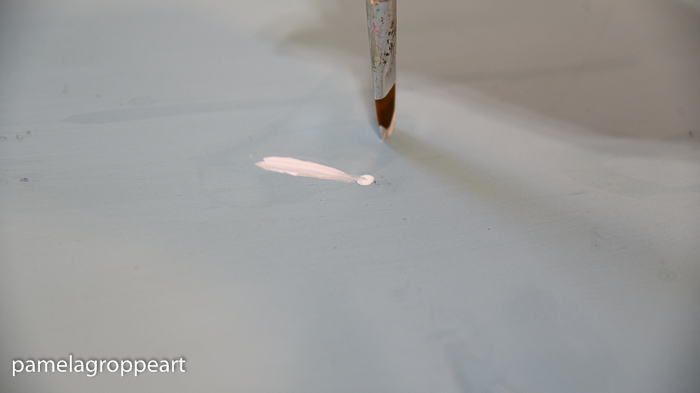 You can draw a light circle to keep your petals about the same size but I just fly with it much of the time and let them be wonky.
Petals
3. Press on the chisel edge of your brush, pull towards the center, adjusting pressure to how wide you wish the petal to be and lift the brush to a chisel edge as you get closer to the center to let the stroke narrow.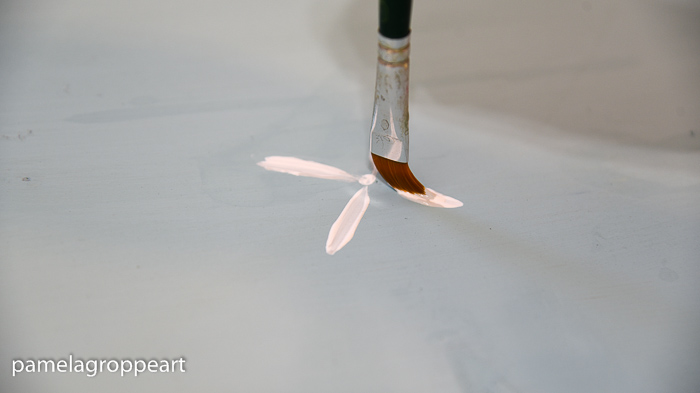 4. Add strokes around the center dot, some can be a bit curved to add movement.  You can make the back stroke shorter and the front strokes longer to emulate depth.  But I demonstrate as if you are looking straight down on the flower.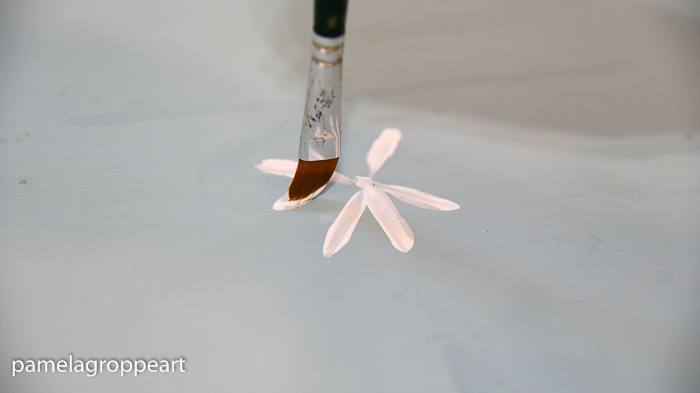 Once you have completed the circle to your satisfaction then we will add the center..