One important part of our renovation was deciding what jobs we could do ourselves, and what we wanted to hire out. I am a very adventurous DIYer, and knew the more I could do, the more money we could save for other house projects. So, even though I wasn't exactly sure how to paint kitchen cabinets, I have painted enough other things, I wanted to do it myself and save the $1600 that it would have cost to hire a painter. The cabinets turned out amazing, and I am so excited to share the process so you can paint your own kitchen cabinets too!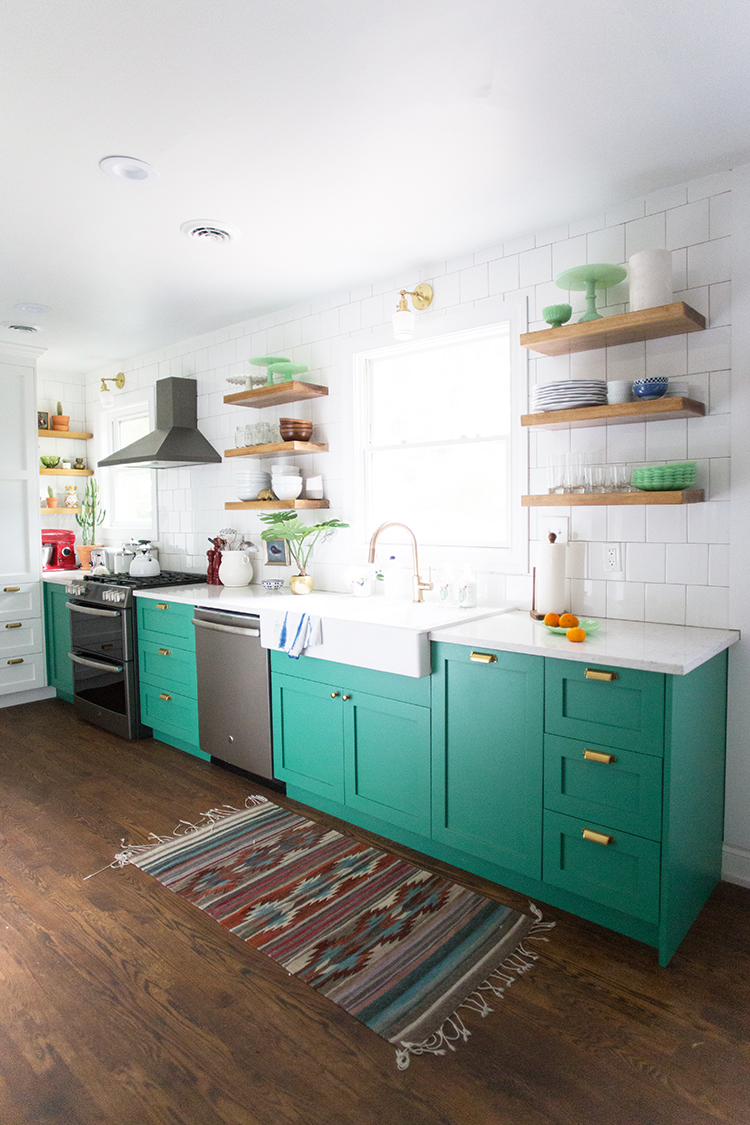 I reached out to Sherwin-Williams to partner with me on this post, because I am obsessed with their paints and colors (I've been using Sherwin-Williams Emerald paints almost exclusively for a few years). Also, because they are one of the companies most trusted by professional painters, and one way to get a professional look on a DIY job is to use the materials the pros use.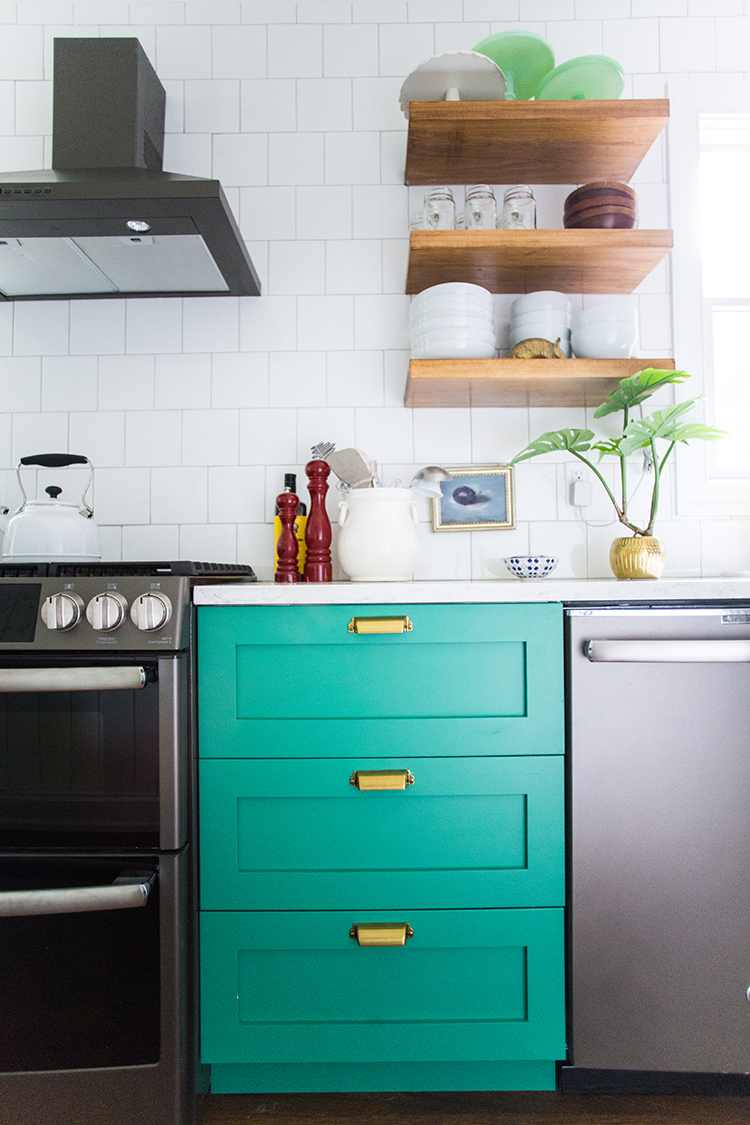 Choosing Color
Since we were doing a full renovation on the kitchen, our cabinets were new. The boxes are from Ikea, and we ordered custom wooden doors from Semihandmade. One of the door finish options is called the "DIY Shaker Style" which means the doors come as raw, unfinished wood so they can be easily DIYed.
I really wanted a big impact in our small kitchen, and had been dreaming of colorful cabinets. I imagined I would choose a more grey green, soft, subtle color for the lower cabinets, but when I was flipping through the Sherwin-Williams color fan, a bright green/blue jumped out at me.  Alexandrite SW 0060 is one of the historic paint colors, and it reminded me of my recent trip to Europe, the patina on old copper, and generally felt like a happy, alive and somewhat different color. I loved it!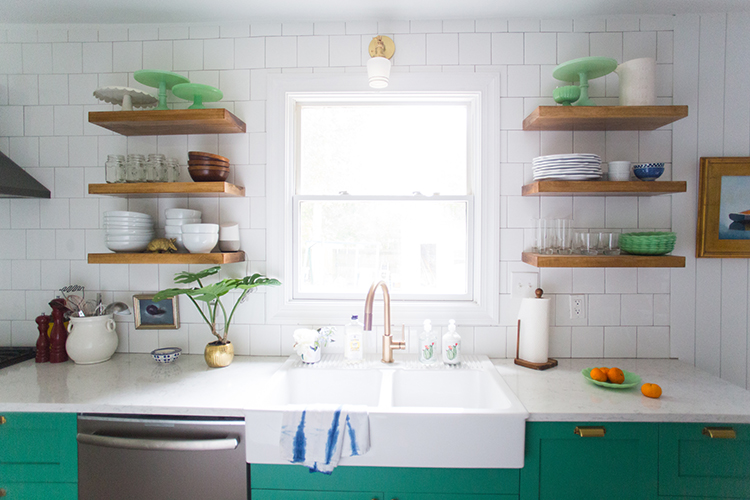 I painted several big swatches on foam board, and Alexandrite remained the clear winner. To balance out the bright lower cabinets, I chose a custom formulation white (Extra White SW 7006 + 3oz of White) for the walls, ceiling, and the other high cabinets. I knew I would be doing a white tile backsplash and warm wooden floating shelves, so the whole design felt balanced and beautiful. Here is the rendering I did on photoshop of the space before we began!
Wood Preparation
Because my cabinet doors were new and unfinished, my first step of preparation was the priming with Sherwin-Williams ProBlock Primer.  If you are painting old cabinets, you may have some steps prior to priming.
If you cabinets are already painted, you could either strip all of the paint off and then sand to smooth or sand to smooth and then paint over the top. You'll get better results going down to the real wood first, but if the cabinets aren't real wood, or if for some reason you don't want to invest all of the time to do a bigger job, you can sand them and then paint over the top of the current paint.
For stained, sealed cabinets, you should remove the shiny finish and sand to smooth. Once the cabinets are prepared, to paint, you can begin gathering supplies for painting.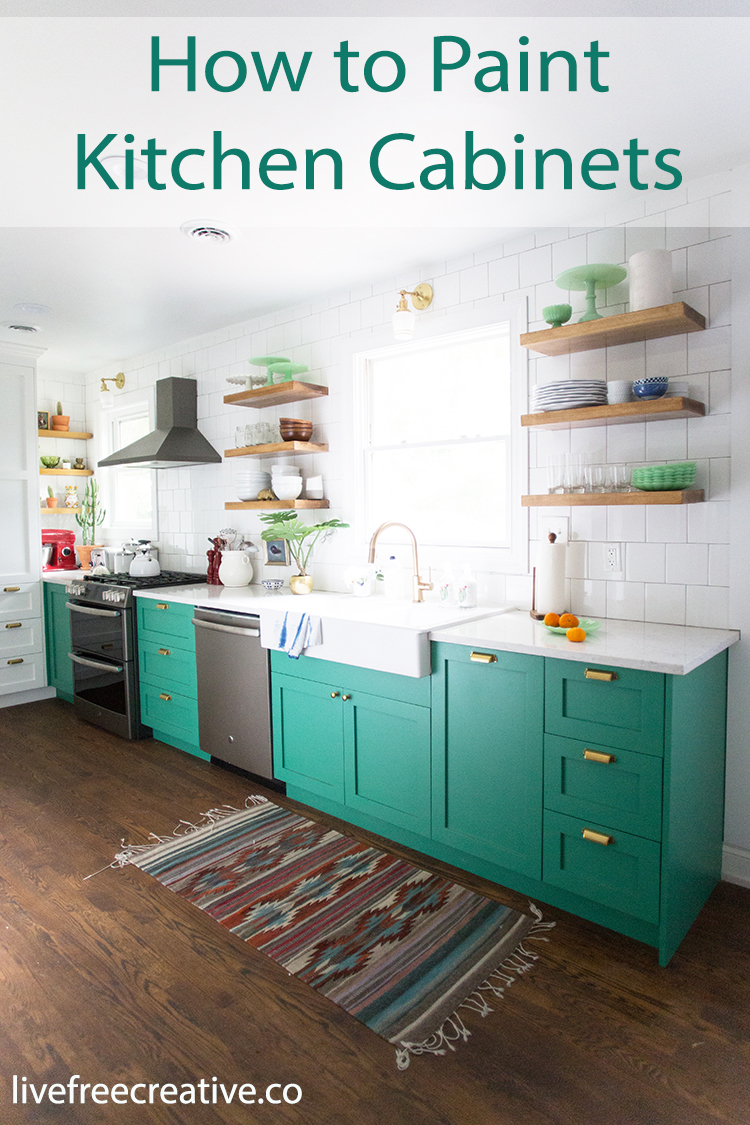 Painting, Drying, and Sanding
Okay, you've gathered supplies, set up shop, pulled on your painting clothes, put on a great playlist or podcast, and now you are ready to paint.
The order for painting kitchen cabinets with a paint sprayer for best effect is:
Prime 4 sides and the back of the doors
8 hrs dry time
Prime the 1 front side of the doors
8 hrs dry time
sand and clean
Paint 4 sides and the back of the doors with coat 1
8 hrs dry time
Paint front side of the doors with coat 1
8 hrs dry time
Sand and clean as needed
Paint 4 sides and the back of the doors with coat 2
8 hrs dry time
Paint the front of the doors with coat 2
8 hrs dry time
Celebrate, take a nap, eat cake, and admire your beautiful work!
I spread the painting out over about 4-5 days and would paint in the morning, evening, then the following morning and eventing and so on. I listened to 3 full audio books, a handful of great podcasts, and of course some awesome pop music to keep me awake and jamming.
Using the sprayer, I would paint the outside edge, then the inside edge on each side, then come back and do solid strokes across the top. I would then carefully move the cabinet door into a drying room, and move onto the next.
The primer was all white, so at that first stage I didn't do any dividing of the cabinets. The primer went on pretty smooth, and dried nicely, but there were still a few areas that I wanted to sand, as well as doing a light sand on the whole surface prior to painting the enamel.
Each of the painting sessions took about 2 hours to get through all of the cabinets. Basically, I took a week to live in my painting clothes, and spend most of my morning and evening painting. When it was all finished, it was so worth the work and time! The cabinets turned out beautifully, and the installation team didn't have any idea they hadn't been painted by a professional painter!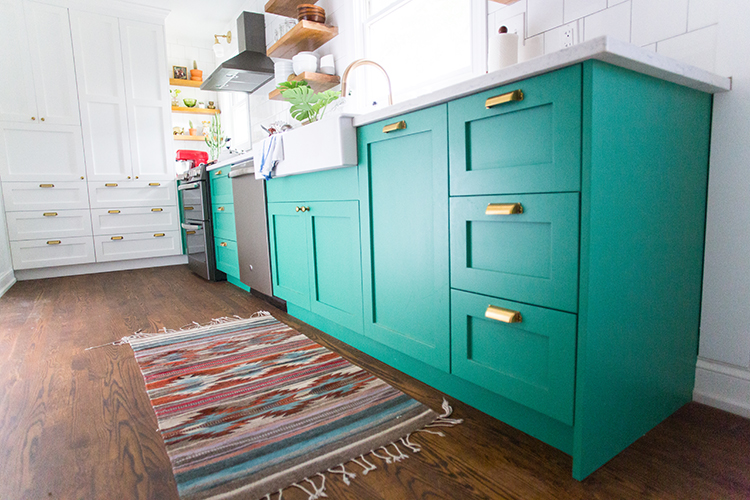 Painting kitchen cabinets before and after: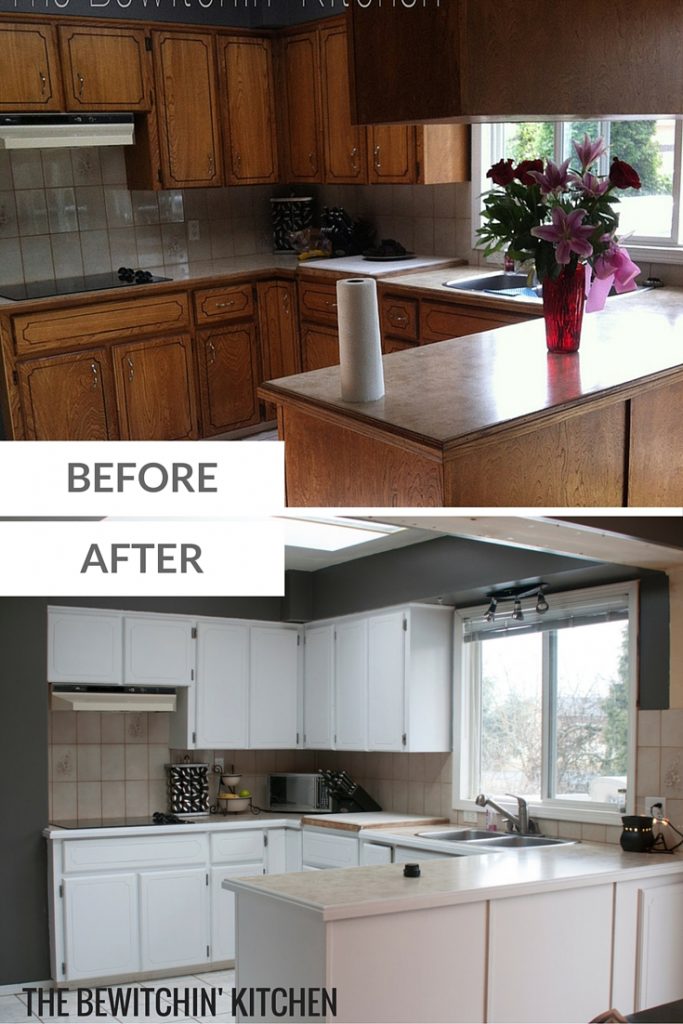 I hope this post was helpful if it wasn't – it looks like I'm going this again this winter in our new home. I'll be sure to document the process a little bit better this time (and maybe do a video too). Don't forget to read about how I painted my kitchen countertops and used Smart Tiles as an alternative for a tiled backsplash.
The next house, I did another DIY kitchen renovation. See how I found kitchen cabinets and quartz countertops on a budget.
Step 1: Plan Ahead
Painting your kitchen cabinets is completely manageable — as long as you have lots of time, patience and takeout. Make sure you set aside the amount of time required to devote to this project; it's not a one-day job. Flat-front cabinets are going to be quicker to do than those with raised panels or other details, so plan accordingly.
You'll need to choose the primer and paint to use. By taking one of the cabinet doors to a paint retailer, you can get set up with the best products for your kitchen. Cabinets require a higher-quality paint than you would use for your walls, so don't be hesitant to splurge. (You want to paint your kitchen cabinets like a pro, remember?) They suffer daily wear and tear, so it's best to avoid cheaper paint that may peel, crack and chip.
Collect this idea
Step 2: Choose Your Color
Just as people often get a little anxious about choosing the right paint color for walls, expect to spend some time debating your color choice. Think of the design elements in your kitchen that you love — it's easy to coordinate cabinets with something you already own.
Get lots of samples, paying special attention to the darkest color on the strip; it gives you the best idea of the undertones in that series of colors. You can test what the color will really look like next to your appliances, counters and flooring by priming and painting a large sample, such as the inside of a cabinet door or a poster board.
Vibrant kitchen cabinets, including rich colors such as cobalt blue and cranberry red, are a design trend evidenced all over the internet. Too much? Two-tone cabinets are another stylish option; this means your upper cabinets are neutral (think grey, greige or soft white) and the pop of color is saved for the lower ones.
Pastels work well to brighten up a space, if that palette appeals to you. If all of these color options make you even more anxious, white is one of the most common cabinet colors because of its clean, classic look.
Collect this idea
Step 3: Remove and Label the Doors, Drawers and Hardware
As tempting as it may be to paint your cabinets with the doors and hardware (including hinges) still attached, don't do it — that "time saver" will cost you in the long run. Remove the cabinet doors and drawers, making sure to label where they came from. A simple piece of masking tape with a location written on it will save you a lot of hassle later.
If you are replacing the existing hardware with new pieces, drill the holes for it at this stage, filling all other holes and spots in the wood. Take the hinges off of the cabinet fronts as well. Storing them inside the now-open cabinet is easy, and they won't get lost while you are painting.
Collect this idea
Step 4: Prep Your Surfaces
No matter how clean your kitchen is, everyone (yes, even you) needs to scrub the cabinet boxes, doors and drawers. Kitchens are work zones, and there is more dirt and grease there than any of us care to admit. Paint will not stick to dirt or grease, so make sure your surfaces are prepped properly.
Mixing one part trisodium phosphate (TSP, found at the hardware store) with four parts water will produce an effective degreaser. Use proper safety gear (gloves and goggles) when handling the cleaner, and give your cabinets a good wipe-down. Allow the cabinets to dry completely before moving on.
Collect this idea
Step 6: Prime Time
The primer that you select should be high quality and suited for the material of your cabinets (wood, metal, laminate). If you are going to be painting over a dark or stained surface, have your primer tinted to match your desired color. This step is important to keep the original color from showing through your new paint.
Use a dropcloth and painter's tape to protect your surrounding areas, and use either a roller or paintbrush to apply your primer. Rollers work better for flat surfaces and let you cover a lot of area quickly. If you have a lot of architectural details in your cabinetry, you will be better off using a paintbrush to get into the nooks and crannies.
Collect this idea
Step 8: Reassemble Everything
Once the cabinet boxes, doors and drawers dry completely, you're ready to put your newly fabulous kitchen back together. Resist the temptation to do this too soon; it will result in smears and send you all the way back to Step 5 — and no one wants that.
Now that things are undoubtedly dry, you'll be glad you took the time to label which door belongs where. If you have new hardware, put it in place as well. Then take a deep breath, stand back and admire your beautiful new kitchen.
Though it's certainly not the simplest of household projects, you can paint your kitchen cabinets like a pro by following these steps. This could have drawbacks, however; your friends might want you to tackle theirs next.
Collect this idea