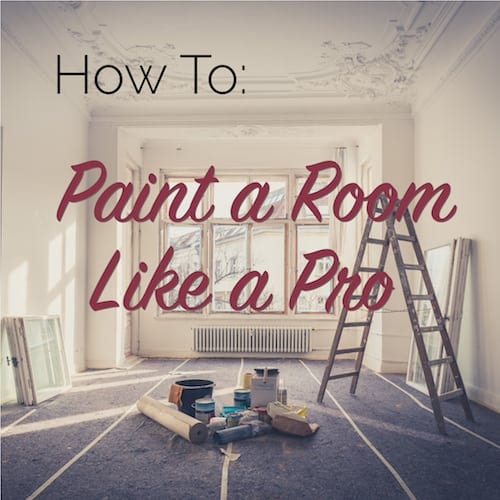 Painting is one of the most DIY friendly projects you can tackle and it can make a wall, a room, or an entire house look incredibly good if done well. If done poorly, you're in for lots of trouble down the road. For my taste, there is nothing more attractive than a professionally painted room. The lines are clean and crisp, there are no drips, runs or glops, there are no holidays, no brush marks, or anything else that might distract from the finished product.
A professionally painted room is a beautiful sight to behold and with a few tips from this post, it is attainable by the average DIYer. If you follow the tips in this post, you'll end up with a long lasting paint job that everyone will appreciate. I'll teach you how to paint a room like a pro no matter where your skill level is. It may take a bit of practice for some of the tips and techniques here, but take it from a third generation painter, this way works!
This post will not focus on the specific techniques that will make you a better painter, but rather how to paint a room like a pro. The older to paint, what types of paints to use and how to transform a room into something spectacular using only paint. For the nitty gritty techniques, check out the posts below.
Step #1 Start at the Top
If you plan to paint a whole room, then the ceiling is the place to start. You always work your way down the walls because thanks to gravity any splatter inevitably falls down. The first thing to do is to grab a couple gallons of flat ceiling paint. Flat paint hides flaws better and you want a flawless ceiling, right? Get your favorite paint brush and a HANDy paint pail and quickly cut in the edges of the ceiling and around any obstructions. The edges don't have to be perfect because you will be painting the walls next. If there is some overlap, don't worry about it as long as the ceiling is covered.
Next, put your roller on a extendable handle and start dipping into that 5 gallon bucket, screening off the excess paint on the roller screen, and roll out the ceiling in overlapping 'W' shaped patterns until you have good coverage. Keep a wet edge and don't bounce from one area to another. Work from one side of the ceiling to the other and lightly go back over any marks you notice from the roller before they dry.
Your roller shouldn't be too dry or dripping with paint. Make sure you have an even amount of paint all over the roller to avoid roller marks.
Step #2 One Wall at a Time
Once the ceiling is done, it's time for the walls, but you want to take it one wall at a time. For your wall paint, you're probably using an eggshell sheen or something close to make it easy to clean, but not too shiny. Stay away from anything shinier than satin as well as flat paint for the walls because flat paint is very difficult to clean dirt and finger prints off of.
Once you've poured up your wall paint, grab that Handy Paint Pail again and start cutting in around any windows, doors, outlets, and cutting a straight line against the ceiling and baseboard. You can use blue tape if you need, but most of my readers are surprised how straight of a line they can paint with a good 2″ angled sash brush.
1) Prepping a Room Does Make a Difference
It is a known fact that painting is much easier when there is nothing in your way. This means empty out the room, or at least as much as possible. If you are painting your living room, move large furniture pieces to the center and cover them up with old sheets or drop cloths.
Although it seems like an unnecessary step to wipe the walls down, it is a very important step. Whether you can see it or not, there is buildup on the walls of dirt, dust, and oils from your hands. Removing this debris prior to painting will allow the paint to adhere to the walls.
You should also fill in any nail holes or cracks with spackling, as well as tape off adjacent walls, window trim, and light switch or outlet covers. Use drop cloths, newspapers, or a roll of paper to cover the floor.
Collect this idea
3) Painting a Room – Allow Color Into Your Life
Color can be overwhelming for some. However, do not let a fear of color make you choose white, off white, or beige.Trying a few different colors will allow you to create a specific feeling in the room.
For instance, dark colors add texture and depth to the space. This is particularly true if the room is very large with high ceilings.  On the other hand, if you have a small room, such as a guest bath with no natural light, brighter, lighter colors can really open up the space and make it feel much larger.
Essentially, don't be afraid of color—experiment to see what works—you may be surprised!
Collect this idea
4) Pay Attention to the Finish You Choose
Surprisingly, not only does the color matter, but the finish, or sheen, does as well. High gloss paint finishes are very durable and easier to clean, but the downside is they often highlight imperfections in your walls.
On the other hand, a flat paint finish will hide these imperfections. However, flat paint is more susceptible to damage.In most instances, an eggshell finish is the best option.
It provides some gloss, is still easy to clean, does not highlight imperfections, and is not as easily prone to damage as flat paint.
Collect this idea
6) Determining How Much Paint You Need
There is nothing more frustrating during a painting project than running out of paint halfway through the project. Likewise, you don't want to have too much paint either. Here is a handy paint calculator that may help.
There are a few things that will help you determine the right amount of paint. First, you need to know the square footage of your room.
Secondly, think about how many coats of paint you want to do. If you are priming the walls first, one coat might be enough, whereas two coats are often needed if walls are not primed.
Collect this idea
9) Prep Your Roller and Paint Brushes
Rollers are made from fuzzy material that puts more than paint on your walls. It is important that you remove any debris, such as loose fibers, from the roller.
You can use painters tape wrapped backward around your hand to do this. Press your taped hand onto the roller, and it will work in a similar manner as a lint roller.
You should also rub the dry paint brushes up against your hand and gently tug on the fibers. This will ensure that no loose fibers end up in your paint from the brush.
Collect this idea
The Size Of The Room To Be Painted
The first thing we must determine is what is your definition of "a room"?
According to the National Home Builder Association, the average size for a bedroom (not including master bedrooms) is 432 sq feet. This amounts to roughly a 13′ x 13′ bedroom with 8′ ceilings.
For the rest of this article, I am going to use this as my standard. I will give you a per square foot time estimate at the end of each section so you can use this to determine how long it will take to paint your room based on the actual square footage.
You can take my Per Square Foot number and times it by the actual square feet in your room to come up with a good time estimate for your project.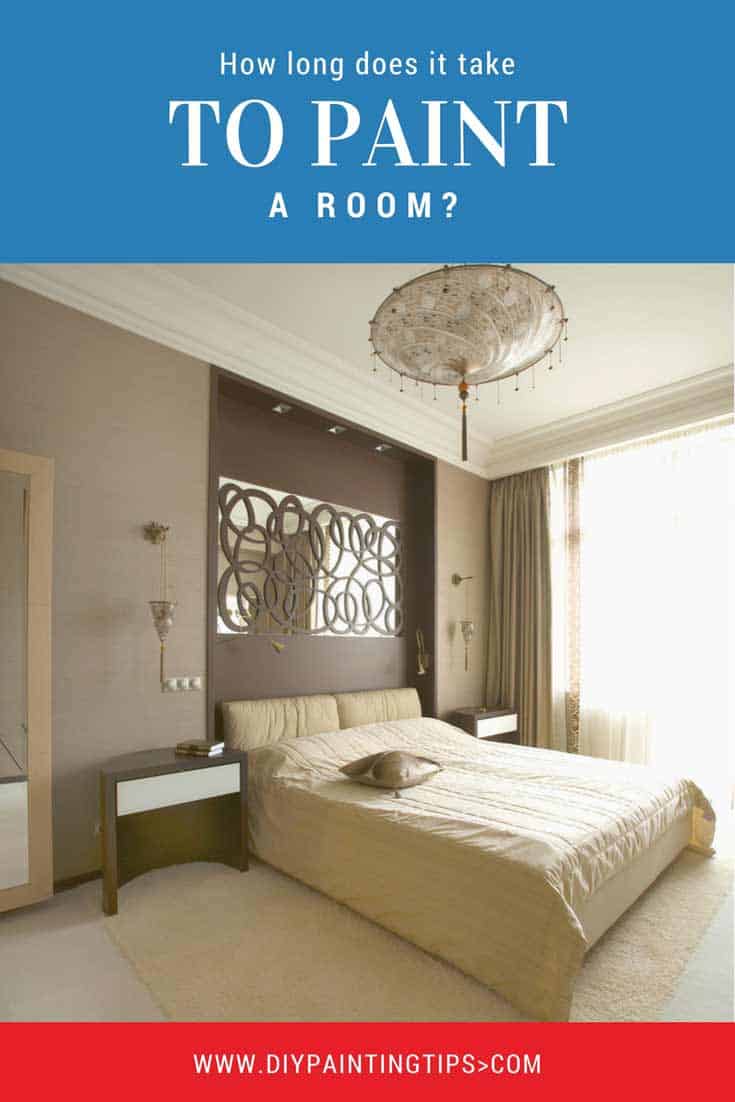 Determining The Time For Any Room
Now that you have a good idea for the times it takes for every step of painting a room, you can apply these times to any size room for a good estimate of the time it should take you to paint a room.
Prep Work: 0.185 Minutes Per Square Foot
Cutting In: 0.32 Minutes Per Square Foot
Rolling Walls: 0.185 Minutes Per Square Foot
Cleanup: 0.07 Minutes Per Square Foot
Total Time: 0.76 Minutes Per Square Foot