Vegan stuffed mushrooms are easy to make and packed with fresh herb-y, garlicky, citrus-y deliciousness. These little guys are great served as party finger food, a starter or a light main dish when paired with a fresh salad and crusty bread. What makes this vegan stuffed mushroom recipe stand out from others is the addition of parsley-lemon dressing to brighten and pull together all the flavours.
Strange but true: I hated mushrooms when I was a child. Something about the chewy texture and the juice that squeezed out with every bite was extremely off-putting. I don't know when my tastes changed but now I love, love, love mushrooms!
I love them in and on everything from hummus pizza to green curry to crepes. I don't know what was wrong with me back then but mushrooms are my go-to for when I need some vegan meatiness in a recipe.
Despite that fact, I have not attempted too many vegan stuffed mushroom recipes. While I do love a delicious, summery stuffed tomato, stuffing little button mushrooms always seemed too fiddly and not worth the effort. That is until I found these larger grilling mushrooms at my local supermarket.
I must explain that living in Spain you basically have two choices of mushroom at most supermarkets: button or oyster. Not a Portobello, cremini or porcini in sight.
Very recently (like in the last year), some supermarkets have started to expand their mushroom offering to shiitake and now I've found these medium-sized white mushrooms.
Great for grilling and stuffing! They're small enough to be served alone as an appetizer but large enough to hold their own as a main dish when served with a salad, soup and bread.
My inspiration for the filling was loosely based on Spanish flavours. Garlic mushrooms (champiñones al ajillo), mushrooms sautéed in olive oil, garlic, parsley and lemon juice, is a common tapa here. Stuffed mushrooms are also popular but often contain Serrano ham or diced Spanish chorizo sausage.
I replaced the ham with sun-dried tomatoes and loaded my vegan stuffed mushrooms with garlic and parsley. I added walnuts for a bit of crunchy nuttiness and tied in some brightness and acidity with a simple parsley-lemon-olive oil dressing that can be drizzled over the baked mushrooms.
Wanna see how vegan stuffed mushrooms are made? Watch the video and
share it on Facebook

:

In keeping with the Spanish theme, I recommend serving these stuffed mushrooms with another common tapa Spanish potato salad (ensaladilla rusa), gazpacho or the lesser-known (but maybe more delicious) Spanish cold soup white garlic (ajo blanco) and some toasted bread rubbed with garlic and tomato, sprinkled with salt and pepper and drizzled with olive oil.
For the vegan stuffed mushrooms
14 medium to large white mushrooms (mine measured 5 – 6 cm / 2 – 2.5 inches)
1 tablespoon olive oil plus more for brushing the mushrooms
3 shallots, finely diced
5 – 6 cloves of garlic, thinly sliced
3 tablespoons chopped walnuts
3 tablespoons chopped sun-dried tomatoes
3 tablespoons chopped parsley
1/2 teaspoon salt plus more for sprinkling the mushroom caps
Pepper, to taste

For the parsley-lemon dressing

1/4 cup finely chopped parsley
1 clove of garlic, diced
The zest of half a lemon
1/2 tablespoon red or white wine vinegar
1/4 cup olive oil
Pinch of salt and pepper, to taste
Start with the dressing to give the flavours time to develop. Combine all ingredients in a small bowl and taste. Adjust the level of acidity, saltiness and lemon to your liking. Set aside.
Preheat the oven to 175°C (350°F).
Remove the stems from the mushrooms and dice them finely. Brush the mushroom caps on both sides with olive oil, sprinkle the insides with a bit of salt and pepper and place them bottom up in a baking dish.
Heat a medium-sized pan over medium heat and add the 1 tablespoon of oil and diced shallots. Fry until transparent then add the sliced garlic. Fry until soft and fragrant then add the chopped mushroom stems. Fry until browned, stirring occasionally, then remove the pan from the heat. Stir through the remaining stuffing ingredients.
Fill each mushroom cap with the stuffing and bake for 15 – 20 minutes or until the mushrooms are brown and soft. If the tomatoes or parsley begin to burn, cover the pan loosely with tin foil.
Serve with the dressing on the side to drizzle over the mushrooms.
https://www.cilantroandcitronella.com/vegan-stuffed-mushrooms/
How to Make Stuffed Mushrooms: Pre-Roast the Caps
I've gotten in the habit of pre-roasting the hollowed-out mushroom caps before stuffing, a tip I picked up from Cooks Country Magazine. The first time I tried the process with a family stuffed mushroom recipe, it was a game-changer!
Mushrooms have a rather high water content. Sometimes when you stuff and bake them raw, you end up having to overcook the filling (like those ill-fated restaurant mushrooms) to get the caps to the point where they're tender without being soggy or rubbery. The longer baking time isn't an issue for some fillings, but it can be less-than-ideal for delicate ingredients like crab and cheese.
In this recipe, I roast the caps until the water is released, fill with the crab mixture, and return to the oven just until the filling is warm, a mere 5-7 minutes. Pre-roasting the mushroom caps also makes these easy to prep ahead of time. The mushrooms can be fully assembled and stored in the refrigerator up to overnight before baking.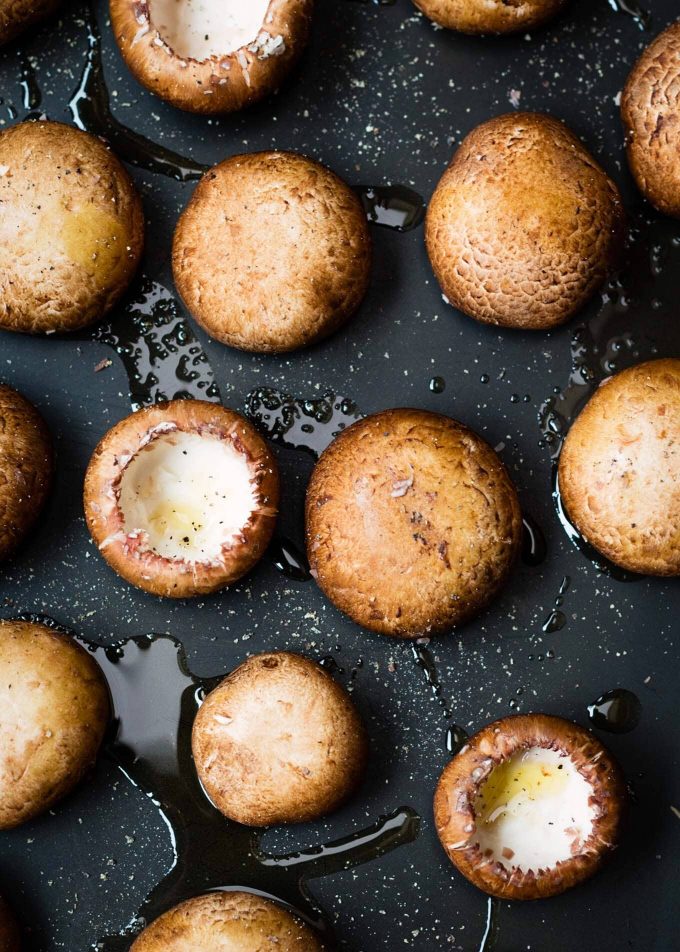 What Grade of Crabmeat is Best for Stuffed Mushrooms?
You'll find a couple of different grades of crabmeat at the grocery store at a range of price points. Whenever possible, I like to use fresh-packed crabmeat from the seafood market, but pasteurized works great as well.
As delicious as it is, you don't need to use expensive "colossal" or "jumbo lump" crab for stuffed mushroom filling. Since the crabmeat is broken up in the mixing and stuffing process, the benefits of the larger piece would be lost in a recipe such as this.
Since I love the delicate flavor of jumbo lump crabmeat, I instead opt for "lump" when making stuffed mushrooms. This grade is made up of broken pieces of jumbo lump crab, mixed with some of the white body meat.
In a pinch, you can also use "back fin" or "special" crabmeat in stuffed mushrooms. These grades contain finer flakes and shreds (particularly the "special" grade), so you'll get a smoother filling texture than if you used lump. I don't like to use "claw meat" in this recipe, which has a stronger flavor and tends to be oilier.
Check out this info sheet from Sam Rust Seafood for a visual comparison of crabmeat grades.