Missing something light, refreshing and sweet for your Memorial Day or 4th of July barbecue? Easy Strawberry Shortcake will take only a few to whip up and with a little creativity can be an adorable addition to your holiday table!
Happy Monday! Can you believe Memorial Day is just three week away? I feel so unprepared! Hey 2017, where'd ya go?I'm already dreaming of the weekend. Well, I don't have any big plans, but most often, this weekend each year is filled with lots of relaxation,  bike rides, some house/yard work (if I get around to it), and lots of good food (most often including barbecue ribs and homemade ice cream).
It's just right time to start thinking about a menu and isn't dessert the logical place to start?
We are always full after eating the barbecued and homemade treats during the weekend so I wanted to try something light and refreshing for dessert. Easy Strawberry Shortcake with Cream Cheese Frosting is the perfect finish.  It is simple to make with just a few steps, plus Your freezer does most of the work which means you can spend more time outdoors having fun.
 It looks like a win–win deal.
Easy Strawberry Shortcake
Ingredients
3 large eggs
1 cup sugar
1/3 cup water
2 teaspoon vanilla, divided
1/4 teaspoon salt
1 cup flour, sifted
1 teaspoon baking powder
12-ounce carton of whipped topping, divided
2 oz cream cheese, softened
1/3 cup powdered sugar
2 pounds of fresh strawberries, trimmed and sliced, plus more for decorate
Instructions
Preheat the oven to 350 degrees F. Grease bottom of 9×13 baking pan and line bottom with parchment paper.
Beat eggs until very light. Beat in sugar, water and vanilla. Sift flour, baking powder and salt and beat quickly into mixture. Immediately pour into pan. (Batter should be fairly liquid and bubbly.)
Bake at 350 degrees for 25 to 30 minutes or until toothpick inserted comes out clean.
Invert onto a flat surface. Peel away parchment paper, and cool completely.
* Freeze for about an hour to make carving easier.
Once cooled, you will need a large serrated knife in order to cut all of the layers. Slice cake evenly horizontally into three layers. Set aside.
Put one of the layers in the bottom of the parchment paper lined baking pan/cookie sheet and
spread a layer of whipped topping over it, then arrange strawberry slices evenly over the whipped topping. Take a second layer of cake and spread a layer of whipped topping over it, then place it, whipped topping side down, on top of the already built cake/whipped cream/strawberry layer.
Repeat the whipped topping-strawberries-whipped topping-cake process 1 more time (2 times total).
In a bowl, beat the cream cheese, powdered sugar and 1 tsp vanilla until smooth. Fold the 1 cup whipped topping into the cream cheese mixture. Spread across top of the cake, reserving some of it to pipe rosettes if desired. Run a spoon or a fork through the top to make stripes.
Refrigerate for at least 4 hours or overnight.
Cut into squares. Garnish each square with strawberry half and rosette (or just a blob) of frosting if desired.
Notes
https://sugarapron.com/2017/05/08/easy-strawberry-shortcake/
How to make a Strawberry Shortcake Trifle
To make the trifle, I started with my Moist and Fluffy Vanilla Cake. It's so tender, soft and fluffy and has such a wonderful buttery vanilla flavor. The cake has wonderful reviews and is a reader favorite! It's perfect in this trifle.
Next up is the strawberry sauce. You'll puree about a pound of strawberries and combine it with some sugar and vanilla extract, then cook it over the stove to thicken it up a bit and bring out the flavor of the strawberries. It's very similar to the strawberry sauce I used on my Strawberry Poke Cake and it adds great flavor and moisture.
The cake and strawberry sauce are layered with freshly chopped strawberries and homemade whipped cream. The whole dessert is light, full of strawberries and just like eating strawberry shortcake in trifle form. This is my kind of strawberry trifle! Such a delicious, classic dessert!

MY OTHER RECIPES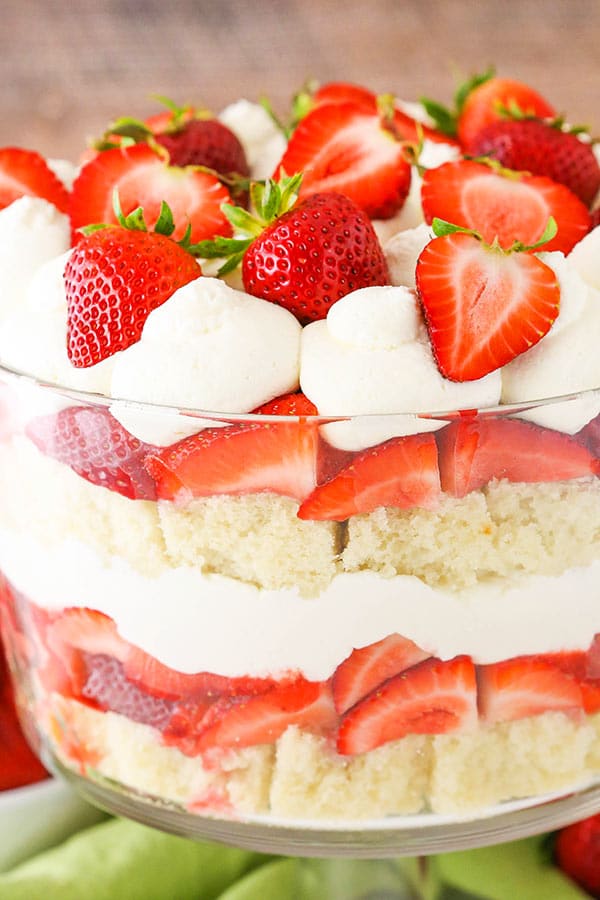 More strawberry recipes you'll love:
Strawberry Shortcake PopsiclesStrawberry Shortcake CheesecakeMini Strawberry CheesecakesTriple Berry TrifleBerry Custard Trifles in a JarStrawberry Shortcake MimosaStrawberry Shortcake Scones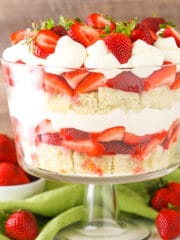 This Strawberry Shortcake Trifle is simple to make with layers of moist vanilla cake, fresh strawberries, strawberry sauce and fresh whipped cream!
Author:
Prep Time:

1 hour

Cook Time:

45 minutes

Total Time:

1 hr 45 min, plus cooling time

Yield:

10-12 servings

Category:

Dessert

Method:

Oven

Cuisine:

American
Ingredients
Vanilla Cake
3 cups (390g) all purpose flour
1/4 tsp baking soda
2 3/4 tsp baking powder
1 tsp salt
1 1/2 cups (336g) unsalted butter, room temp
2 cups (414g) sugar
4 egg whites
3 tsp vanilla extract
1 1/2 cups (360ml) milk
Strawberry Sauce
1 lb strawberries, pureed
1/2 cup (104g) sugar
3/4 tsp vanilla extract
Whipped Cream
2 3/4 cups (660ml) heavy whipping cream, cold
1 1/2 cup (173g) powdered sugar
1 tbsp vanilla extract
2 lbs strawberries, chopped (about 5 cups)
1. Preheat the oven to 350°F (176°C). Grease a 9×13 cake pan.Combine the flour, baking soda, baking powder and salt in a medium sized bowl. Set aside.2. Beat the butter and sugar in a large bowl on medium speed about 2 minutes, until light and fluffy. Scrape down the sides of the bowl.3. Add the egg whites and vanilla and beat on medium speed until well combined and smooth.4. Add about a third of the flour mixture to the batter and beat on medium speed until incorporated.5. Add about half of the milk and beat on medium speed until incorporated.6. Add another third of the flour mixture and beat until incorporated, scraping down the sides of the bowl as needed.7. Add the remaining milk and beat on medium speed until incorporated.8. Add the remaining flour mixture and beat until well combined, scraping down the sides of the bowl as needed.9. Bake the cake for 35-40 minutes, or until a toothpick inserted in the center comes out clean. The cake will be browned on top.10. When the cake is done, set aside to cool.11. To make the strawberry sauce, add the strawberry puree, sugar and vanilla extract to a medium saucepan. Cook over medium heat until it begins to boil, stirring occasionally.12. Allow sauce to boil for one minutes, then remove from heat and seat aside to cool.13. When everything has cooled, make the whipped cream. Add the heavy whipping cream, powdered sugar and vanilla extract to a large mixer bowl and whip on high speed until stiff peaks form.14. To layer everything in the trifle dish, add a layer of cake on the bottom, then about half of the chopped strawberries, about half of the strawberry sauce, then about half of the whipped cream.
15. Add a second layer of cake, strawberries and strawberry sauce, then pipe the remaining whipped cream on top in swirls. Add a few additional strawberries on top as decoration.
Note: You may not need to use all of the cake for the trifle.
Keywords: strawberry dessert recipe, strawberry shortcake recipe, strawberry trifle recipe, summer dessert
Enjoy!


Never miss a post – subscribe to receive emails!
Sign Me Up »
Easy Strawberry Shortcake Recipe
This strawberry shortcake recipe is the perfect recipe to use when you have fresh strawberries on hand but it's also ideal if you want to make a peach shortcake or a mixed fruit shortcake.
The shortcake is a made from scratch and is as easy to make as a homemade biscuit. The "biscuit" is slightly sweet with a hint of cinnamon, sliced in half and filled with fresh, sliced strawberries and a hefty dollop of whipped cream.
RELATED: 15 Easy Single Serving Dessert Recipes
How To Make Homemade Whipped Cream
You can certainly use whipped cream purchased from the grocery store but homemade whipped cream takes just minutes to make and tastes so rich and wonderful. The only ingredients needed to make homemade whipped cream are heavy cream and sugar.
Pour 1/4 cup of cream and 1 to 2 teaspoons of sugar into a small mixing bowl. Whisk until the cream reaches soft peaks, about 2-4 minutes.
This delightful treat makes the perfect sized dessert (or even breakfast!) for one person. It's a family favorite with ingredients scaled down to serve one or two.
For more information on the cooking and baking dishes I use in our "recipes for one", please visit our FAQ page.
For examples of the dishes used at One Dish Kitchen, please visit our Store page.
We now have a COOKING FOR ONE Facebook group. We're new and we're growing. Join us to share your favorite single serving recipes and find new ones too. We'd love to see you there!
Click HERE to join the community!
Connect with One Dish Kitchen! Be sure to follow us on social media so you never miss a post!
Facebook | Twitter | Pinterest | Instagram
Course: Breakfast/Dessert Keyword: biscuit, strawberry
1/2

cup

all-purpose flour

1

tablespoon

sugar

1/2

teaspoon

baking powder

1/8

teaspoon

baking soda

1/8

teaspoon

ground cinnamon

1/8

teaspoon

salt

2

tablespoons

cold butter

2

tablespoons

milk

(if dough appears too dry, add 1/2 tablespoon more milk)

1/4

cup

sliced strawberries

whipped cream (*see notes)

powdered sugar (optional)
Heat oven to 400 degrees F.

Whisk together the flour, sugar, baking powder, baking soda, cinnamon, and salt in a small bowl.

Cut cold butter into the flour mixture using either a pastry blender or your hands until the mixture resembles coarse crumbs.

Pour in the milk and stir until just combined. Spoon onto a baking sheet lined with parchment paper or silpat and shape into a circle.

Bake for 12-15 minutes or until top is golden.

Remove from oven and cool for 10 minutes.

Meanwhile, make the whipped cream if you are making it yourself.

Pour the cream and the sugar in a small mixing bowl. Whisk just until the cream reaches soft peaks, 2-4 minutes. Store any unused portion in an airtight container in the refrigerator.

Slice the biscuit in half, spoon sliced strawberries on the bottom half and top with whipped cream. Top with remaining biscuit half.

Dust top with powdered sugar, if desired.
Use either store bought or homemade whipped cream.
To Make Homemade Whipped Cream
Pour 1/4 cup heavy cream and 1-2 teaspoons of sugar into a small mixing bowl. Whisk just until the cream reaches soft peaks, about 2-4 minutes.
Homemade whipped cream will add approximately 220 calories to the calorie count of this recipe.
Strawberry Shortcake For One Calories 498 Calories from Fat 207 Total Carbohydrates 65g 22% * Percent Daily Values are based on a 2000 calorie diet.
The information shown is an estimate provided by an online nutrition calculator. It should not be considered a substitute for a professional nutritionist's advice.
This post contains affiliate links.  If I like a product and that product has an affiliate program, then I will link to that product using an affiliate link.  Using an affiliate link means that, at zero cost to you, I might earn a commission on a product if you buy something through my affiliate link. Click here to read my full disclosure policy.
We are a participant in the Amazon Services LLC Associates Program, an affiliate advertising program designed to provide a means for us to earn fees by linking to Amazon.com and affiliated sites.
How to make strawberry shortcake:
Classic homemade strawberry shortcake is a three step process that involves making the sweetened strawberries, the shortcake biscuits, and the whipped cream.
To prepare the strawberries you'll combine them with sugar and lemon zest and allow them to macerate for at least an hour. More info on how and why to do that is below. The strawberries can be prepared up to a day in advance.
To make the biscuits, you'll combine the heavy cream with the sifted dry ingredients and mix just enough so that they hold together. You'll bake them on a baking sheet and allow them to cool before splitting open. I think they taste best on the same day that you cook them.
To make the whipped cream, combine cold heavy whipping cream with confectioner's sugar and beat on high speed with an electric mixer. Unless you plan on making stabilized whipped cream by adding a bit of gelatin dissolved in water, you'll want to hold off on making the whipped cream until you're about to serve your strawberry shortcake.
Pictures like the one below leave me speechless. Partly because I cannot find the words to describe such beauty, partly because I'm salivating so much that I'm finding it difficult to talk.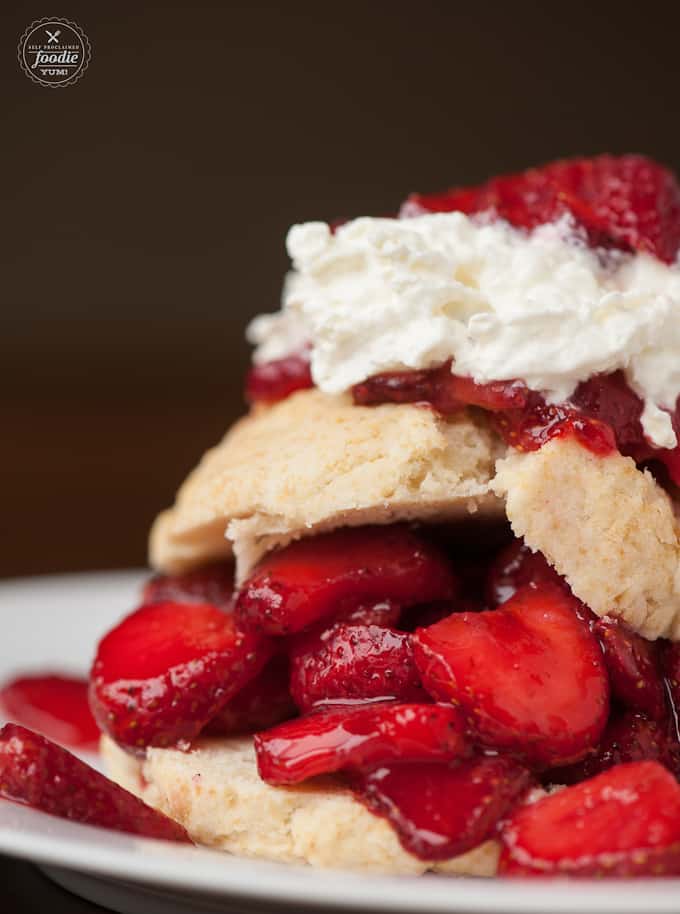 Why is this the best strawberry shortcake recipe?
This is very different than the shortcake I enjoyed growing up. In my youth, processed convenient foods filled every kitchen in the country. Remember Hungry Man TV dinners? Yeah, they were my favorite. I wouldn't touch one now.
Our version of strawberry shortcake was a slice of Sara Lee pound cake smothered in those frozen strawberries packed in sweetened (very sweetened) juice with as much Ready Whip as my plate would hold.
Now, don't get me wrong – that was freaking delicious. But this recipe is for a homemade shortcake biscuit which is very different than processed pound cake. It's not nearly as sweet and is indeed very biscuit-like.
Plus, one cannot beat fresh strawberries – especially ones like these. Look at that deep red! I no longer buy whipped cream in a can anymore. Only the real stuff that gets whipped fresh exists in my house!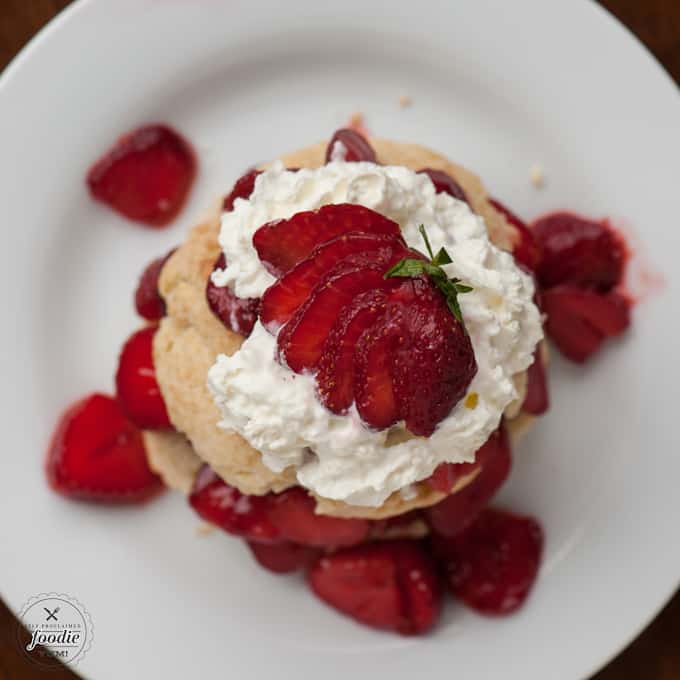 How to prepare strawberries for homemade strawberry shortcake:
I always prefer to use fresh strawberries if they're in season. I'm of the opinion that it's better to indulge in any kind of recipe when the produce in season. It's usually worth the wait.
To properly macerate the strawberries, you must first remove the stem and then slice them. Then, you'll want to combine them with sugar and lemon zest and allow them to macerate in that sweet citrus juice for at least an hour. I will often allow them to macerate overnight to properly develop their flavors.
Unless your house is extremely cold, you will need to refrigerate the strawberries to prevent them from spoiling.