Do you ever start a craft and end up messing everything up? Well, our day pretty much started like that. But, I was determined to get something right and that's how we created dish soap silly putty! Well, it didn't start out as dish soap silly putty…. it actually started out as more of a mess (I tried to use flour first….don't ask……it was ugly!). None the less we ended up with THEE easiest silly putty recipe that my kids can't get enough of! You only need 2 ingredients and you most likely have both in your kitchen already.
How to make Silly Putty with Dish Soap
1.5 tablespoons of dish soap and
2 tablespoons of  corn starch
Mix the dish soap and corn starch together as best as you can for about 10 seconds.
Once it becomes difficult to stir, get your hands in there!
Work the putty until all of the ingredients in the bowl are combined thoroughly. This is when you'll see the putty start to come together.
TIP: because dish soap formulas can vary, it's ok if you need to add a little more. If the putty is entirely too dry, add a tiny bit more dish soap to it. Or, if the putty is too runny, add a tiny bit more corn starch to it. After adding more of either ingredient, mix the putty by hand for a few moments. Just a little extra of either ingredient is all it takes:)
How make slime – glue and borax recipe
The best part about making slime, it's science preschoolers will love. You can color your slime whatever color you'd like. We ended up making 4 different batches, experimenting with various additives and quantities, so in the end, our mixed slime looked pretty gross!
If you don't want to make your own slime, you can always get a Slime Kit.
Ingredients:
1/2 cup school glue
1/2 cup water
1 tsp borax
1 cup water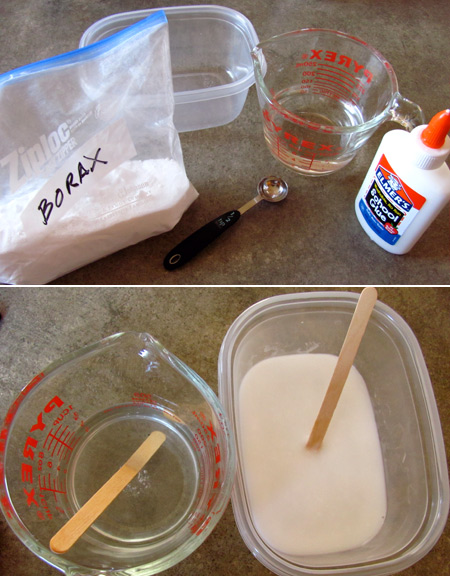 Borax slime recipe
Directions
Mix 1/2 glue (about one bottle school glue) with 1/2 cup water. Mix well.
Dissolve 1 tsp borax in 1 cup water. Slowly stir borax solution into glue solution. The more borax solution you add, the stiffer the slime will become.
How to make slime – glue and Tide laundry detergent recipe
Ingredients
1/2 cup water
1/2 cup school glue
1/4 cup liquid Tide laundry detergent
Directions
Combine water and school glue, mix well. Slowly stir in Tide until slime forms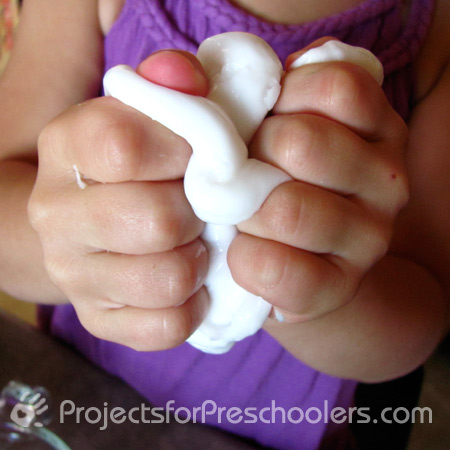 having fun with slime recipe
Detergent and Borax Free Slime
1/2 cup school glue
1/2 tbsp of baking soda
1 tbsp of contact lens solution
Directions
Mix the glue and baking soda in a bowl then add the contact solution until the mixture begins to thicken.
Making slime tips
Always add the borax or laundry detergent to the glue solution to allow for more control over the consistency of the slime.
If you'd like to add color or extras to your slime such as fragrance or glow liquids, make sure to add these extras to the glue solution before adding the laundry detergent.
These ingredients are non-toxic, however should not be eaten and should be handled with adult supervision and all utensils washed thoroughly.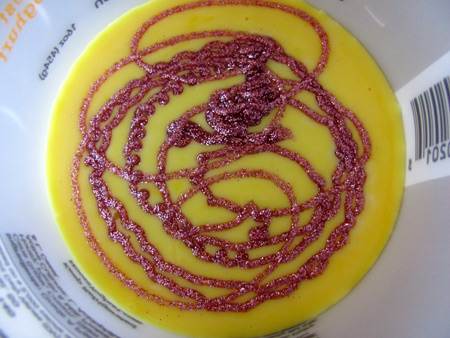 adding glitter to slime recipe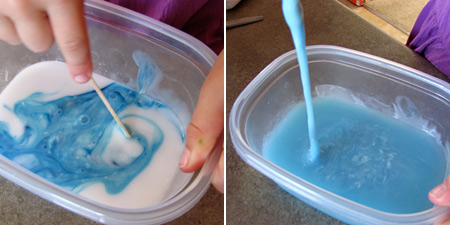 adding color to slime recipe
SPARKLING METALLIC SLIME
[baking soda and contact lens solution method]
You'll need:
Chrome powder120ml Elmers glue – clear1/2 teaspoon of baking soda
2-3 tablespoons of contact lens (saline) solution     ***If you don't have this on hand, read below
Pour the glue into a bowl, and then add the baking soda and contact lens solution, mixing thoroughly.
Add in a generous sprinkle of your chrome pigment, and work into the slime. If it doesn't look metallic enough, you can always add in more. Once thicker, work with your hands until it reaches the right consistency.
*** if you don't have saline solution, this is very easy to make. Simply take 240ml of water and 1/2 teaspoon of table salt. Warm this in the microwave for around a minute – until it's very hot but not boiling. Allow to cool before using.
EASY TWO INGREDIENT SLIME
You'll need:
CornflourHair conditioner
Mix together equal parts cornflour and conditioner. This may look discouraging for a little bit, but it will reach the right consistency with

persistence

.
Once it's thickened up, take it in your hands and knead until it becomes slime. If you want to add food colouring, mix it in with your hands at the end.
SLIME STRESS BALL
You'll need:
300ml CornflourWaterPlastic bottle (optional)
2 Balloons
Put your cornflour in a bowl and add water until it reaches thick, liquid 

consistency.

Pour your concoction into a balloon. The easiest way to do this is by transferring it to a plastic bottle, putting the end of your balloon over the rim, and pouring.
Release the air and tie a knot in your balloon, leaving only a little space. Cut the end off this balloon, take another, and cut off the end of this one. Squeeze your first balloon into your second – and you have a stress ball!
Note: You'll notice the cornflour and water looks like liquid but behaves differently. If you poke it quickly, your finger will be met with resistance, however if you submerge your finger slowly, it will go through the substance entirely. It's this quality that makes it great for stress balls (and pretty cool to play with)
*** We also warn to be careful with the strength of squeezing – it can take quite a bit of stress, but they can burst if too much pressure is applied… if something INCREDIBLY stressful happens – you lose your dog, your mother-in-law makes a surprise visit, maybe stick with the regular slime… you don't want to be cleaning cornflour off every surface, that would certainly NOT be stress relieving ***
Years of Slime Failures
Have you ever seen a really cool slime recipe?
Over the past couple of years I've been so inspired by some of the amazing slime activities I've stumbled across. Yet, when I tried to make my own slime, every attempt was a complete and utter failure.
About six months ago I went on a massive shopping trip buying every possible ingredient. I had researched the science, read so many recipes. I was determined to make slime.
But after spending over 6 hours trying, all I had was a lot of wasted materials, batches of nasty, unusable gooey substances, and a splitting headache (that powdered borax always does a number on me!).
To say I was frustrated with slime making would be the understatement of the century. I put together a lot of our lessons learned and tips on slime here.
When looking up a slime recipe, one of the first things I noticed was that almost all of them called for liquid starch. As a Canadian I don't have access to liquid starch. To demonstrate my own devotion to the slime cause, I even tried making my own liquid starch using a technique from an older military man, turned prepper. It still didn't work!
Next I turned my attention to trying it with borax powder. Failure.
Plus the Canadian government advises against using borax powder around children, and I have lung and heart conditions that borax powder aggravates. So I ditched that idea pretty quickly.
I spent hours reading labels and searching for the one, rare brand of detergent that I was promised would work. It still failed. Probably because the exact magical laundry detergent I was told to find, couldn't be found anywhere, and the others were poor substitutes.
It shouldn't have been so hard. All I needed was a substance that would give the glue some stiffness and remove the stickiness. There had to be another answer. Finally I found it.
3 Simple Ingredients = Wildly fun bath time!
This Fall Harvest Recipe Smells Like a Crisp Fall Day and Looks Like Sun Through The Colourful Leaves
Looking for more amazing STEAM activities and inspiration? Check out STEAM Kids my bestselling educational activity book packed full of ideas for hands on learning and fun!
Join the STEAM Powered Family Newsletter to get even more inspiring, hands on learning ideas, free printables and access to resources. Click here to become a member of the family!
Play Dough Soap DIY
The recipe for this play dough soap that morphs into a soap slime with water is easy to make and basically foolproof. Too dry, add a few drops of water, too wet add a tsp or so of cornstarch. The pictured here (and the included recipe) is purposely made slightly dry.  It is a large batch and this way the balls don't adhere to each other when the soap dough is tossed in a ziploc bag. The soap is still quite malleable.  I do make smaller batches slightly softer.
MY LATEST VIDEOS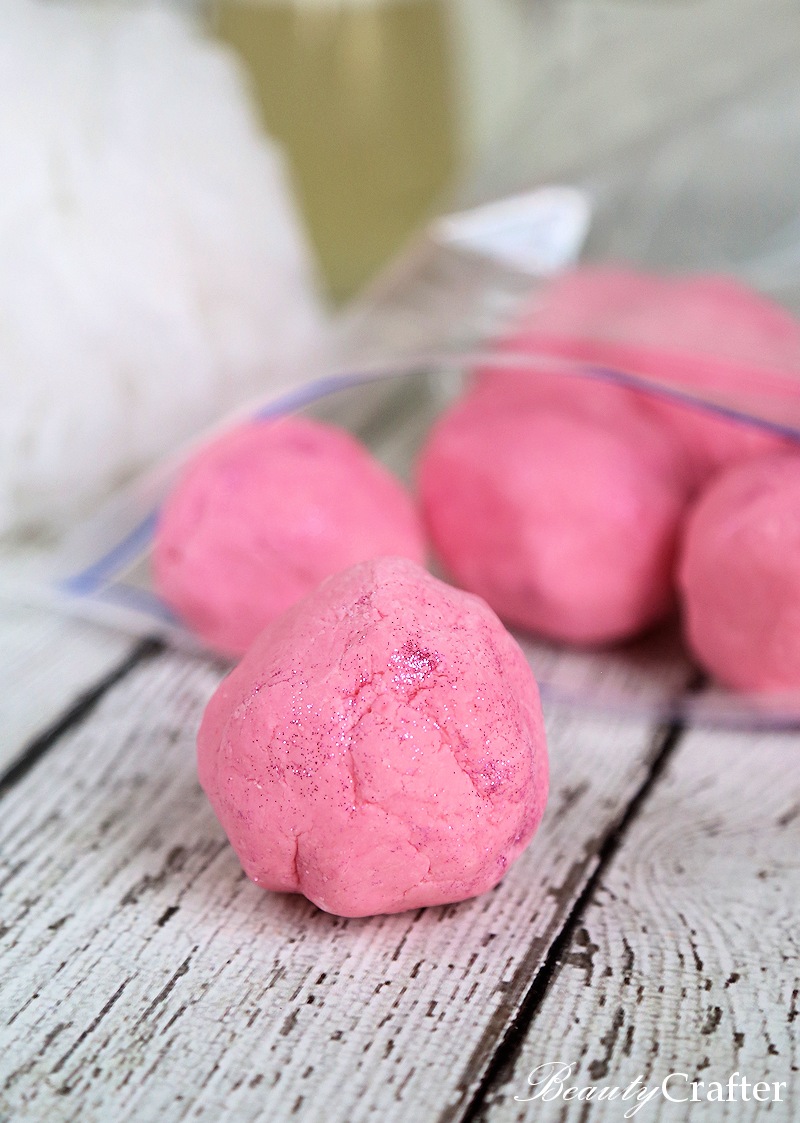 She loves playing with the play dough soap in her bath as well as in the sink, especially when it gets to a gooey slime stage.  I love that it washes down the drain and other than a little starch residue to rinse out of the tub it is basically mess free.
Play Dough Soap for Kids the Turns to Soap Slime
The play dough soap starts at a texture much like you would expect, but over time as it gets wetter it transforms during play into a fun gooey slime soap.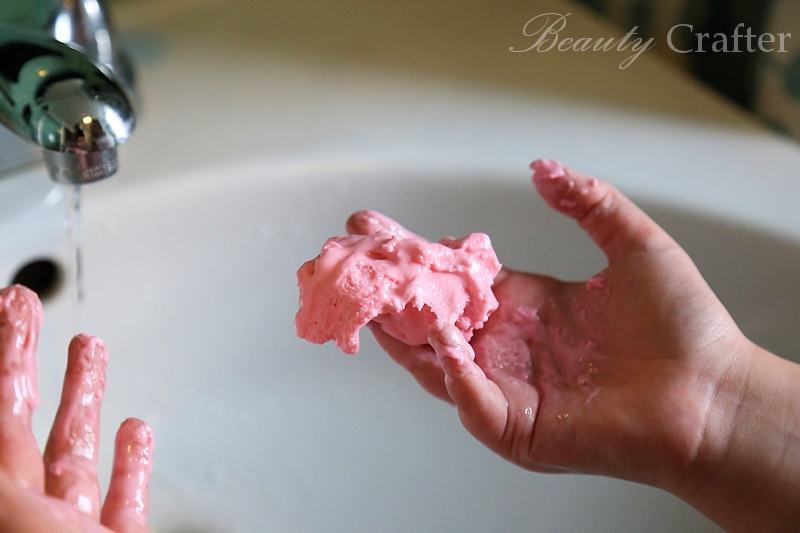 Once it is relatively saturated the soap dough has a pasty wet clay feel to it.  Fun to squish and smear.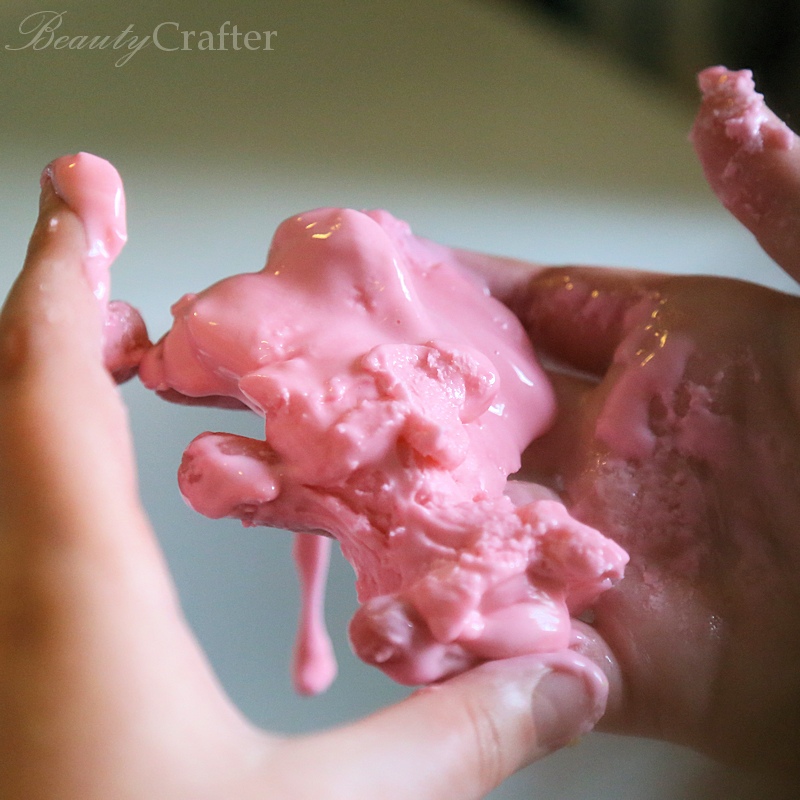 With more water play, the play dough soap morphs into a drippy oozy slime like stage. Fun to watch and feel, as well as paint the sides of the tub with. Finally the soap dough dissolves into the water, hopefully after your child is clean…lol.
What's in the Soap Dough?
Here's all the supplies (full recipe below)
Dr. Bronner's Pure-Castile Liquid Soap – Baby Unscented 16oz.
Viva Naturals Fractionated Coconut Oil, 16 oz – Ultra Hydrating Massage & Aromatherapy Oil, Hexane-Free
NOW Solutions Glycerine Vegetable, 16-Ounce
Wilton Gel Food Color Set, Primary
Surepromise 45 Colors Eyeshadow Makeup Nail Art Pigment Glitter Dust Powder Set
Bob's Red Mill Corn Starch, 22 Ounce
How to Make Playdough Slime Soap
Here's how to make this easy recipe for Play Dough soap, that turns into fun bath slime in the tub! Other than the gel food coloring and glitter used to make the soap more attractive all the ingredients to make the soap are natural.  I will try future batches with natural pigment and probably just skip the glitter it really didn't add much to the end results anyway.
While I prefer using Castille soap, you can also easily make this slime with hand soap. Personally, I would skip the dish soap slime in the bathtub. It is likely to be too harsh on a child's skin.
Print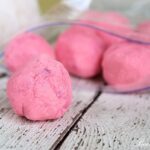 Add this fun soap slime recipe that doubles as kid's soap to your easy DIY slimes collection. The children will have lots of good clean fun with it!
Mix the wet ingredients together, then add 2 cups of the cornstarch and mix well.
Add the remaining cornstarch in increments until you reach the consistency you want.
Divide the soap dough evenly into approximately 10 pieces and roll into balls.  **optional roll balls in cosmetic glitter**
You can either store the soaps immediately in an airtight package to maintain softness or allow them to dry out first. Either way they will become soap slime when mixed with water. The dry ones will last a little longer in bath. 
Store the play dough soap in an airtight container to maintain moisture.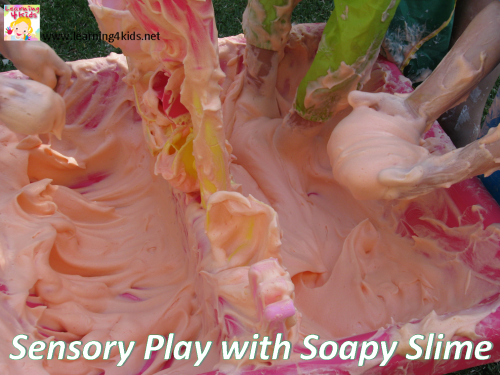 This activity was FUN, REALLY FUN!!
Kids love to get messy, it comes with being a kid as they explore their natural curiosity about the world around them.  Messy-sensory play provides so many opportunities for learning, development and growth.  Soapy Slime is a great mixture to encourage and promote this  messy play with kids.
How to make Soapy Slime?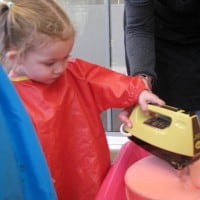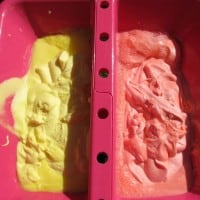 We have made Soapy Slime before which was around Christmas time last year and we pretended it was imitation snow.  You can read more about this activity here: Sensory Play with Fluffy Christmas Snow.
This time we made two different colours, yellow and red with the intention of creating a new colour, orange when we mixed the two colours together.
To make Soapy Slime you will need 1 cup of Soap Flakes, 3 cups warm water, food colouring, large mixing bowl, large container or tray and an electric beater.  You can find soap flakes at your local supermarket in the washing powder isle.
As you beat the water, food colouring and soap flakes the mixture multiples, so I placed the large bowl on top of our container to catch the over flow.
Let's Play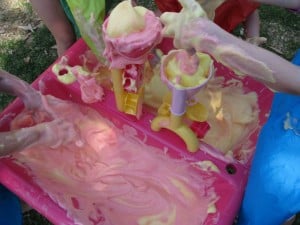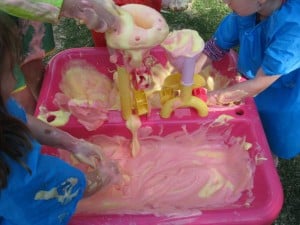 We had scoops and funnels to play with the soapy slime but the kids seemed to prefer their hands.  I never mentioned anything about the two different colours mixing together, I left this for them to discover and they did in time as the two colours became one giant blob of orange soapy slime.
Let's Get Messy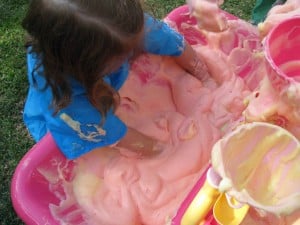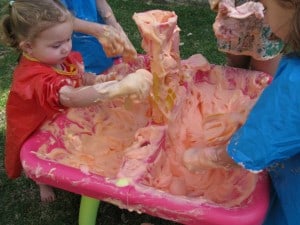 Sensory play with soapy slime is a great opportunity for kids to explore and use descriptive words.  Words to describe what they are experiencing, their senses and what they were feeling; slippery, slimy, soft, squishy and heavy and what it smells like.
Let's Learn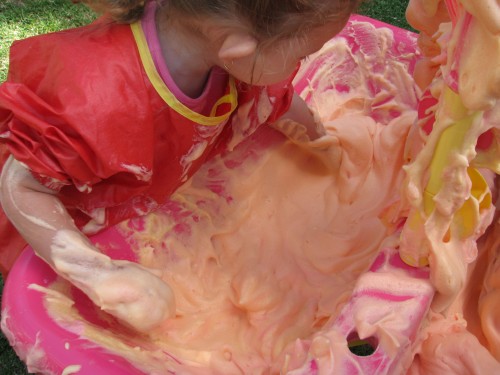 WHY MESSY-SENSORY PLAY IS IMPORTANT? 
Messy play is important for young children, giving them endless ways to develop and learn. All types of play are essential for children's development and early learning. Play helps children to develop and improve their gross and fine motor skills, co-ordination and concentration.  Also how to work co-operatively and collaboratively, use all their senses to discover and explore their environment, and develop their imagination, creative thinking and ability to problem solve and experiment with solutions.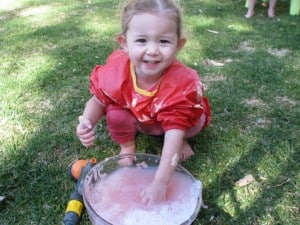 Tips to consider and don't stress the mess:
This activity looks very messy, well that is because IT IS! This can be understandably overwhelming for some parents but clean-up is quite easy if you plan ahead.  Take the activity outdoors in a large tub, that way when finished playing all you need to do is hose everything off, even the kids!!  This can be all part of the fun and experience!  I also put my kids in their old clothes, no shoes and an apron which provided some protection.  Have a towel handy for any accidents when kids forget they have soap on their hands and put it in their eyes.
Have fun!!
For more Sensory Play Ideas
Available in our online Shop
Please click on the product names to see more details.
Large Activity Tray
Pom Poms Pack of 300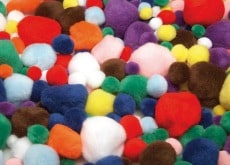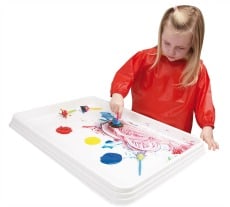 Slime Ingredients
It doesn't take many items to make slime. Just a few ingredients you probably have in your pantry and you can make super stretchy fluffy slime!
You will need:
washable school glue
food coloring
Baking Soda & Contact Solution
Baking soda will combine with the boric acid in contact solution to make borate, the same crosslinking solution that Borax contains. This mixture becomes the slime activator. The saline solution needs to contain active ingredients like sodium borate and boric acid. So yes, even this slime has a touch of borax.  Borax powder and liquid starch can also be used as the slime activator
shaving cream – this will make your slime super fluffy
Slime Recipe
Now let's learn how to make fluffy slime the safe way.  This borax free slime recipe that is perfectly slimy! Your kids will be playing with it for hours and making slime over and over again. All you need are simple ingredients found in your pantry. There is no need to add water.
1/2 cup washable school glue
food coloring
1 1/2 teaspoon baking soda
1/4 cup shaving cream
1 tablespoon contact lens solution
Measure glue into a bowl. Add a few drops of food coloring.  Once it is the desired color add a few more drops. The shaving cream will make the color lighter. Mix in baking soda then shaving cream, Stir in contact lens solution and mix. The mixture will start to come together. Remove mixture from bowl and knead with hands. The slim will be sticky. The more the slime is played with the less sticky it becomes.
How do you make slime?
Let us show you how to make slime in six easy steps. This is amazing homemade slime that is safe and borax powder free.  We make slime with shaving cream to make it fluffy.
1. Measure 1/2 cup glue
2. Add color. Add more food coloring than you think you need. The shaving cream will make it lighter.
3. Add in 1 1/2 teaspoons baking soda and mix.
4. Next, add 1/4 cup shaving cream. This slime ingredient makes this fluffy slime!
5. Stir in 1 tablespoon contact lens solution.
Mix all the ingredients until mixture starts to come together.
6. Remove from bowl.  The mixture will be sticky.
Keeping working and will become perfectly slimy and not sticky the more you work with it.
The girls added a bit more color so it would be really bright! It is best to add the color with the glue.  It was more difficult to mix in the color at the end. Now you know how to make slime!
Have your children experienced the slime craze? We can't get enough slime. We have made green, purple, blue, pink……………………..one gallon of glue worth of slime at our house has been used. Don't stop with plain school glue. Glitter glue makes a great galaxy slime!
Tips for Homemade Slime
We have found that using different glues only produce slightly different textures of slime. So try different glues….. like clear glue and glitter glue!
Use food coloring, liquid or gel to make colored slime. We have even used glow in the dark paint!
Don't worry if it is sticky at first.  The more you work with it the less sticky it becomes. How do you make slime less sticky? We have found adding a bit more of the contact solution does the trick.
The food coloring will stain hands. We have found that it comes off in about a day.  If this is worrisome just wear gloves.
Be creative! This is a great kids activity that allows them to experiment with great results.
Children's hands can be sensitive. Always wash hands after playing with slime.
Is your slime too sticky? Don't worry here are all the ways to make slime less sticky.
How to make slime 5 different ways!
Look! Slime you can see through. Changing the type of glue you use can make slime so clear you can see through it.
Clear Slime Recipe
Mesmerize kids with this slime that glows in the dark. This recipe uses glow in the dark paint. Now, though you can also purchase glow in the dark glue.
Glow in the Dark Slime
This slime/gak uses liquid starch. While liquid starch contains a bit of borax it is much more friendly to the skin. I was shocked to see on the news where kids were actually getting burns from the borax. This two-ingredient slime should be just fine.
How to make Gak
It only takes 3 ingredients to make this butter slime. The addition of clay makes this slime hold its shape.
Butter Slime Recipe
If you don't have glue you can make slime without glue. This slime uses 3 in one shampoo. It isn't as stretchy as regular slime but is still fun to play with. Warm hands do cause this slime to melt.
How to make slime without glue
We are always looking for more recipe variations and are going to try this 3 ingredient slime that uses salt. It is as much fun to watch this goo being made as it is to make so check out this video.
Now you know how to make slime! If your kids love slime they will LOVE oobleck. Have you ever made it?
Share this post:
What you will need
3 cups lux flakes(or any pure soap grated)
Around 2.5 litres of warm to hot water (you may need more or less )
Glitter or foil stars to make sparkly slime
Edicol dyes or food colouring if you want to make coloured soap slime.
Whisks or egg beaters to mix it together and froth up
Large tub or bucket for mixing
Yep – that's it!!
Borax vs. Boric Acid
Are they the same thing? Actually, no! Borax and boric acid are similar, but not the same. Here's the break down on the differences between borax and borix acid: 
Borax (Na2B4O7 · 10H2O) is also known as sodium borate and sodium tetraborate contains sodium, boron, hydrogen, and oxygen. It's naturally found in dry lake beds of arid areas such as California, Nevada, China, and Turkey. It's a mineral and an inorganic salt (a salt that doesn't contain carbon).
Boric acid (H3BO3), known as hydrogen borate, boracic acid, orthoboric acid and acidum boricum is made of boron, hydrogen, and oxygen. No sodium! It's a natural anti-fungal that comes from boron. It's found in some volcanic waters, hot springs, minerals, sea water, plants, and fruits. It can also be produced in a lab by combining Borax with a strong acid such as hydrochloric acid. You can read more about boric acid here.
More Slime and Dough Recipes
Easy Glitter Slime, made with Contact Solution
Rainbow Play Dough
How to Make Cloud Dough, the easiest dough recipe that calls for oil and flour.
How to Make Goop with just cornstarch and water.
Make amazing scented pumpkin spice playdough.
How to make Gluten-free Cloud Dough
Glowing Playdough
DIY Masa Playdough, made with masa harina
How to make Salt Dough with just salt, flour, and water.