Are your children enthralled with how to make slime?  You know that goo that you can't keep your hands out of. Join the slime craze and learn how with this recipe. Time to play with slime!
This safe DIY slime recipe is completely worry-free. Super easy and FUN! My daughter says it is so addictive!
I recently learned that liquid starch may contain borax. We found out that contact lens solution can act as the binder instead of the borax.  This recipe produces a stretchy smooth extra fluffy slime and uses contact solution instead of Borax.
Slime Ingredients
It doesn't take many items to make slime. Just a few ingredients you probably have in your pantry and you can make super stretchy fluffy slime!
You will need:
washable school glue
food coloring
Baking Soda & Contact Solution
Baking soda will combine with the boric acid in contact solution to make borate, the same crosslinking solution that Borax contains. This mixture becomes the slime activator. The saline solution needs to contain active ingredients like sodium borate and boric acid. So yes, even this slime has a touch of borax.  Borax powder and liquid starch can also be used as the slime activator
shaving cream – this will make your slime super fluffy
Slime Recipe
Now let's learn how to make fluffy slime the safe way.  This borax free slime recipe that is perfectly slimy! Your kids will be playing with it for hours and making slime over and over again. All you need are simple ingredients found in your pantry. There is no need to add water.
1/2 cup washable school glue
food coloring
1 1/2 teaspoon baking soda
1/4 cup shaving cream
1 tablespoon contact lens solution
Measure glue into a bowl. Add a few drops of food coloring.  Once it is the desired color add a few more drops. The shaving cream will make the color lighter. Mix in baking soda then shaving cream, Stir in contact lens solution and mix. The mixture will start to come together. Remove mixture from bowl and knead with hands. The slim will be sticky. The more the slime is played with the less sticky it becomes.
How do you make slime?
Let us show you how to make slime in six easy steps. This is amazing homemade slime that is safe and borax powder free.  We make slime with shaving cream to make it fluffy.
1. Measure 1/2 cup glue
2. Add color. Add more food coloring than you think you need. The shaving cream will make it lighter.
3. Add in 1 1/2 teaspoons baking soda and mix.
4. Next, add 1/4 cup shaving cream. This slime ingredient makes this fluffy slime!
5. Stir in 1 tablespoon contact lens solution.
Mix all the ingredients until mixture starts to come together.
6. Remove from bowl.  The mixture will be sticky.
Keeping working and will become perfectly slimy and not sticky the more you work with it.
The girls added a bit more color so it would be really bright! It is best to add the color with the glue.  It was more difficult to mix in the color at the end. Now you know how to make slime!
Have your children experienced the slime craze? We can't get enough slime. We have made green, purple, blue, pink……………………..one gallon of glue worth of slime at our house has been used. Don't stop with plain school glue. Glitter glue makes a great galaxy slime!
Tips for Homemade Slime
We have found that using different glues only produce slightly different textures of slime. So try different glues….. like clear glue and glitter glue!
Use food coloring, liquid or gel to make colored slime. We have even used glow in the dark paint!
Don't worry if it is sticky at first.  The more you work with it the less sticky it becomes. How do you make slime less sticky? We have found adding a bit more of the contact solution does the trick.
The food coloring will stain hands. We have found that it comes off in about a day.  If this is worrisome just wear gloves.
Be creative! This is a great kids activity that allows them to experiment with great results.
Children's hands can be sensitive. Always wash hands after playing with slime.
Is your slime too sticky? Don't worry here are all the ways to make slime less sticky.
How to make slime 5 different ways!
Look! Slime you can see through. Changing the type of glue you use can make slime so clear you can see through it.
Clear Slime Recipe
Mesmerize kids with this slime that glows in the dark. This recipe uses glow in the dark paint. Now, though you can also purchase glow in the dark glue.
Glow in the Dark Slime
This slime/gak uses liquid starch. While liquid starch contains a bit of borax it is much more friendly to the skin. I was shocked to see on the news where kids were actually getting burns from the borax. This two-ingredient slime should be just fine.
How to make Gak
It only takes 3 ingredients to make this butter slime. The addition of clay makes this slime hold its shape.
Butter Slime Recipe
If you don't have glue you can make slime without glue. This slime uses 3 in one shampoo. It isn't as stretchy as regular slime but is still fun to play with. Warm hands do cause this slime to melt.
How to make slime without glue
We are always looking for more recipe variations and are going to try this 3 ingredient slime that uses salt. It is as much fun to watch this goo being made as it is to make so check out this video.
Now you know how to make slime! If your kids love slime they will LOVE oobleck. Have you ever made it?
Share this post:
Years of Slime Failures
Have you ever seen a really cool slime recipe?
Over the past couple of years I've been so inspired by some of the amazing slime activities I've stumbled across. Yet, when I tried to make my own slime, every attempt was a complete and utter failure.
About six months ago I went on a massive shopping trip buying every possible ingredient. I had researched the science, read so many recipes. I was determined to make slime.
But after spending over 6 hours trying, all I had was a lot of wasted materials, batches of nasty, unusable gooey substances, and a splitting headache (that powdered borax always does a number on me!).
To say I was frustrated with slime making would be the understatement of the century. I put together a lot of our lessons learned and tips on slime here.
When looking up a slime recipe, one of the first things I noticed was that almost all of them called for liquid starch. As a Canadian I don't have access to liquid starch. To demonstrate my own devotion to the slime cause, I even tried making my own liquid starch using a technique from an older military man, turned prepper. It still didn't work!
Next I turned my attention to trying it with borax powder. Failure.
Plus the Canadian government advises against using borax powder around children, and I have lung and heart conditions that borax powder aggravates. So I ditched that idea pretty quickly.
I spent hours reading labels and searching for the one, rare brand of detergent that I was promised would work. It still failed. Probably because the exact magical laundry detergent I was told to find, couldn't be found anywhere, and the others were poor substitutes.
It shouldn't have been so hard. All I needed was a substance that would give the glue some stiffness and remove the stickiness. There had to be another answer. Finally I found it.
3 Simple Ingredients = Wildly fun bath time!
This Fall Harvest Recipe Smells Like a Crisp Fall Day and Looks Like Sun Through The Colourful Leaves
Looking for more amazing STEAM activities and inspiration? Check out STEAM Kids my bestselling educational activity book packed full of ideas for hands on learning and fun!
Join the STEAM Powered Family Newsletter to get even more inspiring, hands on learning ideas, free printables and access to resources. Click here to become a member of the family!
Slime Making Tips | What do all the ingredients do?
Borax Solution: to make this, mix 1 teaspoon of Borax with 1 cup of hot water and stir to combine. We put this liquid solution in a sauce bottle for easy dispensing and storing. Borax can be found in the laundry section of supermarkets. We like to store it in a sauce bottle pictured below. It makes it easy to pour onto a spoon or into your slime and you can keep unused solution in this for next time you need it.  We can't stress enough how important it is to not add too much borax solution – too much of the stuff will make your slime rubbery and break when you pull it, instead of being nice and stretchy.
We've tried seventy five thousand and eight recipes using other ingredients but they just didn't work properly unless they included borax. Ok, that's a slight exaggeration but let's just say it's been MANY fails over the years and a LOT of goopy messes thrown out.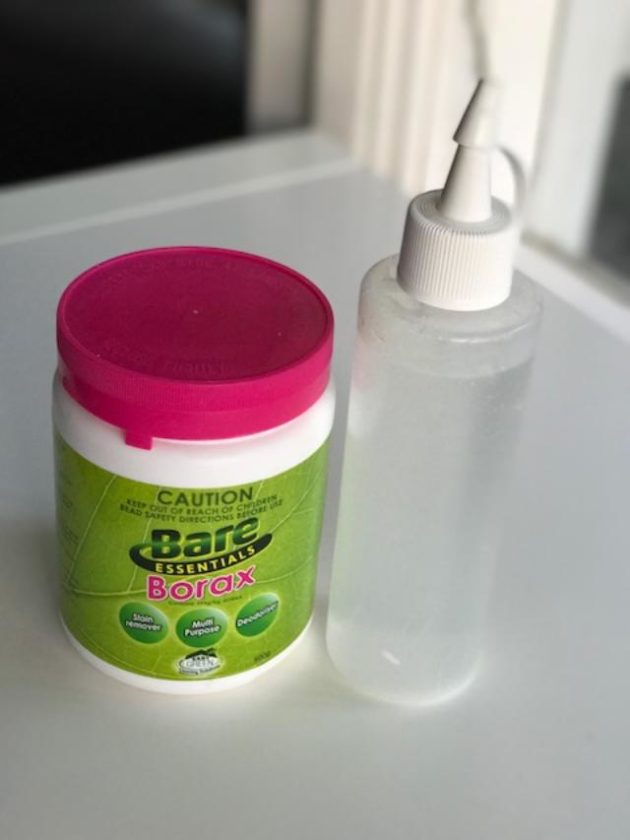 See our Fluffy Slime Recipe here or our Easy Glitter Slime Recipes here
At Play & Go Adelaide we make every effort to provide accurate information to the best of our knowledge at the time of publication. 
Image Source: All photos by Play & Go Adelaide

Clear Slime Ingredients and Supplies:
1 Medium or Large Bowl
1 cup (8 ounces) warm water
Stirrer
Food coloring, glitter, sequins, or whatever else you want to capture inside your Borax slime.
1/2 cup (4 ounces) of clear glue (we used Elmer's Clear Glue)
1 Teaspoon Borax 20 Mule Team
Measuring Cup
Gloves (optional)
Gak (solid colored slime) Ingredients and Supplies:
1 Medium or Large Bowl
1 cup (8 ounces) warm water
Stirrer
Food coloring, glitter, sequins, or whatever else you want to capture inside your Borax slime.
1/2 cup (4 ounces) of white school glue
1 Teaspoon Borax 20 Mule Team
Measuring Cup
Gloves (optional)
Note that the ingredients for clear slime and solid slime are the same except for the glue. All other ingredients and steps are the same. 
Gooey Slime!
Slime Instructions:
Now it's time to make some slime!
1. Mix 1 teaspoon of Borax into the cup of warm water. Mix it until it's fully dissolved. The water should appear clear and not cloudy.
2. Place the Borax solution aside. You will need it again shortly…
3. Grab your mixing bowl. Add your 1 cup of clear glue into it.
4. Add a few drops of food coloring and/or glitter to the clear glue and stir gently to combine.
5. Slowly… add your Borax solution into the clear glue mixture. Add only small amounts at a time while stirring thoroughly, or your slime will harden and you'll end up with a rubbery mass! You probably won't need it all. Only add enough until the slime isn't sticky anymore.
6. Knead and squish the slime with your hands to finish mixing.
Once you realize how fun your slime is to play with, you're probably done mixing!
Congratulations, you just made slime with Borax and clear glue!
You can pull, twist, stretch, and squish your slime. Just don't eat it because the Borax is toxic.
How long does Borax slime last?
Borax slime will typically store for 2-3 weeks if you keep it inside an airtight container after your done playing with it. The less air it's exposed to, the longer it will last.
Don't worry if it doesn't last too long though, because now you know how easy it is to make another batch!
Elmer's Glue Slime Recipe
Ingredients

Directions
1. Find a bowl, cup, or plate to mix your slime in
2. Pour out the entire contents of a 4oz of Elmer's School Glue into the bowl
3. Add 1/2 TBSP of Baking Soda and mix
4. After mixing, add your choice of food coloring
5. Mix and/or add more food coloring until you get the color you want
6. Add 1 TBSP of contact lens solution
7. Mix until slime forms and it begins to get harder to mix
8. Take the slime out and begin kneading with both of your hands
9. If needed, add 1/4 TBSP Contact Lens Solution to make the slime less sticky
Feel free to experiment with color combinations, add small sensory objects or glitter. Each batch can be completely unique and achieve different learning goals! Scientific method, fractions and math, color theory, or sensory stimulation, the options are endless.
More Great Recipes from Elmer's
Elmer's Slime Recipes & Activities