Reading Time: 2 minutes
Making slime is fun for anyone of just about any age. (And apparently it's the new hotness for kids, thanks to YouTube.) But if you prefer to make slime rather than pick some up at the toy store, seeing Borax and laundry detergent in the how-to can often derail your plans to mix up your own batch.
Have you tried to make slime with what you have around the house and the result was a disaster that no one could play with? Here are three recipes for slime that don't require Borax or detergent, using items you probably already have, and so easy that they're hard to mess up. It's slime time!
Contact Solution Recipe
Not only is this one of the easiest recipes we've tried (and we've attempted quite a few), it's also consistently made quality slime. This recipe is a culmination of experimenting with several similar concoctions and has worked best for my eight-year-old—and she can make it all on her own.
1 bottle of Elmer's Glue
Warm water
1 tsp baking soda
Contact solution (with sodium borate in the ingredients)
Food coloring (optional)
Craft stick or spoon for stirring
Pour the entire bottle of glue into a bowl. Fill the glue bottle halfway with warm water, and add it to the bowl. Stir until mixed well.
Next, add the baking soda, and stir well. The mixture should be well-blended and runny. Add the food coloring if desired and stir.
Squeeze the contact solution into the mixture in small amounts, stirring each time. The slime should get immediately sticky. Keep adding contact solution slowly until the slime pulls away from the sides of the bowl. Knead the slime by hand, continuing to add contact solution until the slime reaches the consistency you like.
Instructions
Step One Combine 4 oz. of glue, 2 oz. of cool water, and 1 tablespoon of contact lens solution in a mixing bowl. Mix very slowly for about a minute.
Step Two In a separate cup, mix 4 oz. of warm water with 1 teaspoon of baking soda. Stir until baking soda is completely dissolved. The warm water will help dissolve the baking soda and make the slime stretchy.
Step Three Carefully pour the baking soda mix into glue mixture. Stir very gently for about a minute trying to avoid making bubbles.
Step Four Let sit undisturbed for 5-10 minutes. THIS IS AN IMPORTANT STEP! It really helps the ingredients gel.
Step Five Now go test your slime. It should pull out of the container. It will be sticky! Gently knead it briefly to continue activating the slime. If it is still very watery  add a few more drops of contact lens solution to help activate the slime a little more. Be judicious though! This slime tends to thicken over time so I only add extra saline solution if the mixture is extremely watery. Otherwise a little gentle kneading should bring it together.
Step Six Time to decorate! Add in little bits and bauble like: sequins, foam beads, and these nail art decorations look incredible in clear slime!
Tips
Pay attention to the water temperatures! Be sure to use cool water in step one and warm water in step two. Clear slime is pretty susceptible to temperature variations. Too much warm water and the slime won't gel, too little and it will be stiff.
Don't over stir! Too much stirring will cause air bubbles to form and the slime will appear milky for a few days.
Use craft sticks to stir. It's a lot easier to stir slowly when using a craft stick. Spoons invite kids to stir quickly and this slime will get filled with bubbles if stirred too fast.
Don't add too much activator! Clear slime is much more prone to getting stiff than slime made with white glue. It's better to err on the sticky side than over activate this slime.
Pull it apart slooooowly. Remember that clear slime is inherently less stretchy than white glue slime. Pull it apart more slowly and you'll find that it is stretchier than you think. The impulse is to treat it like white glue slime and pull it apart quickly but that does tend to cause it to break and you'll think your slime is ruined. Instead try again pulling it apart very slowly and see what happens. You can also try our secret to making it stretchier below.
Try these containers to store your slime. We've made this slime for parties and workshops and it's a fun idea is to trade clear slimes with friends by putting a small amount of your decorated slime in these mini containers.
The Secret to Making Clear Slime Stretchy Again
If you have ever played with clear slime you know that it really easy to make it stiff by adding too much activator. And after it sits for awhile it can also get stiff and break apart easily. I googled how to make it stretchy again and tried every single method to no avail (that includes warm water, microwaving it, adding hand sanitizer, hair gel, lotion and more glue). Finally I found the solution to make it stretchy again and it's based on the science of slime (see below): Heat!  My preferred method of warming up slime is good old fashioned sunlight.  The colder clear slime is the more brittle it becomes. So warm it up by letting it sit in a clear container in direct sunlight or under a warm lamp for 10-15 minutes. Bam! Your slime will be stretchy again provided you didn't over activate it in the first place. Note: Lotion will work as well but your slime will become really milky and lose that lovely icy look.
More Amazing Slime Recipes
Now that you have learned how to make clear slime like a pro, you can try some other more amazing slime recipes here:
Chalkboard Slime on Babble Dabble Do
Color Changing Slime on Left Brain Craft Brain
Magnetic Slime on Frugal Fun for Boys & Girls
Kinetic Slime on Momdot
Midnight Slime on Art Bar Blog
Fluffy Slime on Tinkerlab
Are you passionate about raising creative kids?
Join over 22,179 parents and educators who want connect with kids and nurture their creative process through magical, easy projects you can do TOGETHER.
Subscribe to our email list to receive project ideas as well as offers for some our creative products.
If you want to read our privacy policy before subscribing, hop over here.
How make slime – glue and borax recipe
The best part about making slime, it's science preschoolers will love. You can color your slime whatever color you'd like. We ended up making 4 different batches, experimenting with various additives and quantities, so in the end, our mixed slime looked pretty gross!
If you don't want to make your own slime, you can always get a Slime Kit.
Ingredients:
1/2 cup school glue
1/2 cup water
1 tsp borax
1 cup water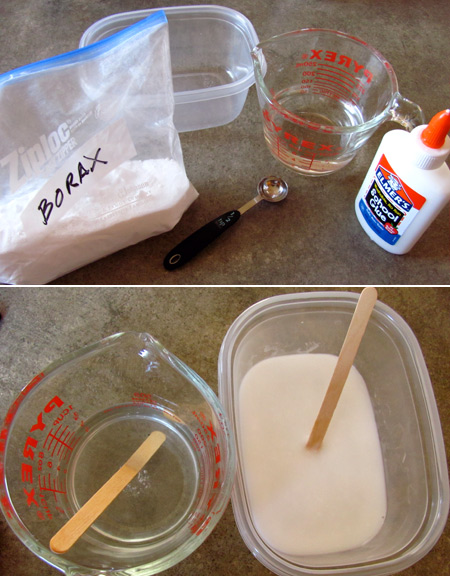 Borax slime recipe
Directions
Mix 1/2 glue (about one bottle school glue) with 1/2 cup water. Mix well.
Dissolve 1 tsp borax in 1 cup water. Slowly stir borax solution into glue solution. The more borax solution you add, the stiffer the slime will become.
How to make slime – glue and Tide laundry detergent recipe
Ingredients
1/2 cup water
1/2 cup school glue
1/4 cup liquid Tide laundry detergent
Directions
Combine water and school glue, mix well. Slowly stir in Tide until slime forms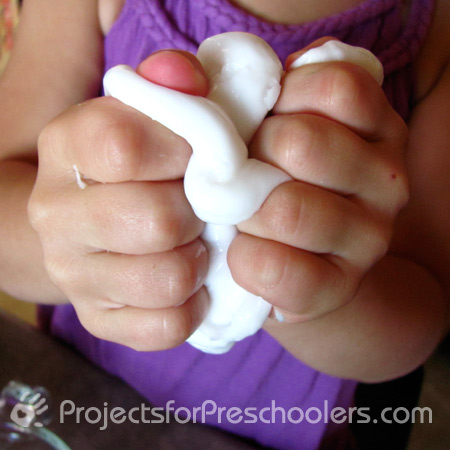 having fun with slime recipe
Detergent and Borax Free Slime
1/2 cup school glue
1/2 tbsp of baking soda
1 tbsp of contact lens solution
Directions
Mix the glue and baking soda in a bowl then add the contact solution until the mixture begins to thicken.
Making slime tips
Always add the borax or laundry detergent to the glue solution to allow for more control over the consistency of the slime.
If you'd like to add color or extras to your slime such as fragrance or glow liquids, make sure to add these extras to the glue solution before adding the laundry detergent.
These ingredients are non-toxic, however should not be eaten and should be handled with adult supervision and all utensils washed thoroughly.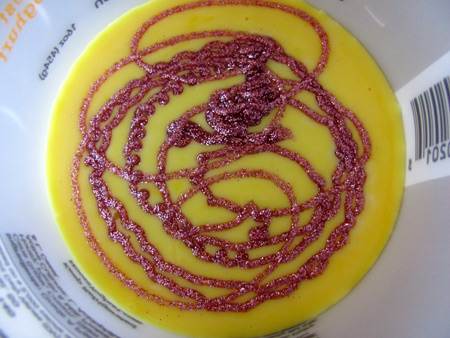 adding glitter to slime recipe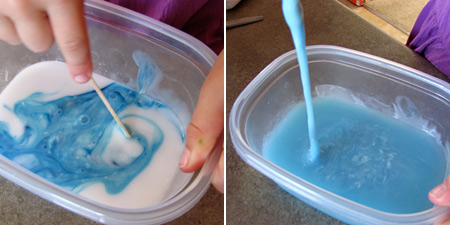 adding color to slime recipe