Learn all of the benefits of Rosewater, including a step-by-step tutorial on how to make it! Not only will you learn how to make homemade rosewater, but you'll get a DIY Rosewater Face Toner recipe too!
The maven is B-A-C-K with a little DIY Video action! Who's excited? Just me? Welcome to my life.
Also included in my life is a fridge full of homemade kombucha, cold brew iced coffee and of course homemade rosewater. Because everyone's fridge is stocked with various colors of the rainbow in refreshment form, right? More like an assortment of diet pop flavors, but I'd like to believe my refrigerator soulmate exists out in this great big world.
Sorry if I'm making absolutely no sense today. I am currently deep in the throws of video editing and I can't remember the last time I saw the light of day. So much respect for YouTubers (insert hands in the air emoji).
Today's video escapades resulted in this 5 minutes of glory. Approximately 1 minute of it involves me making the recipe for Homemade Rosewater, and the rest is spent staring at my lovely face explaining to the world exactly how to use it.
I suspect most of you have no idea how or why you might want to use rosewater, so I suggest actually watching the video before you think I've gone all Gwyneth Paltrow-pretentious on you. Sorry for the GP fans out there, but for as much as I love rosemary infused olive oil from the south of France, I'm not about to tell you it's a kitchen necessity. Though I suspect she'd approve of this post and insist we should only be drinking and bathing in rosewater.
Anywho, if you're curious you should probably watch the latest in my adventures in YouTube. We're making homemade rosewater (duh) and I'll show you how I like to use it in my skincare routine.
CHECK OUT MY VIDEO ON HOW TO MAKE HOMEMADE ROSEWATER HERE
Now for the rest of you who either a) are worried my potty mouth makes the video NSFW (I tamed myself don't worry), b) have no idea how to press play (Mom- I'm looking at you) or c) don't care, I'll reiterate what I shared in the video in today's post.
Rosewater is exactly as it sounds, roses + water. It gives you all the benefits of water plus the bonus of the anti-inflammatory and hydrating advantages of rose. Plus it smells awesome.
Rosewater is used in some cuisines, but I find myself using it most frequently in my skincare routine. People live and die by this stuff, but I'm not desperate enough to spend $10 on a small bottle.
Fortunately, I'm thrifty and was able to make over 3 bottles for the same price. Love me a good deal, and especially when the DIY version is stupidly easy.
Now for some of the ways I like to use this rosewater in my skincare routine:
1. Skin Toner – by and far this is the #1 way I like to use it. I also love my tea tree oil face toner I posted on SHEuncovered but even though it's effective, the lingering scent of apple cider vinegar ain't got nothing on rose.
2. In the bath – I'll add about a cup to my bath water for extra hydration and relaxation from the scent.
3. Natural Perfume– we'll get into the discussion of conventional perfume another day, but let's just say you are far better off sticking to this natural version.
4. Face refresher/Make-up setter – Spray this on your face when you're at your 3:00 PM slump…it works.
These are just a few of the many ways you can use rosewater. Now that I've hacked a super easy and cheap version for you, I challenge you to go out and experiment! But if you air on the side of caution, try my DIY Rosewater Face Toner. I promise you will be in love (roses included).
Print
Total Time:

30 minutes

Yield:

1.5 litres
Remove petals from stems and run them under luke-warm water to remove any leftover residue.
Add petals to a large pot and top with enough distilled water to just cover (no more or you'll dilute your rosewater).
over medium-low heat bring the water to a simmer and cover.
Let simmer for 20-30 minutes or until petals have lost their color and are a pale pink.
Strain the mixture to separate the petals from the water.
Discard petals and place water in a glass jar to store.
Combine all ingredients in spray bottle and shake.
To apply: spray directly on face or spray a cotton pad and wipe face to remove any residue.
*Note: Using 7 stems makes around 1.5 litres of rosewater. This seems like a lot but it keeps for a long time in the fridge. Just store in a sealed, glass container until ready to use.
Have you ever used rosewater? What for? Are you a Gwyneth Paltrow fan?
Rose Water Recipe
Isn't this bright ruby red rose water beautiful?  If I didn't make this myself I would think that the rose water got a little brighter with food coloring.
Nope.  No enhancements.  The color is a natural beauty straight from the petals of the flowers!
Last week I was feeling a little creative and thought I would dive outside of my cooking comfort zone and try making a couple of recipes that are popular in the Middle East.
I had my eyes on a cake that would be lovely for Valentine's Day, but rose water was hard to find!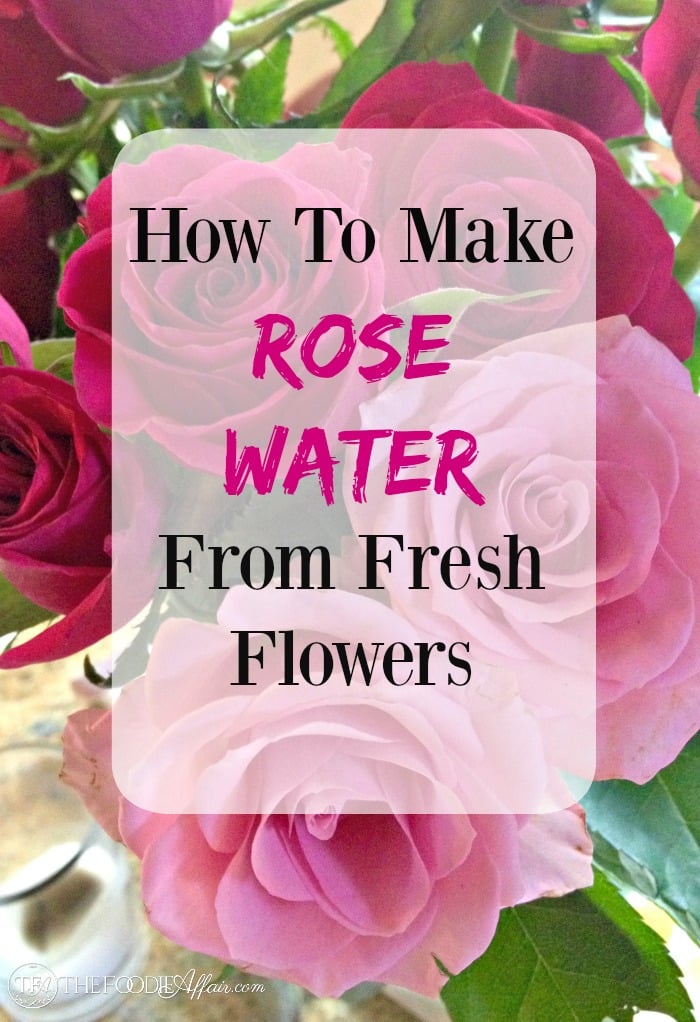 The hunt was on as I went to every Latin as well as Asian and Mediterranean specialty stores without any luck.  I had super high hopes that World Market would carry it, but I struck out there too.
Storing your Homemade Rose Water
Once your rose water is cool place a lid on your jar and store the rose water in the refrigerator. I place mine in the back of the refrigerator to keep it cold and to help it last longer.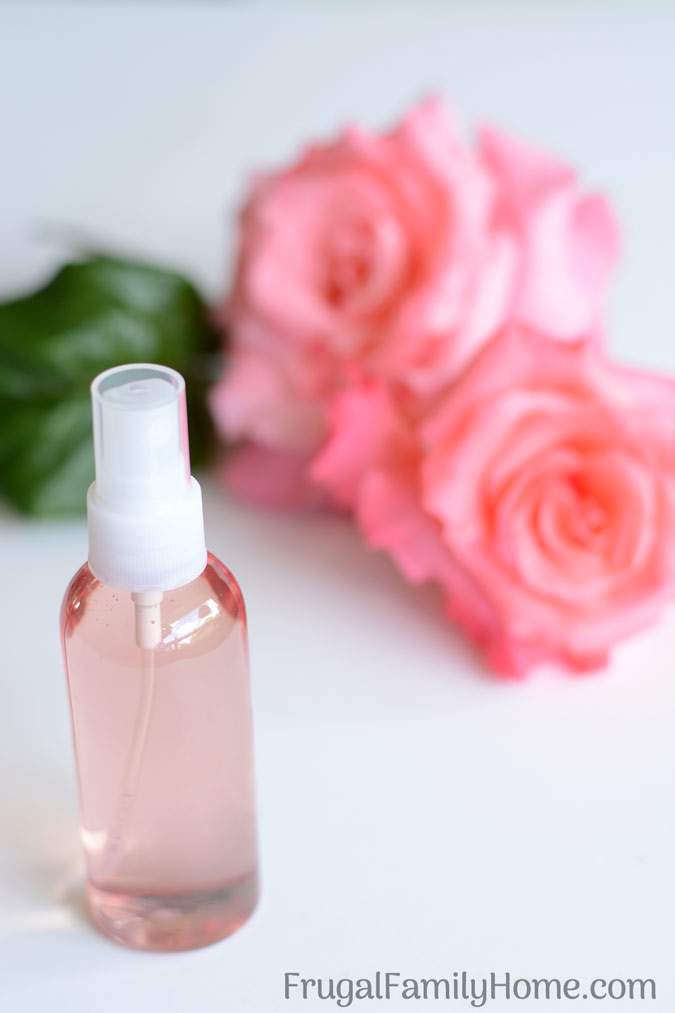 What are the benefits of using rose water on your skin?
When I started researching about rose water I was pretty amazed about all I've found. This is one of those things that should be part of everyone's beauty regimen because not only is it very affordable, it is very beneficial.
Here are some reasons why you should be using rose water every day:
It helps with aging – it's antioxidant properties strengthen skin cells and regenerate skin tissues.
Helps maintain your skin's pH balance.
It has astringent properties so it cleans your pores and helps tone your skin. It's also great at removing excess oil and any dirt accumulated on your skin.
It reduces skin redness and helps heal wounds and scars on your skin.
It helps get rid of acne, dermatitis and eczema.
It hydrates and moisturizes your skin.
The smell of rose water is also great to uplift your mood and make you feel fresh and awake.
It is amazing for your hair: it can be used as a conditioner, aids in hair growth and even helps get rid of dandruff.
In summary, rose water is anti-inflammatory, anti-bacterial, has antioxidants and it hydrates. This is why you find rose water in so many beauty products, because it is just amazing for your skin and hair.
Uses for Rose water:
There are so many uses for rose water it will need its own separate post! However there are three ways I use it and that's what I'm going to share with you.
Facial toner:
Use it after washing your face every night and before putting on your face cream.
Moisten a cotton ball or pad with some rose water and gently rub it on your face. You can use pure rose water or make a mixture of 1 part of rose water and 1 part of witch hazel (make sure you use an alcohol-free witch hazel like the one I linked to).
Use the witch hazel and rose water combination if you have troubled skin, such as acne prone skin, redness and swelling, sun damage, razor burns/cuts (this is for the gentlemen reading this post) or oily skin.
Make-up setting spray:
Put your rose water in a small spray bottle, it's best to use one made with a dark colored glass.
Once you're done putting all of your make-up, spray lightly your face with rose water. It will keep your make-up in place longer and give you a nice glow.
Cooling mist:
This is my favorite way to use it! Put the rose water in a small spray bottle and keep it in your purse or diaper bag. I like this 1 oz bottle but if you use a lot of it, you might prefer the 2 oz bottle.
Spray it one your face to cool your skin and freshen up. This is great for the summer time when our skin gets so much sun exposure. I also use it this way on my kids if we've been out too long – it's completely safe for the kiddos!
Did you know we have an e-book with 40 DIY recipes for bath and body products⇒ ⇒ Check it out ⇐ ⇐
Two ways to make rose water:
There are two ways to make rose water: simmering and distilling. Both are very easy to make but distilling takes a little longer. The biggest difference is that when you use the simmering method the rose water has a shorter shelf life.  If you make it using the distilling method you're essentially creating an hydrosol so the shelf life will be longer.
I like to keep things simple so I use the simmering method, this is also the way you want to prepare your rose water if you intent to use it for cooking since it's more flavorful and the scent is stronger.
If you're making this for your own use, you don't have to worry so much about shelf-life. Make small batches and keep whatever you're not using in the fridge.
How to chose the right roses:
You can use fresh or dried rose petals, the most important thing is that you need to make sure the roses were not sprayed with any chemicals. This rose water will go on your face, you don't want chemicals or pesticides on your face.
If you're buying fresh roses, stick to organic roses. You can also use the roses on your yard that haven't been sprayed with any pesticides.
When buying dried rose petals make sure they're chemical-free and good quality – I like to buy the edible kind.