While wild rice is wonderful when served by itself, it also is a nice addition to salads, soups, and even casseroles. Its nutty and earthy flavors elevate an otherwise boring dish instantly. If you agree, consider this post as your guide to How To Cook Wild Rice.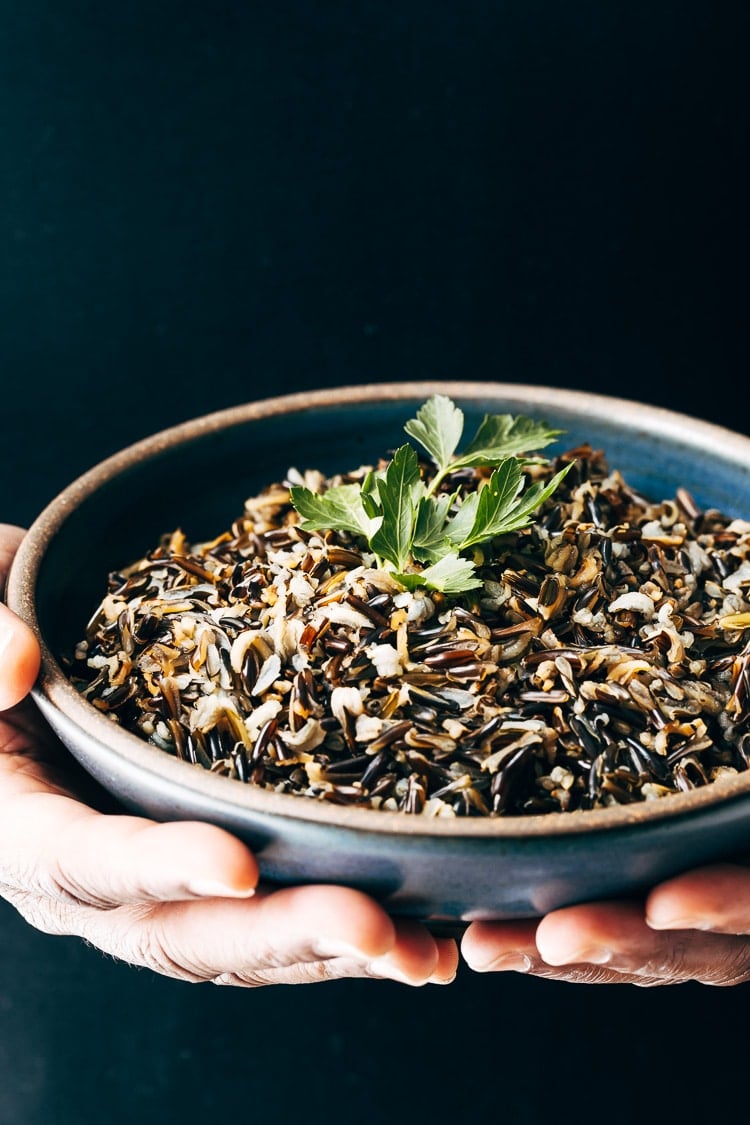 There are so many recipes that I can make with my eyes closed, but then there are some others that I just can't remember how to make to save my life. How much time it takes to cook grains in general, seems to be an ongoing issue for me. For some reason, every time I want cook wild rice, brown rice, wheat berries or barley, I find myself having to Google for instructions. If you consider the fact that I cook these quite often and write a food blog, I think it is embarrassing to have to rely on other websites to provide me with the information I need. So today, I am starting a new series about How-To Cook Grains.
The first post of the series is How To Cook Wild Rice. Below, in addition to providing you step by step instructions, I will answer some of the questions that I had when I first started cooking wild rice.
Should I soak wild rice?
In general, soaking grains overnight cuts down the cooking time. Additionally, according to Sarah Britton's Cookbook My New Roots, soaking grains before cooking helps remove some of the naturally occuring phytic acid, that prevents mineral absorption, and break down some of the hard-to-digest properties.
In general, soaked wild rice cooks 50% faster. However, you can make wild rice without soaking as well. It will just take longer to cook. Either way, I highly recommend giving it a good wash before cooking.
What dishes can I use wild rice in?
You can use wild rice in so many dishes. I personally love using wild rice in salads, soups, and casseroles. This Wild Rice Salad, an old Ina Garten recipe, is one-of my Thanksgiving recipes that I make every year. Additionally, you can serve wild rice just by itself as a side dish.
Print
While wild rice is wonderful when served by itself, it also is a nice addition to salads, soups, and casseroles. Its nutty flavors elevate a dish instantly. If you agree, consider this post as your guide to How To Cook Wild Rice. Read through the post to get the recipe and find out the answers to FAQs.
Author:
Prep Time:

5 minutes

Cook Time:

45 min

Total Time:

50 minutes

Yield:

4

Category:

Side Dish

Method:

Cooking

Cuisine:

American
1 cup wild rice, rinsed well – Not soaked*
3 cups of water * (or vegetable, chicken or beef stock)
1/2 teaspoon kosher salt
Place wild rice, water (or stock), and salt in a saucepan with a lid over medium-high heat.
Put the lid on and bring it to a boil. Turn the head down to low and let is simmer for 40-45 minutes. You will know that it is cooked when some of the kernels are burst open.
Drain excess liquid and serve.
If you plan ahead and soak it, it will cook much faster. Please refer to the post for more information on this.
If you prefer, you can use a combination of water and stock.
I have tried this recipe both with cultivated and true wild rice varieties and the 3 cups of liquid worked perfectly for both of them. However, I read on a few other sites that some commercial wild rice sold in the supermarkets sometimes require more liquid. Therefore, I suggest keeping an eye on it during the cooking process and adding more boiling water, if necessary.
Mexican Rice Recipe Tips
This Mexican rice is slightly on the dry side, like in restaurants which is exactly how I like it. It doesn't turn out wet, clumpy and sticky like some homemade Mexican rice recipes can be. The secret is all in the way that you cook it.  Mexican rice needs to be fried in oil and browned BEFORE you add the chicken broth and tomato sauce.  As a result, the rice really absorbs the flavors yet has the perfect consistency.  My other tip is to mix in the chopped cilantro after cooking.  If you add it before, the cilantro gets brown in color and wilted.  When you toss it in after, it stays green and fresh looking.
MY LATEST RECIPES
How to Make Mexican Rice
Heat oil in a large saucepan over medium heat.
Add the rice and gently stir until rice begins to lightly brown.
Add the garlic, salt, and cumin and stir the rice til it looks golden.
Add the tomato sauce and chicken broth and turn the heat up to medium high.
Bring the mix to a boil then turn the heat to low and cover the pan with a lid.

Simmer for 20 to 25 minutes. 

Remove from heat and fluff with a fork, then stir in chopped cilantro.
More Creative Ideas for Cauliflower
Cauliflower isn't just for rice! You can make cauliflower into a pizza crust, use it instead of chicken in Buffalo wings, and even make it into a creamy alfredo sauce. We've got a round-up of 20 secret-ingredient cauliflower recipes with lots of additional ideas.
30 minutes or lesscauliflowercauliflower ricegluten-freepopularside dishes
FAQs of making Instant Pot Jasmine Rice:
What is the cook time or how long do you cook Jasmine rice in the pressure cooker? Jasmine rice cooks in a pressure cooker in 5 minutes on high with a 10 minute natural release.
What is the rice to water ratio for cooking rice in the Instant Pot? You want to use a 1:1 ratio of rice to water, so for every 1 cup of rice, you'll use 1 cup of water (or broth).
What setting do I use? I almost always just do a manual setting, but I'm sure your rice setting will work too – just set the time for the amount of time directed in the recipe.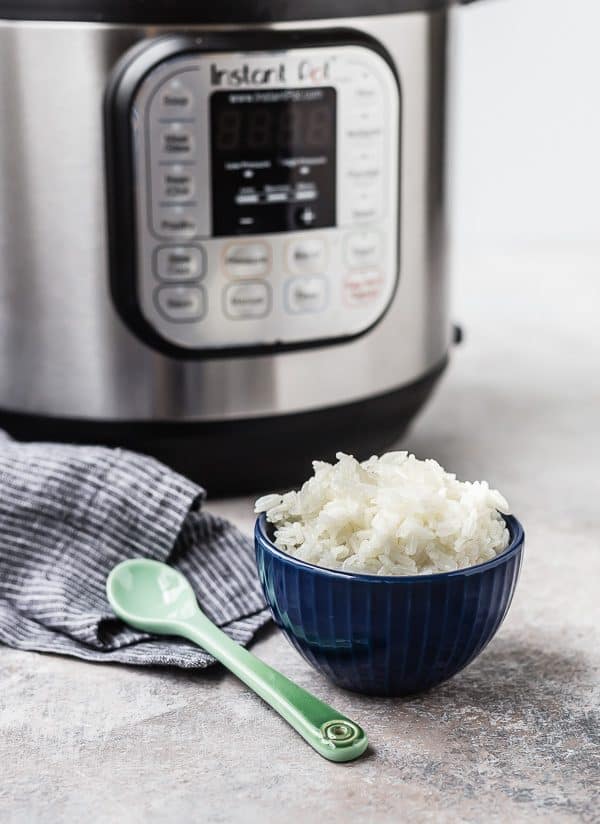 Did you know you can also make quinoa in the Instant Pot? Along with a million other things…make sure to read my complete guide to cooking with an Instant Pot; you'll find all my Instant Pot recipes there too.
Did you make this recipe?   Leave a review »
3 cups Jasmine rice
3 cups water
1 tablespoon oil of choice (try coconut!)
1 teaspoon kosher salt
Rinse rice well until water runs clear.
Add rice to the insert of your Instant Pot. Add water, oil, and salt. push down any rice that may be on the side of the pot to submerge in liquid.
Secure cover, turn valve to seal, and set Instant Pot on the manual setting for 5 minutes on high pressure. When the timer goes off, let naturally release for 10 minutes (in other words, leave it alone for 10 minutes).
Once 10 minutes has elapsed, quick release pressure, fluff with a fork, and serve.
Yield: about 9 cups cooked rice, Serving Size: 1/2 cup cooked rice
Amount Per Serving:
Calories:

120 Calories

Total Fat:

1g

Saturated Fat:

1g

Sodium:

63mg

Carbohydrates:

27g

Protein:

2g
Actual nutrition may vary depending on how recipe is prepared.
All images and text ©Rachel Cooks.
Verdict: I kinda want to eat it for breakfast, lunch, and dinner. Seems like a well-balanced diet, right?Husband's take: Ben loves rice and he has no complaints about jasmine rice, ever.Changes I would make: None are necessary!Difficulty: Very easy!
Never miss a recipe! Subscribe to receive new post updates via email and get a FREE ebook filled with 10 of our family's favorite recipes:
When you make a recipe from my site tag it with #RachelCooks! I love to see what you're creating!