It's a meaty time of year. Turkey, beef tenderloin and ham have taken table center stage at all of our holiday soirées, and a hearty beef pie has the spotlight on our December-January cover. To continue with this month's meaty movement, we asked Ricky Cruz of Grotto Ristorante to teach us how to make those pockets of pork – pupusas – that we love so much.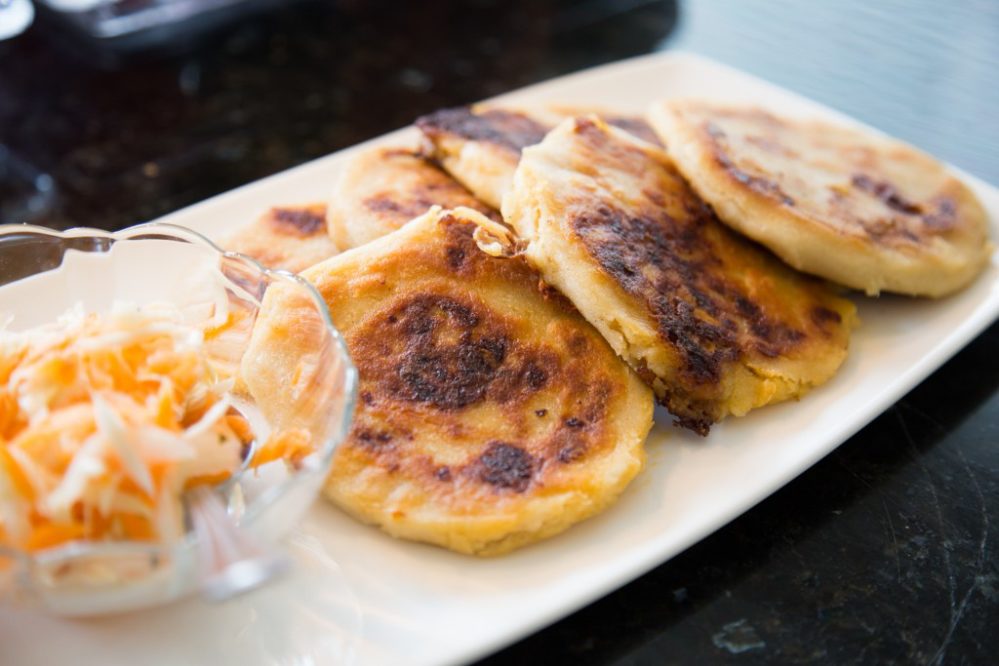 We like to think of pupusas, the Salvadoran staple, as small corn pancakes filled with a meaty, cheesy mixture. While they can be filled with really anything you'd like, pupusas are traditionally stuffed with a blend of cheese, refried beans and pork. It's a great grab-and-go breakfast or snack, but topped with the traditional curdito (cabbage slaw, recipe below), it also makes a well-rounded meal. Basically, pupusas are good whenever, wherever. Read through the recipe, watch the video below and then try cooking up a batch yourself. You may have just found a new holiday tradition.
PUPUSAS WITH CURTIDO
CURTIDO (CABBAGE CARROT SALAD)Make this first to allow time to refrigerate
5 cups cabbage, shredded2 cups carrots, grated1 cup yellow onion, thinly sliced1 cup white vinegar2 cups water2 Tbsp. dry oregano1 Tbsp. salt1 Tbsp. sugar
1 tsp. red pepper flakes
METHOD: Combine the cabbage and carrot in a large bowl. Pour in boiling water to cover and let sit for 45 seconds. Then quickly drain off the hot water and add ice-cold water to cover  the cabbage and carrot. (This halts the blanching process.) Now drain the cabbage and carrots and set aside. In a separate bowl, combine the remaining ingredients and then pour over the cabbage mixture and stir. Cover and refrigerate for at least 2 hours.
PUPUSA MASA (DOUGH) 
2 1/2 cups Maseca2 1/2 cups warm water
pinch of salt
METHOD: Combine the Maseca, salt and water in a mixing bowl. Knead to form a smooth, moist dough. If the mixture is too dry, add more water one tablespoon at a time. If the mixture is too sticky, add more Maseca a tablespoon at a time. Cover the bowl with a clean kitchen towel and let stand for 5 to 10 minutes (optional).
PUPUSA FILLING
1 1/2 lbs. shredded mozzarella cheese1 1/2 lbs. sautéed, ground pork meat* (also called chicharrón, but not to be confused with fried pork rind, which is also known as chicharrón in some countries)
*To make the chicharrón from scratch, sauté pork legs in oil with salt, pepper and a red and green pepper. Grind in a food processor until a paste consistency. 
METHOD: In a mixing bowl combine mozzarella and ground pork leg. Mix together until fully incorporated and soft.
MAKING THE PUPUSAS
With lightly oiled hands, form the dough into roughly 16 balls, about 2 1/2 oz. each. Let rest for a few minutes. Using your hands flatten each ball into a shallow cup and fill it with 1 1/2 oz. of pupusa filling. Wrap the dough around the filling and pinch the end to seal it. Making sure the filling does not leak, pat the dough back and forth between your hands to form a round disk about 1/4 inch thick. Repeat with the remaining balls.
Heat a lightly oiled flat top or skillet over medium-high heat. Cook the pupusas for 2 to 3 minutes on each side until golden brown. Serve with the curtido on the side.
What Are Pupusas?
There is a famous archaeological site on the Pacific coast of El Salvador called Joya de Cerén. It's sometimes called "the Pompeii of the Americas" because it's essentially an ancient farming village that was remarkably well preserved by the instrument of its demise. Some time around 590 CE Loma Caldera erupted and buried the village under tons of rather cool ash. Apparently the residents were able to flee the village (there are no human remains under that ash). However, all of their "stuff" is still there. Included among that "stuff" is equipment to make pupusas.
The Pipil People of El Salvador have been making and eating pupusas for centuries. Pupusas are essentially these fat little stuffed tortillas. I'm going to explain how to make pupusas (it's really easy). But first let's sort out what they actually are.
Pupusas, Gorditas, and Arepas
Pupusas are similar to Mexico's gorditas (chubbies), however gorditas are usually cut open and stuffed after cooking, whereas pupusas are stuffed with a filling before cooking.
Like arepas? Pupusas are also a lot like the arepas of Columbia and Venezuela. However, where arepas are made from ground corn meal, pupusas are made from masa. What's the difference? Nixtamalization!
This is important, because the process of nixtamalization makes more of corn's nutrients bioavailable. In other words, masa is more nutritious than corn meal. If you want to know more, I rambled on in great detail about nixtamalization in this Mexican pozole recipe. I was obviously quite fascinated (and I still am, actually–thus this entry on how to make pupusas!).
How to Make Pupusas
If you have access to fresh nixtamal like I do (thanks Three Sisters Nixtamal!) learning how to make pupusas couldn't be simpler. Here are the steps:
Grab a golf ball sized hunk of masa and flatten it into a little disk in your palm.

Put about a tablespoon's worth of your filling in the center of that disk.

Encapsulate that filling inside the masa by working the sides up and pinching the top closed. The filling should be completely sealed inside a little masa ball.

Now flatten out that masa ball into a thin cake, taking care not to poke a hole into the filling.

Grill that pupusa on both sides on a hot griddle or in a cast iron skillet. No need to add fat.
It's that simple. Not even kidding. Now you know how to make pupusas.
How to Make Pupusas if You Don't have Fresh Nixtamal
No fresh nixtamal where you live? Not a problem. Just buy some masa flour. Make a batch of masa for tortillas or tamales according to the package directions. Don't be intimidated whatsoever. Know why? It's going to say something like "Add water to masa and mix into a dough." Done! Easy-peasy.
Stuff to Stuff Pupusas
From what I've read, pre-Columbian pupusas were stuffed with herbs and flowers and various veggie matter. Today, however, the typical fillings are cheese, refried beans, seasoned pork, or some combination of those ingredients.
I made mine with cheese. Quesillo, which is a kind of string cheese, would be authentic. If you don't have a supply of that, buffalo mozzarella is a good substitute. That's what I used.
I certainly wouldn't let these traditional ingredients hold you back though. I can think of all kinds of fillings that would work well.
Stuff to Top Pupusas
Pupusas are topped with curtido. Period. I get the sense that that's like a rule. Fear not! I have a recipe for curtido right here. Curtido is this amazing lacto-fermented relish made from cabbage, onion, carrot, and hot peppers.
Come to think of it, I can also think of all kinds of ways to modify curtido. Some folks call it Salvadoran sauerkraut. I think of it more like Salvadoran kimchee.
I bet kimchee would good on pupusas now that I think about it…
Salsa rojo is also a typical accompaniment. That's basically Salvadoran ketchup. It's made with the stuff you'd find in pico de gallo (tomato, onion, chilies, cilantro, lime) plus some oregano and garlic and maybe a bit of oil. Then you puree it into a paste.
Anyhoo… That's now to make pupusas.
How to Make Pupusas that People will Love
16 Ounces of Fresh Nixtamal Masa (or use masa flour and water)
Filling Ingredients
8 Ounces Fresh Buffalo Mozzarella Cheese
Form a golf ball sized piece (about 2 ounces) of masa dough into a ball, then flatten into a disk in your hand.
Add about an ounce of shredded cheese to the middle of the masa disk, and seal the cheese inside of the masa by carefully wrapping the sides of the masa disk around the filling, then sealing the top closed. Now flatten the ball of filled masa into a flat cake, taking care to keep the filling enclosed in the masa.
Heat a griddle or cast iron skillet over medium high heat. Working in batches, add the pupusas two or three at a time, and grill on both sides until the lightly browned (about 3 – 4 minutes per side).
Serve with curtido.
Serving size: 1 pupusa Calories: 180 Fat: 8 Saturated fat: 6 Unsaturated fat:  Trans fat: Carbohydrates: 19 Sugar:  Sodium: 240 Fiber: 2 Protein: 6 Cholesterol: 5