Learn how to make fried potato wedges that are super crispy on the outside while also soft in the middle. Serve them with a homemade chipotle mayonnaise dipping sauce.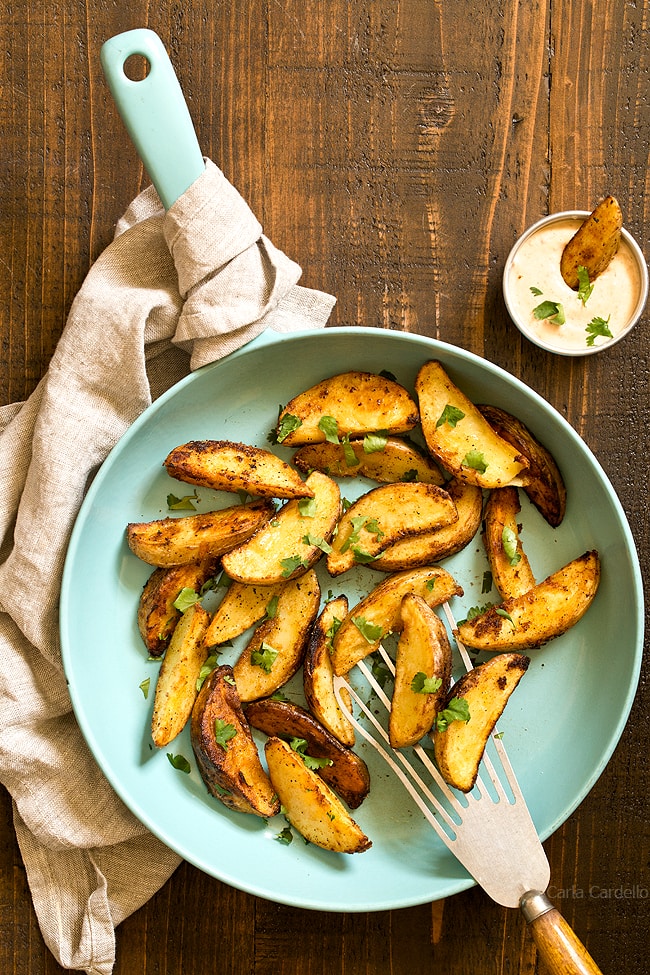 Last month I asked for your opinion on my reader survey. One answer I read over and over was for me to focus more on side dishes.
Side dishes are the hardest part of any meal simply because you spend all of your energy on the main dish and don't have time to create yet another recipe while the first one is cooking.
When I did my culinary school training, my final consisted of plating four different meals all featuring one protein, one starch, and one vegetable. Luckily I didn't have to do all four in the same day.
This taught me how to multi-task and get a full dinner on the table without the food getting cold. I still struggle with adding a side dish every day, but I'm better than I was this time last year.
One side dish I make over and over and… are these Pan Fried Potato Wedges inspired by Aarti Sequeria's cookbook (affiliate link).
I've lost count on how many times I've made her recipe. I mean, who doesn't love crispy pan fried potatoes? There are days where I wish this WAS my full dinner and didn't have to make anything else.
I changed some of the spices around to make it more my own, but the technique is still the same. By parboiling the potatoes, you can get your pan fried potatoes super crispy while also soft in the middle. Do not skip this step! Otherwise you will have hard, undercooked potatoes.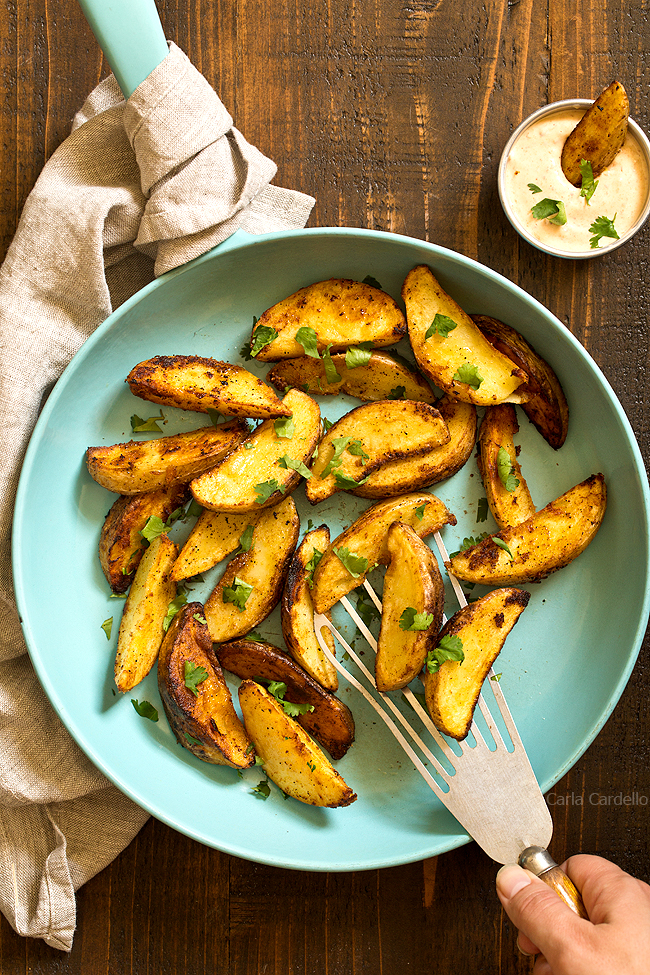 The key to making side dishes is picking a method different from your main dish. If you're frying, bake something. If you're baking, fry or steam something.
Trying to fry or bake two different recipes at the same time is difficult. There are too many variables to consider, such as temperature, timing, and of course room.
That's not to say you can't because I've done it, but it'll require more planning and focus.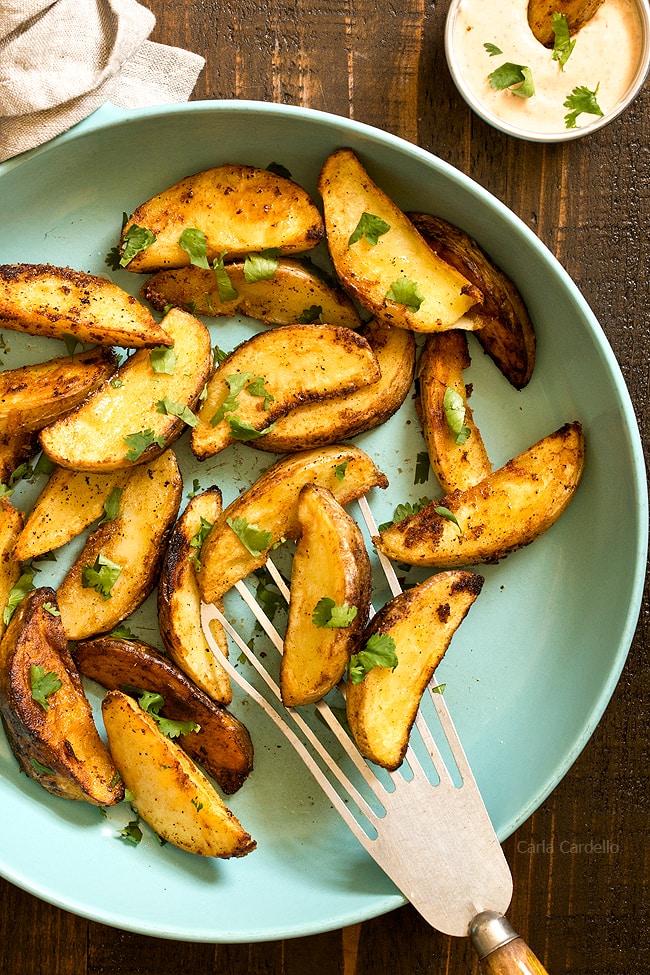 So if you decide to fry these potato wedges tonight for dinner, you'll want to bake, grill, or even slow cook your main dish.
Some ideas are Honey Mustard Chicken Thighs, Slow Cooker Salsa Chicken, and Three Cheese Stuffed Shells.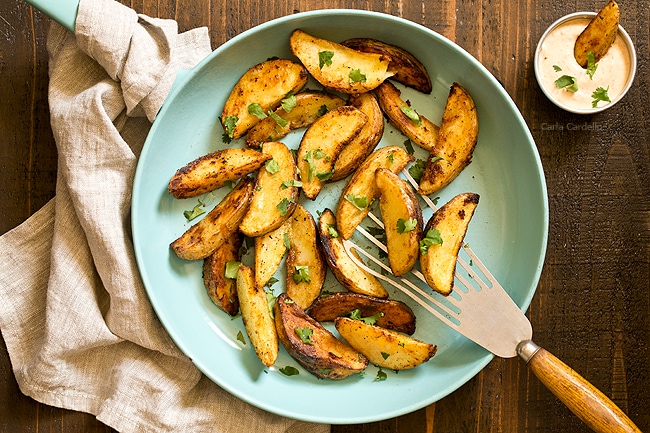 Although the fried potatoes are great on their own, I love serving them with a dipping sauce. My condiment of choice is chipotle mayonnaise because I love the smokiness.
Of course if you're not a fan of spiciness, you can use your condiment of choice.
If you do skip the chipotle and use plain mayonnaise, whisk in some lemon juice. The acid helps cut through all that fat. Trust me – it'll make a big difference.
1 pound Yukon gold potatoes (roughly 2-3 large potatoes)
1 tablespoon all-purpose flour
1/2 teaspoon garlic powder
1/2 teaspoon onion powder
1/2 teaspoon ground cumin
1/2 teaspoon salt plus more for taste
1-2 tablespoons vegetable oil
Chopped cilantro, for garnish
1 canned chipotle pepper
1/2 cup mayonnaise
2 teaspoons fresh lemon juice
For the Chipotle Mayonnaise Dipping Sauce: In a blender or small food processor, blend together the chipotle pepper, mayonnaise, and lemon juice. Chill for at least 1 hour or until cold before serving.
Cut each potato in half lengthwise. Cut each half lengthwise again. If the wedges are too wide, cut them in half lengthwise one more time.
Add the potato wedges into a large saucepan with a big pinch of salt and add enough cold water to cover them by 1 inch.
Bring the potatoes to a boil. Once boiling, turn off the heat, and let sit in the water for 5 minutes. Drain then let sit in a colander for another 5 minutes.
Add the potatoes to a large bowl. Add the flour, garlic powder, onion powder, cumin, and salt. Gently toss to coat the potatoes.
In a large skillet, heat 1 tablespoon oil. Once shimmering, add the potatoes (you may need to do this in two batches if the skillet isn't large enough). Cook for 5 minutes or until golden brown. Flip to the other side and cook another 5 minutes or until golden brown. Flip to the third side and cook another 5 minutes or until golden brown.
Remove from the heat, garnish with cilantro, and serve with chipotle mayonnaise dipping sauce.
If you split the potato into two batches, add the remaining 1 tablespoon oil and repeat with the remaining potatoes until golden brown on all sides.
Do NOT skip parboiling the potatoes. It is the key to making your fried potatoes super crispy while also soft in the middle. Otherwise you will have hard, undercooked potatoes regardless of how long you fry them.
Amount Per Serving: Calories: 1993 Total Fat: 117g Carbohydrates: 218g Protein: 22g