These potato skins were so much fun to make, and such a yummy party snack for yesterday's Superbowl. While I may not have been too focused on the game, I was pretty preoccupied with enjoying our scrumptious spread, which included baked buffalo wings, sweet 'n sticky chicken drumsticks, and these potato skins with gooey cheddar, crisp bacon and sweet caramelized shallots.
This recipe serves 8 and the ingredients are basic – any kind of potatoes (I used red),  bacon, shallots, cheddar, milk and butter. For garnishes, top with more cheddar, parsley and scallions, if you'd like. Or, get creative with your own fixings!
First, I just pricked the potatoes with a fork and baked them for an hour. Once they were out, the top third was sliced off, the flesh scooped out and mashed with the good stuff mentioned above. Then, back into the hollowed-out skins the mashed potatoes went, which were baked to a crisp and sprinkled with tasty toppings.
I only made a few for just myself and Mark, but the next time we have a casual party with plenty of hungry guests, I really look forward to making these potato skins again. I know you will enjoy them, too, for any big or small celebration with friends and family. They're super simple, scrumptious and will have your guests begging for more!
Craving more? Keep in touch on Facebook, Twitter, Pinterest and Instagram for new post updates and more. You can also check out my FAQ page, or contact me with any questions or inquiries!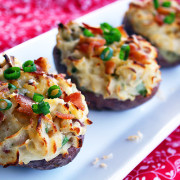 8 medium baking potatoes, scrubbed8 strips bacon3 shallots, finely chopped3/4 cups milk3 Tbsp. butter1/2 cup shredded cheddar cheeseSalt and freshly ground black pepper3 Tbsp. chopped parsley, optional
2 scallions, optional
How do you make potato skins crispy?
One of the many secrets to an outstanding potato skin is a crispy outside. No one wants to bite into a dry chunk of potato skin with a thin, soft outer skin. Yuck. Think about which ingredient makes any vegetables golden and crispy when heated to the perfect temperature. Yep – you guessed it. Butter. I took it one step further and put freshly minced garlic in my butter and even used my favorite butter of all time – Kerrygold.
To make the potato skins crispy, you first bake them and scoop out the insides. Then, you take that melted garlic butter and brush the inside and outside of your potato skins. Broil them until that garlic butter gets nice and bubbly, and the result is a crispy potato skin! All that's left is to load them up with your favorite toppings and inhale them!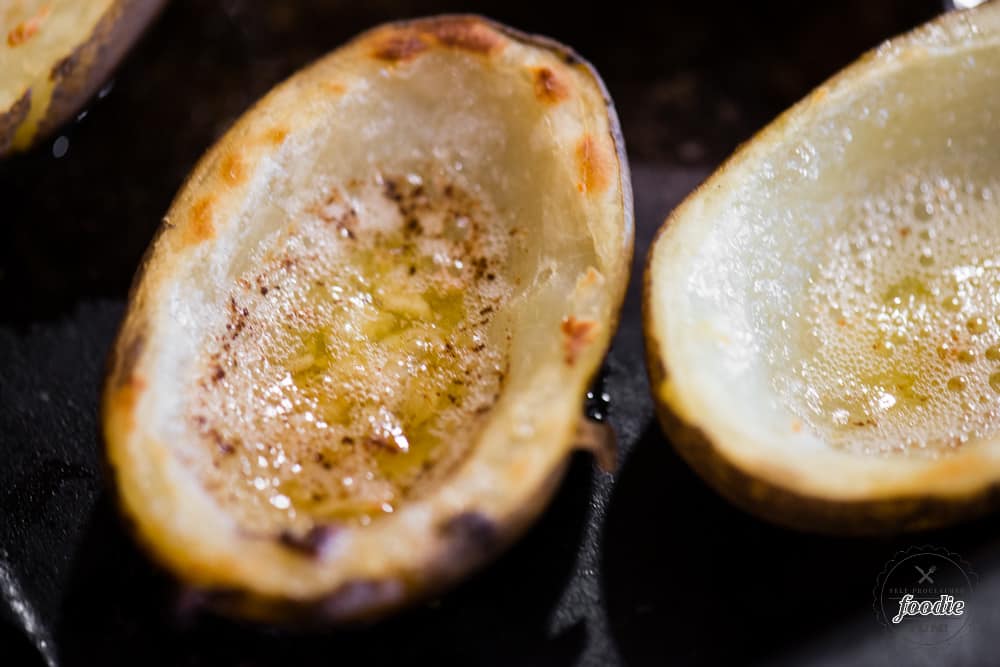 How to make potato skins:
First step is to bake your potatoes. As I mentioned above, I highly recommend baking potatoes in the pressure cooker. They turn out completely soft and moist all the way through, but with a crisp outer skin. The trick is to pierce the potatoes with a fork. If you use a knife they might split and you won't be able to make your loaded potato skins.
Next you cut them in half lengthwise and scoop out all the flesh except for a quarter inch thick wall. What you scoop out can be transformed into potato soup or breakfast potatoes. Don't let it go to waste!
After that is when you brush on the melted garlic butter. You set the lathered up skins on a baking sheet and broil them in the oven until they get crispy and golden delicious.
The final step of cooking your loaded baked potatoes is to top them with sliced cheese, crispy bacon, and sliced scallions. I cook the bacon ahead of time and always have some at the ready in the refrigerator. My preference is for sharp cheddar, but you can certainly use something that melts better like Monterey Jack or gruyere. I like to top my cooked skins with a dollop of sour cream, chives, salt and pepper just before serving.
Feeling adventurous? Maybe you could try loading up your potato skins with pulled pork and homemade barbecue sauce. What if you made a Philly Cheesesteak loaded potato skin recipe? The possibilities are endless!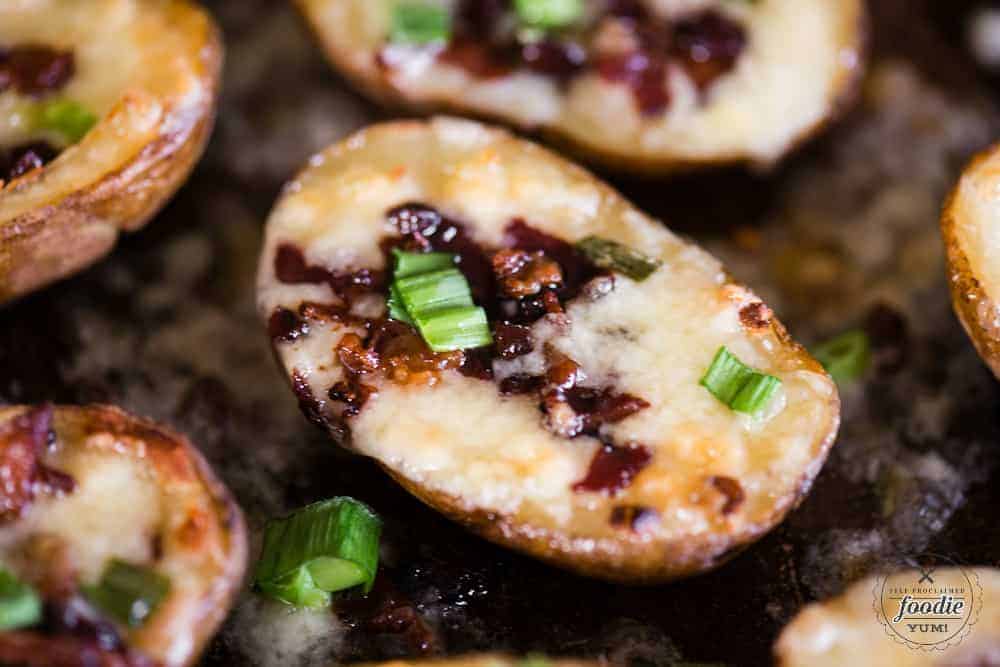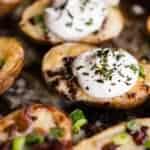 8

small russet potatoes

baked

2

tablespoons

salted butter

2

cloves

garlic

minced

8

ounces

bacon

cooked and crumbled

2

cups

shredded cheese

cheddar, monterey jack, gruyere, etc

1/2

cup

sliced green onions

top with sour cream

chives, salt and pepper
Slice baked potatoes in half lengthwise. Scoop out center so that the potato skin walls are about 1/4 inch thick, taking care not to tear the skin. Save the potato you scooped out for another recipe. Place the skins on a large baking sheet.
Melt the butter with the garlic and brush onto the tops and skins of the potato skins. Broil on high until the potatoes turn golden brown and the butter bubbles, about 5 minutes.
Remove from oven and top with cheese, bacon, and green onions. Return to oven and broil on high to completely melt the cheese, about 5-10 minutes.
Serve hot and top with sour cream, chives, salt and pepper.
These can be made ahead up to the final broil step. Then, you can stick them in the oven right before you're ready to serve.