Jump to Recipe Print Recipe
Miracle Pizza Dough Recipe is the absolute best, easy, basic pizza dough recipe!  This super easy pizza dough gives you a homemade, thick, buttery, and chewy crust in only 30 minutes!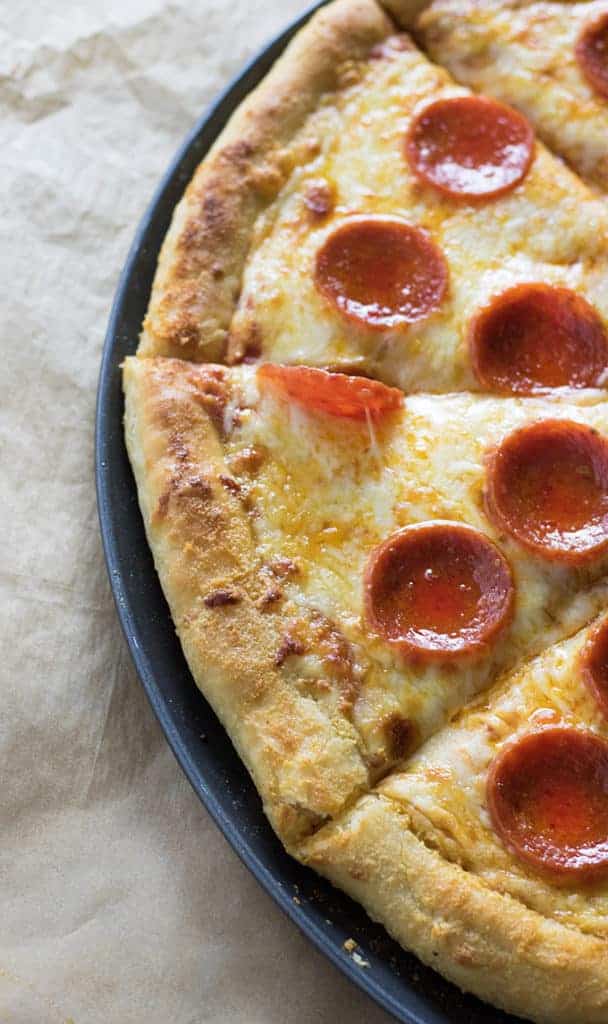 This pizza dough recipe was originally posted on February 21, 2017, and I am updating it some more detailed instructions.
Guys!  Can we talk about pizza?  Because it's my favorite thing to talk about ever!  Given the opportunity to eat pizza every single day of the year I would absolutely take it.  I love my thin crust pizza,  and this breakfast pizza is a regular addition to our menu as well!
MY LATEST VIDEOS
How Do You Make Pizza Dough?
First of all, don't be intimidated!  Making pizza dough at home is incredibly easy, and my pizza dough recipe only takes 30 minutes! I am here with some process shots, instructions, and a short video to help walk you through the process.
To make pizza dough, you will start by dissolving your yeast and sugar in warm water.  Then, you will allow this mixture to sit for 10 minutes.  You will notice it get "foamy" as in the picture below.  Once the yeast foams up, you know it is active and ready to be used to make the dough.
Once your yeast is foamy, like the picture above, add in your salt, olive oil, and flour. I like to add the flour in 1/2 cup at a time, stirring after each addition.
At this point, you can reference the photo below.  All of the flour has been incorporated, and the dough is ready to knead.  You can lightly flour your work surface, or simply knead the dough right in the bowl.
How to Knead Pizza Dough:
To knead the dough, first pour it out of the bowl onto a lightly floured flat surface.  Gather the dough (it will be slightly sticky) into a ball.
Next, start pressing the dough out with the palms of your hands.  Press down until the dough is flat, then, fold it back onto itself again.
Kneading is a fairly fast process.  Continue to press the dough out, turn it, fold it back on itself, and press it out again for 3 minutes.  Then, shape the dough into a ball.
Pizza Sauce Ideas
Traditional Red Sauce
Alfredo Sauce
BBQ Sauce
Pesto Sauce
Oil and Garlic
Ranch Dressing
Teriyaki Sauce
Peanut Sauce
Thai Chili Sauce
Garlic Aioli
Sun Dried Tomato Sauce
Creamy Red Pepper Sauce
Hummus
Pizza Topping Ideas
Pepperoni
Mushrooms
Onions
Sausage
Bacon
Mozzarella Cheese
Black Olives
Green Peppers
Red Peppers
Pineapple
Spinach
Basil
Chicken
Ground Beef
Salami
Steak
Tomatoes
Gorgonzola
Feta
Artichokes
Ham
Canadian Bacon
Favorite Pizza Recipes
This pizza dough recipe is a great base for all of our favorite pizza recipes.  Think outside the cheese and pepperoni box.  Here are some ideas to get you started:
MY LATEST RECIPES
Lemon Chicken Pizza – If you haven't tried thin slices of lemon on pizza, you are missing something great!  It is so refreshing and flavorful.
Turkey Bacon Avocado Pizza – This pizza is topped with turkey, crisp bacon, and fresh avocado with lots of cheese.  It's all the flavors of a club sandwich on a delicious pizza crust.
Antipasto Pizza – A garlic cream sauce replaces the traditional red pizza sauce on this pizza.  Spinach, artichoke hearts, pepperoncinis, cherry tomatoes, and olives make this a delicious, vegetarian pizza option.
Thai Peanut Chicken Pizza – Our version of the California Pizza Kitchen's Thai Chicken Pizza tastes just like the original.  The Thai flavors on this pizza are mouth-watering good!
BBQ Chicken Pizza – BBQ Chicken Pizza is always a favorite!  It features barbecue chicken, pineapple, cilantro and plenty of cheese.
Garlic Ranch Pizza – Who doesn't love garlic and ranch in their pizza sauce?  When you add bacon, chicken, tomatoes, and mozzarella, it creates a pizza that will have everyone begging for more.
How to Make Pizza Dough
Combine water, sugar and yeast in small bowl. Let sit 5 minutes. Mix flour and salt together in the bowl of a heavy duty mixer fitted with dough hook. Add oil to yeast mixture. 

Pour yeast mixture into flour mixture and knead on low speed for 10 minutes. (If mixing by hand, knead dough for same amount of time.) Place dough in a lightly oiled bowl, turning to coat. cover with plastic wrap and let rise in a warm place for 1 hour.

Punch dough down and divide in half. Shape into 2 balls. lightly brush dough balls with olive oil and cover completely with plastic wrap. Let rise another 45 minutes. Preheat oven to 450 degrees. 

Lightly grease pizza pan or dust with cornmeal. Take each dough ball and using your fingers, pat it out from the center to the edge, leaving the outer edge a bit thick. Top with favorite toppings. 

Bake 10-15 minutes until edges are golden brown.
You can freeze the dough after the first or second rise.  
If you are freezing after the first rise, punch the dough down and divide it into two balls as directed in the recipe.  Place the dough balls in the freezer on a cookie sheet.  After the dough is frozen, place the dough balls in freezer resealable plastic bags.  To thaw, let the dough come to room temperature (about 1 hour) and then let it rise another 45 minutes.
If you are freezing after the second rise, freeze the dough balls and then place them in freezer resealable plastic bags.  To thaw, let the dough come to room temperature (about 1 hour) and then roll out onto pizza pan.