Pizza recipe with video – Learn how to make pizza at home with simple instructions. Initially when I began to make veg pizza at home I had tried using whole wheat flour several times, since the results were compromising I later tried & got hooked to this white whole wheat flour pizzaand loved it. Since then I never looked back for any other alternates since we got used to the taste though not exactly the same we get in any good pizzeria.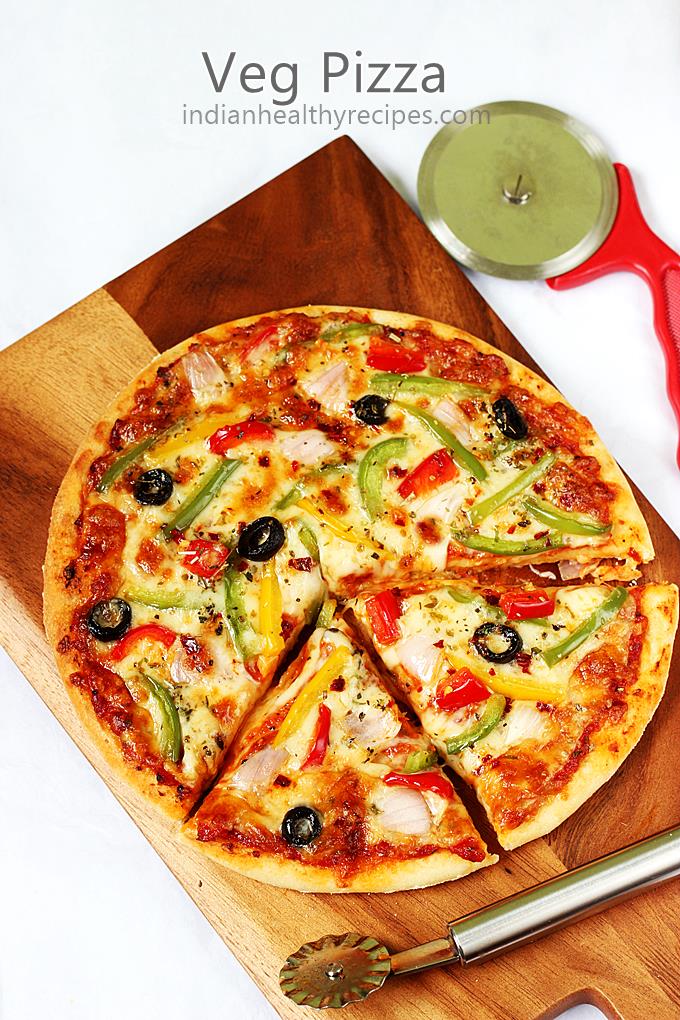 I had several readers' requests for veg pizza recipe using all-purpose flour or maida. So this time when I made it I used unbleached organic all-purpose flour and followed the recipe from red mill bobs which turned out to be outstanding and delicious. All the tips in this post are my own that comes from my own experience.
If you do not have a oven, then you can also make pizza on tawa following this Tawa pizza without yeast or this bread pizza made with bread as the base.
Health Note : Do not use regular maida to make pizza, it is very unhealthy. Regular maida is chemically bleached and has tons of adverse effects on our health. If you do not find organic unbleached flour, just make the pizza with very fine quality atta and make a thin crust pizza. It turns out very good that way too.
This veg pizza recipe post covers making Pizza dough Pizza sauce
Assembling
Important tips for making best pizza
1. Activate your yeast first before you add it to the flour.
2. Allow the dough to rise until it doubles rather than allowing it to rise for a certain period of time. The time take for the dough to double may vary depending on the temperature or place you live. So time may not be the right factor, instead wait until the dough doubles in size.
3. If making a pizza that has a thick base then it is good to bake the pizza base first for 5 to 7 mins and then smear the sauce and top it with veggies & cheese. Then bake it. Most times a thick pizza base doesn't get cooked while the cheese gets browned. Pizzas served in pizzerias are made in really large ovens that are very hot & mostly baked on pizza stones hence the base gets cooked well.
Using this recipe of pizza you can make a thin crust pizza or medium or thick crust pizza to suit your taste. I had made one 9 inch thin pizza and 2 thick 6 inch pizzas.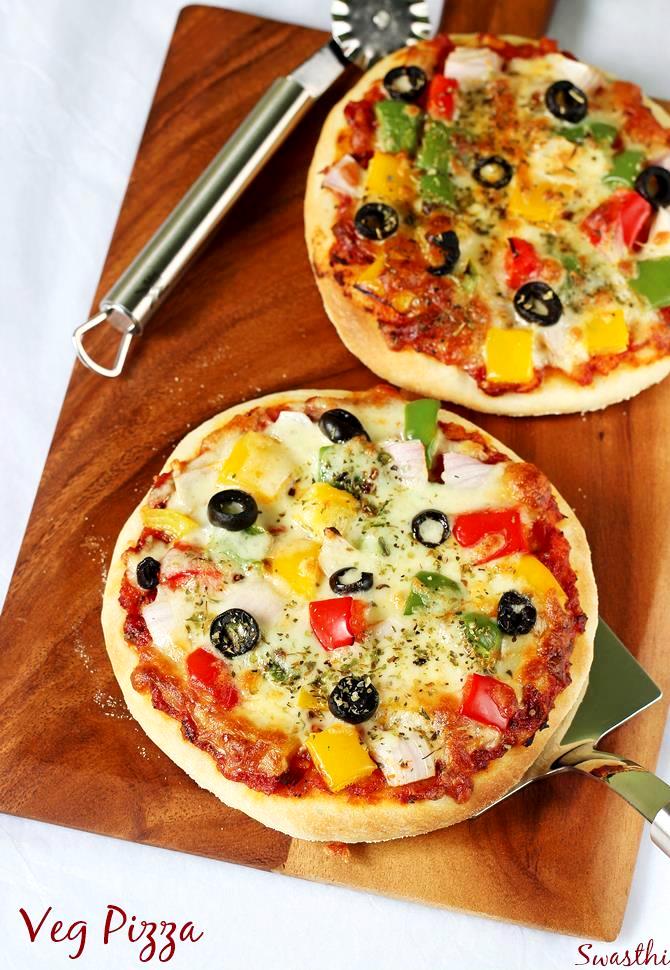 Veg pizza recipe at home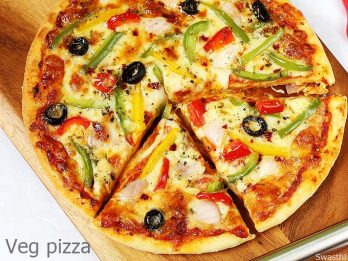 2

cups

maida

or organic plain flour or all-purpose flour (or 1 cup maida & 1 cup atta)

½

tbsp

active dry yeast

½

cup

water

+1 tbsp. (use as needed)

1 ½

tbsp

olive oil

¼ to ½

tsp

salt

(use as needed)

¾

tsp

organic sugar
400

grams

tomatoes

2

garlic

cloves minced or chopped finely

1

tsp

red chili flakes

1

tsp

Italian herbs

or ½ to ¾ tsp oregano

Salt as needed

½

tsp

pepper

coarse crushed or powder

1 ½

tbsp

oil

1

tsp

organic sugar
200

grams

Mozzarella cheese

or as needed (refer notes)

1 ½

cups

Mix vegetables

sliced or cubed (capsicum, onions, olives, tomatoes, mushrooms)

¼ to ½

tsp

Italian herbs

mixed or oregano

¼

tsp

red chili flakes

(optional)
Add yeast & sugar to luke warm water and stir it. Set aside for 10 to 15 mins and allow to proof.
If the water doesn't turn frothy by then, the yeast is inactive and cannot be used for the dough. In this case discard and start afresh with luke warm water, sugar and yeast.

When the water turns frothy, add flour, salt and oil. Next mix and make a dough adding more water if needed.

Knead the dough very well until very soft and pliable for about 5 to 7 mins.

Then apply a thin layer of oil and keep covered in a bowl. Allow the dough to rise and double in size.
Meanwhile prepare the tomato pizza sauce.
To make sauce, heat oil in a pan and saute garlic until it smells good.
Then add red chili flakes and then onions if using. Saute until they turn slightly golden.
Add tomato puree, salt and sugar. Stir and continue to cook covering partially as it splatters a lot.
Cook until the sauce thickens. Add herbs and crushed pepper.
Mix and set aside to cool.
Now wash and cube the veggies. Separate the layers of onions.
Preheat the oven to 240 C for atleast 20 to 25 mins.
Transfer the dough to the work area.
Punch the dough to deflate it. Cut to 2 to 3 portions.
Gently shape it to a ball and flatten it.
Sprinkle some corn meal over the pizza tray.

Add few drops of oil and begin to flatten it. Spread to a round disc of desired thickness.

If making a thick base then put the base in the oven and bake it for 5 to 7 mins.
If making a thin crust pizza then just go ahead.

Next spread the pizza sauce as desired. Layer the veggies and then grated cheese.

Lastly sprinkle Italian herbs and red chili flakes.

Bake for 10 to 12 mins until the base is cooked and cheese turns slightly golden.
Slice and serve pizza hot or warm.
Recipe notes for pizza recipe Cheese: If you are a vegetarian, choose mozzarella cheese made without animal rennet. I guess most cheese made in India are made without animal rennet.
You can also look for cheese mentioned as pizza cheese. You can find combinations of various cheese like Parmesan, mozzarella and cheddar. You may find Parmesan without animal rennet but mostly uses the cultures from animal extracts.
Pizza recipe video | How to make pizza recipe | Homemade pizza recipe Calories 567 Calories from Fat 207 Total Carbohydrates 68g 23%* Percent Daily Values are based on a 2000 calorie diet.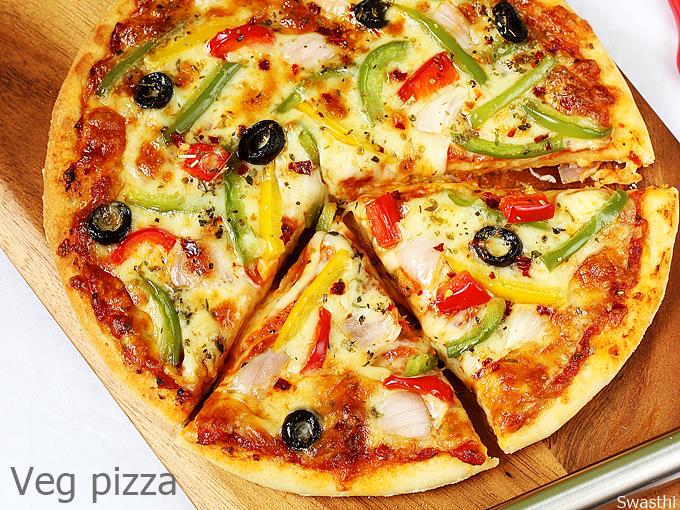 How to make pizza dough at home
1. Pour luke warm water to a warm bowl. If you live in a very cold place, just warm up your bowl for proofing yeast. Firstly make sure the water is just warm. An ideal temperature of water is 40 to 43 C. Just dip your finger in the water to check if it is just warm. Hot water will kill the yeast and cannot be used further.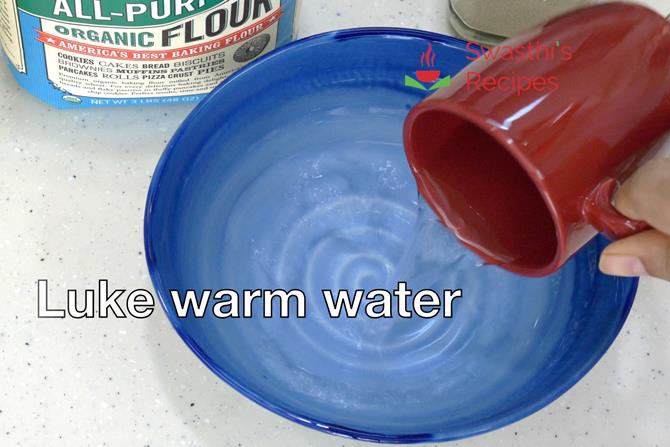 2. Add yeast to the warm water.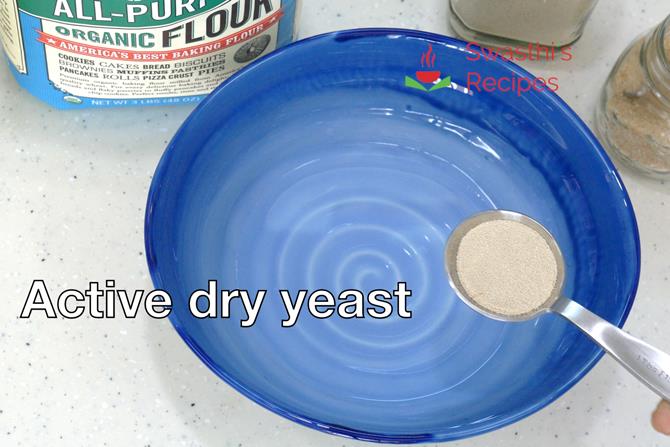 3. Sprinkle sugar as well.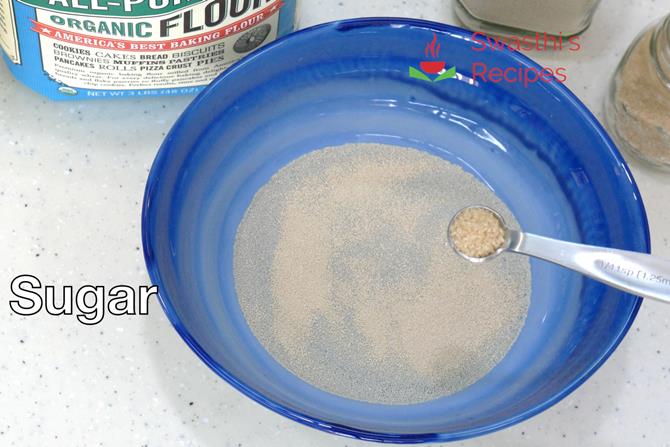 4. Stir it gently. Allow this to rest undisturbed for 10 to 12 mins. The mixture must turn frothy and bubbly. If you fail to get a frothy mixture, do not proceed further with this yeast. It is inactive. So just discard this. Start again with fresh warm water, yeast and sugar. Repeat the steps from 1 to 4.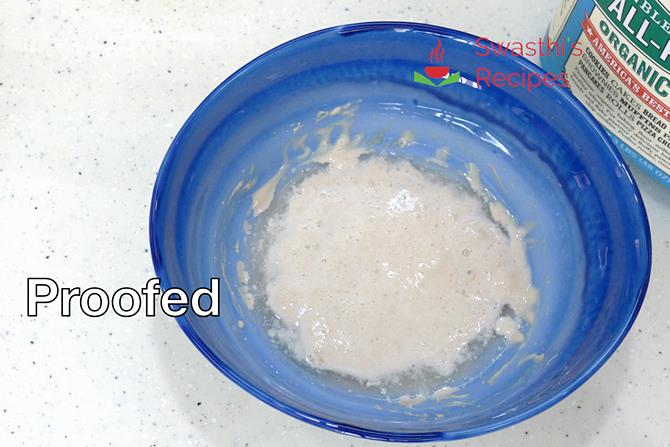 5. When the yeast turns frothy, add flour. Here I have used organic unbleached all purpose flour. If you do not get organic one, just replace with whole wheat flour. Make a thin pizza. It will turn out good. You can also use half whole wheat flour and half maida.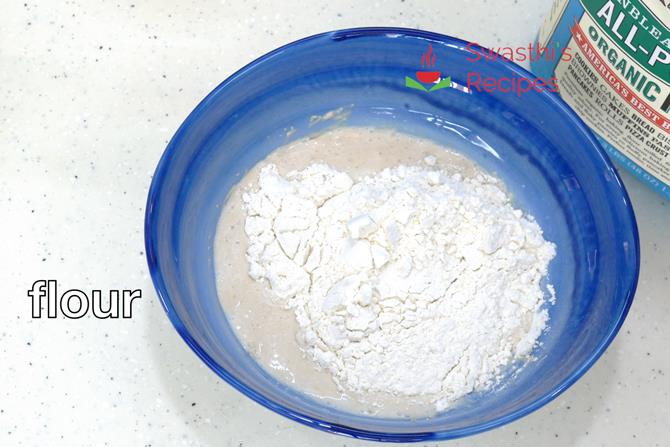 6. Next add olive oil and salt.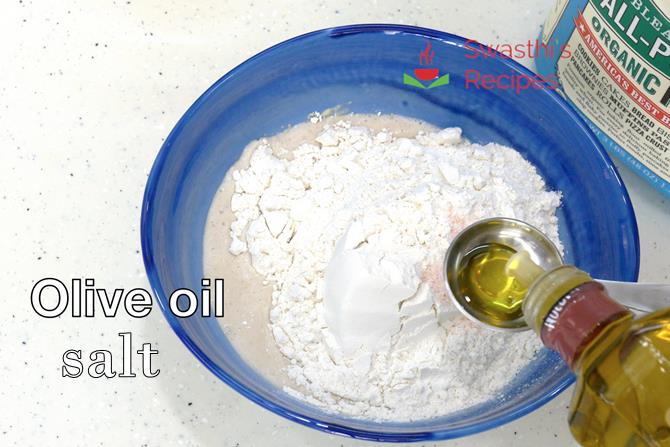 7. Mix to make dough. If needed add more water and knead the dough for 5 to 6 mins. The dough must turn very soft and elastic. When you poke your finger gently the dough must bounce back. This will happen only if you use all purpose flour. For atta you will have to knead for longer about 9 mins.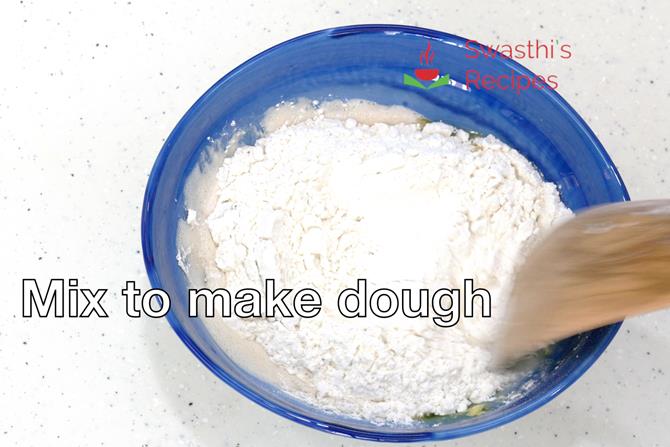 8. Make a ball and next apply a thin layer of oil to prevent the dough from drying up.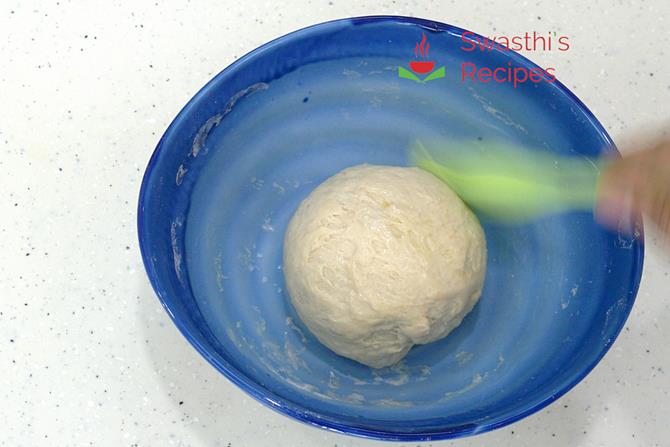 Resting pizza dough
9. Cover with a moist cloth. Rest in a warm place until the dough doubles in size. If your oven has a setting for rising the dough then you can use that as well. Depending on the temperature, the dough may take anywhere from 1 to 2 hours. But still I advice not to go by timings but to double it in size.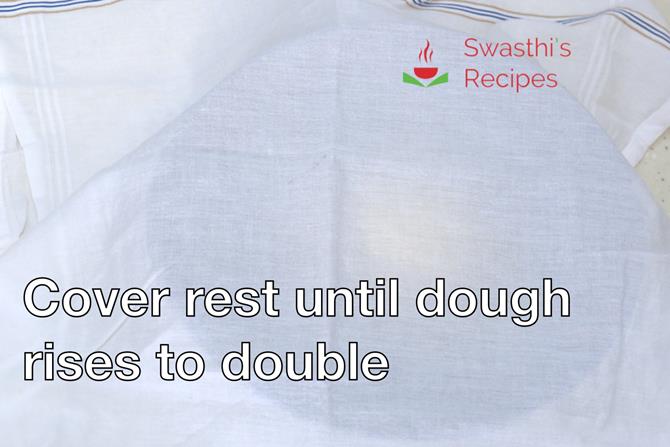 10. Meanwhile make pizza sauce following the video mentioned above or from the recipe card. Then keep the veggies ready. Grate the cheese.
11. Dough has doubled in just 45 mins for me. I made one pizza that day and refrigerated the rest for the next day. Just wrapped it in a cling wrap and put it in the fridge. The flavor of the yeast dough gets much better as it ages in the fridge. This keeps good for 2 days. If refrigerating, then allow it to come down to room temperature before using. I allowed to rest for 90 mins. When you see the dough is ready, preheat the oven to 220 to 240 C for atleast 20 to 25 mins. If you have a pizza stone, heat that in the oven as well.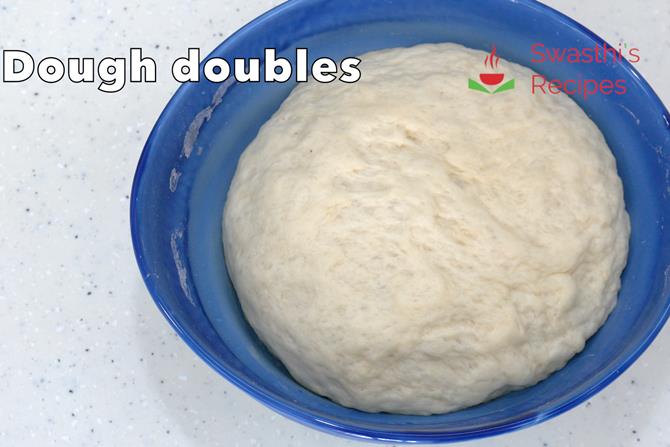 12. Next transfer the dough to the work area and punch it down to deflate. Do check the video above to know the exact process on how to do the further steps. Divide the dough to 2 to 3 parts depending on the size you prefer. I made one 9 inch thin crust and then two 6 inch thick pizzas.
How to make pizza – thin crust pizza base
Sprinkle some corn meal evenly on a tray. Flatten a ball and add few drops of oil. Begin to spread and stretch the dough. Flatten to a 9 inch thin even base.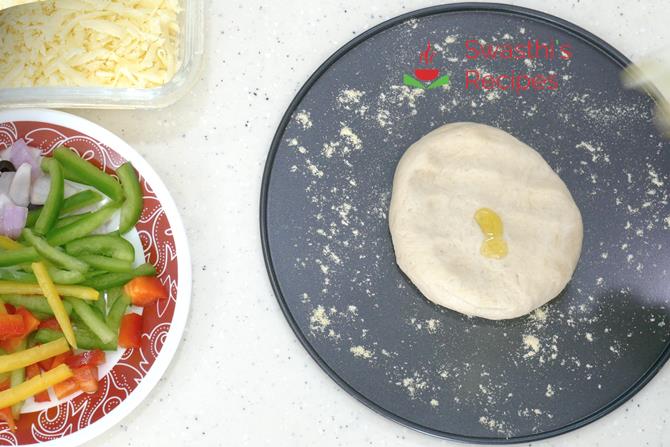 13. Next spread pizza sauce as desired. For the pizza sauce please follow the recipe card or the video.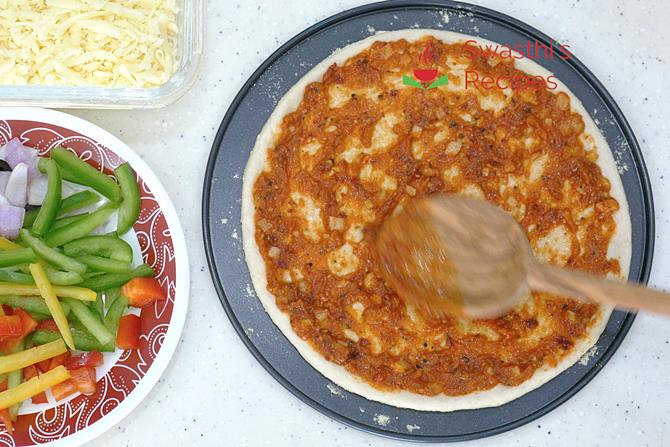 14. Lastly layer cheese. Then veggies of your choice. We prefer bell peppers, onions and olives. You can also use cauliflowers, mushrooms and firm ripe deseeded tomatoes. Sprinkle Italian herbs and chili flakes if you desire.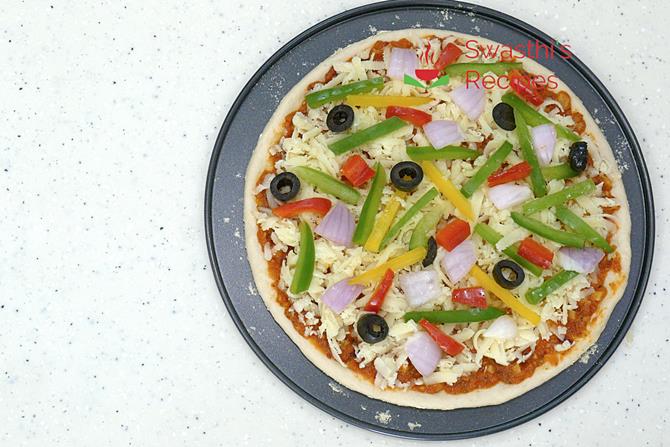 15. Bake it for 8 to 10 minutes or until the cheese turns golden.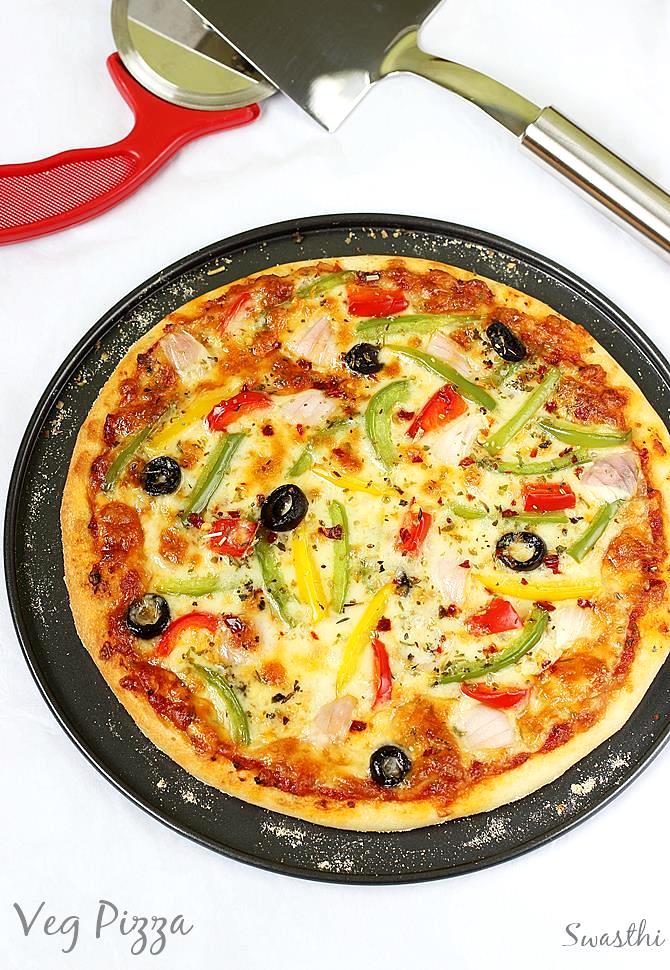 Slice and serve.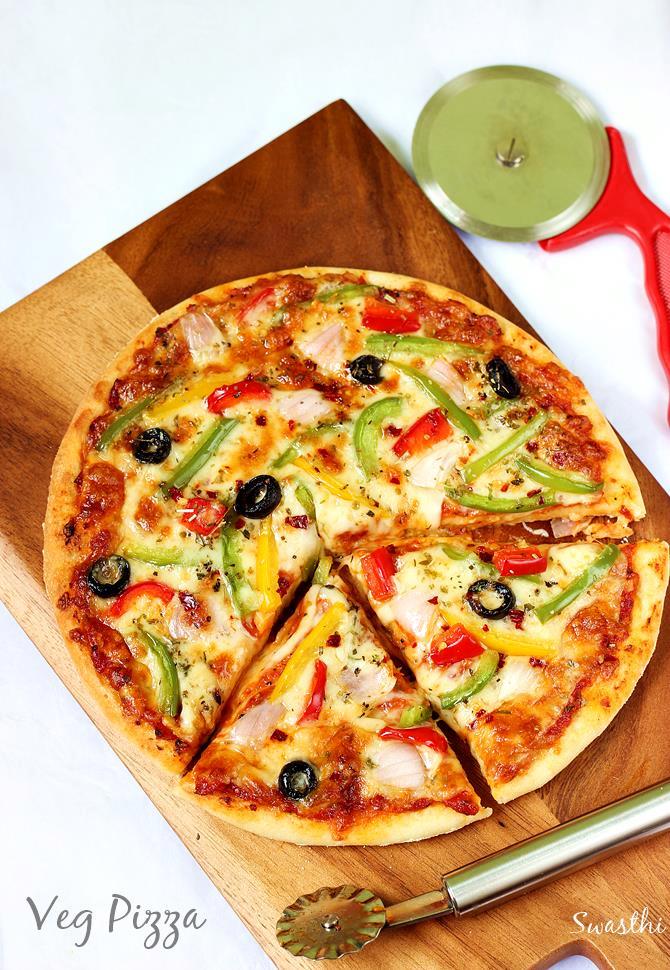 Making thick pizza base
I also made two 6 inch thick personal pizzas. If making thick pizza base then, I stretch the dough & bake it for 5 – 7 mins first. Then smear the sauce and layer the toppings. Bake this for about 8 to 10 mins. If your cheese doesn't get golden, you can move it to the top rack and bake for another 2 to 3 mins.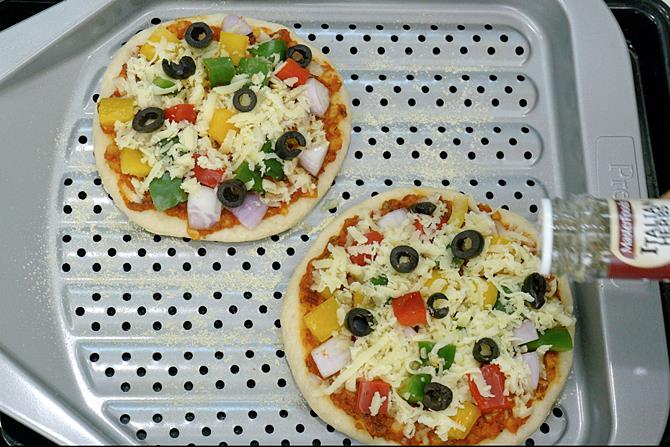 Cut and slice the pizza. Serve hot or warm.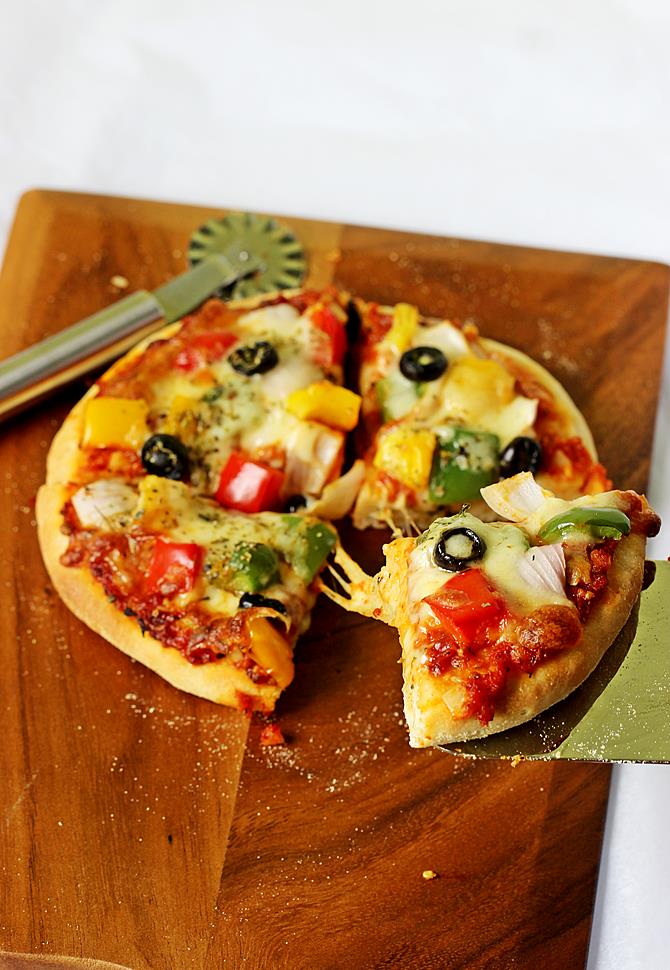 I'm Swasthi shreekanth. My aim is to help you cook great Indian food with my time-tested recipes. After 2 decades of experience in practical Indian cooking I started this blog to help people cook better & more often at home. Whether you are a novice or an experienced cook I am sure Swasthi's Recipes will assist you to enhance your cooking skills.
Reader Interactions
Elements of the Perfect Homemade Pepperoni Pizza:
The Dough.
I give a detailed explanation of my chosen methods, ingredients and pizza tools in this post. Go check it out. It's loaded with tips and key freezing instructions, too!
The Sauce.
My Homemade Pizza Sauce recipe is SO much better than store-bought, and it's an easy no-cook recipe that you make in the blender. And to top it all off, it's freezer-friendly, too!
The Cheeeeeeeeese.
To make the ultimate Pepperoni Pizza you need a combination of 2 kinds of cheese– Parmesan and whole milk mozzarella. The Parmesan adds some extra flavor to the pizza pie, and I add it underneath the mozzarella so it doesn't brown and become crisp.
Whole milk mozzarella is a MUST for this recipe because it melts so much better than part-skim mozzarella (I find part-skim mozzarella cooks up a little rubbery)!
Whole milk mozzarella can be a little bit tricky to find in your grocery store. If it's not in the brick cheese section of the dairy aisle, then I usually have luck finding it at the deli counter. I ask the folks at the deli counter to just cut off a 1/2 pound chunk for me and I shred it myself at home.
The Pepperoni.
I love pepperoni, but I hate how it makes an oil slick on top of the pizza while it's baking. In the past I would end up blotting the top of the pizza with a paper towel to get the extra grease off, but not with this pizza recipe! To combat the lake of pepperoni grease on top of my pizza, I cook the pepperoni between sheets of paper towel in the microwave. This way the paper towel sops up the extra grease and voilà, you have the perfect homemade pizza!
Cook's Note – Perfect Homemade Pizza Recipe:
If pepperoni isn't your thing, then go ahead and add your favorite toppings instead. I would say no more than 1/2 cup TOTAL of toppings on each pizza.
If you're adding fresh veggies like onions, bell peppers, or broccoli, then I suggest cooking them in the microwave for 30-90 seconds or until the veggies start to soften. This way you don't have crunchy uncooked veggies on your pizza.
Cook's Tools and Ingredients – Perfect Homemade Pizza recipe:
ONE YEAR AGO: Supreme Pizza Pull Apart Bread
TWO YEARS AGO: Skinny Stuffed Shells
THREE YEARS AGO: Italian Sausage and Butter Bean Soup
Servings: 2 14-inch pizzas
1

recipe pizza dough

1

teaspoon

yellow cornmeal

1

Tablespoon

olive oil

divided

1

recipe pizza sauce

40

pepperoni slices

1

ounce

freshly finely grated Parmesan cheese

about ½ cup

8

ounces

whole milk mozzarella

shredded (about 2 cups)
Prepare pizza dough recipe and oven thru step 7.
Move oven rack to the second highest position. Place a pizza stone on the rack and preheat oven to 500 degrees F for at least 30 minutes.
Place parchment paper on top of the pizza peel and sprinkle cornmeal over the top. Move 1 dough ball to the pizza peel and press dough out into a 14-inch circle by gently stretching and pressing the dough. (I find it's best that once the dough is pressed out into an 8-inch circle to place the palm of my hand in the center and gently pull the dough by the edges to get it to 14 inches). If the dough is really snapping back while you're trying to press and stretch it, then cover it with a damp paper towel and let the dough relax for 5-10 minutes before starting again to get the dough to 14 inches. Brush ½ tablespoon of olive oil around the outer edge of the dough.
Place 2 paper towels on top of a large microwave-safe plate. Spread the pepperoni out evenly on the plate and top with 2 more paper towels. Microwave on high for 30 seconds. Press the top paper towel onto the pepperoni to sop up any extra grease; set aside.
Spread ¾ cups of the pizza sauce over the pizza dough using the back of a large spoon or ladle, leaving a 1/4-inch border around the edge. Sprinkle ¼ cup of the Parmesan cheese evenly over the sauce, and then follow with 1 cup of the mozzarella cheese. Spread 20 pepperoni slices evenly over the cheese.
Once the pizza stone has been preheated at 500 degrees F for at least 30 minutes, use the pizza peel to slide the pizza and parchment onto of the preheated pizza stone. Bake for 8-12 minutes or until the crust is beautifully golden and the cheese is bubbly. Use the pizza peel to remove the pizza from the oven. Let the pizza sit for 5 minutes before slicing and serving. Repeat with remaining dough, sauce, cheese, and pepperoni.
Makes 2 14-inch pizzas.
TwitterFacebookGoogle+PinterestLinkedinEmailReddit