Print Recipe Jump to RecipeThis post may contain affiliate links. See my privacy policy for details.
How to Make an Orange Icing Glaze for your cakes, sweet breads, cupcakes and more! It's so simple and easy – and orange is SO under loved when it comes to baking! Well, not anymore! This orange icing glaze will be amazing on a ton of baked goods, mix and match the flavours!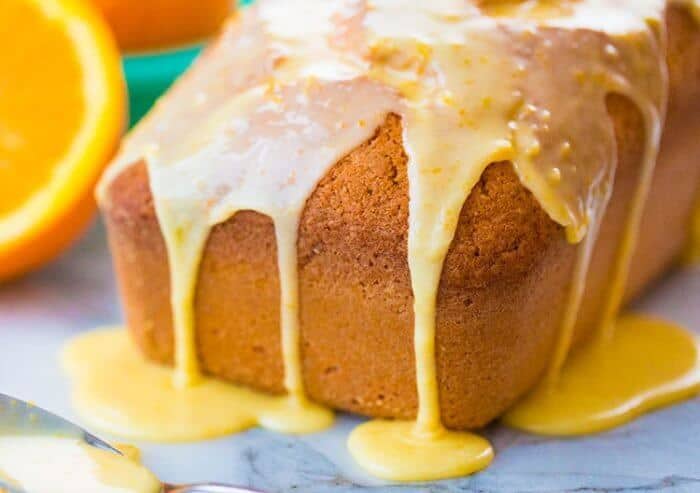 Everyone loves a good orange icing glaze.
We need to stop ignoring oranges for lemons, right about now. I get it, I really do because I adore everything lemon as well and admittedly lemon is my favourite out of the two. Oranges however are a much ignored fruit when it comes to making sweet breads, loaves and icings and they shouldn't be. Oranges are cheaper, more plentiful and the colour is simply spectacular. If you feast with your eyes first as they say then oranges win over lemon for me every time. This has become a new favourite in the house ever since I made it!
How can I pick the most flavourful oranges to use?
Navel oranges can be hard, juice-less and downright nasty in the middle of winter. I have good luck usually with Sunkist when I can find them, it seems that there is a better quality to them when they have that label. Cara Cara oranges are also a good bet for juice and flavour, they are slightly pink inside as well. When it comes down to picking a good orange to use, try to detect which ones are really thick skinned and avoid them at all costs- those are always terrible inside. If you can, try to find Florida grown oranges, those are usually the best but when everything is off season you're going to have to look extra hard for good oranges. Here's a really interesting article about oranges with some great information.
Pin this to your desserts board!

1 3/4

cups

confectioners sugar

1/4

cup

orange juice

1

tbsp

orange zest

1

tsp

salted butter

melted
In a large Pyrex measuring cup (the 4 cup capacity ones are the best to use for this) combine the sugar, orange juice and orange zest. Whisk until there are no lumps.

Add in the butter then whisk together again until smooth. If it is not pourable, you can microwave it for 30 seconds or so. 

Let the mixture sit if you microwaved it, otherwise you can pour it over your cake or loaf. 
You can adjust the consistency of this to your liking by adding more powdered sugar or juice, to thicken or thin it out.
How to Make Orange Icing Glaze Total Carbohydrates 21g 7% * Percent Daily Values are based on a 2000 calorie diet. 112
Instant Pot Orange Chicken
Instant Pot Orange Chicken is one of the easiest and most flavorful dishes that you can make in just 30 minutes. Forget about takeout, this easy dinner made with easy to find ingredients is so good that it will become a staple in your house.
The Instant Pot Orange Chicken is made entirely in the Instant Pot, so less dishes for you to clean. Made with orange juice and orange zest, gives the dish an amazing fresh aroma. Sweet and hearty, served over brown rice, this dinner is so much healthier than takeout and also budget friendly, as you will have leftovers that taste great.
It is easy to make and it takes only around 30 minutes!
Only one pot to clean and that is the Instant Pot.
The dish is packed with amazing flavors and lean protein.
It is perfect for busy weeknights and also for entertaining guests.
You will have delicious leftovers that can be stored in the fridge, in an airtight container for 3-4 days.
I always say this, but a good meat centered meal starts with quality meat, so use organic chicken breasts.
I used No Sugar Added Orange juice, since the recipe already asks for sugar. If you want to use sweetened orange juice I would say to reduce the added sugar, taste and adjust.
The tomato sauce is optional, it adds a nice tangy flavor, if you prefer that.
Using fresh orange zest is key and please don't skip this step, it will add amazing flavor.
Cornstarch is a key ingredient in here, do not try to replace it with flour, the results will not be the same.
When it comes to adding the cornstarch, I recommend to mix the cornstarch with orange juice until dissolved and add the slurry to the Instant Pot at the end to thicken the sauce.
If the sauce is too runny, mix another 1-2 teaspoons of cornstarch with water and add it to the Instant Pot. Please note, that the sauce will get thicker with time, so definitely wait a bit before adding more cornstarch.
You can also taste and adjust the sugar in this recipe, I like my Orange Chicken on the sweeter side, but you can use less.
Sriracha sauce is optional, I like the nice kick of heat that it adds, you can add more or less as you please.
For extra flavor add 1 tablespoon of freshly grated ginger!
Follow Sweet and Savory Meals on Pinterest for more great recipes!
Pin This Instant Pot Orange Chicken Recipe to your Favorite Board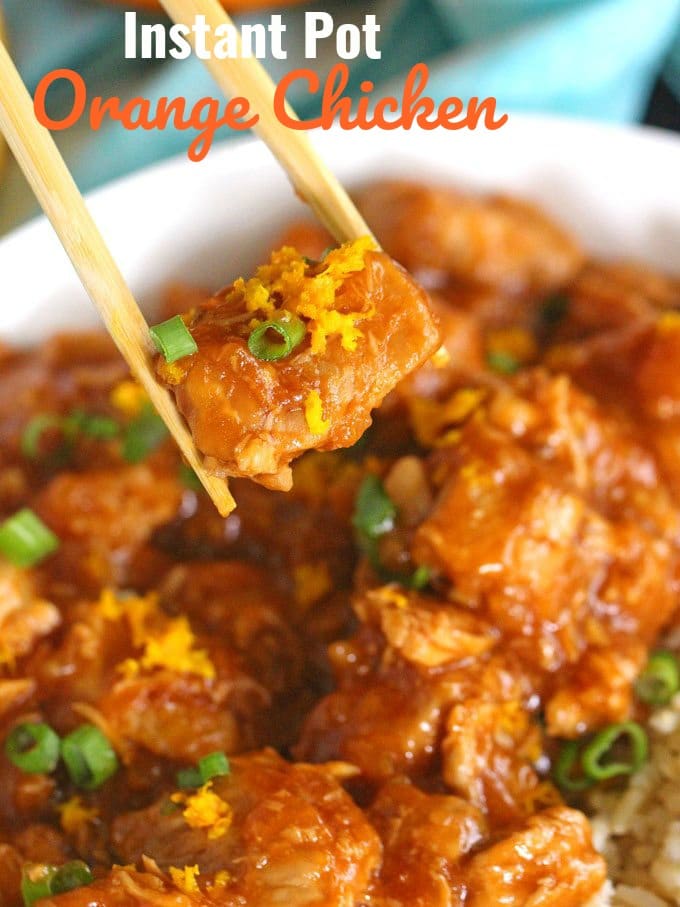 How to make Orange Zest?
Rinse the orange.
Set your tool over a cutting board. A microplane produces a very fine zest, perfect for baking and cooking. If you don't have a microplane, use the smallest holes on an ordinary grater.
Grate the skin of the orange only. Grate just enough to get through the orange skin, this way you can avoid the bitter white pith underneath.
Rotate the orange and repeat. Once the white pith is exposed, rotate the orange and zest the next strip of peel. Repeat until most of the peel is removed, or until you have enough zest for your recipe.