A traditional mimosa can be kind of boring. They are good and all, (I mean, we're talking bubbles, so you really can't go wrong) but why settle for good when you can add a few more ingredients and get a Grand Orange Mimosa that will knock your socks off?
What other ingredients do you need to make this Grand Orange Mimosa recipe?
Not many. I amped up the orange taste with Grand Marnier, added a little simple syrup and topped it off with my favorite Prosecco. You can use your favorite sparkling wine – just make sure it is on the drier side otherwise your drink will be too sweet.
Once you try this tasty cocktail, you'll never drink a plain mimosa again. It's easy to make but totally worth a couple of extra steps.  Sunday brunch can't come soon enough. Who's coming over?
Grand Orange Mimosas for everyone.
Having a large group for brunch? Set up an Easy DIY Mimosa Bar and let your guests do the work!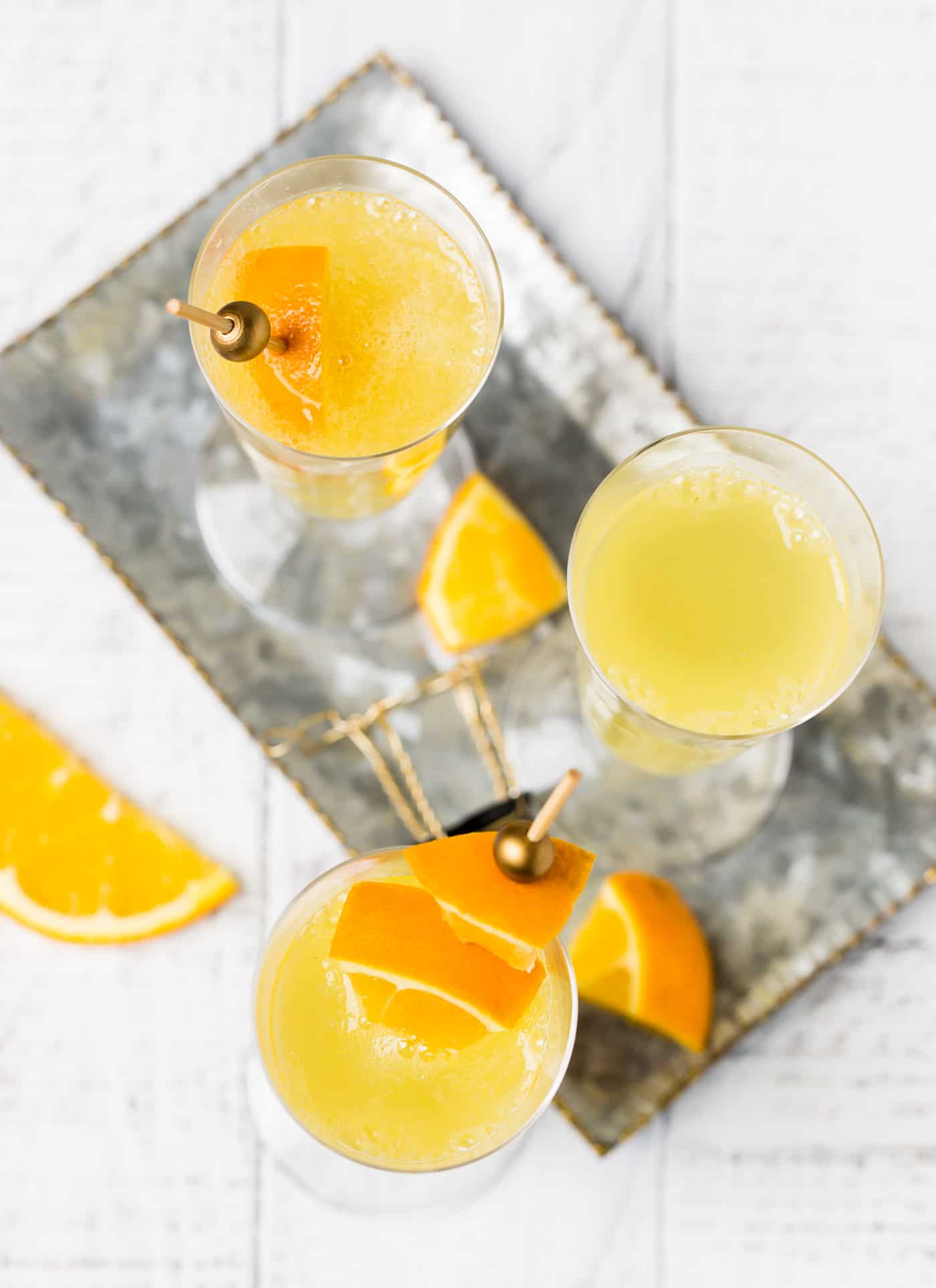 If you like this Grand Orange Mimosa recipe, you'll love these other brunch cocktails!
Ginger Grapefruit Prosecco Cocktail – Garnish with Lemon®
Peach Prosecco Fizz – The Cookie Rookie
Raspberry Paloma -Garnish with Lemon®
Sparkling Tropical Mimosa Punch – Noble Pig
Elderflower French 75 – Garnish with Lemon®
2 parts freshly squeezed orange juice, chilled
1/2 – 1 part simple syrup
1 part Grand Marnier
Prosecco or Champagne, chilled
Pour juice, simple syrup and Grand Marnier in a champagne flute. Top with Prosecco and serve immediately.
Pineapple Orange Mimosa
Keyword: Pineapple Drinks, Pineapple Mimosa, Pineapple Orange Mimosa
2

oz.

Champagne or prosecco

chilled

2

oz.

pineapple juice

2

oz.

orange juice

Maraschino cherries

for garnish

Pineapple chunks

skin on, for garnish
Combine pineapple juice and orange juice in a champagne glass.   Top with Champagne or Prosecco

Garnish with maraschino cherries and pineapple chunks.
What You'll Need:
In order to create the perfect mimosa bar, you'll need a few key ingredients. Since one bottle of champagne is equivalent to around six to eight mimosas, keep your guest list in mind when shopping for your favorite bottles of bubbly. See our list below for the essentials you'll need to make a mimosa bar that will impress your guests.
Champagne: The number of bottles will vary depending on the size of your party. Consider purchasing one bottle of champagne per four guests.
Juices: We used pomegranate, pineapple, grapefruit, and orange juice, but feel free to select juices based on your taste and color scheme.
Garnishes: We used pomegranate seeds, strawberries, pineapple wedges, edible flowers, and rosemary, but any fragrant herb or complementing fruit will work too.
Juice carafes: Put your juices on display in unique vessels for a clean look like juice carafes. We used 12 oz. carafes for each flavor of juice.
Champagne flutes: Can't forget the most important part! Make sure you have enough champagne glasses available for everyone attending the party.
Sugar (optional): We created a sugaring station so guests have an option to add a sugar rim to their glass. In order to make the sugar stick, you will need to include a small bowl of lime juice or water.
Decorations: Some ideas include flowers, banners, straws, coasters, and flute charms.
How to Set Up a Mimosa Bar
Now it's time for the fun part! Follow these seven steps to create the ultimate mimosa bar for your next celebration. Feel free to add or skip any steps based on the supplies you can find and the number of guests at your party. Remember to have a theme in mind when setting up your mimosa bar. If you want to reuse your mimosa bar decor and supplies at your wedding, stick to the same color scheme.
1. Make all items easily accessible
Presentation is key and the same goes for your mimosa bar. In order to make sure guests can easily access all ingredients, set up your mimosa bar in order of sequence by starting with the champagne flutes and ending with garnishes, plates, and napkins. If you choose to add a sugaring station, make sure to have it at the beginning of the bar, since that's one of the first steps when making a mimosa.
2. Create a backdrop
Use your theme to get as creative as you can with this step. For our mimosa bar, we used a wooden "love sign" and assorted greenery. Make sure to be cognizant of the rest of the room's decor when creating your backdrop to make sure that it doesn't overpower and stays consistent with your theme.
3. Decorate your bar or table
Whether you will be placing your mimosa essentials on a bar or a table, make sure to add some fun decor to complement the setup. Some ideas include banners, appetizers, confetti, and straws. For our design, we included mini muffins and cinnamon buns as appetizers for guests to snack on, as well as fun straws meant to accessorize their mimosas. If you're stuck on what to add to your bar decor, fresh flowers will help liven up the space and go great with any design.
4. Pour juices into serving glasses and add labels
Pour your juices into serving glasses and label them so guests know what they are. Make sure the design of your labels works with the rest of your bar decor. We used heart shaped labels to match our love sign and banner. We also put our juices in 12-oz. carafes with wooden corks to compliment the rest of the table set up. Pro tip: Use clear jars so that guests can easily differentiate between the juices.
5. Place chopped fruit and garnishes in serving dishes
Depending on the type of mimosas you will be making, put your garnishes in serving dishes so guests can easily access them. Include a sign next to the garnishes so guests know exactly what to use them for. Adding garnishes to your mimosa is one of the best parts of the mimosa-making process, so get creative with the types of garnishes you include. If you're stuck on what to add, edible flowers are always a great accessory! You can find these at you local farmer's market or organic supermarket.
6. Include a sugaring station
This step is optional, but definitely a fun touch for your mimosa bar. This will allow guests to add sugar to the rim of their champagne glass, which will give their mimosa an extra kick of sweetness. For this, you will need a small bowl of lime juice (water or lemon juice will work as well) and a dish filled with sugar. Let your guests know that they should dip their champagne rims into the lime juice before applying sugar so that it will stick.
7. Keep champagne chilled
One of the most important parts of your mimosa bar is the champagne, which should be kept chilled at all times. A bucket is ideal for this so that you can have multiple champagne bottles on the table at once. We decorated our bucket of bubbly with greenery and edible flowers to match the rest of the decor.
How to Make a Mimosa
Making a mimosa can be done in four simple steps. We recommend a 1:1 ratio of champagne to juice. However, guests can serve themselves and make the mimosa according to their own preferences.
Create a sugar rim.
Pour the bubbly.
Add your choice of juice.
Top with a garnish.
Enjoy!

Below are recipes for each mimosa that we made for our mimosa bar. Depending on the number of guests and your budget for the celebration, feel free to include as many options as you like.
Pineapple mimosa: champagne, pineapple juice, pineapple slices, and edible flowers.
Grapefruit mimosa: champagne, grapefruit juice, and rosemary.
Classic mimosa: champagne, orange juice, and strawberries.
Pomegranate mimosa: champagne, pomegranate juice, pomegranate seeds, and edible flowers.
For an easy guide, download our infographic below to get started on making your own mimosa bar.
If you're looking for more wedding planning tips, check out our wedding planning timeline and don't forget to create your wedding registry at least eight months prior to your wedding day.