By USA TODAY 10Best | June 30, 2018 2:00 pm Follow @10best
If there's one dish that signifies Louisiana cooking it's (arguably) gumbo. People in this Southern state take their gumbo seriously and while we aren't going to enter the never-ending dispute over who makes the best (hint: it's every Louisiana native's grandma), we can tell you who makes a damn fine pot of gumbo, and that's New Orleans icon Emeril Lagasse.
The celebrity chef and NOLA legend was kind enough to share his recipe for the classic seafood gumbo he serves up at his flagship restaurant, Emeril's.
This hearty stew is chock-full of shrimp, fish and oysters swimming in a broth richly flavored with gumbo crabs. Just be sure you're not aching to leave the house right after you eat, because this seafood gumbo is as hearty as it gets.
*Recipe courtesy of Emeril Lagasse
3/4 cup

vegetable oil

1 cup

all-purpose flour

1 1/2 cups

finely chopped onions

3/4 cup

finely chopped green bell peppers

3/4 cup

finely chopped celery

2 tablespoons

minced garlic

1 (12-ounce) bottle

amber beer

6 cups

shrimp stock

1/4 teaspoon

dried thyme

2

bay leaves

1/2 pound

gumbo crabs (about 2)

2 teaspoons

Worcestershire sauce

1 1/2 teaspoons

salt

1/2 teaspoon

cayenne pepper

1 pound

medium shrimp, peeled and deveined

1 pound

white fish fillets, such as catfish, grouper, snapper, or sole

1 tablespoon

Emeril's Original Essence

2 cups

shucked oysters with their liquor

1/4 cup

chopped fresh parsley

1/2 cup

chopped tender green onion tops

For serving

white rice
1

Place an 8-quart stockpot over medium heat, and add the oil. Allow the oil to heat for about 5 minutes, then add the flour to the pot. Stir the oil and flour together with a wooden spoon to form a roux. Lower the heat to medium-low and continue to stir the roux for 15 to 20 minutes, or until the color of milk chocolate. Add the onions, bell peppers, and celery to the roux and stir to blend. Stir the vegetables for 5 minutes, then add the garlic. Cook the garlic for 30 seconds before adding the beer and shrimp stock to the pot. Season the gumbo with the thyme, bay leaves, gumbo crabs, Worcestershire, salt and cayenne. Bring the gumbo to a boil and lower the heat to a simmer. Continue to simmer the gumbo for 1 hour, skimming the foam and any oil that rises to the surface.

2

Season both the shrimp and the catfish with 1 1/2 teaspoons Essence. Stir the shrimp and fish into the gumbo and cook for 2 minutes. Add the oysters to the pot and cook, stirring often, for an additional 5 minutes. Taste the gumbo and season if necessary.

3

Garnish with the parsley and green onions and serve in shallow bowls over white rice.
How to Make Cajun Chicken and Sausage Gumbo
I've included the printable recipe below as well as a video detailing how you can make this recipe, but here are the general steps with a bit of additional insight.
I also have included some additional discussion points below to help make sure this recipe ROCKS for you as much as it does for me!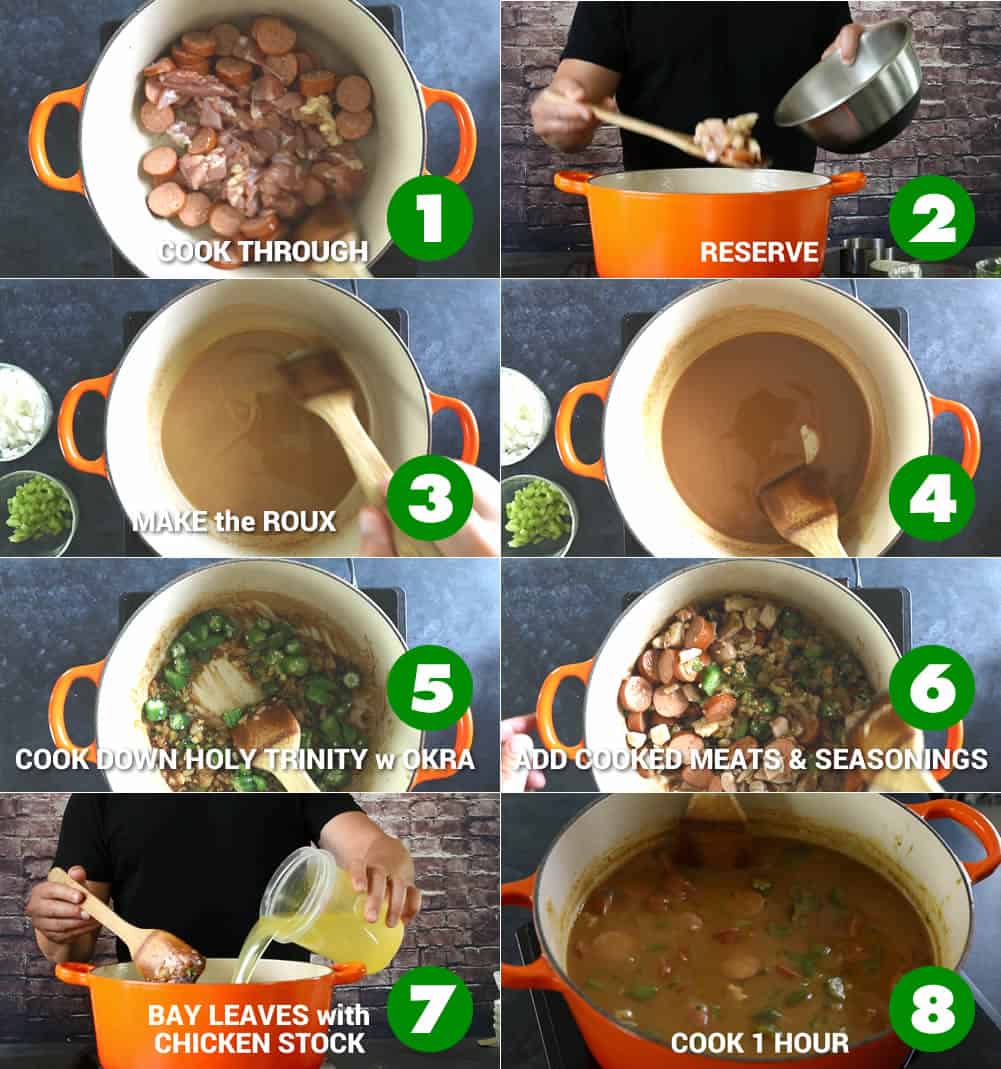 First, heat up a large pot to medium heat and add your olive oil. Season your chicken with a bit of salt and pepper and cook it down in the pot with the sliced andouille sausage. You only need a few minutes per side.
Once the meat is done cooking, remove it from the pot and set aside for now.
Next add a half cup of peanut oil to the pot, then slowly stir in a half cup of flour. Begin to stir immediately, constantly, for 20-30 minutes to darken your roux to the color of a light to dark chocolate.
See below for more information about how to make a great roux.
Next, stir in the peppers, onion, celery and garlic. Give a good stir, then add the okra, Cajun seasonings, chicken stock and bay leaves. The bay leaves bring in a lot of additional flavor. Try my Homemade Cajun Seasoning blend.
Lower the heat and let the whole pot simmer for at least one hour. 1.5-2 hours is fine to develop more flavor, though you may need to add in a bit more liquid.
When you're ready to serve it, swirl in some fresh chopped parsley and let it cook in about 5 minutes or so. Turn off the heat. Stir in the filé powder to thicken up your gumbo even more, if you're using it.
Finally, serve it up in a bowl as-is or over rice, whichever you prefer!
Let's talk a bit about gumbo in general, shall we?
Here is how my roux looks: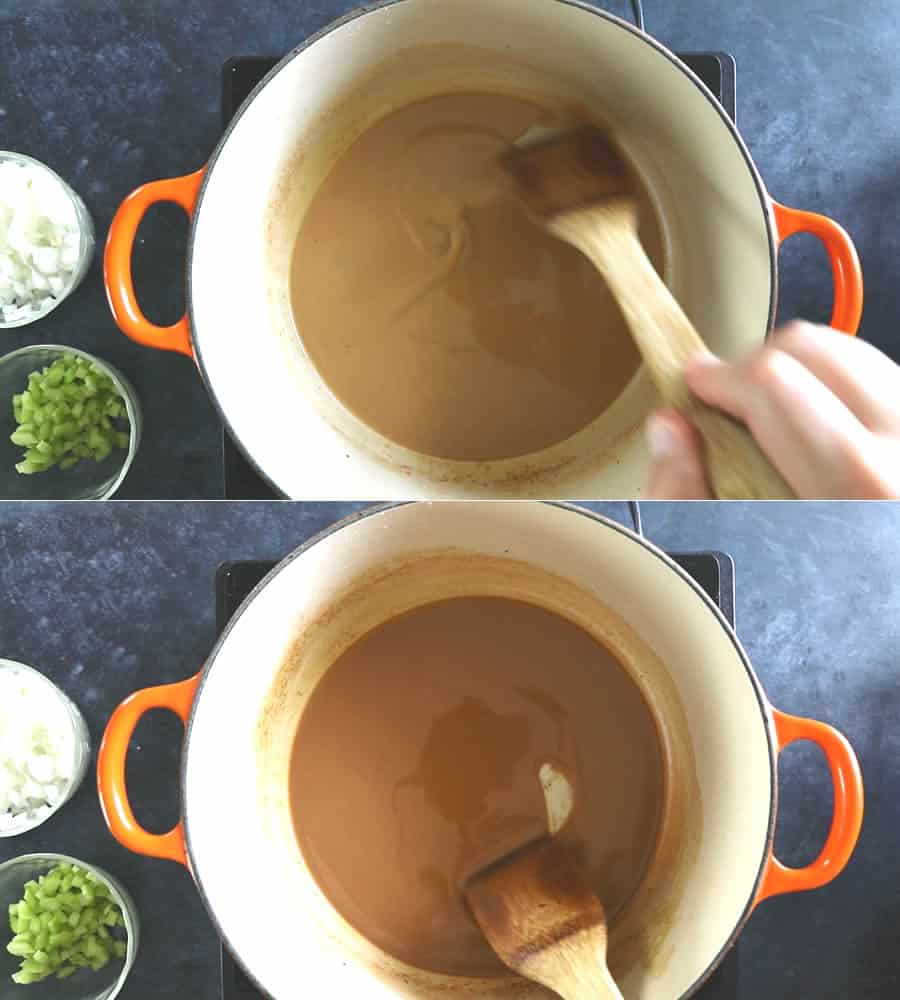 Making Roux – the color darkens the longer you cook and stir. Be sure to stir continuously.
This is after about 20 minutes. If you keep cooking and stirring, the roux will turn to a dark chocolate brown color. A darker roux will result in a thinner final gumbo in most cases.
Patty's Perspective
The biggest reason I LOVE Gumbo is because it is packed with more flavor than practically anything I can think of. Mostly everything breaks down into the liquid and there is an unbelievable flavor explosion when you taste it. I like all types of meats added in and even vegetarian or seafood versions, but I'm a sucker for andouille so this gumbo is tops in my book. I wish I could eat this every day, but then I fear it would make all other food taste bland.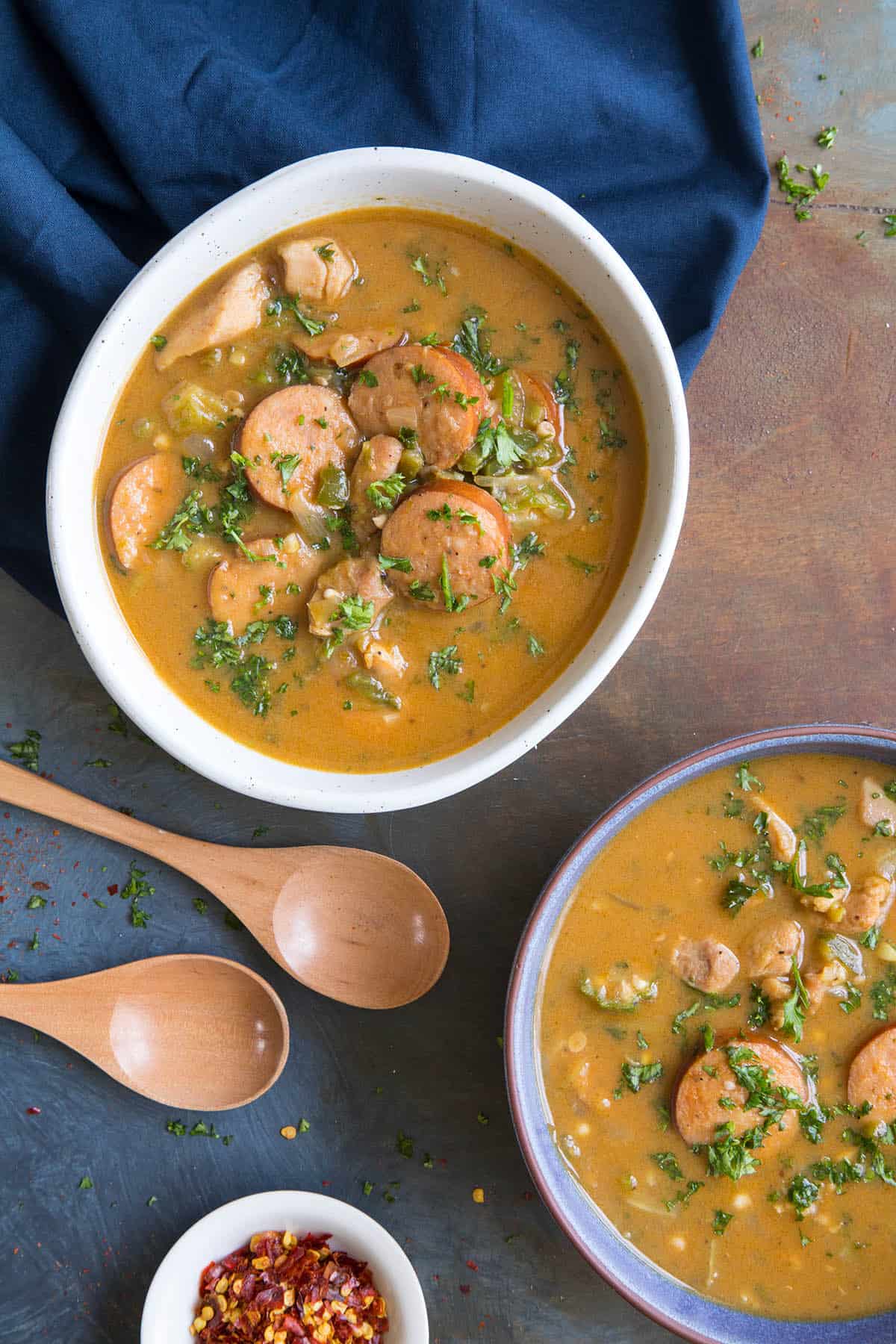 Check out the Cajun Chicken and Sausage Gumbo Video Recipe (Longer Version – about 4 Minutes)
If you enjoy this recipe, I hope you'll leave a comment with some STARS. Also, please share it on social media. Don't forget to tag us at #ChiliPepperMadness. I'll be sure to share! Thanks! — Mike H.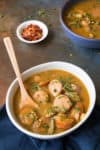 Keyword: cajun, gumbo, one pot
1

teaspoon

olive oil

1

pound

chicken thighs

chopped – chicken breast is good, too

Salt and pepper

to taste

12

ounces

andouille

sliced into ¼ inch slices

½

cup

peanut oil

or vegetable oil

½

cup

flour

1

medium bell pepper

chopped

1

medium onion

chopped

1

medium celery stalk

chopped

3

cloves

garlic

chopped

1

cup

okra

I used frozen

2

tablespoons

Cajun seasoning

or more to taste

6

cups

chicken stock

3

bay leaves

4

tablespoons

chopped parsley

+ more for serving

1

tablespoon

filé powder

or to taste if desired

For Serving: Cooked white rice if desired
Heat a pan to medium heat. Add 1 teaspoon olive oil and heat.
Season chicken with salt and pepper and add to the pan along with the sliced andouille. Cook a couple minutes per side until browned. Set aside until ready to use.
Add ½ cup peanut oil to a large pot and heat to medium heat. Add flour and stir. Cook for 20-30 minutes, constantly stirring, until the roux browns to the color of chocolate.
Add peppers, onion, celery and garlic. Stir and cook about 5 minutes.
Add chicken and andouille. Stir and cook for 1 minute.
Add okra, Cajun seasoning and chicken stock. Scrape up the brown bits from the bottom.
Add bay leaves and cook at medium-low heat for 1 hour to thicken. You can simmer longer if you'd like.
Stir in parsley and cook 5 minutes.
Remove from heat and stir in filé powder, if using.
Serve into a bowl, over white rice if desired, and garnish with extra parsley.
Heat Factor: Mild, though it is HUGE on flavor with the Cajun seasonings. You can make your own spicy Cajun seasoning blends. See my recipe – Homemade Cajun Seasoning. 
If you'd like a spicier version, add in cayenne powder (or a hotter chili powder) as well as spicy chili flakes. You can also add in spicier chili peppers along with the bell peppers for some additional zest factor.
Cajun Chicken and Sausage Gumbo – Recipe Calories 677 Calories from Fat 450 Total Carbohydrates 22g 7% * Percent Daily Values are based on a 2000 calorie diet.