I've been on a Middle-Eastern cuisine kick lately. Having lived a part of my childhood in the Middle-East, I grew up on an amazing array of dishes and street-foods that consisted of Kebabs, Shawarmas, Fatayer, Kibbeh, Murtabak, Shish taouk, Hummus, Tabbouleh and Falafel. Oh how I miss it!! I also realized that I've never posted anything from that region here on my blog, so I dug through my repertoire of recipes and came across my mom's falafel recipe and gave it a whirl.
A Falafel is essentially a deep fried fritter or patty made of ground chickepeas…better known as garbanzo beans here in the States, or fava beans or a combination of both.  It is a popular street-food eaten as is or dipped in hummus or a tahini sauce.  It's crunchy on the outside from the deep frying but delicately moist and nutty with refreshing burst of fresh herbs and spices as you bite into them. Mmmmm….
Another popular version of this dish is to stuff falafels in a pita pocket with hummus, a little salad of tomatoes and cucumbers, pickles and tahini sauce drizzled on top and eaten as a wrap. It's like a veggie burger…but waaaaay better!
Falafels are a great fairly (considering the deep frying) healthy, gluten-free, vegetarian snack that won't leave you craving any meat at all. Take it from a meatetarian! Make a slightly bigger version of a falafel and you have a great veggie burger patty!
Middle Eastern Falafel
If you've ever bitten into a crisp and nutty, falafel-laden pita, rounded out with veggies and topped with a creamy sauce, then you probably know that there is just something about falafel that makes them SO crave-worthy.
For a long time, we would seek out falafel from street vendors whenever we got a craving. Since we're not huge fans of deep-frying at home, we thought that falafel would be difficult and tedious to make.
But, now that we've conquered the recipe, we're doing a serious happy dance, because we have a secret.
We can have falafel whenever the craving strikes.
With only a little forethought, and a little, SIMPLE prep-work, our falafel cravings can be met!
A Little History Of Falafel
Falafel is a Middle Eastern appetizer made of a bean paste that has been deep-fried.
Traditionally falafel was made from fava beans, and in Egypt it is still made that way today. Other places in the Middle Eastern world now make their falafel out of chickpeas (or a combination of chickpeas and fava beans).
This chickpea version is the one that has become widely popular in the Western world over the past few years. In the Middle East, these patties are traditionally served with hummus and tahini.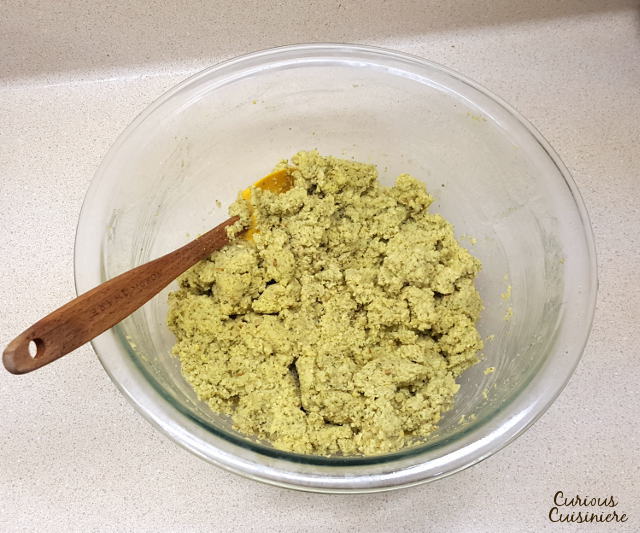 Sure, it might not look too pretty, but your falafel dough should be fluffy and want to stick together. It is important to make sure you grind it until it reaches this point!
Making Homemade Falafel: Two Methods
There are two types of recipes you will find if you browse for a falafel recipe. The most common uses canned chickpeas, but the more traditional method uses dried chickpeas.
Cooking beans releases their starch, and starch is what traditionally acts as a binder for falafel.
If you use canned chickpeas, which have already been cooked, the starch has already been released. Because of this, you have to mess around with other binding agents to get your falafel patties to stick together. Most commonly, these recipes use flour and baking soda to bind the beans together, some recipes will even use eggs. When going with this version, you will find yourself doing a very delicate dance with the binding agents. Will the patties stick together or not? You might not know until you drop the falafel into the hot oil.
Let's just say, there's a reason that these patties are traditionally made with ground, uncooked beans.
Using uncooked beans means that the starches are released as the patty cooks, holding it together and giving it that wonderfully fluffy texture.
You don't want to be grinding dry chickpeas though. (Take our word on that one.) The beans need to be soaked in water for 12-16 hours. When soaked, the chickpeas will absorb water, doubling or tripling in size and softening considerably. They soften so much that, after soaking, it is possible to grind these uncooked beans into a thick paste.
If you grind them fine enough, they only need a little heat to become soft and tender falafel patties.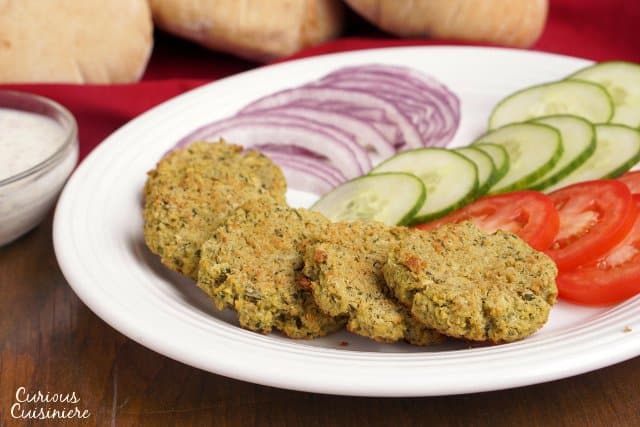 Freeze Some Falafel For Later
Leftover falafel dough can be stored in a sealed container in the freezer for up to 1-2 months. Thaw it completely before cooking.
Or, shaped falafels can be frozen on a sheet pan. Once solid, they can be transferred into an air-tight container and stored in the freezer for 1-2 months. Thaw the patties completely before cooking them the same as you would if they were fresh.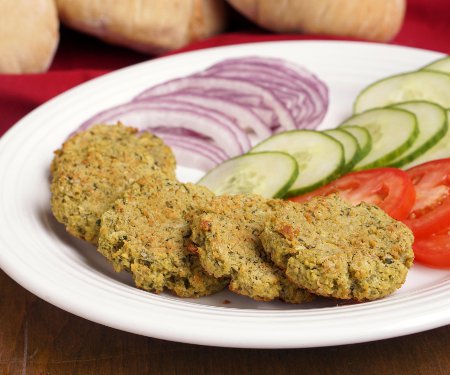 1

c (1/2 lb)

chickpeas,

dry

1 ½

tsp

lemon juice

¼

c

fresh parsley

or 1 Tbsp dry

¼

c

fresh cilantro

2

garlic cloves,

minced, or ½ tsp garlic powder

½

onion,

quartered

1 ½

tsp

cumin

1 ½

tsp

ground coriander seeds

1 ½

tsp

salt

¼

tsp

ground black pepper

1/8

tsp

cayenne

(optional, or more if you like spicy falafel)
Tomato slices

Pita bread

Lettuce

Red onions,

sliced

Hummus

or tahini sauce
Place the chickpeas in a large container and cover with 4 inches of water. Let them soak for 24 hours.
Drain the chickpeas and place them in the food processor. Add the remaining falafel ingredients into the food processor and process until the mixture is smooth and uniformly ground, adding a little water as necessary for the dough to stick together. (We needed 2 tsp.) 

Shape the dough into balls, using roughly 2 Tbsp of mixture each. Press each ball into a 1/2 inch thick patty. Place the shaped patties on a greased baking sheet and let rest for 15-30 minutes.
Preheat your oven to 375F.

Place the shaped falafel on a well greased baking sheet. Brush the tops of the falafel patties with olive oil. 

Bake the falafel for 20-25 minutes, until golden on the bottom and lightly golden on the top and edges. (If desired, flip the patties, carefully, after 15 minutes for better browning on both sides.)
Heat ½ inch of oil in a frying pan (or saucepan) over medium heat to about 350F. (To test if the oil is hot enough, pinch a little of the dough and put it into the oil. If it sizzles and browns slowly, then your oil is ready. If it turns dark very fast, then your oil is too hot.)

Gently drop the shaped falafel patties into the hot oil. Fry for 2-3 minutes on the first side. Turn the falafel in the pan and fry for an additional 1-2 minutes on the second side.

Remove the cooked falafel from the oil and place on a paper towel lined plate. Continue until all falafel have been fried. (You can fry more than one at a time, just be sure not to overcrowd the pan.)
Serve the falafel with hummus and vegetables or make a sandwich with pita bread and your favorite toppings.
This recipe from April 2016 was updated May 2017. We made the falafel even more tasty! Enjoy!
We've updated our pictures since we first shared this recipe, but we've left the original images here as a fun throwback. Enjoy!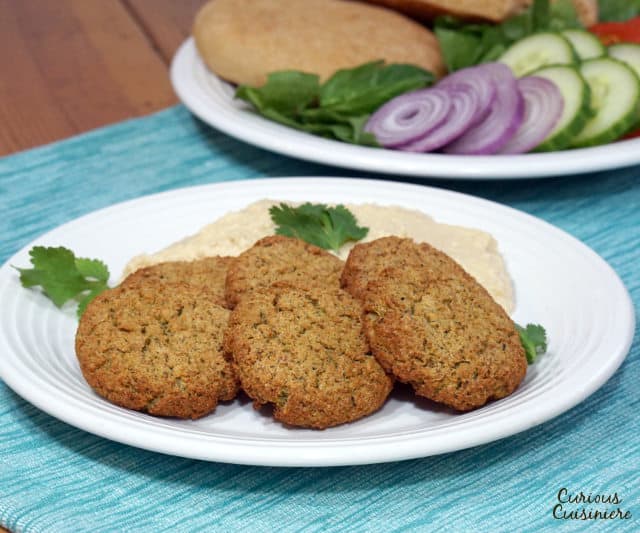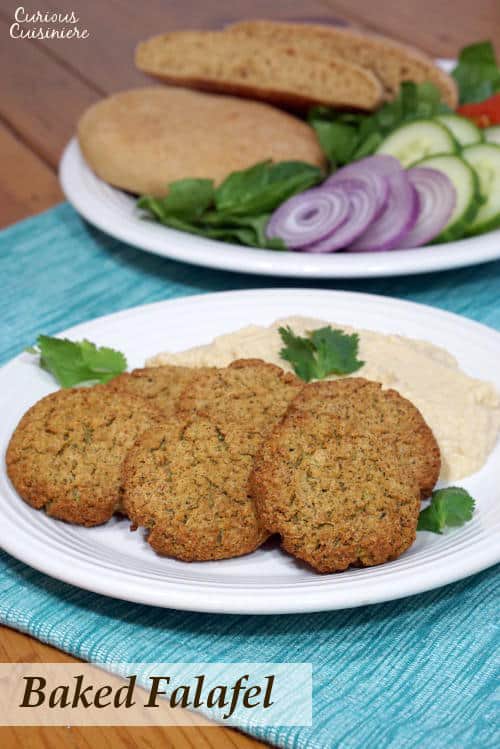 The rainbow bagel trend, admittedly, isn't my favorite — neon just isn't that appetizing to me, and I've always been suspicious of too much food coloring. I do love colorful foods, though — as long as those vibrant hues come from things like spices, herbs, flowers (like these fuschia hibiscus donuts!), fruits and vegetables.
While making falafel the other day, we were inspired by the bright shade of green that resulted from just a few handfuls of fresh cilantro and parsley. We were using our friend Sandy Leibowitz's recipe for falafel sliders, which is so easy and delicious that we decided to try and make other shades of falafel.
Working with a base of chickpeas, spring onions and a light handful of herbs, we added turmeric and beets to create different colors. Turmeric, of course, turned our falafel bright yellow and gave off a delicious, fragrant aroma. In our next batch, we added a small cooked beet, yielding bright pink.
In a food world that's buzzing about flamin' hot Cheetos bagels and unicorn food, we're proud to bring a slightly less flashy rainbow-hued meal to the table.
Rainbow falafel certainly doesn't stop here — how about harissa paste for a bright orange falafel, or spirulina powder for a sea foam green? Now go get cooking, er, frying.
Note: This recipe is inspired by Sandy Leibowitz's recipe for falafel sliders. 
For classical (green) falafel:
1 ½ cup dry chickpeas (soaked overnight)
½ cup fresh flat-leaf parsley leaves
½ cup fresh cilantro leaves
½ cup fresh mint leaves
½ cup scallions, sliced (white and light green parts only)
2 tsp garlic, minced
2 tsp kosher salt
1 tsp ground cumin
1 tsp ground coriander
For the yellow (turmeric) falafel:
1 1/2 cups garbanzo beans (soaked overnight in water)
1 small bunch fresh parsley
4 cloves garlic
1 tsp salt
2 tsp cumin
1 tsp dried turmeric
1/4 tsp freshly ground black pepper
pinch cayenne pepper (optional)
For the pink (beet) falafel:
1 ½ cups garbanzo beans (soaked overnight in water)
2 cups beets, chopped and microwaved for 8 min or steam till slightly cooked
2 tsp paprika
2 Tbsp cilantro finely chopped
2 garlic clove finely chopped
2-3 Tbsp unbleached all-purpose flour or chickpea flour
Vegetable oil for frying
Pita bread for serving (optional)
Israeli salad for serving (optional)
Pickles for serving (optional)
Tahini for serving (optional)
Directions
The night before you are going to make falafel, soak the dry chickpeas in a bowl with at least 3 inches of water covering them.
When you are ready to start making the falafel, drain the chickpeas from the water and ensure they are very dry. Pat them dry with paper towel or dish towel to remove an excess water.
To make the classic falafel: Place chickpeas, herbs, garlic and seasoning in a food process fitted with blade attachment. Pulse until they start to bind.
To make the yellow falafel: Place chickpeas, parsley, garlic, spices and seasoning in a food process fitted with blade attachment. Pulse until they start to bind.
To make the pink falafel: Place chickpeas, beets, cilantro, spices and seasoning in a food process fitted with blade attachment. Pulse until they start to bind.
Allow falafel mixture(s) to sit in fridge 15 minutes.
While falafel is sitting in fridge, heat vegetable oil in large pot or deep fryer on medium-high heat (around 350 degrees if using a thermometer).
Form falafel into approximately tablespoon-sized balls. Balls should be roughly the same size so they cook evenly.
Fry until golden all over, around 3-4 minutes.
Remove from oil and drain on paper towel. If desired, sprinkle lightly with salt while still hot.
Serve with pita bread, Israeli salad, pickles, tahini, fresh herbs or French fries if desired.
Love Jewish food? Sign up for our Nosher recipe newsletter!