At age 16, I wanted a job. So I did what any 16 year old would do before the internet, I looked at the employment section in the newspaper. It's hard to imagine a time before the internet, where jobs were listed in a newspaper.
Since I was in high school, I couldn't work during the day. So an Avon sales ad caught my attention. No age discrimination and I could make money in high school!
I applied, got my territory and ordered my sample supplies.
For those that haven't heard of Avon, they sell cosmetics, toiletries, seasonal items and decor – door-to-door. Well, back then it was that way, but today Avon sells online and even in mall kiosks!
The job was a creative way to make money and it was fun.
I rang doorbells within my assigned territory, passed out brochures and sample products like packets of lotion, tiny lipsticks and bubble bath. Both men and women placed orders with me and when the merchandise came to my home, I delivered the products to my customers. 
Selling Avon Products was a great way to make money in high school. I loved my high school job, I made good money as a teen and had tons of cool samples to try!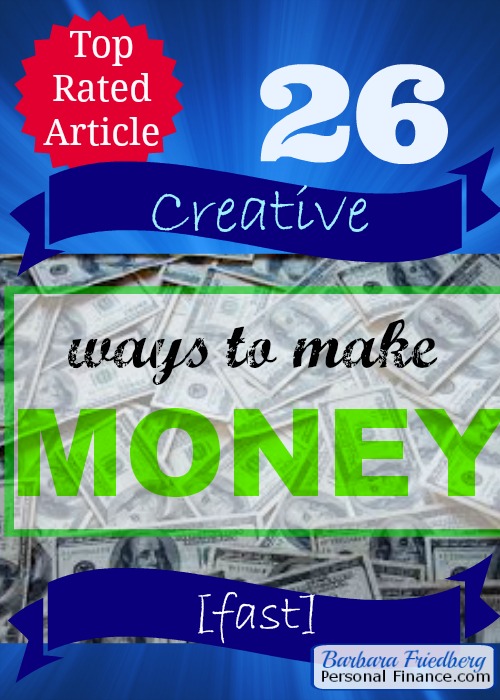 Decades later I realize that my success as an entrepreneur and investor began with that first job. I learned the importance of earning, multiple streams of income and saving. And, as I got older and began investing, I learned the power of making your money work for you.
If you're in high school, college or older there are work at home job ideas as well as creative ways to make money fast. Even if you have a job, earning more is a path towards financial security and independence. 
Start today with these creative ways to make money fast. Perfect how to make money for teenagers on up to senior side hustle jobs. And there are great strategies to make money while in college full time too!
Quick ways to make extra money
Here is a detailed list of a few side hustles you can actually start today to bring an extra $50 to a $100 per day. This will work if you are committed to working hard on it. The extra money earned can be used to make good money decisions such as:
Paying off debt

Saving money for big purchases – car, house

Paying off unexpected expenses 

Paying off student loans and more or maybe a vacation
Rent out your home or extra room // 1
Some quick ways to make extra money if you need it fast is to put up a listing on AirBnB and rent out any extra space you may have in your home. You can charge anywhere between $100.00 up to $150.00 depending on where you are located. This is how I made a few extra cash over the holidays to pay for gifts. Check out this amazing opportunity here.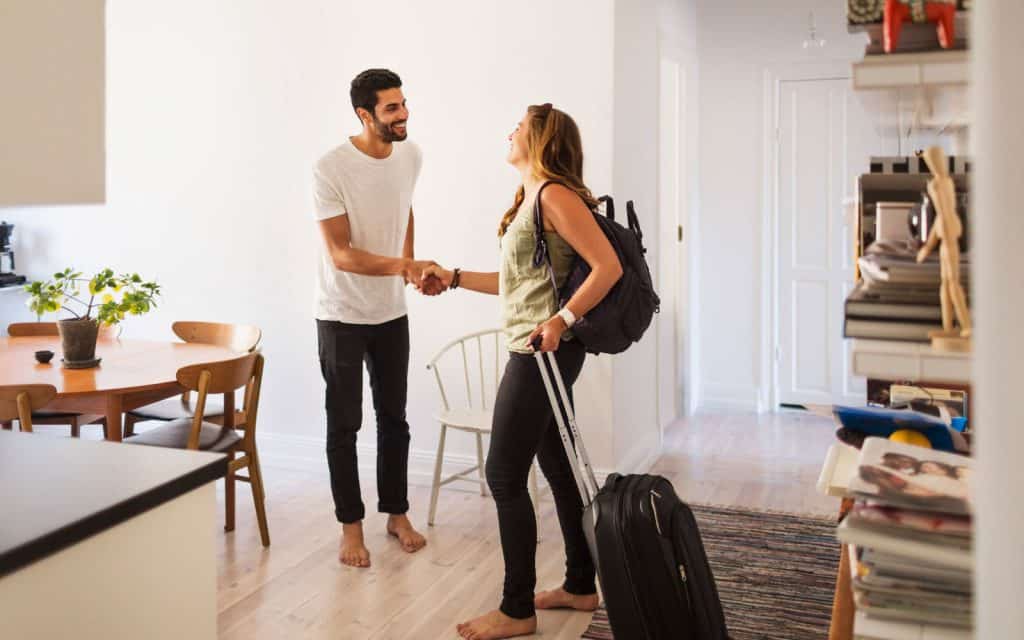 Start a side hustle such as a blog // 2
If you do not already have a blog, I highly suggest starting one today! I earn a steady income on my blog every month and you can read more about this in my monthly online income reports. You can create your own blog here with my easy-to-use tutorial. You can start your blog for as low as $3.95 per month plus you get a free domain if you sign-up through my tutorial. Also, I have a free How To Start A Blog email course that I highly recommend signing up for. 
This is one of the many quick ways to make extra money from home.
You can easily make an extra $50.00 per day with a blog. 
Teach English online // 3
So many people are choosing to tutor online students as one of the many quick ways to make extra money on the side. This amazing side hustle has a flexible schedule and they pay up o $22.00 per hour. You can teach English as a second language all from the comfort of your home. As you can see, you can easily make at least $50.00 per day if you commit to putting in 2-3 hours a day of work – start today.
Other quick ways to make extra money is to sign up for other tutoring companies like Magic Ears!, QKids and SayABC! The more companies you sign up with, the better. 
You might also like:
TEN Ways I ACTUALLY Make More Money online
2 easy ways to get money without the 9-5
How to make $50, 000 a year with wedding planning
#Bossbabes: 5 Creative ways to make money from home
10 non-icky ways I made money on my small blog
10 Creative ways to make money really fast
5 Ways to make money with your phone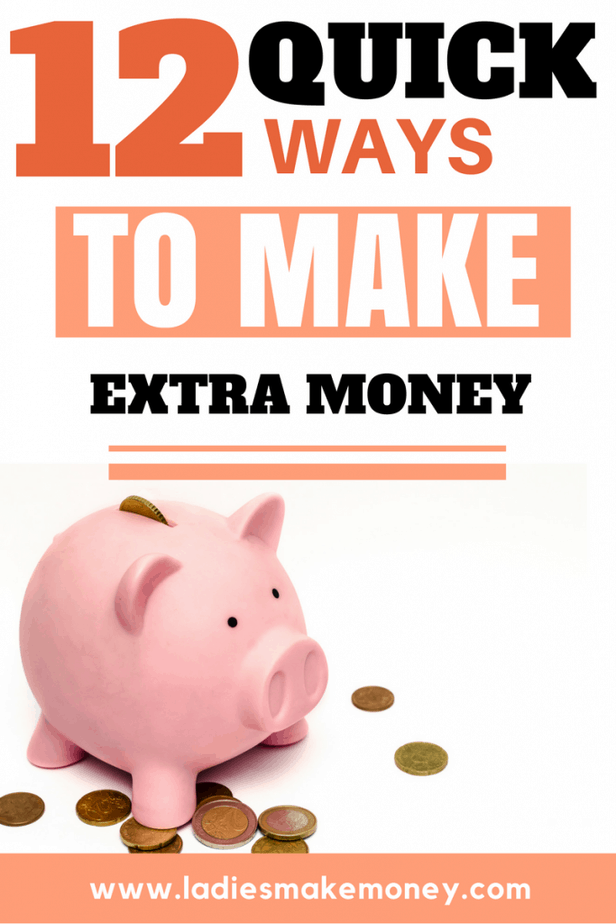 Bartend on your free nights // 6
Get a part-time job that won't take up too much of your time. Again this is an outside job but I had to include it. When I use to bartend at events (weddings), I would make a good $300 on a good night. This was just pocket money. Consider picking up extra shifts if you can. Check out  Monster.com. 
Consider Bartending as your option as one of the quick ways to make extra money as it is one job that is always in demand. The tips are really good, the hours not so good. 
PS: Want to start a career working from home? Get all the details here! 
Sell your courses online // 10
Are you good at something? You can create a course on Teachable and sell it online for a profit. People are eager to learn and they will pay for online courses especially if you are given amazing information. It is way cheaper than going to college or paying for long classes at a university. Which means that they will rather pay for your course. You can teach anything online. 
Check out this Travel blogger: Teaching people about traveling around the world. 
And this fashion designer: Fashion restyling course. 
We have an amazing course on how to make money blogging: From Hobby to Biz.
Go ahead and sign up for a FREE TEACHABLE account here and think of something creative to teach. It is really one of several quick ways to make extra money from home. 
Get paid to post on social media // 11
Yes, this is not just for celebrities. You can also make money online by posting on social media. Do you have a large influence on social media? Specifically Twitter and Instagram? Why not make some serious money from them.
Sign up for a FREE account on IZEA. You can also sign up for Maven and make some serious money. If you have a blog, be sure to include it on your profile for more sponsored paid opportunities. We have many ideas on quick ways to make extra money from home and social media is definitely it.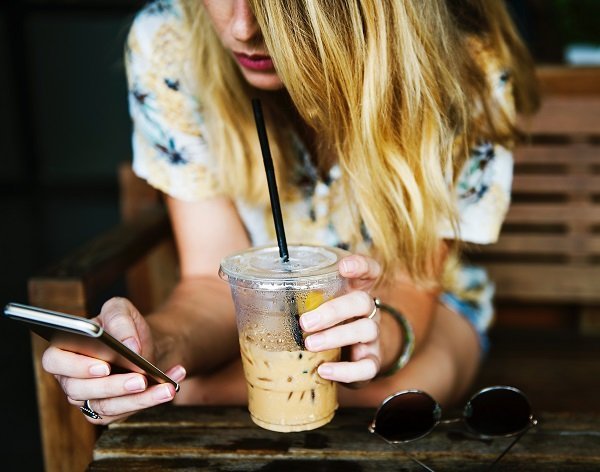 Become a Pinterest Virtual Assistant //12
Pinterest is so popular among online businesses and bloggers and thatès why you need to join everyone if you are looking for quick ways to make extra money from home. Mastering Pinterest is such a difficult and time-consuming task for many bloggers and online businesses. Your job as a Pinterest Virtual assistant can range broadly such as:
Planning, promoting and scheduling pins

Graphic designs 

Editing old graphics on older blog posts 

Researching keywords

Manual pinning and more
Become a Pinterest Virtual Assistant now. You can make a lot of money easily as this is such a popular request. 
There you have it, 12 quick ways to make extra money every day from home. Pin this to your money making board so you can refer back to it.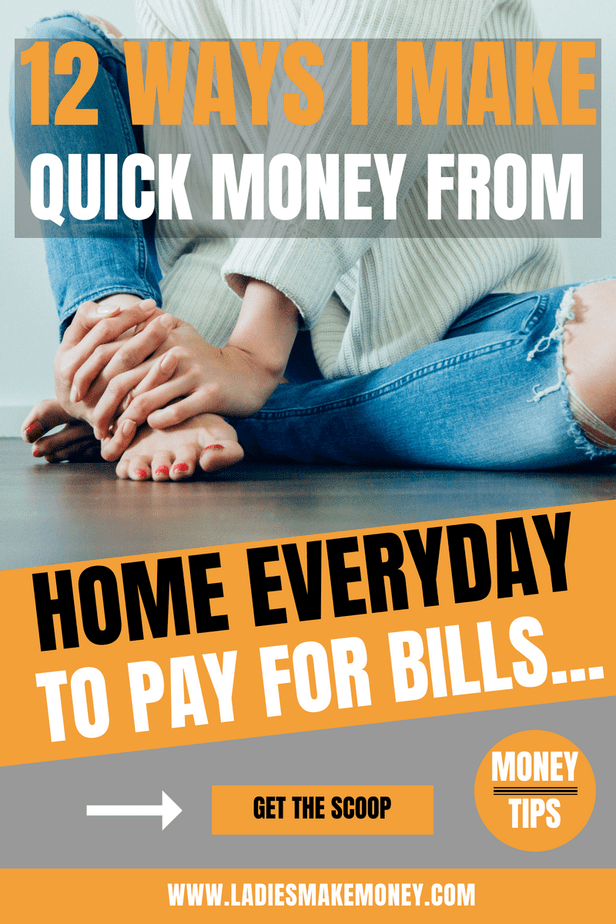 Read this too: 
If you are looking for more quick ways to make extra money from home, we have a lot more posts here. Just click over at "Make Money Online."
If you enjoyed our blog on 12 quick Ways to make extra money, we would like to have you join our email list and receive weekly money-making tips, you can join now! Don't forget to join our Private Facebook page. The page is created to share your work, pitch your services and learn from other experienced bloggers!
***We would like to note that this post and most posts on our blog may contain affiliate links. This means that if you purchase something that has an affiliate link, we will get a commission from it. Not all items recommended on our site are affiliate links. We only recommend items that we have used and tried. These items have brought us much success and we highly recommend them to you in order to be successful. Thank you for your trust!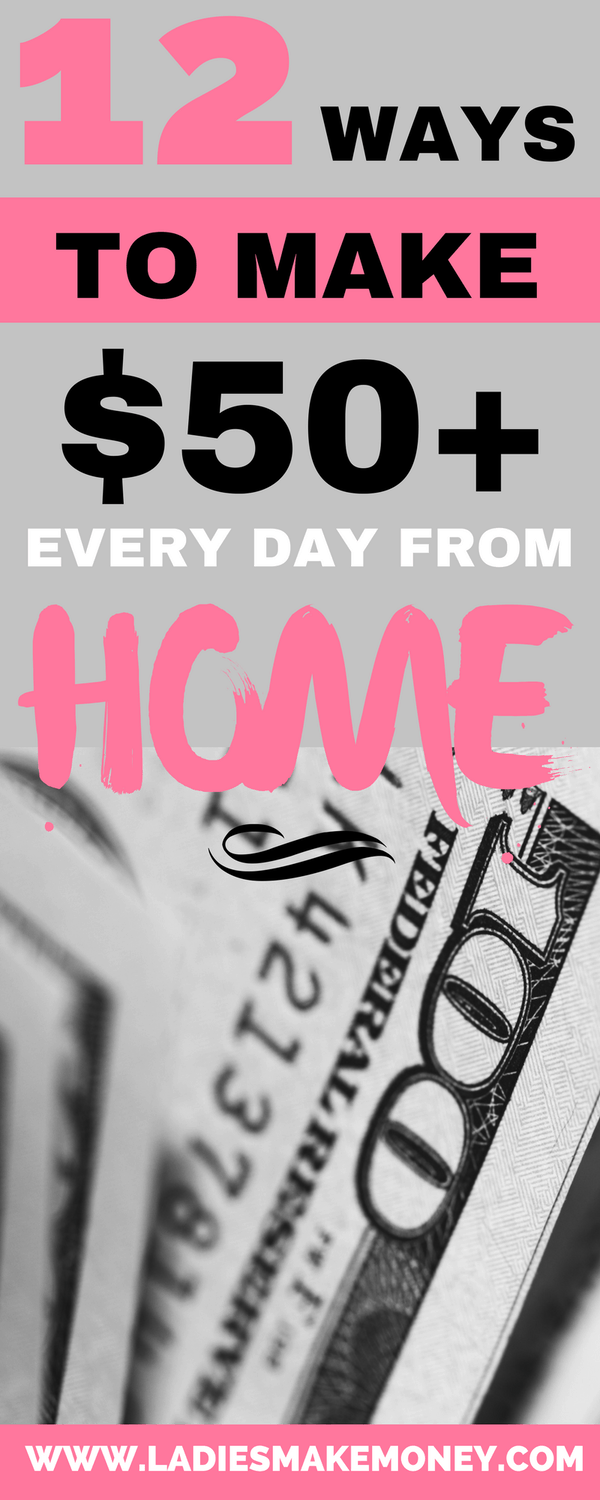 2. Use Cashback Apps
Cashback isn't just something credit card companies offer. There are several apps on the market that are geared toward giving you cashback for your everyday purchases.
Some cashback apps require receipt scanning and other apps work as cashback portals. Try out several different types in order to get the greatest return.
To get you started, check out these more popular cashback apps:
Ibotta (Registration Bonus: $10 when you claim your first receipt using promo code qFTVA)
Shopkick (Registration bonus: 250 Kicks)
Fetch Rewards (Registration Bonus: $1.50 with promo code HH3MN)
Drop ( Registration Bonus: $1 when you link your first card)
TopCashBack ($10 sign-up bonus)