Jump to Recipe Print Recipe
This Delicious Ground Turkey Empanada Recipe will become your fave ground turkey recipes for go to snack or game day food!  They are filled with flavor and the flakiest crust ever!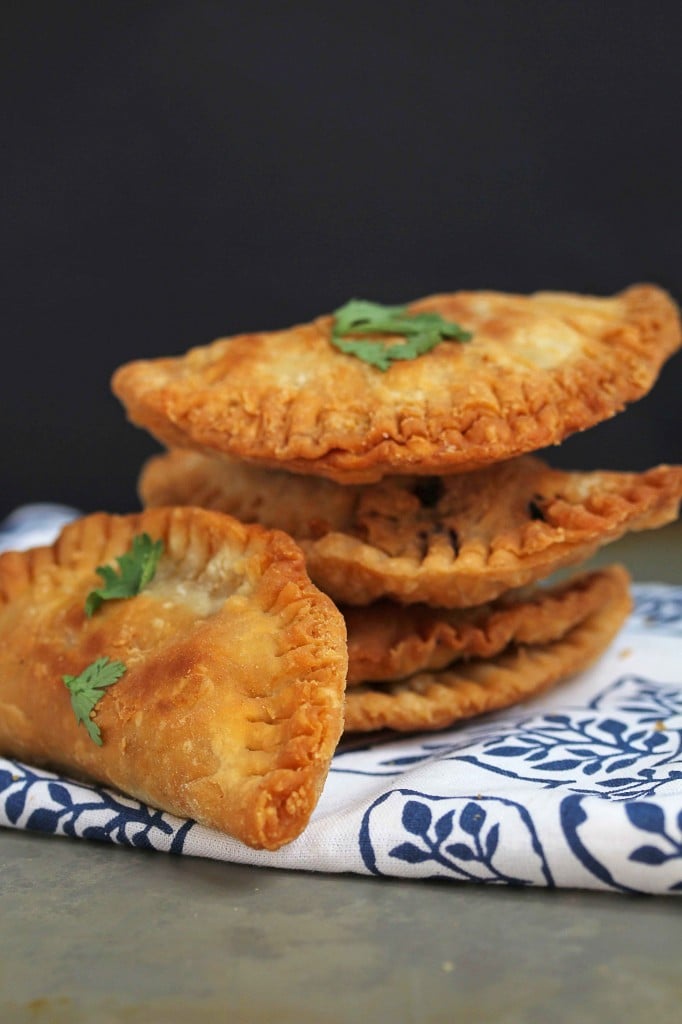 Why Ground Turkey Recipes?
For the last few weeks, I have been working on adding more ground turkey into my recipes because it is leaner and simply delicious.  Recently I began craved empanadas.  Seriously craved them!  I decided to search high and low for a recipe that would just "work" because I never made them.  I have ordered my fair share of empanadas at Mexican restaurants but making them was a different story.  I am so glad I took the plunge and tried a great empanada recipe, and I am pleased to present it to you.
I decided to used ground turkey because I had a tone of it in my freezer, and I am always in search of great ground turkey recipes. Also, ground turkey is a leaner option than ground beef of pork. So, I figured I would kill two birds with one stone and create one of the best healthy ground turkey recipes on the net!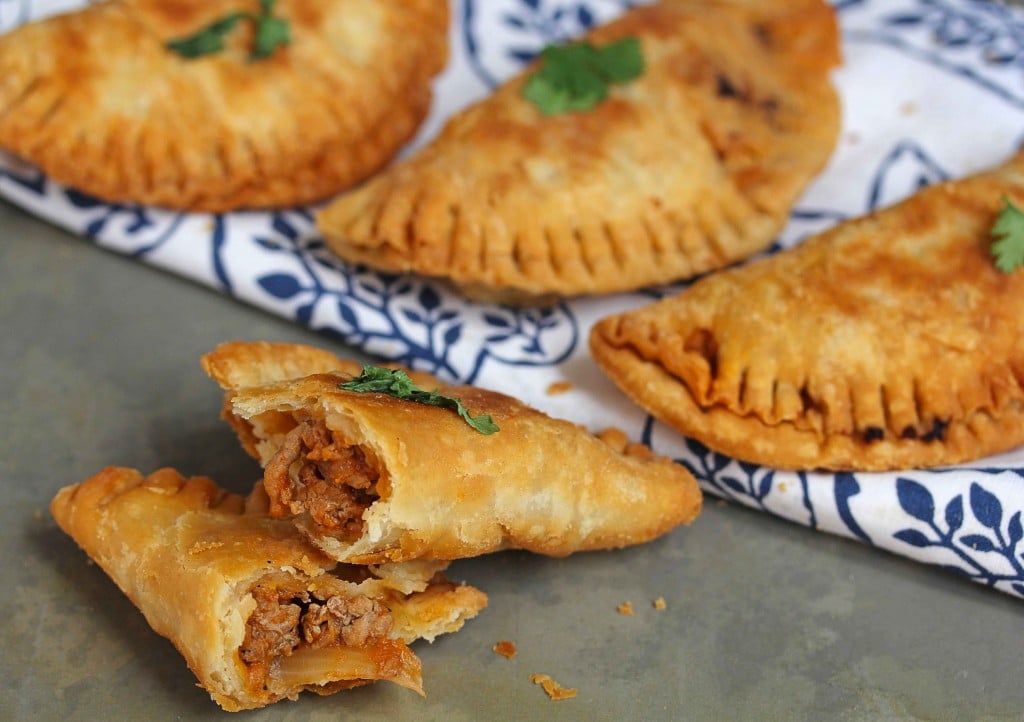 Secret to a Flaky Crust
When I first read the recipe for Beef Empanadas from Leite's Culinara, I knew I found a winner for adaptation.  I know great pie dough when I see it so I knew this one was great since it is very similar to my homemade pie dough.
The vinegar in it is key to the flakiness, and I also add an egg yolk to mine to make it tender.  I did however omit the sugar because I tend to dislike sweet pastry crust in savory dishes.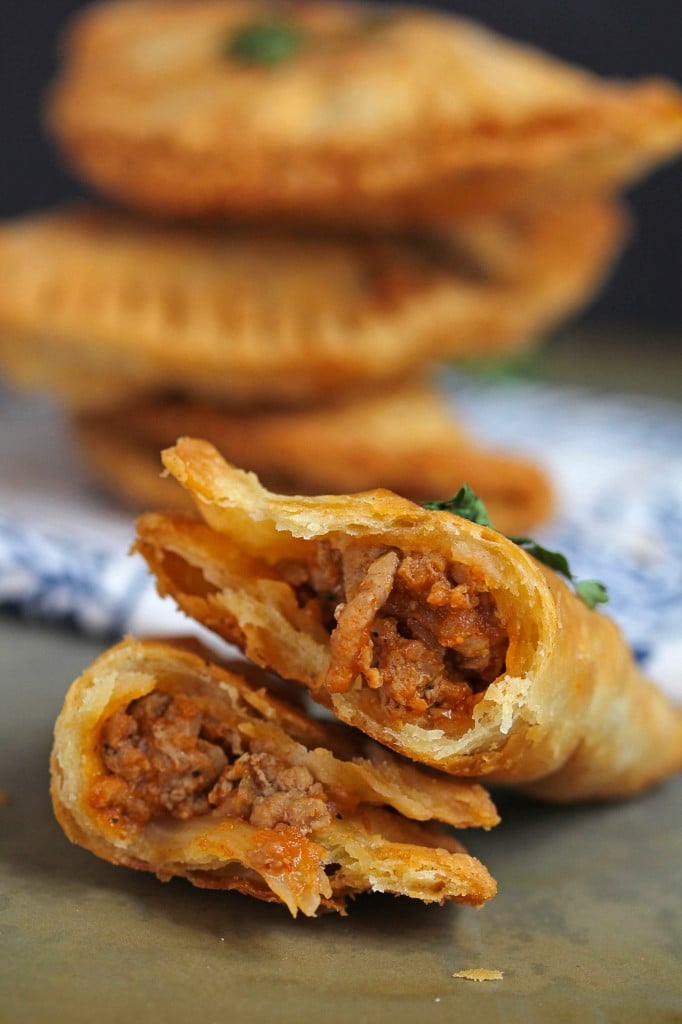 For the filling, I replaced the beef with ground turkey and jazzed up a few of the flavors.  I also omitted the raisins and olives because I didn't have any on hand.  I added a tiny bit of paprika as well to the filling to punch up the flavor just a bit.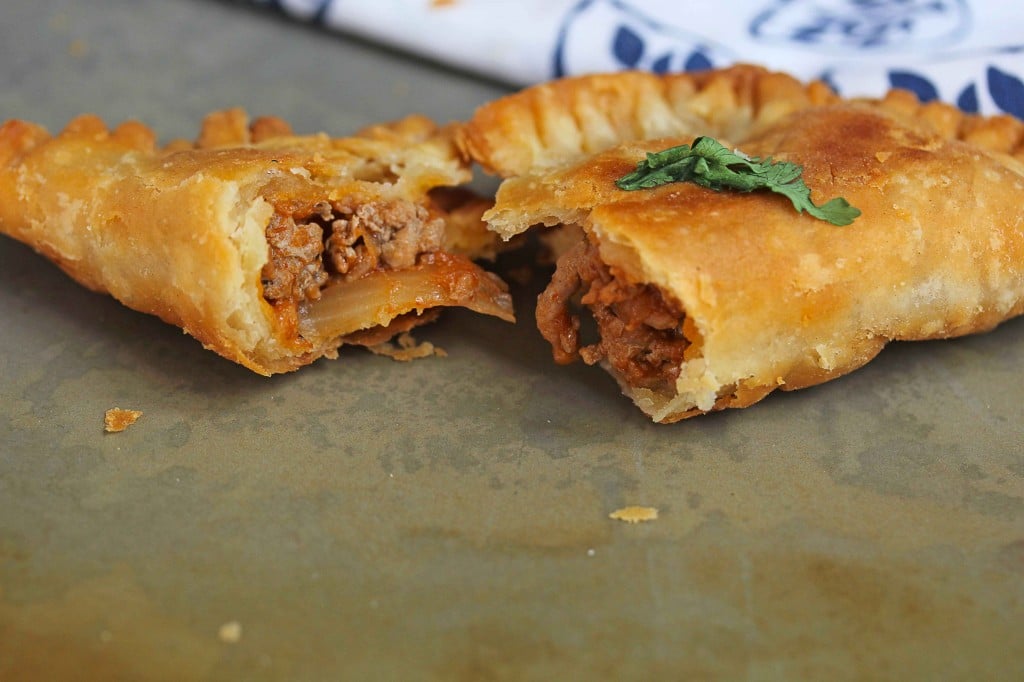 After rolling out the lovely dough and adding in the filling, I crimped the sides and fried them until golden brown.  This Ground Turkey Empanada Recipe was so delicious.  I really loved the flavor of the flaky crust paired with the amazing juicy filling.
Using the ground turkey was an awesome choice too.  It lightened the recipe a little which is hard to do when you are deep frying pie dough.  Thanks to this ground turkey empanada recipe, my empanada cravings have ceased, and I have a mainstay whenever they decide to resurge.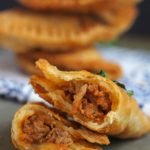 Keyword: crowd pleasers, game day, turkey
2

cups

unbleached all-purpose flour

plus more for dusting

1

teaspoon

salt

4

ounces

unsalted butter, cold, cut into small pieces

1 stick

2

large

eggs

1

tablespoon

cold water

1

teaspoon

white vinegar
1

tablespoon

peanut, corn, or canola oil

1

small

yellow onion

chopped

1

clove

garlic

minced

1/2

pound

ground turkey

1/2

tablespoon

tomato paste

1/2

teaspoon

paprika

1/4

cup

homemade chicken stock or low-sodium chicken broth

Kosher salt and freshly ground black pepper to taste

Corn or canola oil for frying
Combine the flour and salt in your food processor and pulse a couple of times. Add butter and pulse until it resembles coarse meal.
Lightly beat the eggs with the water and vinegar. Add to flour crumbs and pulse until dough forms. Turn the dough onto a lightly floured work surface and gently knead for 2 minutes. Wrap the dough in plastic wrap and refrigerate for 1 hour.
In a large skillet, heat oil over medium heat. Add onion and garlic and cook until onion softens. Add ground turkey, crumble and cook until pink is gone. . Drain of grease. Stir in tomato paste then add stock or broth and paprika simmer until the liquid almost evaporated, about 3 minutes. Season to taste with salt and pepper. Remove from the heat and let cool.
Roll the dough on a generously floured work surface until it's about 1/8 inch thick. Cut the dough into 3-inch rounds with a floured biscuit cutter or glass, stamping out as many rounds as possible. Roll out any dough scraps and cut out additional rounds if possible. Brush any excess flour from the dough rounds.
Working with 1 round at a time and keeping the rest covered with plastic wrap, spoon about 2 teaspoons filling on one side of the dough round. Fold the dough over to enclose the filling and crimp the edges with a fork to seal. Cover with plastic wrap while you form the remaining empanadas. [The filled, uncooked empanadas can be frozen on a baking sheet, and stored in an airtight plastic bag or container for up to a month. You'll need to bake the unthawed empanadas, rather than fry them, in a 350°F (176°C) oven for 20 to 25 minutes.]
Preheat the oven to 200°F (93°C). Pour enough oil into a deep-sided pot to reach a depth of about 1/2 inch and heat until it registers about 325°F (163°C) on a deep-fry or candy thermometer.
Fry the empanadas in small batches, turning them once, until browned and crisp, about 2 minutes per side. Transfer the empanadas to paper towels or a brown paper bag to drain for a few moments, and then transfer to a baking sheet. Place the fried empanadas in the oven to keep warm while you fry the remaining empanadas. Serve at once.
Ground Turkey Empanada Recipe Calories 288 Calories from Fat 135 Total Carbohydrates 25g 8%* Percent Daily Values are based on a 2000 calorie diet.

pinterest  

facebook  

twitter  

plusone  

email  
Sweet empanadas
You've heard of empanadas, those tasty, Latin American pastries that are often stuffed with meat, cheese, or potatoes. The name empanada comes from the Spanish word empanar, meaning "to wrap or coat in bread".
Empanadas can be found throughout Latin America, and each country has their own unique take on the empanada dough, shape, and filling.
How to make pumpkin empanadas
Pumpkin empanadas are often served at Mexican-American Thanksgiving celebrations as well as for their Christmas feast.
Traditional pumpkin empanads would be made with leftover pumpkin from a caramelized pumpkin dish, like Calabaza En Tacha.  The sweet, caramelized pumpkin that has been stewed with warm spices is transformed into a heavenly pocked of pumpkin goodness that is encased in a hearty and crisp empanada dough.
Sealing the empanadas: Repulgue
Sealing the empanadas can be as simple or complicated as you want to make it. In fact, for some, sealing empanadas has become an art form! The fun, decorative sealed edges that some people go all out with are called repulgue.
After watching a couple videos on one of the most common ways to repulgue an empanada, we tried our hands at it. It took a few tries, but we finally got it! Check out the video below for our tutorial on how to do the traditional repulgue.
If your fingers find the pulling and wrapping technique a bit tricky. Don't worry! We crimped the edges two ways, the traditional way we did in the video and a more simple way that was inspired by the way we typically do the edges on our pies. You can see this way in the picture below.
If neither of those options are working out the way you are hoping, simply grab a fork and give the edges a little crimp. Or, just press them down well and forget about the pretty decorations. They'll still taste just as good!
Our Pumpkin Empanada recipe
Like we mentioned, traditional pumpkin empanadas bring together some wonderful, traditional dishes of pumpkin stewed with piloncillo, a deep-flavored sweetener that is made from unrefined cane sugar.
We've simplified our empanada filling by using pureed pumpkin (not pumpkin pie filling), brown sugar, and spices.
These won't be as sweet as a slice of pumpkin pie, and the crust definitely isn't as flaky as a pastry crust. Our version is light on the sweetness, but heavy on the pumpkin spice flavor. The filling is wrapped in a crust that is more bread-like, giving you something that is quite satisfying to sink your teeth into.
We've also chosen to bake our empanadas, to make cooking easier and to make them a bit lighter.
With their light sweetness, hearty dough, and baked-crisp texture, these pumpkin empanadas could almost be called a healthy way to get your pumpkin pie fix!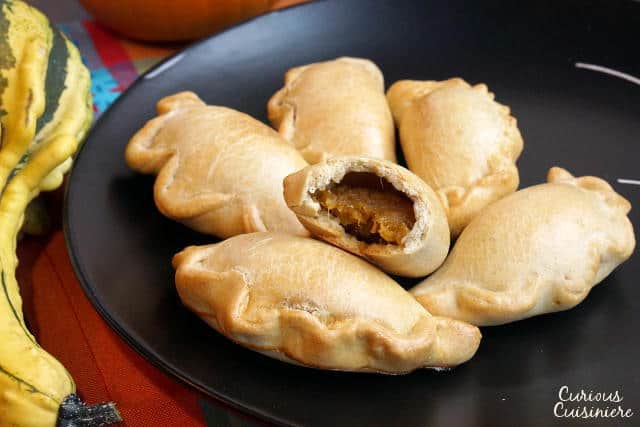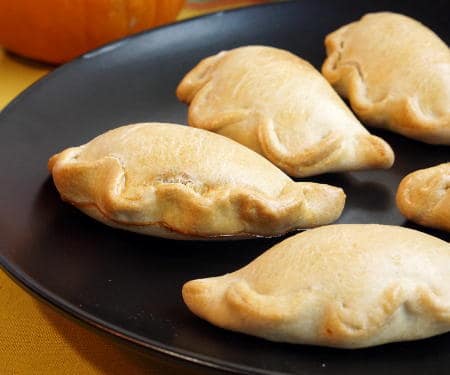 1

c

pumpkin puree

(not pumpkin pie filling)

¼

c

brown sugar or piloncillo

1

tsp

heavy cream or half and half

1

tsp

cinnamon

¼

tsp

ground allspice
1

egg white beaten with 1 Tbsp water

(for brushing)

1

Tbsp

white sugar mixed with 1 tsp cinnamon sugar

(for sprinkling, if desired)
Place the flour and salt in the bowl of your food processor. Add the butter cubes and pulse until combined. Add the egg and pulse until combined. Add the ice cold water, a little at a time, pulsing between additions, until a coarse dough begins to form.
Transfer the dough onto the counter and knead it until a smooth ball of dough comes together, 2-4 minutes.
Wrap the dough in plastic wrap and refrigerate it for at least 1 hour (not over 24 hours) to relax the gluten.
In a medium bowl, add all of the filling ingredients. Mix until combined. Taste and adjust the sweetness or seasoning as desired. Cover and set aside until you are ready to put the empanadas together.
Divide the dough into 2 halves. Then, divide each half into 8, roughly even sections. (So you have 18 small balls
Roll each ball of dough out to a 4 inch disc.
Fill the circle of dough with 1 Tbsp of pumpkin filling.
Wet your finger with a little water and use it to moisten the edge of the dough around the filling. Fold the circle of dough in half over the filling, to create a filled half-circle. Press the edges together firmly to seal.
If desired, crimp (repulgue) the edges by twisting and folding the sealed edge over itself (see the video above). Or, crimp the edges as you would any pie crust.
Place the sealed and crimped empanadas onto a greased, aluminum foil lined baking sheet.
Brush the tops of the empanadas with an egg wash made from 1 egg white beaten with 1 Tbsp water. If desired, sprinkle some cinnamon sugar over top of the empanadas.
Bake the empanadas for 20 minutes, or until golden.
Removed the baked empanadas from the oven and let them cool slightly on a wire rack before serving.