This homemade pizza dough recipe is the perfect start for your favorite kind of pizza. The recipe yields two large pizza crusts, so feed the whole family or freeze one for later.
This is the only homemade pizza dough recipe I ever use. It is so easy to prepare and, unlike some dough recipes I have tried, it tastes delicious!  This pizza dough recipe makes enough dough for two large pizzas.  You can make two pizzas, or make one and freeze one, or use the second to make breadsticks instead.  The dough keeps great in the freezer, just be sure to bring the dough to room temperature again before rolling out.
Pizza Sauce Ideas
Traditional Red Sauce
Alfredo Sauce
BBQ Sauce
Pesto Sauce
Oil and Garlic
Ranch Dressing
Teriyaki Sauce
Peanut Sauce
Thai Chili Sauce
Garlic Aioli
Sun Dried Tomato Sauce
Creamy Red Pepper Sauce
Hummus
Pizza Topping Ideas
Pepperoni
Mushrooms
Onions
Sausage
Bacon
Mozzarella Cheese
Black Olives
Green Peppers
Red Peppers
Pineapple
Spinach
Basil
Chicken
Ground Beef
Salami
Steak
Tomatoes
Gorgonzola
Feta
Artichokes
Ham
Canadian Bacon
Favorite Pizza Recipes
This pizza dough recipe is a great base for all of our favorite pizza recipes.  Think outside the cheese and pepperoni box.  Here are some ideas to get you started:
MY LATEST RECIPES
Lemon Chicken Pizza – If you haven't tried thin slices of lemon on pizza, you are missing something great!  It is so refreshing and flavorful.
Turkey Bacon Avocado Pizza – This pizza is topped with turkey, crisp bacon, and fresh avocado with lots of cheese.  It's all the flavors of a club sandwich on a delicious pizza crust.
Antipasto Pizza – A garlic cream sauce replaces the traditional red pizza sauce on this pizza.  Spinach, artichoke hearts, pepperoncinis, cherry tomatoes, and olives make this a delicious, vegetarian pizza option.
Thai Peanut Chicken Pizza – Our version of the California Pizza Kitchen's Thai Chicken Pizza tastes just like the original.  The Thai flavors on this pizza are mouth-watering good!
BBQ Chicken Pizza – BBQ Chicken Pizza is always a favorite!  It features barbecue chicken, pineapple, cilantro and plenty of cheese.
Garlic Ranch Pizza – Who doesn't love garlic and ranch in their pizza sauce?  When you add bacon, chicken, tomatoes, and mozzarella, it creates a pizza that will have everyone begging for more.
How to Make Pizza Dough
Combine water, sugar and yeast in small bowl. Let sit 5 minutes. Mix flour and salt together in the bowl of a heavy duty mixer fitted with dough hook. Add oil to yeast mixture. 

Pour yeast mixture into flour mixture and knead on low speed for 10 minutes. (If mixing by hand, knead dough for same amount of time.) Place dough in a lightly oiled bowl, turning to coat. cover with plastic wrap and let rise in a warm place for 1 hour.

Punch dough down and divide in half. Shape into 2 balls. lightly brush dough balls with olive oil and cover completely with plastic wrap. Let rise another 45 minutes. Preheat oven to 450 degrees. 

Lightly grease pizza pan or dust with cornmeal. Take each dough ball and using your fingers, pat it out from the center to the edge, leaving the outer edge a bit thick. Top with favorite toppings. 

Bake 10-15 minutes until edges are golden brown.
You can freeze the dough after the first or second rise.  
If you are freezing after the first rise, punch the dough down and divide it into two balls as directed in the recipe.  Place the dough balls in the freezer on a cookie sheet.  After the dough is frozen, place the dough balls in freezer resealable plastic bags.  To thaw, let the dough come to room temperature (about 1 hour) and then let it rise another 45 minutes.
If you are freezing after the second rise, freeze the dough balls and then place them in freezer resealable plastic bags.  To thaw, let the dough come to room temperature (about 1 hour) and then roll out onto pizza pan.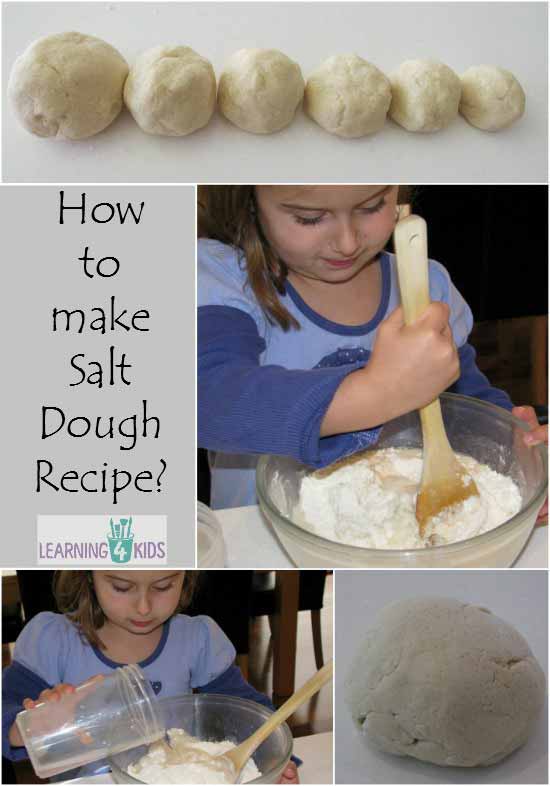 Super easy salt dough recipe!!  Salt Dough is a wonderful product that is used to create crafts, sculptures and ornaments.  It is a simple recipe and can be easily made at home using 3 basic ingredients and then placed in the oven to dry out.
Click here to download and print: Printable Salt Dough Recipe
You will need?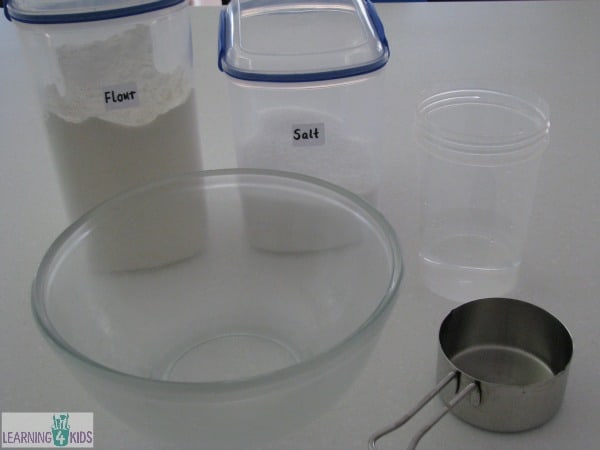 1 cup salt
2 cups of flour
¾ cup of water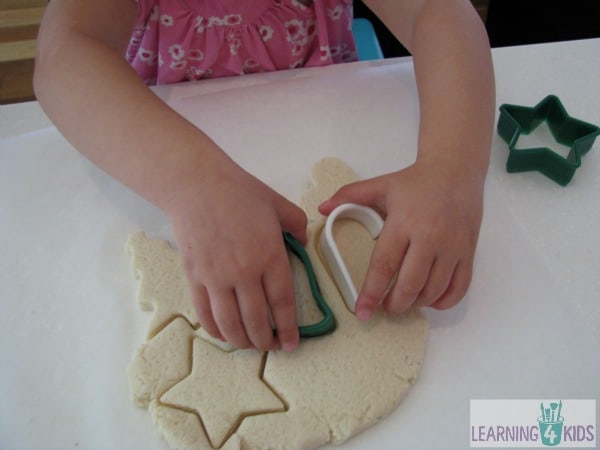 Salt dough is great form making ornaments. How to make Salt Dough Christmas Ornaments?
Instructions:
In a large bowl mix salt and flour together.
Gradually stir in water. Mix well until it forms a doughy consistency.
Turn the dough onto the bench and knead with your hands until smooth and combined.
Make your creations using the salt dough.
Place the salt dough creations into the oven at 180C. The amount of time needed to bake depends on the size and thickness of the salt dough creations.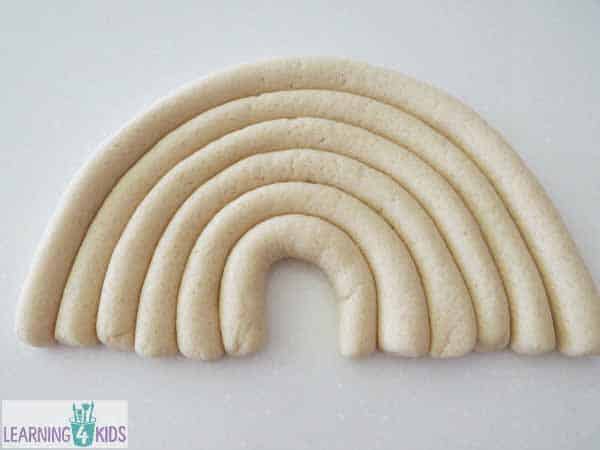 Salt Dough Rainbow: once it has been dried out and hardened, it can be painted to make a homemade toy for kids to play with.
Tips & Ideas:
Store your salt dough in an air tight container as it keeps well for a few days.
You can paint your creations with acrylic paints and seal with varnish or polyurethane spray.
Salt dough can also be aired dried and is an alternative to oven drying.
Involve the kids in making the salt dough as this encourages and promotes so many learning opportunities, plus it is so much fun!
Visit our Learning 4 Kids Online Shop:
Please click on product names to view full product details.
Ultimate Christmas Printable Activity Pack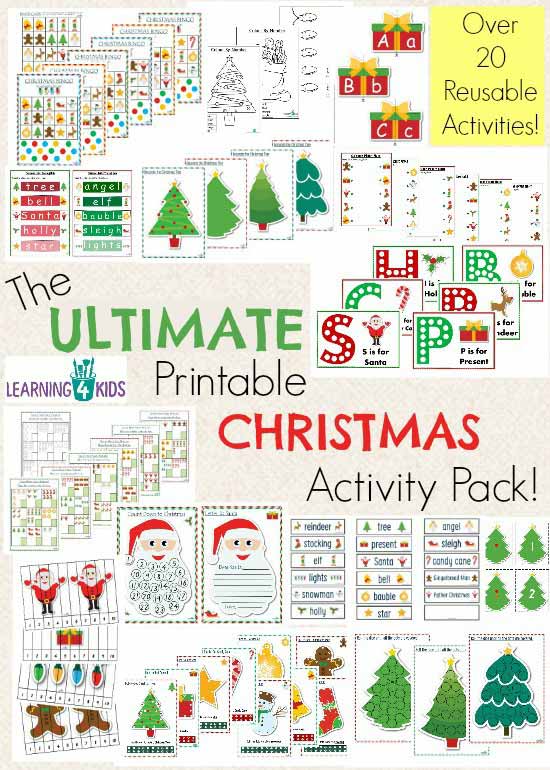 How to Make Delicious Pizza Dough in 30 Minutes
Fast and simple, this recipe contains just six ingredients, most of which you probably already have in your kitchen. You can find pizza crust yeast at your local grocery store. Most grocery stores carry yeast in ready-to-use packets, so you won't even have to worry about measuring it. While buying your yeast, be sure to grab some scrumptious toppings for the awesome pizza you are about to prepare!
Ingredients:
1 (0.25 oz) packet or 2 1/4 teaspoons of yeast
3/4 cup warm water
2 cups flour
1 teaspoon salt
1 teaspoon sugar
1 1/2 tablespoons olive oil
All good chefs know that prepping your cooking space is essential to success. Here's everything you should have handy to transform your kitchen into a pizzeria:
Large mixing bowl
Wooden spoon or spatula
Kitchen towel or plastic wrap
Pizza stone or baking sheet
Baking peel or large wooden cutting board
Rolling pin or hands that are ready to get a little messy
Directions:
If you plan to make your pizza the same night, preheat your oven to 450 degrees. If not, this pizza dough is also easy to freeze and save for later. If you are using a pizza stone, be sure the stone is in the oven before you start preheating, because adding the stone later may lead to cracking. While we recommend using a pizza stone for the best flaky and crispy crust, a regular baking sheet works great too!
Pour warm water into a large mixing bowl and lightly stir in the yeast. The water should be around 110 degrees Fahrenheit for the best results. If you don't have a thermometer lying around, don't stress! Test the temperature of the water with your fingers until it feels just barely warm – think baby bath water warm! Be sure the water is not too hot or it will kill the yeast, and no one likes pizza crust with no puff!
Let the water and yeast sit for a few minutes until it looks foamy. This is how you know your yeast is activated and ready to be turned into delicious pizza dough.
Stir in salt, sugar, olive oil, and 1 cup of flour with a sturdy spoon or spatula. Once the dough starts to thicken, add the rest of the flour and get your hands in there! Knead the dough for about 5 minutes. Smooth out any lumps and make sure all the flour is completely mixed.
Form the dough into a smooth ball, then cover the mixing bowl with a damp kitchen towel or plastic wrap and let it stand for 10-15 minutes. To make the dough easier to form, place the bowl on top of the stove. The heat from the oven will help loosen the dough. Pro Tip: Prep your toppings while your dough rises! Use this time to grate your fresh mozzarella, slice up some peppers, and pop open a jar of your favorite sauce.
Lightly flour a baker's peel or large wooden cutting board, then roll or press out the dough into a large circle. This recipe will make one 12-inch thick crust pizza. If you prefer thin crust pizza, separate the dough into two portions. Smoothing with your hands is great for thick crust pizza, but a rolling pin works best for thin crust. Experiment with the thickness of your crust to get it just the way you like it — there is no wrong way to form your pizza dough!
When you are satisfied with your crust, transfer the dough to the back of a lightly oiled baking sheet and add your toppings. If you are using a pizza stone, add your toppings first before transferring the dough to the stone.
Now you are ready to bake it! Place your baking sheet on the middle rack and bake for 10-15 minutes. Pizza baking is more of an art than a science, so be sure to take a peek at your pizza as it cooks! Look for melty cheese and golden brown crust. If you made a thicker crust, your pizza may need to cook for closer to 20 minutes.
Once your pizza is baked to perfection, remove it from the oven and let it sit for 5 minutes before serving.
Grab your friends and dig in!
If you aren't planning to devour your pizza the same day, you can freeze your dough for up to 3 months. Stop after step five when your dough has risen, and separate it into individual portions. Coat the dough in olive oil or cooking spray, then tightly wrap the dough in plastic wrap and put it in a resealable freezer bag. When you're ready to use the dough next time, you can defrost it in the fridge overnight, then pick up at step six! If you want your pizza to be ready-to-bake next time, you can even make your own frozen pizzas with toppings and all!
Easy Alterations for Any Dietary Needs
Not everyone likes their pizza the same. Luckily, this easy pizza dough recipe can be adapted to suit almost any dietary restrictions or preferences that you or your friends may have.
Are you vegan or vegetarian? No problem! This recipe is naturally vegan, so you can simply top your pizza with one of the many cheese alternatives on the market or sprinkle it with nutritional yeast for added nutrient benefits and a creamy, cheesy flavor. If you are dairy-free or prefer to skip the cheese entirely, you can pile it high with all your favorite veggies! Try roasting or sauteeing your vegetables first for even richer flavor.
If you are gluten-free, you already know how tough it can be to find satisfying gluten-free pizza. With this pizza dough recipe, you can do a simple one-to-one swap for any multi-purpose gluten-free flour. You will also want to lengthen the setting period in step five to about 30 minutes. While this means your stomach will have to growl a little bit longer, it is worth the wait to ensure your dough is properly hydrated. A common problem with gluten-free pizza crust is it being too chewy or bread-like. Allowing the dough to stand longer will let all the starches hydrate properly. Here are some other tips to produce the best results when using gluten-free flour:
Mix it lightly: Gluten-free dough will rise less than dough with regular flour, so it can become too sticky when over-mixed. About five minutes of mixing should be just right to produce a smooth dough similar to the texture of play dough.
Spread, don't roll: Press the dough out gently with your hands instead of using a rolling pin. Because gluten-free dough is less elastic than regular dough, it is easier to spread with less pressure needed. Packing your gluten-free dough too tightly will make it less likely to rise.
Fluff it up: If you really love thick crust, adding a second rising agent can help. Try adding 1/2 teaspoon of baking powder in step four for additional leavening power.
Let it breathe: As mentioned earlier, letting your gluten-free dough stand for 30 minutes before pressing is essential to producing the best pizza crust.
Maybe you are simply looking for ways to make your pizza a little healthier — one of the benefits of making your own dough is that you are in control of every ingredient! This pizza dough recipe works great with whole wheat flour, or you can swap out the sugar for 1 teaspoon of all-natural honey or maple syrup. If you want to reduce your sodium intake, you can add a little less salt and let your guests add their own table salt if they want.
Shape Your Crust For Any Occasion
Maybe you are whipping up a pizza just for yourself and can make it any way you want — more often, you will be feeding your family or friends too. If you are sick of trying to agree on which toppings to use and how much sauce to put on, this pizza dough recipe can easily be divided into four or five personal pizzas. No one will have to compromise on their favorite toppings, and your pizzas will cook faster too!
Maybe you are throwing a party and need to feed a lot of people. Flip over your cookie sheet and spread all of your dough thinly on the inside of the pan to create a large rectangular thin-crust pizza. If using this technique, be sure to add extra oil in the corners and edges of the pan so your pizza doesn't stick!
Feeling extra creative? Press your pizza dough into a unique shape for a theme party or holiday. If you want to impress that special someone, craft your pizza into a heart shape. For the Fourth of July, try shaping it into a star or transform a rectangular pizza into an American flag with red pepper for stripes and black olives as stars!
Don't be afraid to break out your creativity and change up the traditional circular pizza crust. Need some more inspiration? Check out our article on unique pizza shapes that will thrill your friends and family.
Low-Carb Mozzarella Dough – Pizza, Bagels, Garlic Bread and Pizza Scrolls
Mozzarella dough is so versatile, and so simple. It is the Holy Grail of low-carb bread doughs. Simply learn how to make the one basic low-carb dough recipe, and you can choose to turn it into any one of the 4 simple recipes below.
Low-Carb Mozzarella Dough – The Basic Recipe – 4 Ways
If you are a beginner, take a look at this post to see my step-by-step instructions on how to make Fat Head pizza – a.k.a. low-carb mozzarella dough.
Servings 1 whole dough recipe
Mix the shredded/grated cheese and almond flour/meal in a microwaveable bowl. Add the cream cheese. Microwave on HIGH for 1 minute.

Stir then microwave on HIGH for another 30 seconds.

Add the egg, salt, and any other flavourings, mix gently.

Use the basic mozzarella dough in a variety of ways detailed below.
Nutrition values are for the ENTIRE dough recipe. Divide the values by how many slices or servings you make.
Mozzarella dough can also be made by replacing the almond meal/flour with 1/4 cup (4 tbsp) coconut flour.
Low-Carb Mozzarella Dough – 4 ways Amount Per Serving (1 dough recipe) Calories 1174 Calories from Fat 882 Total Carbohydrates 24g 8% * Percent Daily Values are based on a 2000 calorie diet.
Low-Carb Mozzarella Dough Pizza – the Holy Grail
Place the low-carb dough in between 2 pieces of baking parchment/paper and roll into a circular pizza shape (see photos in this post). Remove the top baking paper/parchment. If the mixture hardens and becomes difficult to work with, pop it back in the microwave for 10-20 seconds to soften again but not too long or you will cook the egg.
Make fork holes all over the pizza base to ensure it cooks evenly.
Slide the baking paper/parchment with the pizza base, on a baking tray (cookie tray) or pizza stone, and bake at 220C/425F for 12-15 minutes, or until brown.
To make the base really crispy and sturdy, flip the pizza over (onto baking paper/parchment) once the top has browned.
Once cooked, remove from the oven and add all the toppings you like. Make sure any meat is already cooked as this time it goes back into the oven just to heat up the toppings and melt the cheese. Bake again at 220C/425F for 5 minutes.
Low-Carb Mozzarella Dough – Bagels
Add 1 tsp of baking powder to the dough mixture, mix thoroughly.
Divide the mozzarella dough into 6 equal sizes. Roll into balls then into cylinder shapes as shown in the video.
Fold the ends of the cylinder shapes in a circle and squeeze the two ends together to form a bagel shape.
Place on a baking tray and sprinkle with sesame seeds.Bake at 220C/425F for 15 minutes, or until golden brown.
Serving suggestions – cream cheese, avocado, smoked salmon, bacon bits
Low-Carb Mozzarella Dough – Garlic Bread
Add 1 tsp baking powder, 1 tbsp parsley, 1 tbsp garlic to the basic low-carb dough recipe, mix.
Place the dough onto a baking tray/sheet pan lined with baking parchment. Form into a garlic bread shape.
Cut little slices into the low-carb garlic bread.
Mix 2 tbsp melted butter, 1 tsp parsley and 1 tsp garlic. Brush over the top of the low-carb garlic bread, sprinkle with more cheese.
Bake at 220C/425F for 15 minutes, or until golden and soft.
Low-Carb Mozzarella Dough – Pizza Scrolls
Spread tomato sauce or tomato paste (watch for any added sugars) over the dough, sprinkle over diced pieces of pepperoni and cheese.
Roll up into a long sausage shape.
Cut the scroll into small slices. Place each pizza scroll on a baking tray/sheet pan lined with baking parchment.
Add more cheese then bake at 220C/425F for 15 minutes.
Low-Carb Mozzarella Dough – 4 ways – the video
This is the video that has gone viral all over the internet – all that gooey cheese and simple recipes make them super popular family recipes too.
Who will make me low-carb mozzarella dough – 4 ways? Watch the video that is breaking the internet! Click To Tweet
If you're desperate to get started living low-carb, the Ultimate Low-Carb Bundle is for you. You will receive 5 digital eBooks at a huge price reduction to help you get started with all the resources you'll need.
Pizza Dough Recipe – Freezing and Thawing Instructions:
Make the pizza dough thru step 5 below. Deflate the dough by punching it down. Transfer the dough to a lightly floured countertop, and divide the dough into two equal pieces. Roll each piece of dough into a smooth, round ball. Wrap the dough balls tightly in plastic wrap and place them into quart-sized Ziploc bags. Place the dough in the freezer immediately.
Don't be surprised that when you recover the dough from the freezer that it has popped through the plastic wrap. This is normal as the dough continues to rise slightly until it freezes completely.
You can freeze the dough for up to 3 months.
On the day you plan on using the dough, in the morning keep the dough in all of its wrappings and transfer it to the refrigerator. This will give it enough time to thaw for dinner.
Take the dough out of the Ziploc bag and plastic wrap and transfer it to a lightly floured surface. Cover the dough with a damp paper towel and let it stand at room temperature for at least 30 minutes. Place the pizza stone in the oven and preheat at 500 degrees F. Make sure the pizza stone has been preheating at 500 degrees F for at least 30 minutes.
Once the dough has been at room temperature for 30 minutes, proceed to step 8 below in the pizza dough recipe directions.
Cook's Note – Perfect Homemade Pizza Dough Recipe:
You can use all-purpose flour for this pizza dough recipe but be warned that the pizza crust will not be as crisp and it will be slightly spongey.
I highly, highly, HIGHLY recommend weighing your flour instead of using measuring cups. It's a more accurate way to measure and it will take the guesswork out of mixing the pizza dough.
Cook's Tools and Ingredients – Perfect Homemade Pizza Dough:
      OR    
   OR    
ONE YEAR AGO: Chile con Queso
TWO YEARS AGO: Southwest Quinoa Stew
THREE YEARS AGO: Savory Pistachio PairingPerfect Homemade Pizza Dough Recipe
1 ¾ cup warm water (between 90-100 degrees F)
2 ¼ teaspoons instant yeast
4 ¼ cups bread flour (22 ounces), plus more for dusting
1 ½ teaspoons salt
3½ Tablespoons olive oil, divided
1 teaspoon yellow cornmeal
Measure water into a 2-cup liquid measuring cup, and then add yeast and give it a quick stir. Let the mixture sit until yeast is dissolved and a bit frothy, about 5 minutes. Mix in 2 tablespoons of olive oil to yeast mixture.
MIXING BY STAND MIXER DIRECTIONS (my preferred method): Meanwhile, in a bowl of stand mixer fitted with paddle attachment mix together bread flour and salt until combined. With the mixer running on low, slowly pour in yeast mixture and mix until cohesive dough forms. Stop mixer and switch to a dough hook. Knead on medium speed until smooth, about 4-5 minutes. Form dough into a smooth, round ball and proceed to step 5.
MIXING BY FOOD PROCESSOR DIRECTIONS: Add flour and salt to the work bowl of a food processor and pulse with a steel blade to combine. Slowly pour in liquid ingredients and pulse together until a cohesive dough ball forms. Continue to process until dough is smooth and elastic, about 30 seconds longer. Turn the dough out onto a lightly floured surface and knead by hand for a few seconds to form a smooth, round ball and proceed to step 5.
MIXING BY HAND DIRECTIONS: In a large bowl combine the salt and half of the flour. Add the yeast mixture and mix until combined using a sturdy wooden spoon. Add the rest of the flour and mix until a cohesive dough forms. Lightly flour a countertop and move the dough on top of the floured surface. Knead dough until smooth and elastic, about 8-10 minutes, using a minimal amount of flour while kneading. Form dough into a smooth, round ball and proceed to step 5.
Lightly oil a large bowl or container (see picture above of the container I use) with ½ tablespoon of olive oil. Move dough to prepared bowl or container and roll the dough around in the oil to lightly coat. Cover bowl with plastic wrap or place the container's lid on and let the dough rise until double in size, about 1 ½ – 2 hours.
While the dough is rising, move oven rack to the second highest position. Place a pizza stone on the rack and preheat oven to 500 degrees F for at least 30 minutes.
Deflate the dough by punching it down. Transfer the dough to a lightly floured countertop, and divide the dough into two equal pieces. Roll each piece of dough into a smooth, round ball. (If you're freezing one of the dough balls then wrap it in plastic and place it into a Ziploc bag before transferring to the freezer. For more detailed directions, see my freezing instructions above.) Cover dough with a damp paper towel and let the dough relax for 15-30 minutes.
Place parchment paper on top of the pizza peel and sprinkle cornmeal over the top. Move 1 dough ball to the pizza peel and press dough out into a 14-inch circle by gently stretching and pressing the dough. (I find it's best that once the dough is pressed out into an 8-inch circle to place the palm of my hand in the center and gently pull the dough by the edges to get it to 14 inches). If the dough is really snapping back while you're trying to press and stretch it, then cover it with a damp paper towel and let the dough relax for 5-10 minutes before starting again to get the dough to 14 inches. Brush ½ tablespoon of olive oil around the outer edge of the dough.
Once the pizza stone has been preheated at 500 degrees F FOR AT LEAST 30 MINUTES, sauce, and cheese the pizza as desired and use the pizza peel to slide the pizza and parchment onto of the preheated pizza stone. Bake for 8-12 minutes or until the crust is beautifully golden and the cheese is bubbly. Use the pizza peel to remove the pizza from the oven. Let the pizza sit for 5 minutes before slicing and serving.
Repeat steps 8 & 9 with remaining dough.
Makes 2 14-inch pizzas.
More Pizza Love:
Pull Apart Pizza Bread
Pepperoni Pizza Rolls
Pizzeria Style Pizza Sauce
The Best Homemade Pepperoni Pizza
TwitterFacebookGoogle+PinterestLinkedinEmailReddit