So, either you – or someone you love – loves chocolate.  That's no surprise.  But what is surprising is that chocolate can actually be a health food.
That's right, we've written extensively about the benefits associated with eating chocolate. (Especially the kind that's high in cocoa).
Here's a bit more about that:
All About Chocolate
Chocolate and tea: Antioxidant benefits
However, for today, our mission is to make our own chocolate.
You see, the type of chocolate we benefit from is not the milk chocolate stuff many of us call "chocolate."  That's actually "candy."
No, the type of chocolate we can benefit from is the really rich, high quality, low sugar chocolate that contains 85% or more cocoa.
But there are a few problems with this type of chocolate.
First, is that it's often really hard to find.
Next, there's a huge taste difference between higher and lower quality.
And finally, the higher quality brands are usually pretty expensive.
So, to solve these issues, Precision Nutrition community member Kaisa decided to share her favorite raw chocolate recipe.
The first step – raw cocoa
Raw chocolate is made from cocoa beans which haven't been roasted.
You see, roasting changes the molecular structure of cocoa beans, reducing the enzyme content and lowering the overall nutritional value.
Unfortunately, commercial cocoa (and the chocolate made from it chocolate) is made from roasted cocoa beans – unless stated otherwise.
So, this recipe includes raw cocoa rather than roasted.  You'll notice a huge difference between the two.
The ingredients
Here are the ingredients (and amounts) you need on hand to make your own raw chocolate.
1/2 cup cocoa butter
1/2 cup virgin coconut oil
1/2 cup (raw)  organic cocoa powder
1/4 – 1/2 cup agave syrup for sweetening(organic honey, stevia or raw cane sugar okay too; or you don't have to use any sweetener at all)
Now, you won't be able to find some of these ingredients are your local grocery store.  So try calling a natural food store in your area.  And if that fails, you can order the ingredients from Sunfood.
Ideas for additions
Now, the basics above form the foundation of your recipe.
However, if you want to jazz it up a bit, here are some ideas for what you can add.
lucuma powder (sweetener, also makes the chocolate more milk chocolate like)
berry powders (blueberry and buckthorn berry in the photo)
purple corn powder (high antioxidants)
cocoa nibs
goji berries
dried berries
raisins
dates, chopped
crushed nuts, almonds, seeds
chili powder
maca
green tea extract
carob
or anything else you like!
Want more recipes?
For more great recipes like this, check out Gourmet Nutrition – The Cookbook For The Fit Food Lover.
This book is for people who love to eat great food, but hate that after-dinner guilt.  For those who love to eat with style, but hate to look "indulgent."  For those who love to entertain, but want to do it right.
We've taken the healthiest ingredients and whipped them into nearly 300 pages of delicious culinary creations that you can serve with confidence to the most discerning foodie – or the most nitpicky nutritionist.
We've included detailed cooking instructions and ideas for improvisation.  And we've even photographed every recipe in beautiful color to show you just how appetizing healthy food can be.
Gourmet Nutrition is the cookbook that's as friendly to your body as it is to your taste buds, and it's equally at home on your kitchen counter and your coffee table.  Pick it up, read it through, and try it out – we know you'll love it!
If so, and you'd like to learn more about it, consider the Precision Nutrition Level 1 Certification. Our next group kicks off shortly.
What's it all about?
The Precision Nutrition Level 1 Certification is the world's most respected nutrition education program. It gives you the knowledge, systems, and tools to really understand how food influences a person's health and fitness. Plus the ability to turn that knowledge into a thriving coaching practice.
Developed over 15 years, and proven with over 100,000 clients, the Level 1 curriculum stands alone as the authority on the science of nutrition and the art of coaching.
Whether you're already mid-career, or just starting out, the Level 1 Certification is your springboard to a deeper understanding of nutrition, the authority to coach it, and the ability to turn what you know into results.
[Of course, if you're already a student or graduate of the Level 1 Certification, check out our Level 2 Certification Master Class. It's an exclusive, year-long mentorship designed for elite professionals looking to master the art of coaching and be part of the top 1% of health and fitness coaches in the world.]
We'll be opening up spots in our next Precision Nutrition Level 1 Certification on Wednesday, April 3rd, 2019.
If you want to find out more, we've set up the following presale list, which gives you two advantages.
Pay less than everyone else. We like to reward people who are eager to boost their credentials and are ready to commit to getting the education they need. So we're offering a discount of up to 33% off the general price when you sign up for the presale list.
Sign up 24 hours before the general public and increase your chances of getting a spot. We only open the certification program twice per year. Due to high demand, spots in the program are limited and have historically sold out in a matter of hours. But when you sign up for the presale list, we'll give you the opportunity to register a full 24 hours before anyone else.
If you're ready for a deeper understanding of nutrition, the authority to coach it, and the ability to turn what you know into results… this is your chance to see what the world's top professional nutrition coaching system can do for you.
How Long Do Old Fashioned Chocolate Covered Cherries Last?
Another tip from us to you is this: hide these candies in a place where your family can't find them and snitch until they are completely ready. A nook in the garage, on the high shelf in the kitchen, wherever. Just don't forget where they are! A couple of Christmases went by where we forgot to retrieve our yummy treats. But it's okay because these goodies will stay good and fresh until Valentine's Day.
MY LATEST RECIPES
How to Make Chocolate Covered Cherries
Keyword: old fashioned chocolate cherries
Drain cherries and set on paper towel to dry

In a medium bowl, combine butter and corn syrup until smooth. Stir in powdered sugar and knead to form a dough. Chill to stiffen if necessary.

Wrap each cherry in about 1 tsp of dough. Chill until firm.

In a microwave-safe bowl melt chocolate chips with oil for about 20 seconds at a time (stirring each time) until chocolate is just melted and completely smooth.
Dip each cherry in by its stem and place on wax paper-lined sheets. Place in an air-tight container (like a large tupperware) and store in a cool place for TWO WEEKS (yes, it is a long time– but patience… I promise they taste best if you wait until the fondant softens)!
SaveSave
SaveSave
Five Reasons to Eat More Dark Chocolate
You know, for health…
It's basically brain food The cocoa found in chocolate helps increase blood flow to the brain which leads to faster reaction time, better problem solving skills, and improved attention span. Not only that, but increased blood flow to the brain also improves short term memory and decreases mental decline in seniors.
It helps protect against heart disease The flavonoids in chocolate help increase blood flow to the heart as well which helps to prevent blood clots and hardening of the arteries. Eating a small amount of dark chocolate a few times a week has also been shown to lower blood pressure.
Younger looking skin Quality dark chocolate, not the sugary kind, is full of antioxidants that have anti aging benefits to the skin. Not only that, but the same flavonoids that increase blood flow to the heart and brain also increase blood flow to the skin giving off a healthy glow.
It's a "joy stimulant" Cocoa boosts levels of serotonin and endorphins in the brain which leads to improved mood. So when you're feeling down and you're craving something sweet it's likely the boost in serotonin that your body is really craving.
It helps you stress less Chocolate is a great source of magnesium which has been dubbed "the original chill pill". Getting more magnesium through diet leads to better sleep contributing to improved resilience to stress. Another study found that when test subjects who considered themselves to be highly stressed people ate an ounce and a half of dark chocolate a day for two week had a significant drop in stress hormones.
Keep in mind that these health benefits relate to quality dark chocolate – at least more than 70% cocoa. Conventional chocolate bars filled with lots of sugar and additives don't have the same benefits and are likely to cause more problems than anything else.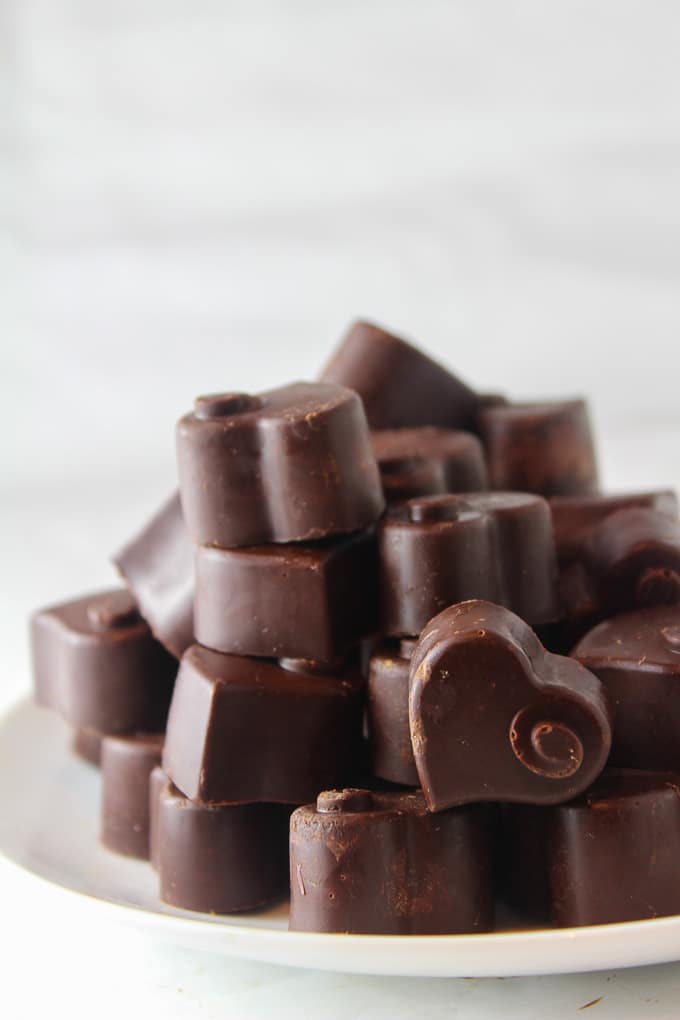 How to make homemade dark chocolate
Making homemade dark chocolate is probably easier than you think. It's made with only 5 ingredients: cocoa powder (or cacao), coconut oil, honey, vanilla, and sea salt making it fairly easy to whip together. All you need is about 5 minutes of melting and whisking plus thirty minutes in the freezer and you're good to go.
If you follow this recipe as is you'll end up with about 85% dark chocolate, but feel free to customize to your taste adding an extra tablespoon or so of honey. I never used to be a fan of dark chocolate but over time I learned to love it as my eating habits changed and I ate less sugar.
Don't be afraid to experiment with the flavors to make your own special chocolate bar. Add a teaspoon of ground ginger, a touch of orange zest, a sprinkle of chili flakes – whatever you like and make it your own.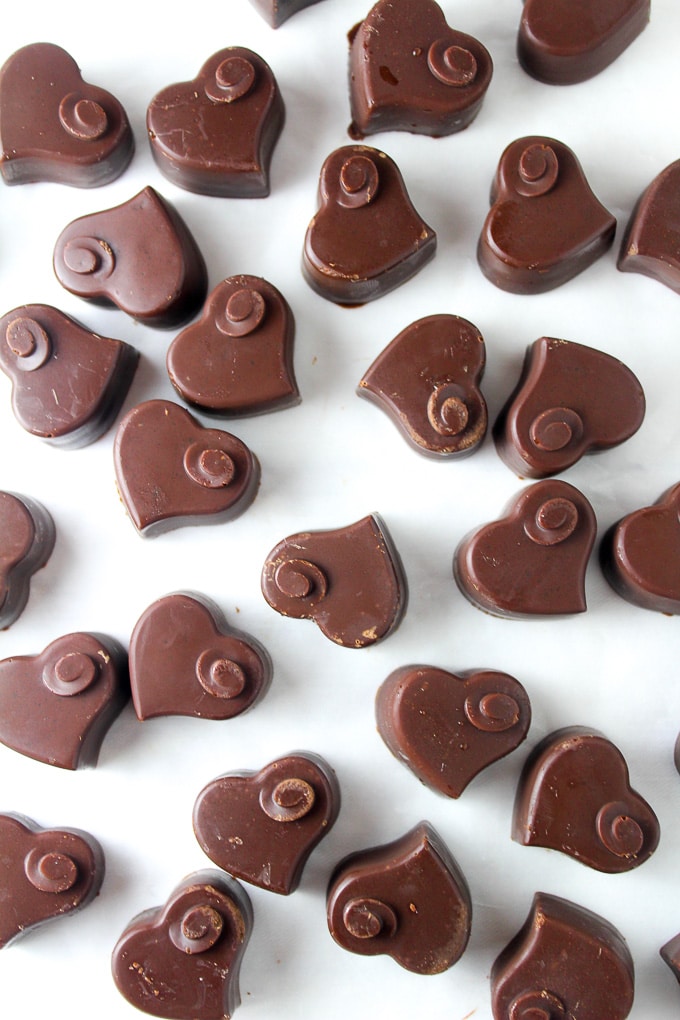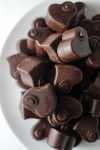 1/2

cup

| 105 g coconut oil*

1

cup

| 118 g unprocessed 100% cocoa powder or cacao powder

4

tablespoons

| 85 grams honey or more for taste

1

teaspoon

pure vanilla extract**

pinch of sea salt
Begin by melting the coconut oil in a small pot over the stove top on a low heat.
Once melted remove the oil from the heat and add the cocoa powder, honey, vanilla, sea salt and any additional flavors you want to add.
Whisk everything completely until there are no remaining lumps of cocoa powder and the honey has dissolved into the chocolate mixture.
Pour the chocolate into silicone molds or a lined baking pan and transfer to the freezer for at least 30 minutes or in the fridge for at least an hour. Once they've hardened pop them out of the molds and enjoy.
You can also use cocoa butter in place of the coconut oil for a creamier chocolate.
*If you're planning on using another extract like mint or almond use it in place of the vanilla.
Store these in the fridge
Amount Per Serving (10 grams) Calories 140 Calories from Fat 108 Total Carbohydrates 11g 4%* Percent Daily Values are based on a 2000 calorie diet.