Chilli chicken recipe – Learn with ease how to make chilli chicken recipe gravy & dry restaurant style recipe with step by step photos. For those who do not know what this is.. chilli chicken is one of the most popular Indo-Chinese style chicken appetizer or starter that is served in Chinese restaurants across the globe. Vegetarian alternates are made with paneer, mushroom, potato and tofu.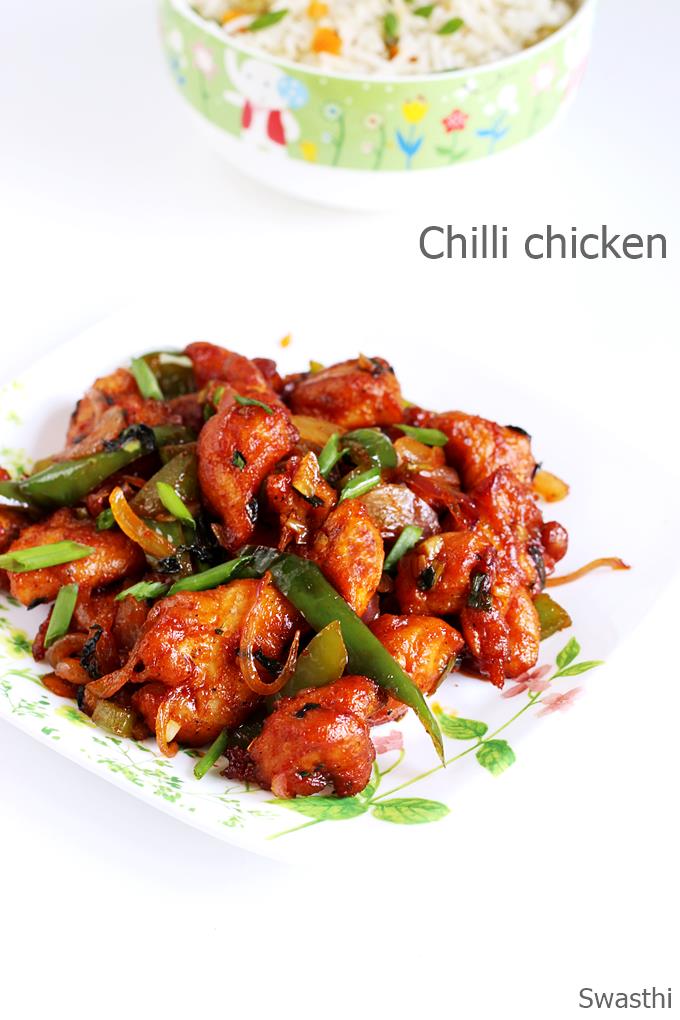 Boneless chicken (fillets or cubes) are marinated in soya sauce, chili sauce and pepper. Then deep fried and then seasoned again in sauces to get the best chinese chilli chicken. For a healthier option you can shallow fry or grill the chicken, details mentioned in the instructions below.
These tender bites taste mildly hot, sweet and sour. It is best served hot as an appetizer or with Veg fried rice Schezwan fried rice Hakka noodles Schezwan noodles
Usually in the restaurant made chinese chicken, ajjinomotto or monosodium glutamate (MSG) is used to give a unique flavor to it. Food color is also used to bring the deep red color and are oily and tend to dehydrate a lot. This recipe of chilli chicken dry doesn't need ajjinomotto or food color, but still can be made the best.
If you wish to brine the chicken first as they do in restaurants to yield tender juicy bites, please scroll down for brining tips.
Chinese chilli chicken recipe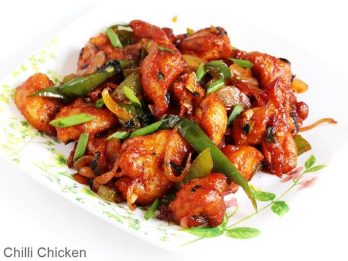 250

grams

chicken

boneless

1 ½

tsp

chilli sauce

1 ½

tsp

soya sauce

¼

tsp

pepper powder

2 to 3

tbsps

corn flour

2 to 3

tbsps

all-purpose flour

or maida (optional use to get restaurant style)

¼

tsp

red chili powder

(optional) or paprika

Salt little

(about 1/8 tsp)
1 ½

tsp

soya sauce

1 to 2

tbsp

chilli sauce

(you can substitute with ketchup)

½

tsp

red chilli powder

(optional) or paprika

¼

tsp

pepper powder

(optional)

¾ to 1

tsp

vinegar

½ to 1

tsp

sugar
1

medium

onion

thinly sliced or cubed

2

tsps

garlic

chopped

¼ to ½

cup

bell pepper

or capsicum – cubed

1 to 2

green chilies

slit and deseeded

1

sprig

spring onion

chopped (optional)

4 to 5

leaves

celery

chopped finely (optional)

1

tbsp

Spring onion

green for garnish
(Optional) To make the chicken juicy, succulent and to prevent from drying up you can brine the chicken following the instructions in recipe notes below. 

Marinate chicken with chilli sauce, soya sauce & pepper powder. 

Set aside until you prepare the rest. At least for 45 minutes. 2 hours is best. Meanwhile cube the onions, bell pepper and keep the sauce ready for seasoning.

Sprinkle corn flour, plain flour, chilli powder on the chicken along with salt and mix well. 

Coat the chicken well. if the mixture is dry you can sprinkle little water or use half of an egg or only egg white. (refer notes) Mix well.

Prepare the sauce. Add soya sauce, chili sauce, red chili powder, vinegar and sugar to a bowl and mix well.
Heat oil in a pan for deep or shallow fry. It can also be grilled at 240 C for 20 to 25 minutes in a preheated oven. 

Check if the oil is hot enough by dropping a small quantity of batter to the hot oil. It must rise without browning.

Now add the chicken cubes. Fry on a medium heat until crisp and evenly cooked from inside.

Keep stirring to fry evenly. Do not over fry, it tends to turn hard. 

When it is cooked, drain on a kitchen tissue.
Remove off excess oil from the pan, just keep 2 spoons oil in the pan.

Add garlic & fry for about a min. Then add onions, capsicum, spring onions & celery (optional)  and green chilies. 

Fry till they turn slightly soft for about a minute or so. The veggies must still be crunchy.

Pour the sauce. Let the sauces bubble up well. Taste the sauce and add more salt , spice or sauce as needed. Also taste the chicken and add accordingly.

To make chilli chicken gravy – just stir in 1 tsp corn flour with 1/3 to ½ cup water. Pour it to the pan and allow the sauce to thicken. You will need to add more chilli and soya sauce.

To make chilli chicken dry – Add the fried chicken, Mix well. If it looks dry, sprinkle little water. Saute on high flame for 2 to 3 minutes.

Serve chilli chicken hot as appetizer or with fried rice or noodles.
This recipe uses more sauce.
Mix together 3 tbsp yogurt with 2 cups of water and 1/4 tsp salt. Add the chicken to this and leave it for 45 mins to 1 hour. Brining in the fridge for 4 to 6 hours gives the best results.
Chilli chicken recipe | How to make chilli chicken dry & gravy Calories 378 Calories from Fat 234 Total Carbohydrates 16g 5%* Percent Daily Values are based on a 2000 calorie diet.
To make the best out of the chilli chicken recipe I suggest using kashmiri chili powder or paprika and saute well in the sauces on high flame which also lends a smoky flavor. If you do not use enough chili powder, the final dish may not get a good color. So try adding more or less than mentioned in the recipe.
You may like these 70 chicken recipes Chicken manchurian Chicken lollipop KFC style fried chicken Chicken 65
Preparation for chilli chicken recipe
1. To a bowl, add 250 grams of cubed boneless chicken, 1 ½ to 2 tsp soya sauce, 1 ½ tsp chili sauce and ¼ tsp pepper powder. Marinate and set aside until you prepare the seasoning ingredients. If you have time you can leave it for 45 minutes. This helps the meat to absorb the flavors.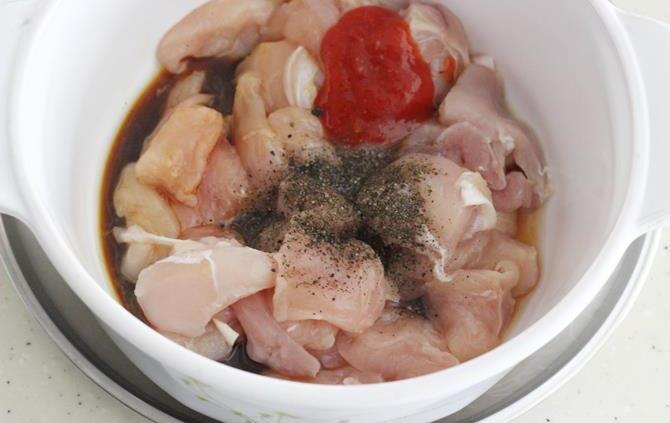 2. Sprinkle 2 tbsp cornflour, 2 tbsp plain flour if using and salt on the chicken. If you like to have a thick crunchy coating of the flour like we get in restaurants, add 1 tbsp more of plain flour and 1 tbsp more of corn flour. Mix well to coat. If the chicken is too dry, sprinkle little water and mix.
Optional: You can also use egg for binding instead of water. One small egg for ½ kg (1 lb) chicken works well. I have not used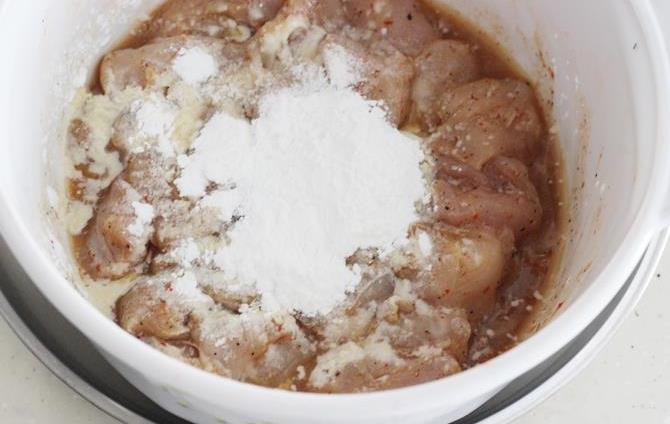 3. Add chilli powder or paprika and mix again. This helps to get a good color. This is optional.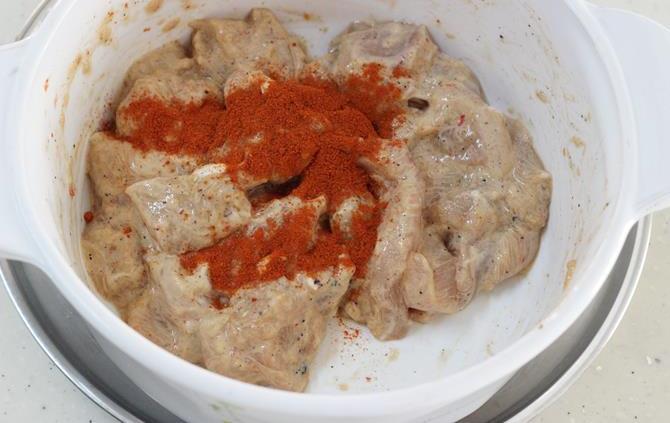 4. This is how the chicken looks. If you add too much water or make a batter, it will absorb lot of oil and will not turn crispy.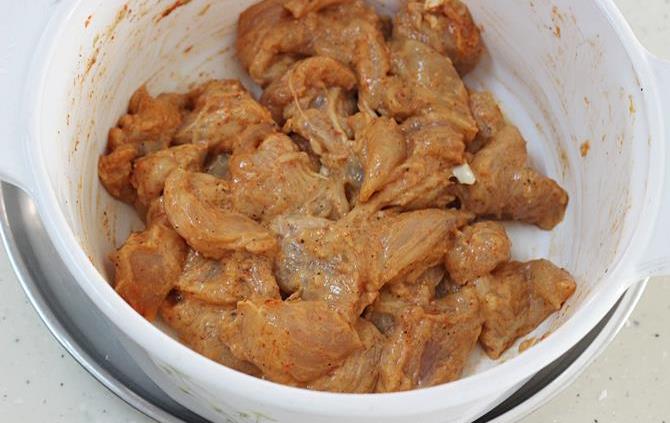 Easy Keto Chilli Casserole
We love chilli but without the kidney beans and the rice, how can you make it low-carb and a family friendly meal?
By bumping up the meat, the cheese, the sour cream and the peppers, makes this tasty and healthy alternative to regular chilli.
Who wants to cook me some easy keto chilli casserole tonight?? 7g net carbs and ready in 25 mins.Click To Tweet
I sometimes serve it with cauliflower rice, and I spice this healthy rice alternative with some extra chilli, coriander (cilantro) and cumin, just before serving. Because no-one wants bland rice do they? Let alone bland cauliflower rice.
That would just be too much to ask from your children.
Whenever I have the oven on cooking a dish, I always throw something else in to be economical with my power usage. It also helps me to be organised for the week ahead of lunch boxes.
Why not try my coconut flour chocolate chip cookies? Or my mini cheese loaves? Both are guaranteed to be eaten by the fussiest child (and adult) for lunch or an after-school snack.
Choc Chip Cookies
Fry the onion and garlic until soft, add the mince/ground beef and cook until all the meat has browned. 

Add the peppers/capsicums and cook until soft. 

Add all the other ingredients, stir and cook for a few minutes (the beef is already cooked) then pour into a baking dish. 

Sprinkle the shredded/grated cheese over and cook at 180C/350F for 20 minutes. 

Spoon into individual serving bowls. Garnish with sour cream and a sprinkle of coriander.
Easy Keto Chilli Casserole Calories 533 Calories from Fat 360 Total Carbohydrates 9g 3% * Percent Daily Values are based on a 2000 calorie diet.
Why I Love Chili Flakes
Chili flakes are great to have around. I mean, just look at them. They're a super seasoning. You can sprinkle them over anything you'd like for a nice pop of heat and flavor. And, the great thing about making them at home is, you can make any type you'd like.
When you purchase them from the store, you're basically limited to the singular crushed red peppers they sell, the same stuff you get at every pizza place across America. I've never understood why there isn't more crushed pepper variety. Don't get me wrong. I love the stuff served with my pizza, but as a chili pepper afficianado, I like a bit of variety. Don't you?
So let's make our own!
I HIGHLY recommend using a dehydrator for this, my friends. You CAN use your oven to dry your peppers, but the process is so much smoother and easier with a dehydrator. And yes, that is basically all we have to do is dry some of our favorite peppers.
So let's get drying.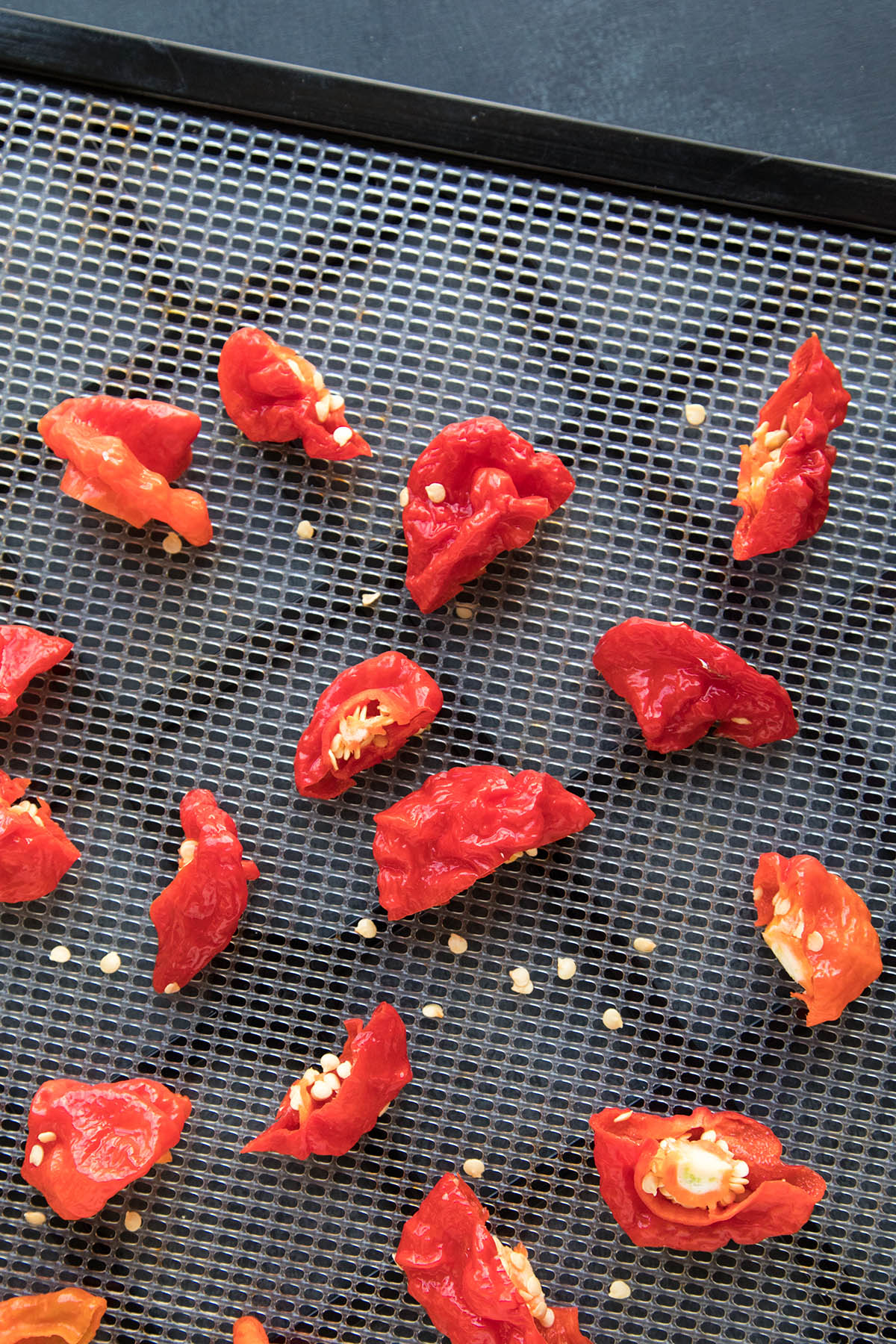 Check Out Some of My Other Homemade Seasoning Blends
If you enjoy this recipe, I hope you'll leave a comment with some STARS. Also, please share it on social media. Don't forget to tag us at #ChiliPepperMadness. I'll be sure to share! Thanks! — Mike H.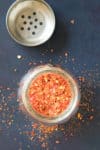 8

ounces

chili peppers of choice
Clean and dry your chili peppers.
Slice each in half lengthwise for smaller peppers, or into rings for thicker walled peppers.
Set them into your dehydrator tray and dehydrate at 130 degrees F for 12 hours, or overnight. You may need to dehydrate longer, depending on the air conditions.
When the peppers are completely dried through and brittle, place them in a plastic baggie and seal. Crush them with your hands, or with a towel if your skin is sensitive, as some of the powder may leak through.
Pour into a shaker and use as needed.
The crushed chili flakes will last indefinitely, though they will lose color and potency over time. They're best used within a year.
Makes about a cup or so of crushed chili flakes.
How to Make Homemade Chili Flakes – Recipe Total Carbohydrates 4g 1% * Percent Daily Values are based on a 2000 calorie diet.