Baked Chicken Parmesan is simple and easy recipe for weeknight dinner. Crispy breaded, Chicken Parmesan, topped with marinara sauce and mozzarella cheese, served with pasta is perfect meal for your family. Oven baked chicken is always good choice for a healthy meal. You must try my Chicken Parmesan Casserole, it's delicious, too.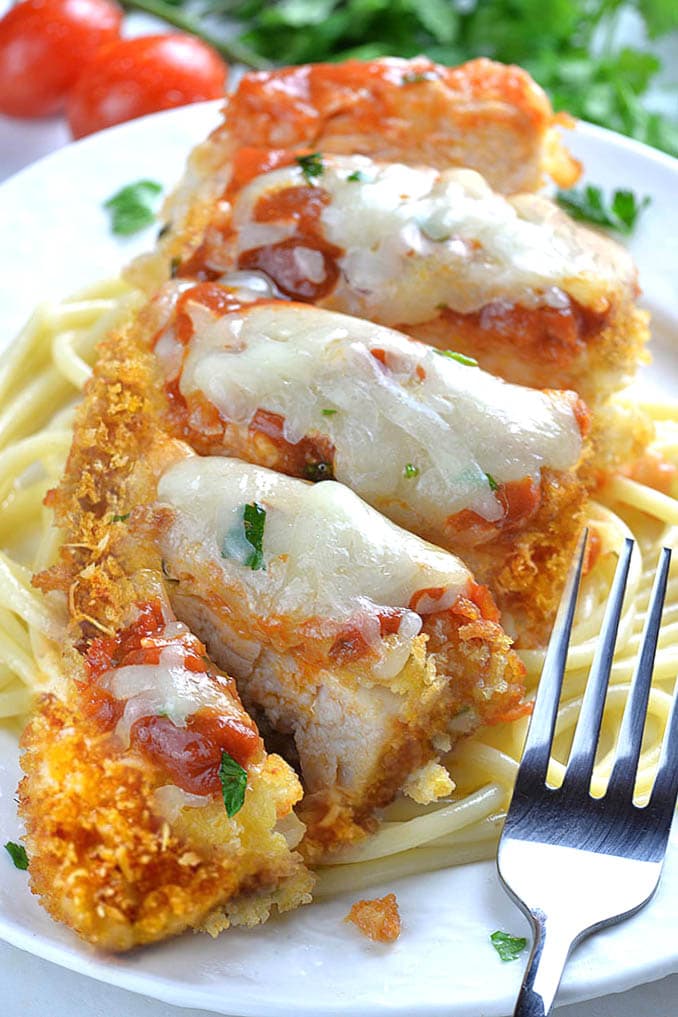 Baked Chicken Parmesan Recipe:
Print
Author:

Prep Time:

10

Cook Time:

30

Total Time:

40

Yield:

4

Category:

dinner

Cuisine:

American

Print Recipe

Pin Recipe
Baked Chicken Parmesan is simple and easy recipe for weeknight dinner.
2 boneless chicken breasts (about 1 lb.)
salt and freshly ground pepper-to taste
garlic powder-to taste
¼ cup flour
1 large egg – slightly beaten
¾ panko bread crumbs
1/3 cup grated Parmesan
1 Tbsp. dry Italian seasoning
4-5 Tbsp. marinara sauce
6 Tbsp. shredded Mozzarella cheese
Preheat the oven to 400 F. Grease baking sheet with cooking spray or olive oil and set aside.
Cut chicken breast in half horizontally, season with salt, freshly ground black pepper and garlic powder to taste.
Arrange 3 shallow dishes in a line. Place the flour in the first one. Beat the eggs in the second dish. In the third dish combine bread crumbs, dry Italian seasoning and grated Parmesan.
Dip each piece of chicken first in flour, then dip in egg. Finally, dip in bread crumbs to coat well and transfer to a baking sheet.
Lightly grease the tops of chicken with baking spray and place in preheated oven.
Bake for about 25-30 minutes or until the chicken is cooked and get nice golden-brown color.
Remove the chicken from the oven, spread about 1 Tbsp. of marinara sauce on top, then sprinkle with shredded cheese and place back in the oven for 2-3 minutes, until the cheese has melted.

Other Recipes You May Enjoy
Helpful Products for this Recipe
Measuring Spoons/Cups: You are going to need to measure all of the different ingredients that you use to make this Chicken Parmesan. I don't know about you, but my measuring cups always seem to get separated and sometimes I can't find the one I need. I recommend this set, because it has the spoons and cups all together, is stainless steel, and has a solid ring to keep them together.
Kitchen Prep Bowls: Since you have to use multiple bowls in this recipe for the the bread crumb mixture and the egg wash, it is important to have some good kitchen prep bowls. I like these ones because they can be used to prep and they are good for serving as well.
Course: dinner, Main Course Cuisine: American, Italian Keyword: baked chicken, dinner, parmesan
2-3

Chicken Breasts

1-2

Cups

of Breadcrumbs

1

Cup

of shaved Parmesan Cheese

1

Egg

1

Cup

of Milk

1

Jar Pasta Sauce

Salt

Pepper, Paprika, Cumin, Italian Seasoning

Provolone Cheese Slices

Mozzarella Cheese

grated

Pasta
Create an egg wash station by filling a bowl with the milk and combining it with the egg and some salt and pepper.
Cut the shaved Parmesan Cheese into tiny pieces and add to a separate bowl with the breadcrumbs, salt, pepper, cumin, and paprika.
Submerge the chicken breasts in the egg wash and then coat in the breadcrumb mixture.

After breading the chicken, sear each piece of chicken on both sides in a hot frying pan with a small amount of oil until browned

Add a small amount of pasta sauce to the baking dish and then add the pieces of chicken on top.
Top each piece of chicken with more sauce.
Top each piece of chicken with the provolone, then the mozzarella, and finally with the remaining Parmesan cheese shavings.
Top with Italian seasonings.
Bake at 375 for 20 minutes and serve with pasta that is tossed with butter, garlic, and Italian seasoning.
Three Cheese Chicken Parmesan Recipe Amount Per Serving (1 Piece) Calories 492 Calories from Fat 189 Total Carbohydrates 32g 11%* Percent Daily Values are based on a 2000 calorie diet.