A couple of weeks ago I shared a recipe for béchamel sauce (with a fairly elaborate How-To and troubleshhooting). Béchamel is a basic white sauce made from whisking melted butter and flour together into a paste and then using that paste to thicken milk. It's used in all kinds of other recipes, such as lasagna (like this one!) and soufflés.
Béchamel is a basic sauce so it's easy to flavor it up in different ways. One of my favorite things to add is cheese. In fact, homemade macaroni and cheese is made with a cheese-doused béchamel.
Cheesy béchamel is also an amazing dip or drizzle for vegetables, especially broccoli.
MY LATEST RECIPES
That's what I have for you today, an easy, basic but delicious cheese sauce that you can use on pasta or vegetables. It's so good you can even just dip bread or crackers in it. Go for it!
2 Tbsp. unsalted butter
2 Tbsp. all-purpose flour
2 cups whole milk
2 cups shredded sharp cheddar cheese
1/2 tsp. salt
1 tsp. Dijion mustard (optional)
a pinch of cayenne pepper (optional)
In a medium saucepan, melt the butter over medium-low heat. Add the flour and whisk together to form a paste. Cook for 2 minutes while whisking continuously.
Add 1/4 cup of the milk and whisk until smooth. Repeat until you've added 1 cup of milk. Add remaining milk and stir to combine. Increase heat to medium-high and bring to a boil while whisking constantly. Let boil one minute and take off the heat.
Add cheese, salt, and Dijon and cayenne pepper, if using. Stir until cheese is melted.
How to Make Easy Cheese Sauce:
It's so simple! This is how to make it on the stovetop, which is my recommended method, but you can scroll down to the recipe card for more detailed directions as well as microwave directions. In the microwave, it likes to boil over, so use a big bowl and keep an eye on it!
Melt butter and whisk in flour. I like to use unsalted butter so you can season to taste at the end, because cheese can add a lot of saltiness to this sauce.
Slowly stir in Simple Truth Milk while whisking sauce. You cannnnnn use fat-free milk, but I recommend 2% milk or whole milk for best results.
Continue to cook until mixture thickens. Remove from heat and whisk in shredded cheese and any other ingredients you'd like to add.
That's it! It's so easy and such a delicious thing to know how to make.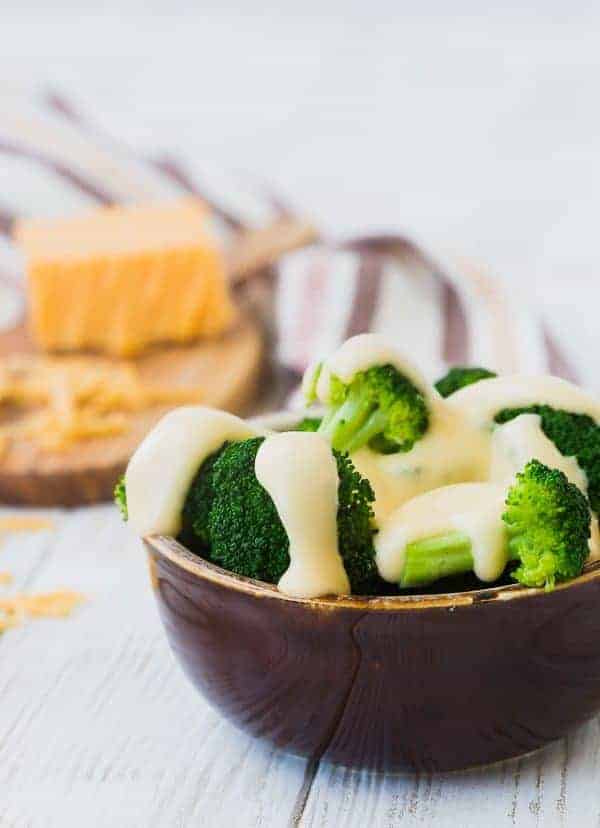 Variations on this easy cheese sauce:
Creamy Enchilada Sauce: Use Cheddar or Monterey Jack cheese. Add 1 tablespoon of chili powder for an irresistible enchilada sauce.
Nacho Cheese Sauce: Use Cheddar, Monterey Jack, or Pepper Jack cheese. Add 1/2 cup of salsa for an easy nacho cheese sauce – perfect for chip dip!
For Macaroni and Cheese: Double all ingredient amounts! I like cheddar for macaroni and cheese, but use whatever you'd like!
To make dip for Chicken Cordon Bleu Skewers: Use Swiss cheese and add 1 teaspoon of Dijon mustard. It's irresistible!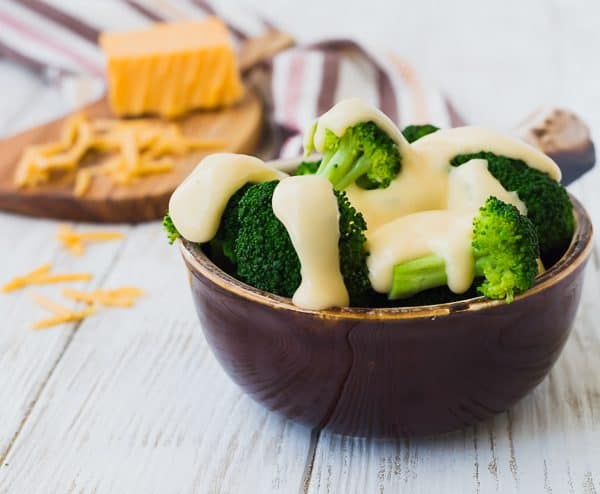 1 cup Simple Truth milk (2% or whole milk is best)
2-3 tablespoons all-purpose flour – see note
3 tablespoons unsalted butter
1 cup shredded cheese (when in doubt, use Tillamook Sharp Cheddar cheese)
Pinch of cayenne powder, optional
Salt to taste
1 cup Simple Truth milk (2% or whole milk is best)
2-3 tablespoons all-purpose flour – see note
3 tablespoons unsalted butter
1 cup shredded cheese (when in doubt, use Tillamook Sharp Cheddar cheese)
Pinch of cayenne powder, optional
Salt to taste
In a small saucepan, heat butter over medium heat until melted. Whisk in flour and cook for 1 minute.
Slowly add milk while whisking and continue to cook until bubbling and thickened.
Remove from heat and add shredded cheese and cayenne. Stir to melt cheese and serve immediately with cooked pasta, vegetables, baked potatoes or whatever you love with cheese sauce!
Freshly grated cheese works best for this recipe. Pre-grated cheese contains ingredients that prevent it from clumping together in the package and can lead to a less-smooth texture for your cheese sauce.
For a thinner sauce, use 2 tablespoons of flour. For a thicker sauce (that could be used as a dip), use 3 tablespoons of flour.
Microwave Directions: In a large microwave-safe bowl, melt butter (25-40 seconds on high). Whisk in flour and slowly whisk in milk. Microwave covered for 2 1/2 minutes, whisking every 30 seconds, or until thick. If needed, continue microwaving in 30 second intervals until desired thickness is achieved. Add cheese and stir to melt. Serve immediately.
Nutrition Information:
Yield: 8 Serving Size: 3 tablespoons Amount Per Serving: Calories: 136 Total Fat: 9g Saturated Fat: 6g Cholesterol: 27mg Sodium: 102mg Carbohydrates: 7g Fiber: 0g Sugar: 2g Protein: 5g Verdict: I could drink this stuff.Husband's take: I mean, really, who doesn't love cheese sauce?Changes I would make: It's great the way it is, but have fun with some of the ideas I mentioned further up in this post….or do your own thing! Let me know what you try!Difficulty: So easy!
This content and recipe is in partnership with Kroger and Tillamook. I was compensated for my time but all opinions are, as always, my own. Thank you for supporting Rachel Cooks by reading about brands we use and love in our own home. Sponsored posts like these help me cover some of the expenses involved with keeping this site free for you to use! 
Never miss a recipe! Subscribe to receive new post updates via email and get a FREE ebook filled with 10 of our family's favorite recipes:
When you make a recipe from my site tag it with #RachelCooks! I love to see what you're creating!