Let's be clear: cauliflower does not magically turn into rice when you grate it, so don't expect this to taste like rice. It's more about function. So if you're not a big fan of cauliflower to begin with, you probably won't be a fan of cauliflower rice. To make enough for two big servings, start with one large cauliflower.
Pull off the leaves and break the cauliflower into large florets, then rinse them well. Leave them in a colander to let all the moisture drain off or pat them dry with a paper towel. If you plan on steaming your cauliflower rice, it's not super important that the florets are dry, but if you're going to sautée, dry it well.
At this point, you have two options: you can grate your cauliflower florets or you can process them in a food processor. Obviously, the food processor is the easier choice. Break the florets into smaller pieces, then put half of them in the large bowl of a food processor and pulse until finely chopped, then dump the rice out and pulse the remaining florets.
If you don't have a food processor or you want to make sure your grains are uniform in size, using a box grater (on the side with the larger grates) works well too.
Now it's time to cook your cauliflower rice! (You can eat it raw too.) Heat a large skillet over medium-high heat and swirl around about a tablespoon of oil to coat the bottom (grapeseed oil and olive oil work well). Once the oil has heated, add the rice and cook it for about 5 minutes, or until it's softened and just beginning to turn golden brown. Season with salt and pepper to taste.
Depending on the plans you have for your cauliflower rice, you can add some chopped onion or minced garlic to the oil before adding the cauliflower, or stir in chopped herbs or fresh lime juice after the rice is done cooking. If you prefer to steam your cauliflower rice, you can heat about 2 tablespoons of water or veggie broth in your skillet, add the cauliflower, then cover until tender, about 2 minutes. If there's still liquid in the pan, take off the lid and let it cook off before serving. This saves you a few calories because you're not using oil, but I think the sautéed method is best–the cauliflower flavor mellows a bit and it becomes almost nutty, kind of like brown rice.
Cauliflower doesn't work as a substitute for rice in every recipe, but it will work as a substitution in any recipe that calls for serving over a bed of rice. It's also a perfect replacement for couscous. Half a batch of it cooked in grapeseed oil (pictured above, with red curry vegetables) is only about 40 calories more than a paltry half-cup serving of cooked white rice. That's a giant plate of rice for 165 calories!
More Creative Ideas for Cauliflower
Cauliflower isn't just for rice! You can make cauliflower into a pizza crust, use it instead of chicken in Buffalo wings, and even make it into a creamy alfredo sauce. We've got a round-up of 20 secret-ingredient cauliflower recipes with lots of additional ideas.
30 minutes or lesscauliflowercauliflower ricegluten-freepopularside dishes
10 Uses for Cauliflower Rice
1. Stuffed Peppers
You don't need meat or grains to pack your peppers with a satisfying filling. Mix cauliflower rice with your favourite herbs, greens, veggies or beans and drizzle with tomato sauce, pesto, or peanut-free peanut sauce for an Asian flair. And while you're stuffing things, you could also try tomatoes or butternut squash!
Recipe to Try: Cauliflower Rice Stuffed Peppers by Minimalist Baker
2. Fried Cauliflower Rice
This is a great option if you've got a collection of vegetables in the fridge that are looking a little sad and wilted. With the combination of veg, cauli rice, gluten-free tamari or coconut aminos, ginger, garlic and protein-rich tofu or tempeh, you'll find yourself with a perfect gluten-free dinner recipe.
Recipe to Try: Cauliflower Fried Rice Bowl by The Glowing Fridge
3. Sushi with Cauliflower Rice
Instead of white rice or brown rice, swap in cauliflower rice as a way to pack even more veggies into your day. Veggie sushi is a wonderfully portable option for your lunchbox (or your child's lunchbox) – simply grab a reusable container (preferably a glass one) and you'll be counting down the minutes till noon arrives.
Recipe to Try: Cauliflower Rice Sushi Rolls by 8th and Lake
4. Cabbage Rolls Stuffed with Cauliflower Rice
With cauliflower rice, these ain't your grandma's cabbage rolls. Yet they are still comforting and delicious! Load up your cauliflower filling with onions, garlic and lentils, and smother the cabbage rolls with a heavenly tomato sauce. No one will know the difference.
Recipe to Try: Stuffed Cabbage Rolls with Cauliflower Rice + Tomato Sauce by Fresh Energy Recipe Lab
5. Cauliflower Rice 'Pilaf' or Couscous
Most couscous recipes are all about the herbs and fresh vegetables anyway, so you're really not missing out on anything when you substitute cauli rice. This is the time when you'd want to use it raw and really let the crunch and flavours shine!
Recipe to Try: Cauliflower Couscous by Meghan Telpner
6. Cauliflower Rice Pizza Crust
You've probably seen an abundance of cauliflower crust pizzas floating around the internet – unfortunately, most of them have eggs and cheese. If you opt for flax eggs or chia eggs, you can enjoy cauliflower crusts even if you're vegan! The key to a good cauliflower pizza crust is squeezing out all the liquid from your cooked rice – so wrap up your rice in a tea towel or too and squeeze away.
Recipe to Try: The Best Paleo Cauliflower Pizza Crust by The Paleo Desire
7. Cauliflower Rice Bowls
A perfect and simple dinner bowl contains a gang of veggies, healthy fats, a nourishing source of protein, a fabulous sauce and a mix of textures. For extra flair, toss some cauliflower rice into the mix!
Recipe to Try: Cauliflower Rice Bowls with Spring Veggies + Arugula Pesto by Domesticate Me
8. Cauliflower Rice Sandwich Wraps
Add in some extra cauliflower goodness to your next sandwich wrap or rice wrap. Go Mexican with cauli rice, beans and salsa, or opt for Mediterranean with cauli rice, falafel, tomatoes and tahini sauce. With its neutral flavour, cauliflower rice can fit in anywhere.
Recipe to Try: Mint Grilled Sweet Potatoes with Tahini Cauliflower Rice Wraps by Food Faith Fitness
9. Cauliflower Rice Veggie Burgers
We put all kinds of veggies into our veggie burgers, so why not cauliflower as well? Riced cauliflower will add some extra moisture to your favourite veggie burger recipe, so you may need to reduce the amount of liquid elsewhere if needed.
Recipe to Try: Cauliflower Falafel Veggie Burgers by Cookie + Kate
10. Cauliflower Rice Risotto
If you remove the arborio rice, butter, cream and Parmesan, is what you're left with risotto? We think so! And the health benefits of ditching dairy and reducing grain consumption are more than enough incentive to make the switch.
Recipe to Try: Cauliflower Rice Risotto with Asparagus and Mushrooms by Cookies to Kale
What have we missed? How do you like to use cauliflower rice?
Header Image: iStock/nata_vkusidey
culinary nutrition
gluten-free
health
Making Cauliflower Rice
Using a food processor it is fairly easy to get the cauliflower chopped into a rice-like texture. Only put small batches of cauliflower in the food processor at a time until it resembles rice. If you don't have a food processor you can also use a grater to get the same result. (Just watch  your fingers!)
We use a smashed garlic clove, salt, and pepper to season the cauliflower rice. To cook the rice you need to heat oil in a skillet and then add the cauliflower and garlic. The moisture from the cauliflower will evaporate as it cooks but watch it closely because as the cauliflower begins to cook it will toast quickly. You don't want it to burn!
When the cauliflower rice is finished cooking remove the garlic and season the rice with salt and pepper. Top it with chives for extra flavor! You can serve this rice on its own or incorporate it into a different recipe! It also freezes great if you want to make it in big batches and just toss frozen into a pan to heat. (How is that for quick dinner prep!)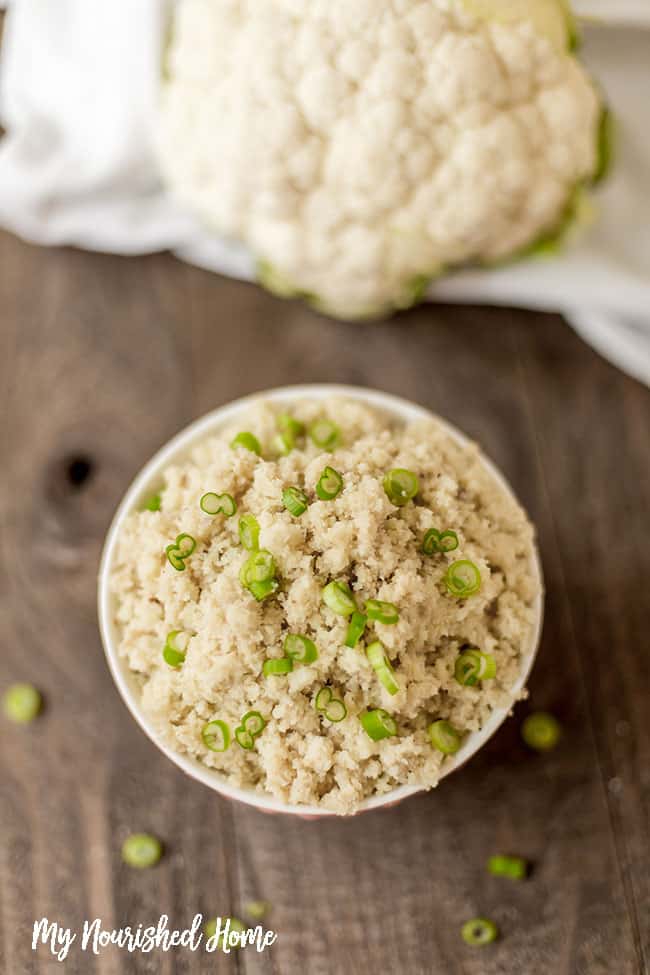 Looking for More Healthy Rice Recipes?
This Apple Cranberry Rice Pilaf is so easy and really delicious. We often serve it with baked or grilled chicken on top as a complete meal. But is also fabulous as a side dish.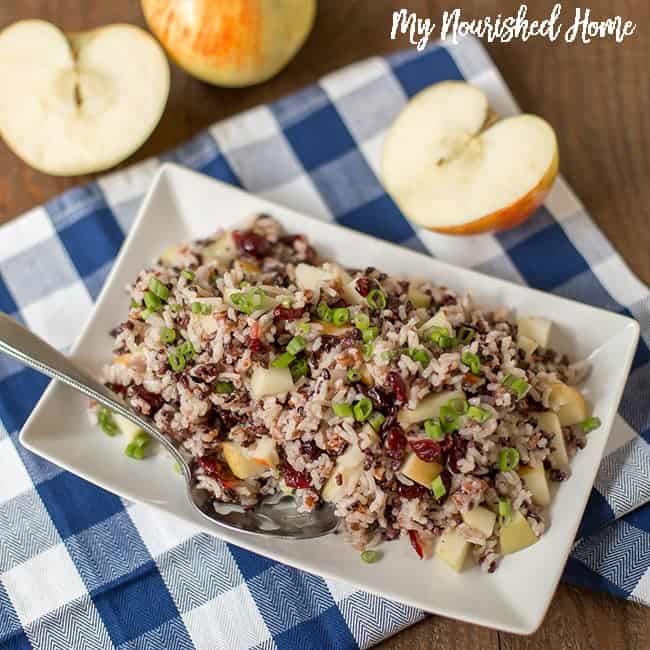 This easy and Healthy Vegetable Fried Rice is on regular rotation at our house. Not only is it delicious for dinner, but it heats up great for lunches during the week.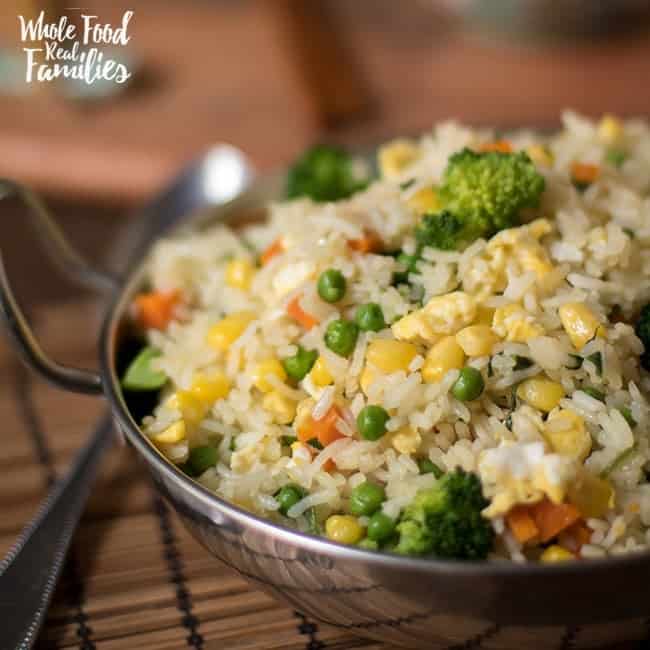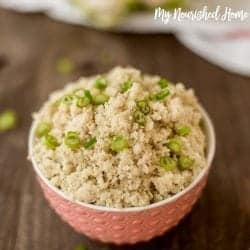 2

leaves

large cauliflowers

removed and cut into small pieces

1

large

garlic clove

smashed, not chopped

3

Tbsp

olive oil

salt/pepper

chives/green onions
In a food processor and in batches process the pieces of cauliflower until they are fine, and resemble rice. Repeat till done.
Heat oil in a large skillet, add the cauliflower rice and garlic and let it cook until the moisture from the cauliflower has evaporated. Start at high heat, and lower the heat once the cauliflower started to turn color and brown a bit. (Toasting adds lots of flavor – burning does not. So watch it closely!) This can take anywhere between 10 to 15 minutes, depending how much rice you're making. Test the consistency of the rice, if you feel that the cauliflower grains are soft, then you know it's cooked.
Season with plenty of salt and pepper. Remove the garlic prior to serving.
Have you have tried cauliflower rice yet?
After recently learning that I needed to pay more attention to my carb intake, I have been experimenting with all sorts of substitutes for commonly eaten grains. I've been trying new foods such as collard wraps, zucchini noodles, sweet potato toast  and – you guessed it – cauliflower rice. And you know what? I've never felt better!
Since cauliflower rice has become a staple in my house, I figured I ought to share my "how to make cauliflower rice" guide today on the blog.
Spoiler Alert: It's super easy!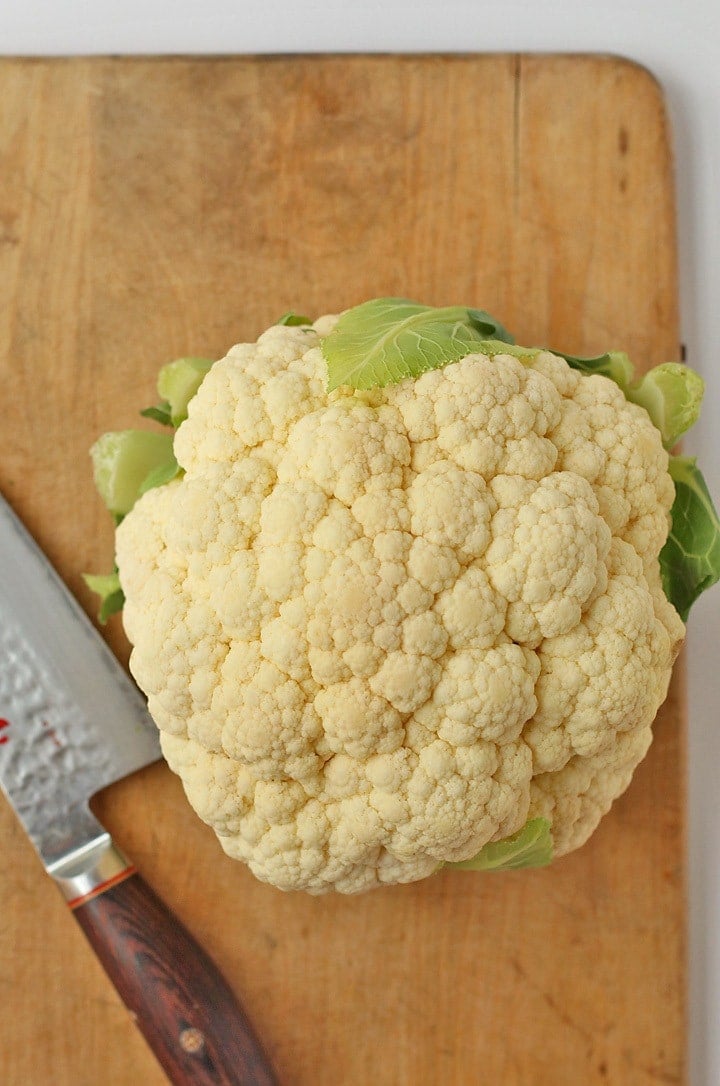 How to make cauliflower rice in 3 simple steps:
First, we start with a head of cauliflower.
When picking out your cauliflower, look for one that is firm, creamy white, and with compact, tightly closed florets. Avoid cauliflower with open florets or dark brown spots. These are sure signs that your cauliflower is close to spoilage.
When I buy cauliflower, I always go for smaller cauliflower heads. I find they are firmest and freshest.
Note: a small cauliflower will make about 6 servings of cauliflower rice. Larger ones can make between 8 and 10 servings.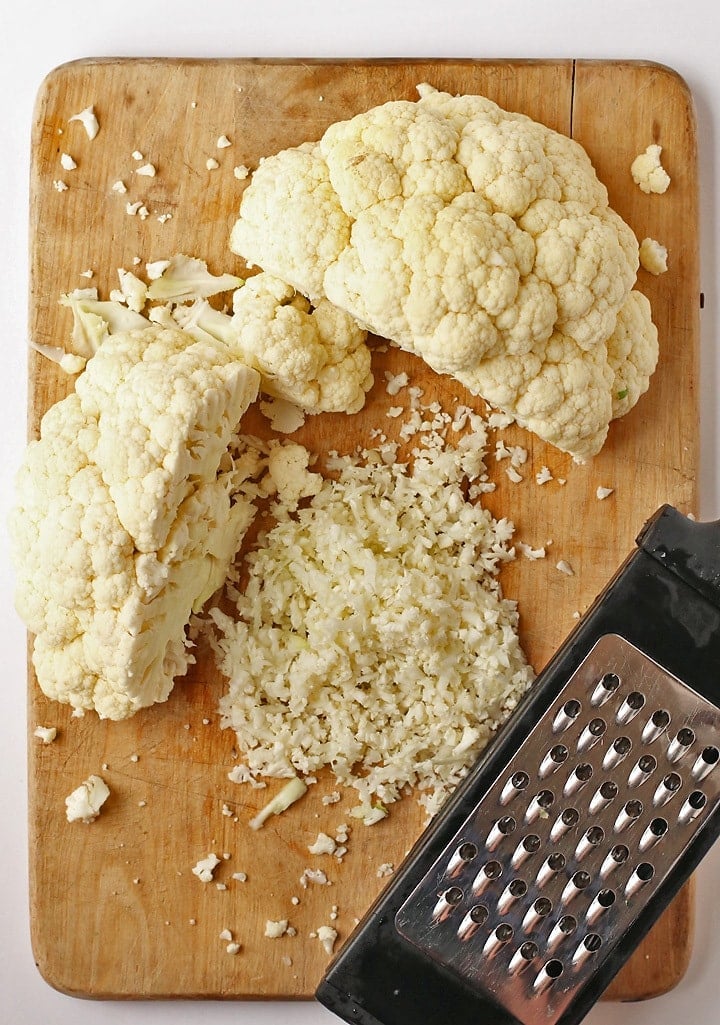 Once we've picked out our cauliflower, we are half way to cauliflower rice!
The second step in my how to make cauliflower rice guide is – turn it into rice.
This is done by grating the cauliflower into rice-size pieces. For this step you can either use a handheld box grater or your food processor with the shredding attachment in place.  I personally prefer a box grater as it gives you more control over the cauliflower and is easier to clean up.
To prepare your cauliflower, cut it into large pieces. If you found a small head, quartering the cauliflower should be fine. Press it through your box grater or food processor until you have small grain-like, rice-resembling pieces.