Cooker cake recipe – This post shows detail steps on how to make cake in a pressure cooker without using a oven. Baking without a oven is not a new technique. Infact it was invented and used since many decades in various countries. In India, most house holds use a cooker for their daily cooking. So many prefer to use it rather than investing in a Oven.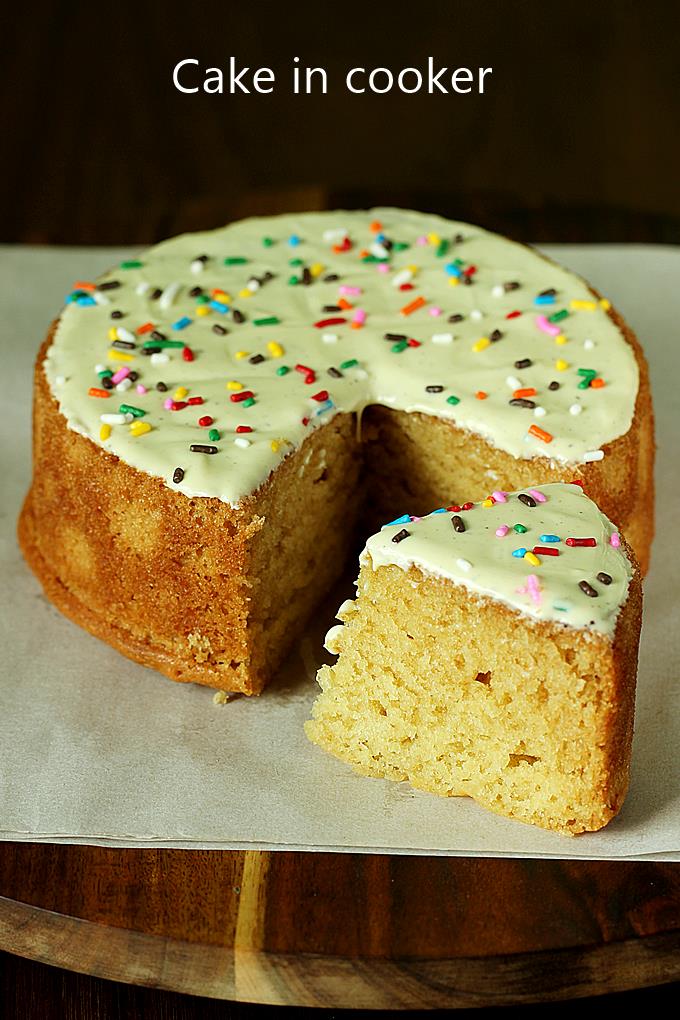 I had lot of readers requests for a cooker cake recipe. I tried a few recipes with and without egg which I will be sharing here. In this post I am sharing a eggless cake recipe that can be baked in a cooker. However this recipe can also be used to bake cake in Oven.
You can also use the same technique shown below to bake a cake in a kadai or any pot.
It can be even tried by beginners and is made with very few ingredients. This recipe will yield you a soft, moist and delicious eggless vanilla cake. There is no condensed milk used here. If you prefer to use it, then you can check this post on How to make cake with condensed milk.
Cooker cake recipe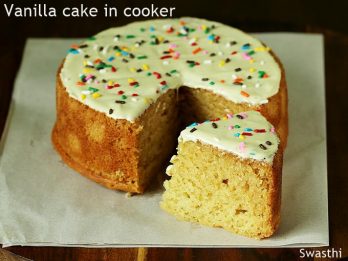 1 ½

cups

all-purpose flour

(or maida) (190 grams)(organic)

1 ¼

tsp

baking powder

½

tsp

baking soda

1

pinch

Salt

¾

cup

sugar

(+ 2 tbsp optional) (organic)

½

cup

oil

(or melted butter)

1

cup

milk

(do not use cold milk)

1 ¼

tbsp

vinegar

(or lemon juice)

2

tsps

vanilla extract

(or few drops essence)
100

grams

chocolate

(any chocolate or chips)
Grease 7 inch cake tray. Dust with flour evenly or line a parchment paper. Set this aside.
Add salt to a pressure cooker and spread it evenly.
Cover the salt with a plate.

Place a ring or hot pot stand over the plate.

Remove the gasket and weight.

Cover the cooker and begin to heat it on a medium heat.
Pour milk, sugar, vinegar and vanilla to a mixing bowl.
Stir well until sugar dissolves.
Add flour, baking powder, baking soda and salt to the sieve.
Lightly mix them up. Sieve it.
Gently mix until the flour is just combined well. Do not over mix the batter.
Pour this to the pan. Knock it a few times to the counter.
Brush milk on top to get a golden top. This is optional.
Place the cake tray inside the cooker on top of the ring or stand. The cooker has to be hot inside.
Cover the cooker with the lid. Pls note the gasket & weight have to be removed.
Bake for 50 to 60 mins on a low flame.
When the cake is completely baked, a tester inserted comes out clean. The cake top will be fairly dry when you touch it. If it is still moist then bake for few more mins.
Cool it for 10 to 15 mins over a wire rack.
Then invert it on to the wire rack.
Cool completely before slicing.
Preheat the oven to 170 C for at least 15 mins

Bake it for 30 to 35 mins. Tester inserted comes out clean. Adjust the time to suit the size of your pan and oven.
Pour water to a pot and heat it. The water level has to be less than half.
Place another bowl or pan over the pot. The bottom of the bowl or pan must touch the hot water. Also make sure water doesn't seep into the top bowl or pan.
Add 100 grams of chocolate or chips. Keep stirring until the chocolate melts and turns smooth.
Make sure the cake and the chocolate both are cool and not hot.

Pour the chocolate over the cooled cake and spread it evenly. Top with some sprinkles if you have.

Slice the cake and enjoy.
Equipment needed
Pressure cooker or pressure pan
1 plate (steel or aluminium to cover salt)
1 steel or aluminium hot pot stand or ring
1 cup salt or clean sand
Cooker cake recipe | How to make cake in pressure cooker Calories 282 Calories from Fat 108 Total Carbohydrates 38g 13%* Percent Daily Values are based on a 2000 calorie diet.
Preparation for cooker cake recipe
1. I have used a 7 inch cake pan. If you use a smaller pan, the batter may overflow while baking. Grease the pan and dust some flour. If possible use butter pan or parchment paper.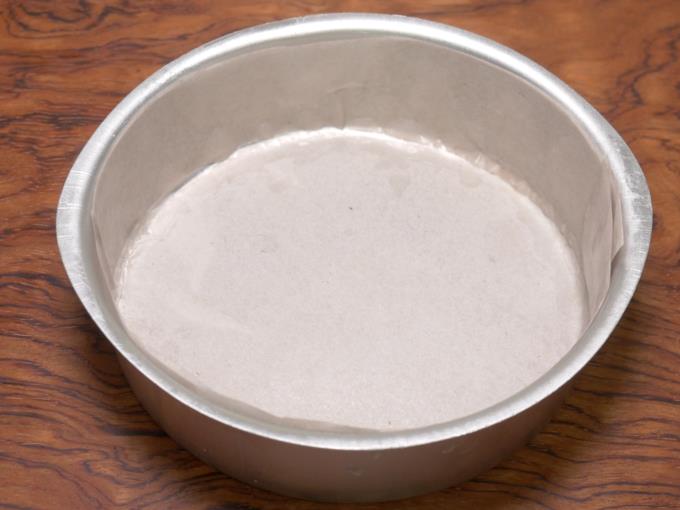 2. Spread salt in the pressure cooker.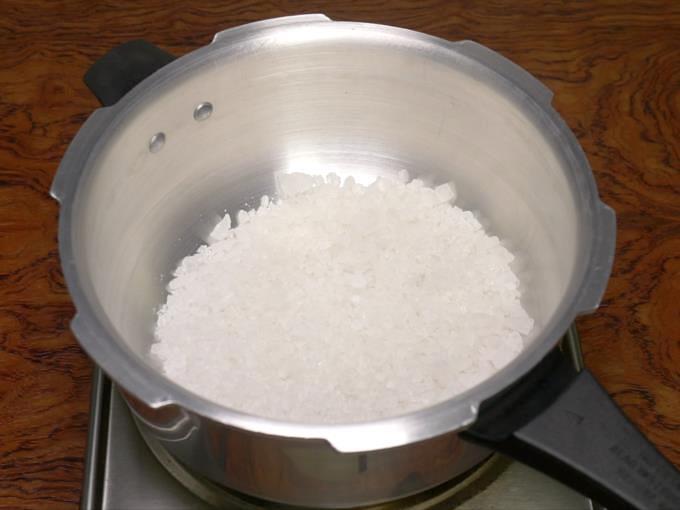 3. Place a plate over the salt. Any plate will do. It is just to cover the salt. Place a ring or any hot pot stand. The bottom of the cake may get burnt or over baked if you place the pan directly on the plate.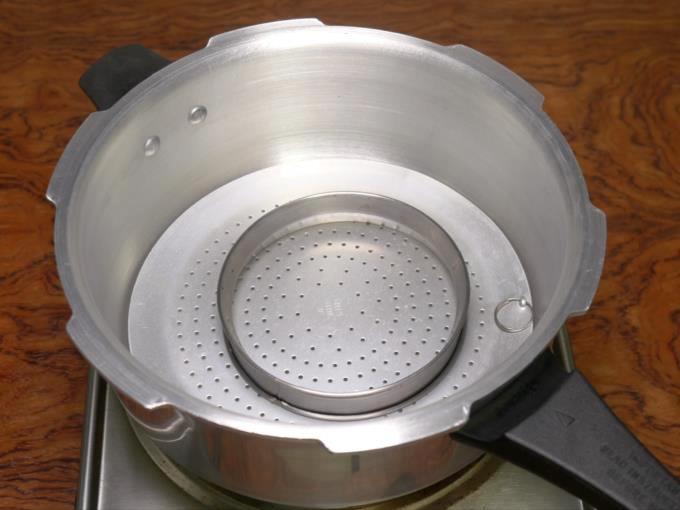 4. Remove the gasket or ring and weight.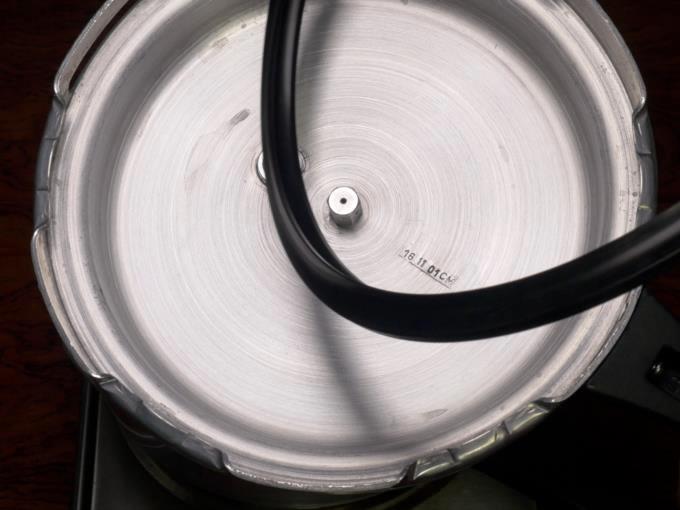 5. Cover the cooker. Heat it on a medium flame.