I grew up in western Pennsylvania, just outside of Pittsburgh.  Cabbage rolls (stuffed cabbage, pigs in a blanket) were a way of life and a tradition served as easily at a family reunion as they were at weddings.  Last summer, I started making my own after years of going without and at that time I learned just how very wonderful and easy it could be to make cabbage rolls for now and later.  Specifically, when I make a batch, I make a big batch so that we can eat them for a night or two and then freeze a bunch to have for quick, easy, and healthy winter eating.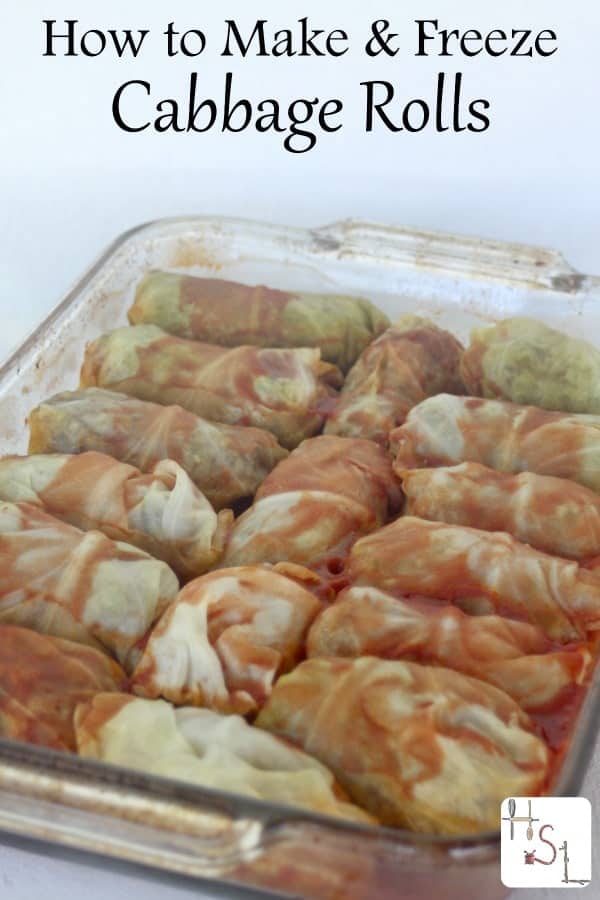 It's a relatively easy process, once you get the hang of it and making up huge batches when your garden is producing well is a great way to have quick meals on hand as well as preserve the winter bounty in a different, yet tasty way.  Here's my basic method:
Boil the Cabbage
Start with a fresh head of cabbage, cored.  Put that head of cabbage into a pot of boiling, salted water and let it blanch for a few minutes.  The outer leaves will start to come loose from the head.  I use a pair of tongs to remove these outer leaves and stack them on my cutting board.  I continue this process until all the leaves are loose and ready to be filled.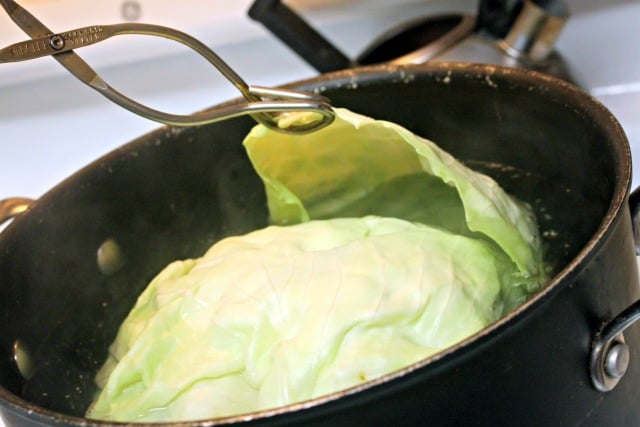 Make the Filling
The leaves are now ready for filling.  Use a filling of your choice but my cabbage rolls generally include:
raw ground meats (a combination of Italian Sausage and chicken is nice, plain ground beef, regular sausage, veal, ground turkey, etc. all work)
cooked brown rice
sauteed veggies (usually I start with basics of onion, celery, garlic, and green pepper but often add carrots and sometimes peas)
seasoning (salt, pepper, parsley, etc.)
vegetarians feel free to use cooked lentils or buckwheat instead of meat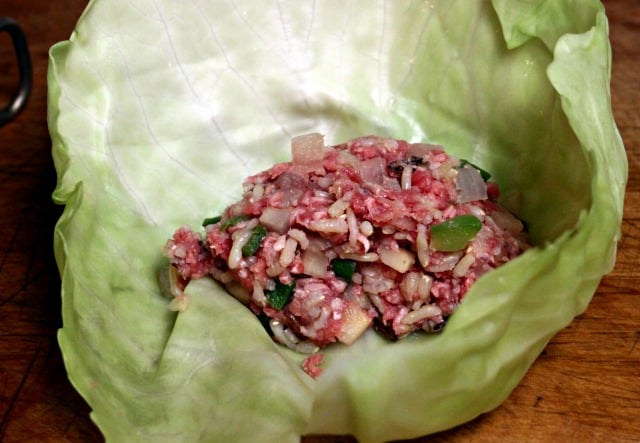 Preheat oven to 350 degrees.  Place a spoonful of the filling in the middle of your cabbage leaf and roll up like a burrito.  It's easiest to roll from the core edge, tucking the ends in as you roll.  Place the roll into a baking dish, seam side down.  Continue until you've used up all the leaves / filling.  I pack them tightly into the baking dish.
I pour some tomato juice over all of the rolls, making sure I have about 1/4″ of tomato juice at the bottom of each pan.  You can use store-bought or fresh juice here (even tomato juice cocktails would work here).  Cover the pans with aluminum foil and bake in the preheated oven for an hour.
Uncover the rolls and serve immediately the ones you want to eat now. 
How to Freeze Cabbage Rolls
To freeze rolls for later, allow them to cool then put dinner size portions in freezer bags.  Pour a little of the tomato juice into each bag and freeze.
To Reheat
Place frozen rolls and their frozen tomato juice into a saucepan, cover, and simmer until heated through. Probably about 30 minutes. It'll go faster if the cabbage rolls are thaw before reheating, naturally. Alternatively, place the thawed rolls into a casserole dish, pouring the tomato juice on top. Cover the pan and bake in a 350 degree oven for 30-45 minutes, until heated through.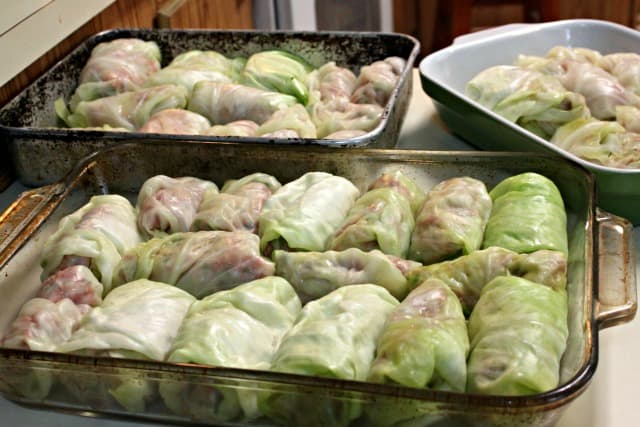 Disclaimer: I may receive compensation for products mentioned in this post. All opinions expressed are my own. I am not a doctor, always seek trained medical advice. No statements should be considered approved by the FDA or as a diagnosis or treatment for any illness.See my Full Disclaimer Here.
What Do You Serve with Stuffed Cabbage Rolls?
Looking for the best way to serve these slow cooker stuffed cabbage rolls? They're perfect on their own, but you can also serve them over mashed potatoes, garlic mashed cauliflower, or brown rice. You'll have some beautiful sauce left in the bottom of the slow cooker, so don't forget to ladle that tomato sauce over the top of the potatoes or the rice.
Now that you know how to make them, let's get cooking. Give us a shout in the comments if you have any questions. We always love to hear from you!
Slow Cooker Stuffed Cabbage Rolls
Ingredients
12 leaves cabbage
1 cup cooked long grain rice
1 egg, beaten
1/4 cup milk
1/4 cup finely chopped white or yellow onion
1 clove finely chopped garlic
1 pound raw, lean ground turkey
1 1/4 teaspoons salt
1 1/4 teaspoons ground black pepper
1 (15-ounce) can tomato sauce
2 tablespoons ketchup
1 teaspoon Worcestershire sauce
1 teaspoon paprika
2 tablespoons lemon juice
2 tablespoons honey
1/2 teaspoon dried thyme leaves
Instructions
Bring a pot of salted water to a boil over high heat. Boil cabbage leaves for 2 minutes. Whisk together tomato sauce, honey, spices, lemon juice, ketchup, the salt and pepper, and Worcestershire sauce.
In a separate bowl, combine the cooked rice, egg, milk, onion, garlic, and ground turkey. Add in 1/4 of the sauce and combine well.
Scoop about 1/4 cup of the gound turkey mix into the center of each cabbage roll. Roll up the leaves, tucking in the ends. Top with tomato sauce and cover.
Cook on low for 8 to 9 hours or on high for 4 to 5 hours.
https://skinnyms.com/slow-cooker-stuffed-cabbage-rolls-8/ Copyright 2018 Skinny Ms. ® All rights reserved.
You might also like our list of 73 Healthy Slow Cooker Recipes.
Be sure to subscribe to our newsletter, like our Facebook page, and follow us on Pinterest for tasty recipes, clean eating tips, and healthy lifestyle resources.
Last updated: June 11, 2018