Jump to Recipe Print Recipe
It seems like some people are just born knowing how to make gravy from scratch while others struggle for years before finally succumbing to the heartbreak of gravy failure. If you think I am kidding around just bring a can of store bought gravy to the next southern dinner you get invited to.
No, please don't. I can't be responsible. Just read through and learn to make it right.
For this recipe you'll need: milk or meat/poultry stock, fat (bacon grease, butter, drippings…whatever), flour, salt, pepper, additional seasonings as desired

The Restless Chipotle Channel
So, just about everybody knows that people in the south consider gravy to be a vital part of the food pyramid, right? Country gravy, also known as cream gravy, goes on chicken fried steaks, chicken fried chicken, biscuits and such. Brown gravy goes on pot roast, roast chicken, turkey  and stuff like that. Any kind of gravy goes on mashed potatoes.
Once you have that down you're good to go.
It seems like people are less and less able to cook from scratch. I had an interesting conversation in the grocery store right around Thanksgiving with a woman that was likely in her late 30s or early 40s. She was looking at the boxed pudding mixes and couldn't find the one she wanted. She asked if I happened to see it because she needed to make banana pudding.
Y'all would have been proud of me. I maintained my composure and took a deep breath. "You know you can make pudding, right?"
She rolled her eyes at me. "Well yeah! But I can't find the right kind! The flavor will be wrong if I use butterscotch!"
I smiled what I hoped was a tolerant smile. "Actually, you can make your own pudding with milk, flour, eggs, butter, and vanilla."
I'm telling you she was gobsmacked. She looked at me like I had sprouted horns and begun to levitate right there in the baking aisle. Pinky swear.
"I'm sorry, what?"
I sighed. Keep in mind, I have eight children. I was not a patient person at 20 but all of my pregnancies lasted 43 weeks, my kids were all stubborn like their mom, and by the time I was 50 I had learned that sometimes you just have to breathe through it. "You. Can. Make. Your. Own."
I'll just cut off the dialogue there. It ended up with her taking home my instructions for banana pudding, hand written on a brown paper towel from the bathroom.
How to Make Gravy from Scratch
Of course none of that helps you know how to make gravy. My point is that we just tend to buy convenience foods without thinking. Homemade from scratch often doesn't take much more time, is cheaper, and definitely yummier. Society seems to be losing the ability to be independent of the local supercenter and I fear that one day a hostile government will come in and take over merely by confiscating boxed pudding and jarred gravy.
The technique is the same whether you are making cream gravy or brown gravy so this recipe will show you how to make gravy of any sort you like.
Best Tips for How to Make Gravy
Don't use margarine! Use real butter (not whipped), bacon fat, or drippings from the meat. Use oil if you must but don't use margarine! Please!
Go easy on the salt. You can always add more once it's done.
Add plenty of freshly ground black pepper. Yes, even in the cream gravy. It's supposed to be "freckled".
Be sure to cook the flour in the fat for at least 2 minutes while stirring constantly. This will get rid of any raw flavor.
When you add the liquid to the fat and flour mixture do it slowly while whisking with your other hand. Whisk quickly and all of the lumps should whisk right out. Do not let it scorch – there's no coming back from that.
If you're worried about lumps in the gravy just strain the gravy as you pour it into the serving bowl. With practice there won't be any lumps to strain out.
Use evaporated milk or whole milk for your cream gravy. Do not use non-fat or low fat. Please, this is GRAVY.
DO NOT dilute your gravy with water. Dear God.
Strain any pieces of meat or vegetable out of your stock before making brown gravy.
Always taste and adjust
Step by Step Turkey Gravy From Scratch
You'll find the giblets and heart and liver in that paper bag inside the turkey. Some people add the liver to the simmering water but I don't like the flavor. Do what you want about that. Learning how to make gravy is largely a matter of experimenting to see what you like best.
Cover the neck and giblets and heart with water.
Add 1 onion, peeled and cut in half as well as 1 peeled carrot, 1 stem of fresh rosemary, and 2 stalks of celery.
Simmer covered until the meat is cooked through and the vegetables are soft.
Remove the vegetables and strain the stock to remove meat and vegetable matter – some people like to just blend the vegetables up with the broth for a heartier gravy. Others chop the cooked giblets, heart, and neck meat up and add it to the gravy. You've got options.
Use as directed in the recipe.
Homemade Gravy FAQs
Here are some of the most frequently asked questions about making gravy from scratch. If you can't find you're answer here go ahead and ask in the comments and I'll get back to you.
Pretty much just like you make it with cream or milk.
Collect the juices and the fat from the meat you are roasting or use prepared stock.
 Let the fat separate and skim it off.
Add the fat to a heavy saucepan.
Stir in flour and cook for 1 minute.
Stir in the meat juices and/or stock until you get a smooth gravy.
How Can I Make Quick Gravy?
If you don't have meat juices and fat from roasting you can still make a great gravy with butter and store bought stock –
Melt butter in pan over medium heat. Bacon grease works well, too.
Add flour, stirring constantly for 2 minutes until the mixture is a light tan but don't let it brown.
Add broth, salt and pepper .
Continue to stir for 3 minutes or until it thickens.
Can You Make Gravy with Flour and Water?
Not really – you need at least a little meat, chicken, or vegetable stock to give it flavor. Bullion is an inexpensive way to flavor your gravy.
Can You Make Gravy Out of Cornstarch?
You sure can. Usually people make it with flour but you can use cornstarch as well. Here's how –
Mix 2 tablespoons cornstarch with 1/4 cup cold water until smooth. Stir into the pan of stock and bring to a boil, stirring constantly. It should thicken in about 1 minute. Substitute 1 tablespoon cornstarch for every 2 tablespoons flour to thicken gravy. There's no need to make a roux.
Can You Use Baking Powder to Thicken Gravy?
No.
You May Need…
The following are affiliate links. We are a participant in the Amazon Services LLC Associates Program, an affiliate advertising program designed to provide a means for us to earn fees by linking to Amazon.com and affiliated sites.
Thanks so much for being a part of Restless Chipotle!
A balloon whisk is great for most things but once you use this weighted ball whisk for gravy you'll be hooked. It takes much less effort!
Basic Gravy Recipe
Here's that homemade Southern gravy recipe. Potatoes, biscuits, spoons…. it's all good with gravy! If you like this recipe please give it 5 stars. Thanks!
1/4

cup

fat

bacon fat is preferred — no it's essential — if you are making cream gravy

1/4

cup

all purpose flour

2

cups

whole milk,

chicken stock, turkey stock, or beef stock

Salt and cracked black pepper to taste
Add the fat to a heavy skillet, melting it if it's solid.
Whisk in the flour until no lumps remain.
Cook, stirring constantly, for 2 minutes, or until it starts to brown and smell a little like roasting pecans.
Whisk in the milk or stock, a little at a time, stirring until smooth and no lumps remain.
Bring to a simmer and cook, stirring constantly, for a few minutes or until it thickens.
Taste and add salt and pepper plus any other herbs and seasonings you'll be using.
Calories 83 Calories from Fat 66 Total Carbohydrates 3g 1% * Percent Daily Values are based on a 2000 calorie diet.
Now that you know how to make gravy give these other Restless Chipotle favorites a try!
From left to right: Hatch Chile Pimento Cheese, Damntastic Texas BBQ sauce, Homemade Fig Jam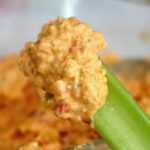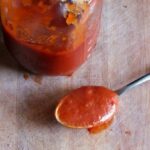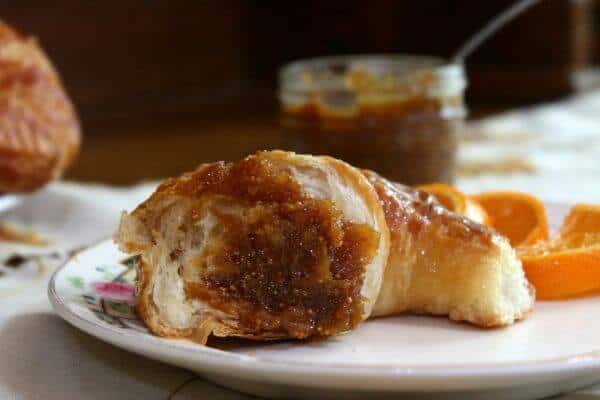 Check out the other great recipes on the Meal Plan Monday roundup!
Easy Beef Gravy Ingredients
For this recipe you will need:
beef bouillon
flour
butter
and water
There's not much more to it. Optionally, you can include an onion, very finely chopped. You can also add some salt, but it's not really all that necessary since bouillon cubes are so salty to begin with.
Tips for Making Easy Beef Gravy
If you like thicker gravy, let it simmer for longer. If you like thinner gravy, don't let it simmer as long.
If you choose to add an onion or a garlic clove or anything "chunky," it is usually best to chop it as finely as you're able to.
For a more authentic gravy, check out this recipe for a homemade beef gravy made with beef drippings. You probably don't need a more authentic gravy if you're using it for something like french fries, though.
More recipes:
Step One: Grab Some Fat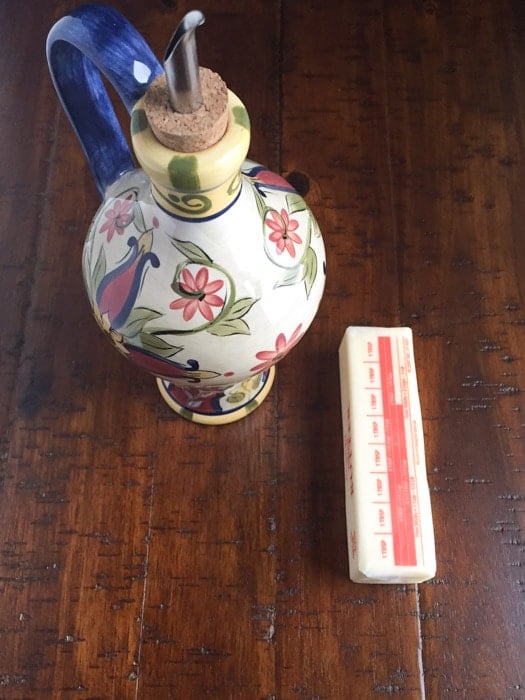 Pick a fat!  Roux is traditionally made with clarified butter (ghee). However, I rarely have this around the house. So I just use butter. Or, if I'm cooking for a dairy-free friend, I grab the olive oil. Both work!
Step Two: Grab Some Flour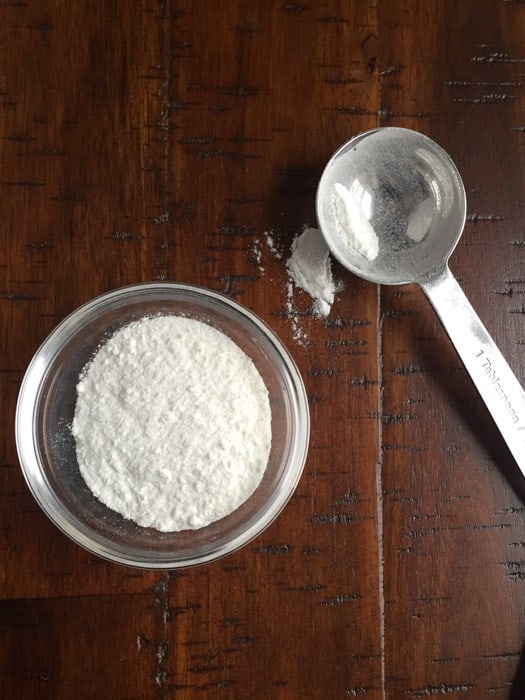 A roux is made with an equal part fat and flour. I think sweet rice flour makes the best gluten-free gravy and that whole grain gluten-free flours make the worst. Sweet rice flour swells, giving us a smooth gravy. Whole-grain flours, since they still have their bran present, don't seem to swell as much. And I find the flavor of the flour competes with the flavor of the gravy. If you can't find sweet rice flour, use white rice flour.
Step Three: Cook the Fat/Flour Mixture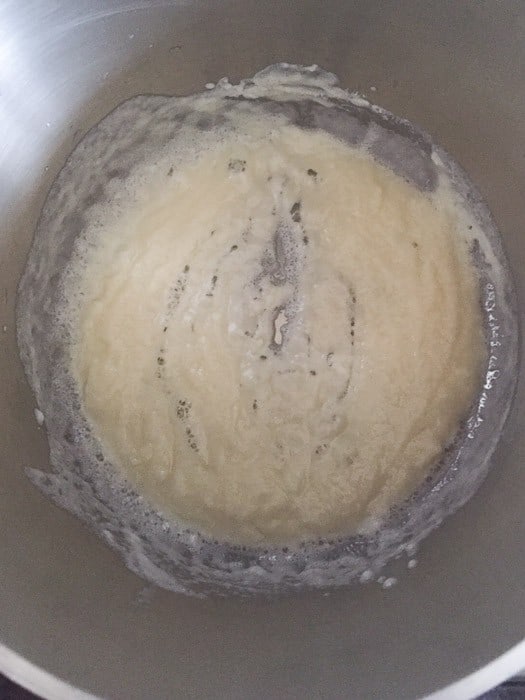 Place the butter (or oil) into a medium pan. Heat it until the butter melts or the oil becomes hot, but not smoking. Add the flour to the melted butter/hot oil. It turns into a paste right away! Here's where the magic happens! You want to cook the flour mixture. This adds flavor to your gravy and gets rid of the raw flour taste.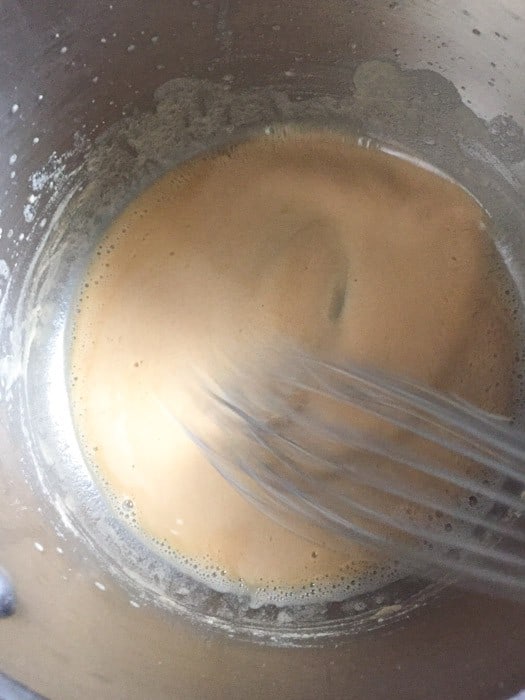 As you cook, about three to five minutes, look for the fat/flour to darken slightly. As you cook it, the fat/flour thins out a bit. This is normal.
Step Four: Add the Stock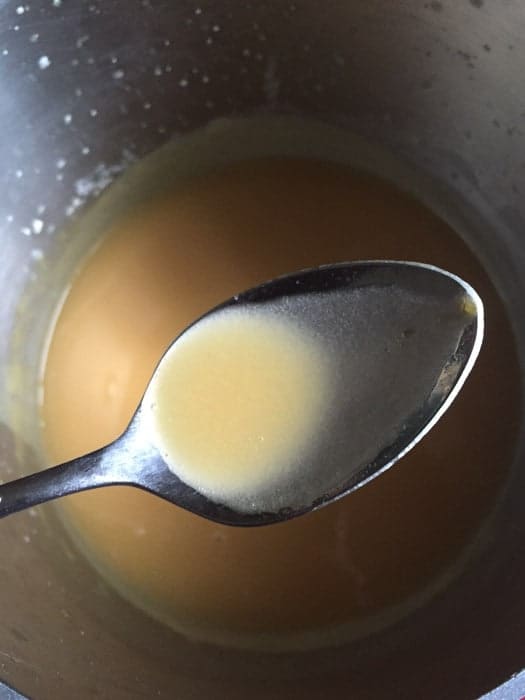 In a slow and steady steam, pour your stock into the pot. At first, your roux will turn into a paste. Keep pouring in the stock and keep whisking! After you add all the stock, cook until the gravy bubbles and thickens.
Step Six: Pour It On Everything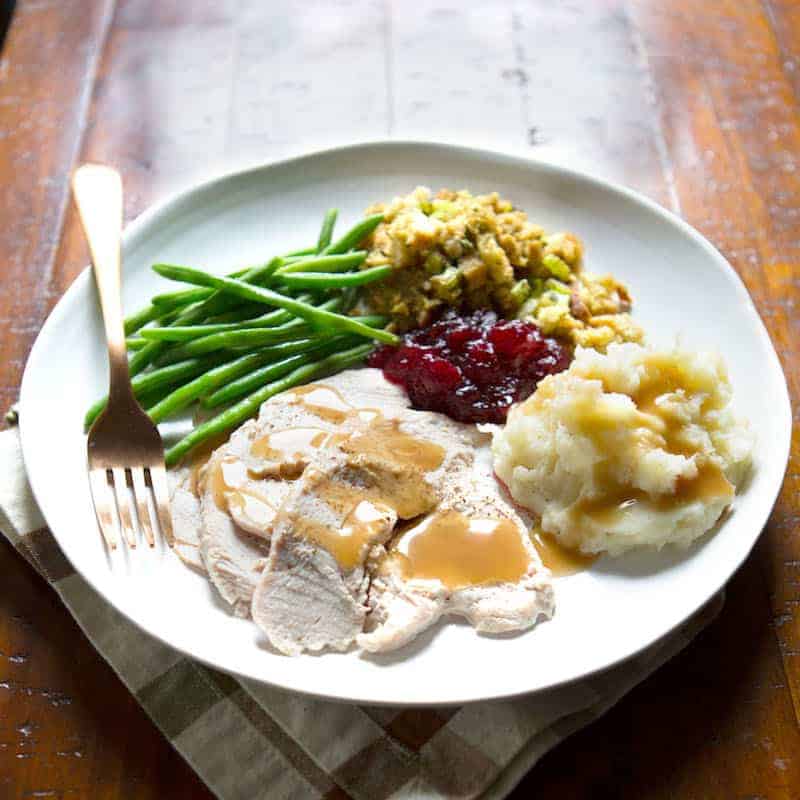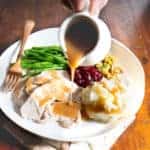 2 1/2

tablespoons

unsalted butter

(1.25 ounces; 35 grams)

2 1/2

tablespoons

sweet rice flour

(2/3 ounce; 18 grams)

1 1/2-2 1/2

cups

homemade or store-bought low-sodium chicken or turkey stock or skimmed pan drippings

Kosher salt and freshly ground black pepper
In a small pot, melt the butter over medium-high heat. Add the sweet rice flour and whisk until a paste forms. Continue whisking until paste turns light beige, about 3 minutes.

In a slow and steady stream, whisk in about 1 1/2 cups stock. Cook, whisking constantly, until gravy thickens and begins to bubble. Adjust thickness with more stock if desired. Season to taste. Serve.